After many months of speculation, the Formula 2 Grid for 2023 has been announced and there are a lot of changes in comparison to the 2022 Grid.
Felipe Drugovich, Liam Lawson, Logan Sargeant, Juri Vips, Jake Hughes, Marino Sato, Marcus Armstrong, Olli Caldwell, Calan Williams and Cem Bolukbasi have all left the series. Bolukbasi was replaced mid season in 2022 by Tatiana Calderon but she will not be returning either.
2023 will see a lot of drivers make the step from Formula 3 to Formula 2 this season. Arthur Leclerc, Oliver Bearman, Brad Benavides, Roman Stanek, Isack Hadjar, Kush Maini, Victor Martins, Jak Crawford and Zane Maloney have all made this jump. Maloney finished P2 in the F3 2022 season finishing behind Martins with Bearman, Hadjar, Stanek and Leclerc rounding out the top six.
In total, six Red Bull Junior Drivers make up the 22 places on the grid. Of the eleven teams on the grid, eight of them are holding at least one rookie, with MP Motorsport, VAR Amersfoort Racing and Virtuosi Racing are the only teams without any rookies this season.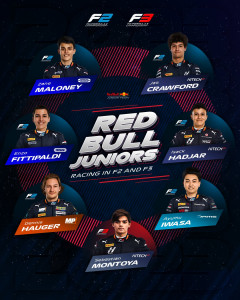 Some returning faces to the F2 grid also include Roy Nissany, Frederik Vesti, Dennis Hauger, Jehan Daruvala and Richard Verschoor to name a few. Juan Manuel Correa will also be returning to the sport full time since his accident in Spa 2019. All have competed in at least one F2 season before with some proven winners, pole sitters and points scorers.
What do you think of the F2 2023 grid? Will this be a year of redemption for some returning drivers or will a rookie grasp the fame? Who do you think will take the all important F2 2023 World Champion title?