Ryan Blaney made the sweep happen for Team Penske for the first time with both United States crown jewel races on Memorial Day Weekend, the Indy 500 and Coca-Cola 600  being won by Team Penske. Blaney led 163 of the 400 laps of Monday's rain-delayed Coca-Cola 600, won stage three, and took the chequered flag to end a 59-race drought, claiming his eighth Cup Series win.  
Blaney victorious 
William Byron one-place short
Kyle Larson spins
Elliott hooks Hamlin
Rest of race recap 
Full race results
Points standings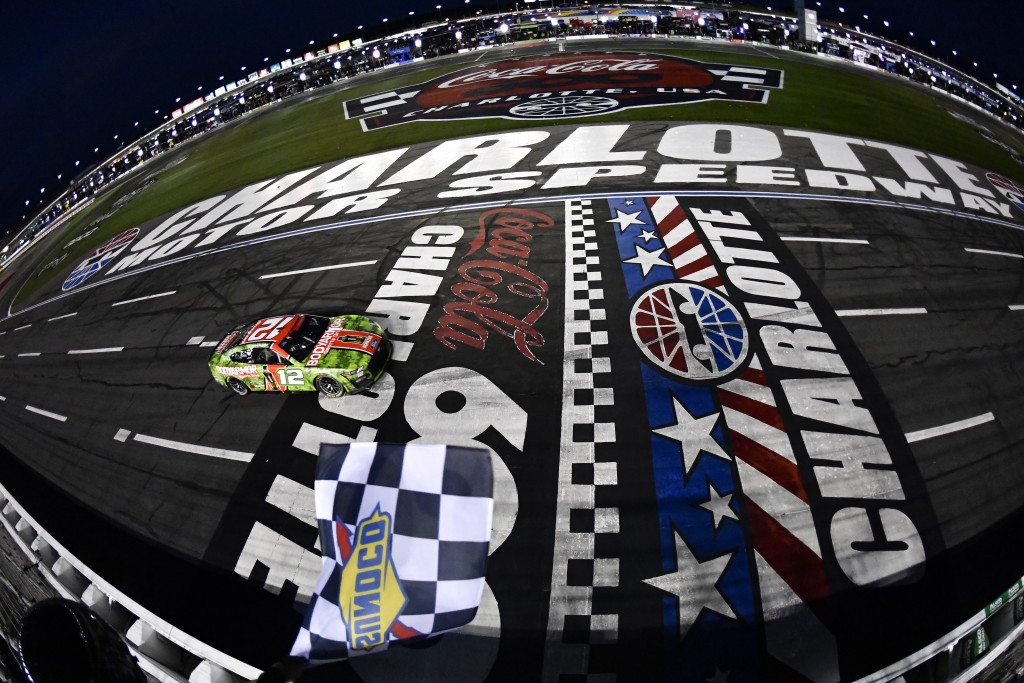 Blaney said: "I might shed a tear. You start to get to feel like you can't win anymore when you don't win in a while. It kind of gets hard. So just super thankful to the 12 guys for believing in me. What a weekend with Newgarden and Roger winning at Indy and us winning the 600. I mean that's just so cool."
Blaney had to fend off a series of late race cautions and a fast Hendrick Motorsports' William Byron with Blaney lining up alongside Byron with 20 laps to go for what was the final restart, finishing the race over half a second in front.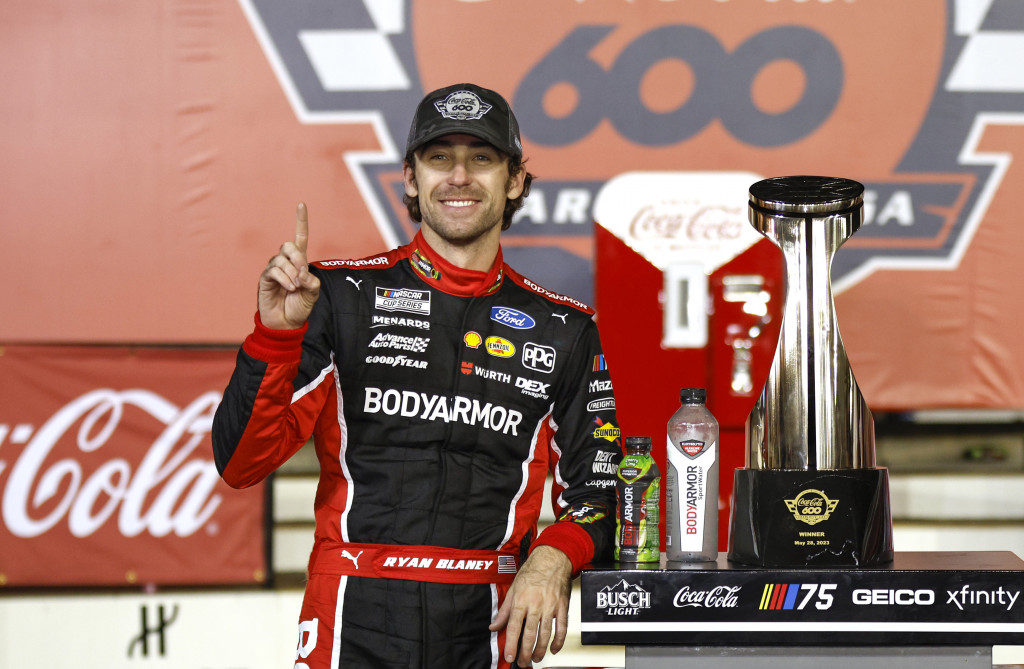 Blaney replicated fellow Team Penske teammate Josef Newgarden's celebration from Sunday's Indy 500, where Josef Newgarden passed reigning Indy 500 champion Marcus Ericsson on the backstretch in a one-lap shootout, by leaping into the crowd in the frontstretch grandstand to take in the moment with the fans.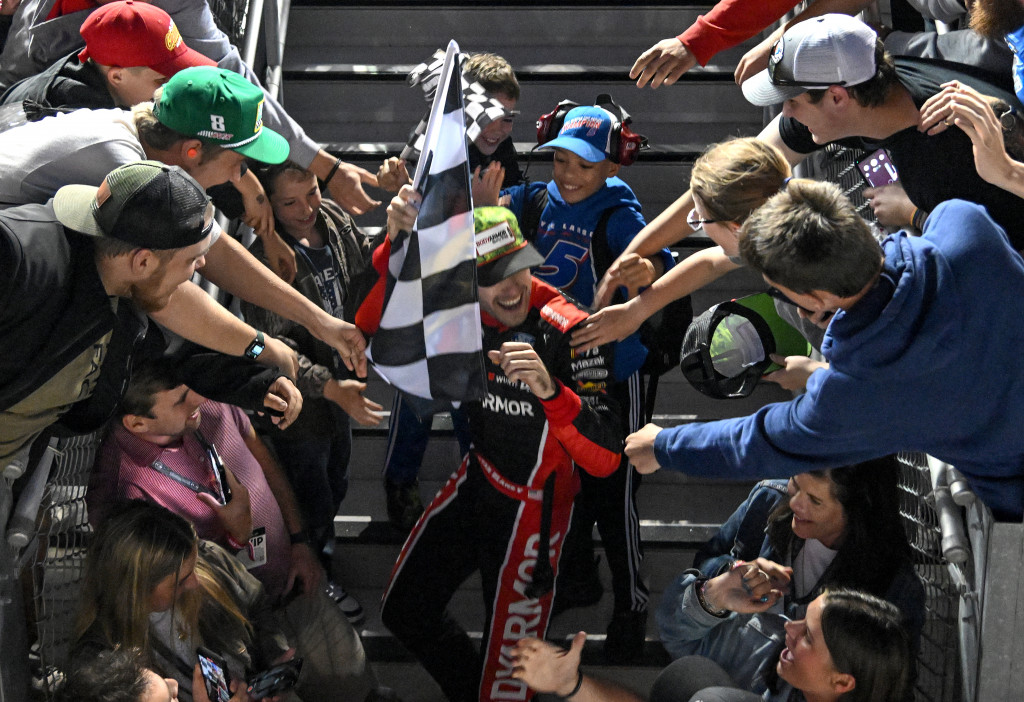 Blaney's dad, Dave Blaney, only ever NASCAR national series win came at Charlotte Motor Speedway in the Xfinity Series in 2006. His dad joined Ryan in victory lane.
William Byron one-place short
Byron after being up front all race long, including leading 91 laps and winning stage one, comes up one place short. Byron had the edge in the first stage and regained the lead several times under yellow throughout the race thanks to a fast pit crew and No. 1 pit stall but Blaney's short run speed was better overall, getting by Byron for the final time inside of 30 laps to go.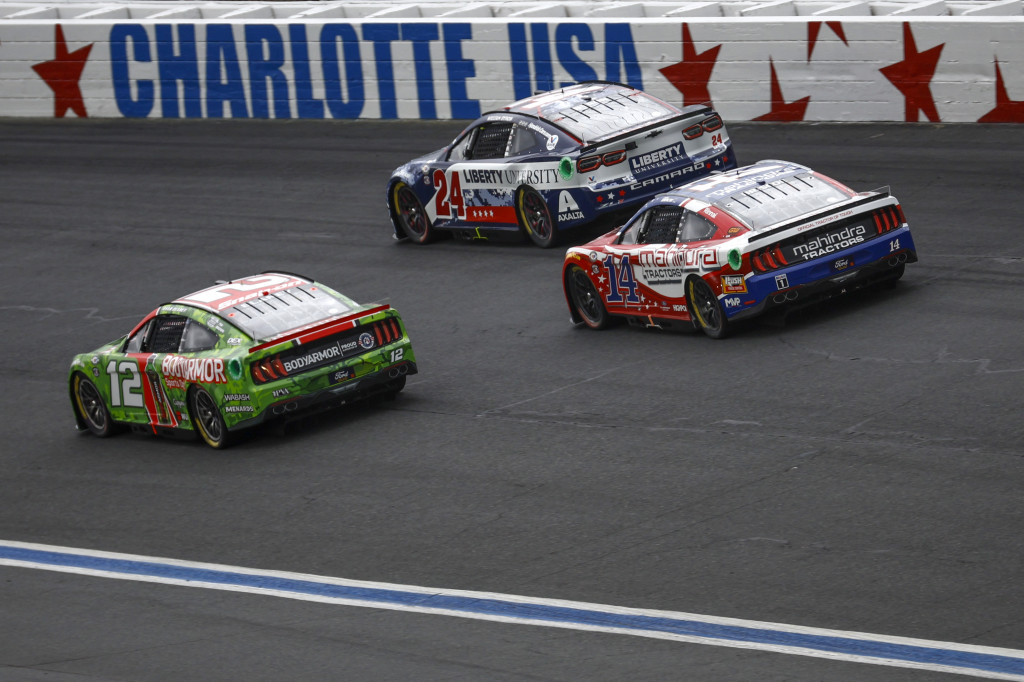 Byron said: "Really happy for Ryan. He really deserves it. He's a good dude. Cool to see him get a win. The car was great tonight. Just not quite good enough. Pit crew was phenomenal on pit road. Just needed a little bit more."
Larson's bid for a second Coca-Cola 600
Kyle Larson, who attended Sunday's Indy 500 with Tony Kanaan's Arrow McLaren IndyCar team, after completing his IndyCar test, in preparation for his 2024 Indy 500 effort, found himself out of contention when on lap 375, he spun coming off turn two taking out himself, Ty Gibbs, who had a career day running inside the top 10 for much of the second half of the race, Christopher Bell and others, ending his chances of winning his second Coca-Cola 600 again.
Larson after being in the mid-pack in the early going had been inside the top five in the latter stages of the race prior to his spin. Larson's crash set up the final 20 lap green flag run.
Chase Elliott hooks Denny Hamlin
Deep into the second stage of the 600 Chase Elliott hooked Denny Hamlin in the right rear sending him hard into the wall on the frontstretch at speeds over 150mph in retaliation to Hamlin squeezing Elliott into the wall for consecutive laps, ending both their races and leading Chase Elliott to being given a one race ban by NASCAR on Tuesday.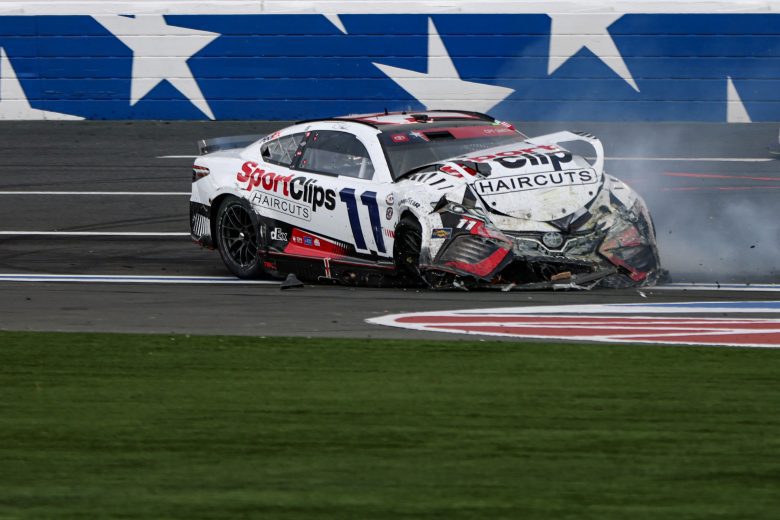 Elliott, who needs a win to make the playoffs, due to being out of action for several weeks due to a fractured tibia from snowboarding earlier in the season, claimed he had lost steering of his car after hitting the wall.
Hamlin later in the race posted telemetry on social media showing that Elliott's steering had not been damaged in any way meaning he had complete control of where to aim his race car implying he had been intentionally taken out.
A similar incident occurred last year at Las Vegas Motor Speedway, between Bubba Wallace and Kyle Larson when, following Laron squeezing Wallace into the turn four wall, Wallace turned down into Larson's car at high speed on the frontstretch taking both cars out of the race with Wallace physically showing his displeasure to Larson out of the car also. Wallace received a one race ban.
It is not the first time Hamlin and Elliott have have ran into each other as in 2017, Hamlin dumped Elliott in the playoff race at Martinsville.
Rest of race recap 
After qualifying was rained out, William Byron based on having the highest average score determined by championship position, last week's race finishing position, and fastest lap, led the field to green on a grey filled sky afternoon at Charlotte Motor Speedway.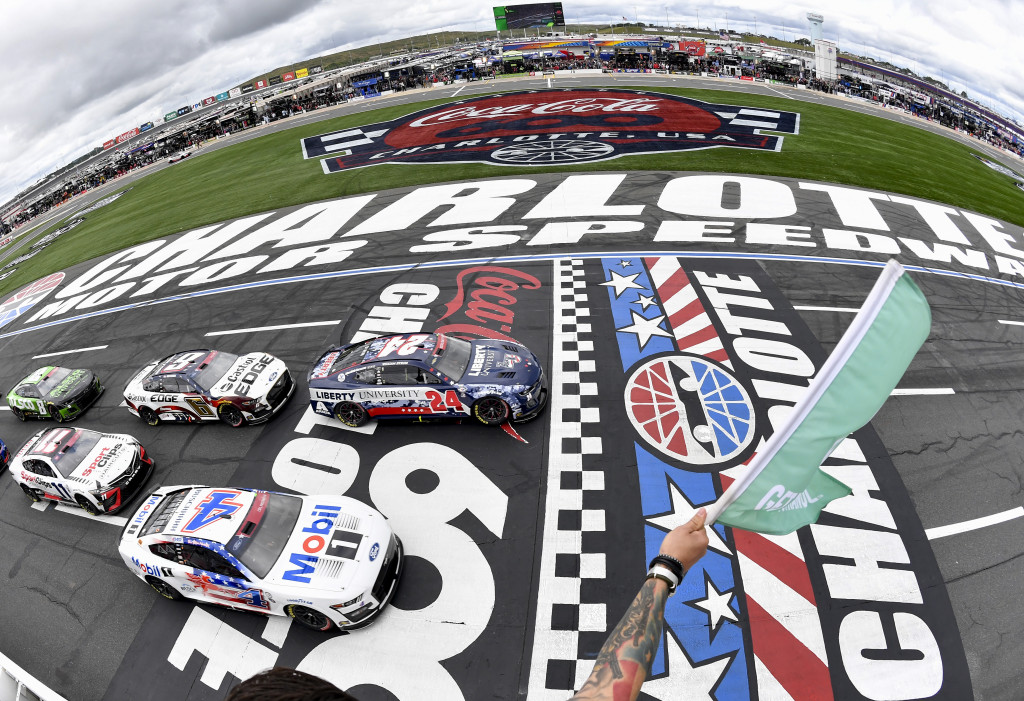 Seven-time Cup Series champion and Legacy Motor Club co-owner Jimmie Johnson, who was making his second start of the season, was running 25th but lost control of his No. 84 Chevrolet coming off turn two deep into stage one sending his car to the garage.
His Legacy Motor Club teammates Erik Jones, who was running inside the top-15, and Noah Gragson, both hit a piece of debris at the end of stage one, that punctured their radiators, sending them to the garage, taking them out of contention for having a solid points day.
William Byron just held off Christopher Bell and Ryan Blaney to win stage one.
There was a temporary stop to the race after a rain shower swept through the area bringing out the red flag. A quick cleanup with the jet driers and racing resumed.
Late in stage two but prior to Elliott's incident with Hamlin, Kyle Busch and Brad Keselowski got together coming out of turn two bringing out the caution. Busch spun out but would recover quickly finding himself in the top by stage three.
Chris Buescher took over the lead with eight laps to go in stage two and went on to win stage two.
Ryan Blaney won stage three but Byron leapfrogged Blaney on pit road to reclaim the lead for the start of the final stage. Blaney took the lead back on the restart.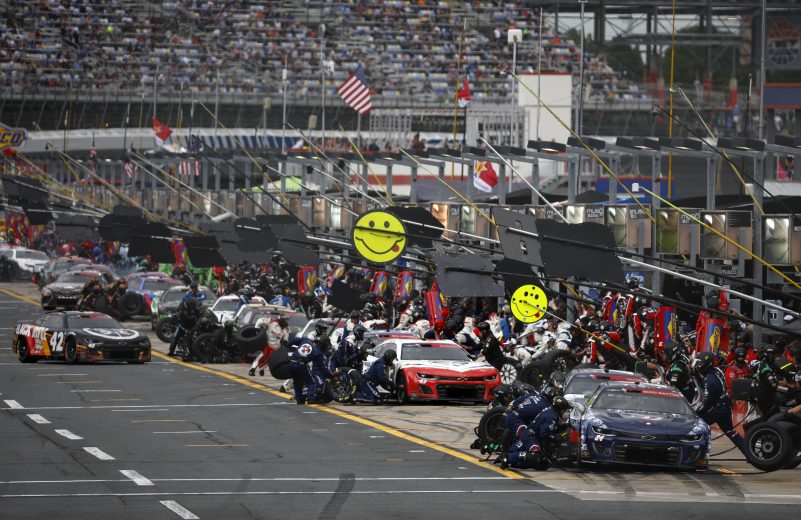 With less than 80 laps to go, Tyler Reddick, who was running inside the top five, performed a phenomenal save coming off turn four after the car got away from under him.
Halfway through the final stage, Kevin Harvick, in his final full-time season, brought out a caution after spinning out off turn four before getting it straightened it out. Kyle Larson had just passed Busch for second.
Inside of 50 laps to go, Stenhouse Jr. shot Allmendinger up the track in turn 4 up into Logano sending Allmendinger for a spin and made light contact with Harrison Burton. Logano grazed the wall.
Toyota's took the rest of the top five spots with Joe Gibbs Racing's Martin Truex Jr, the 2019 Coca-Cola 600 winner finishing third, and 23XI Racing in Bubba Wallace and Tyler Reddick finishing fourth and fifth.
The next race for the NASCAR Cup Series is the Enjoy Illinois 300 race at World Wide Technology Raceway this Sunday with the green flag flying at 3:30pm ET.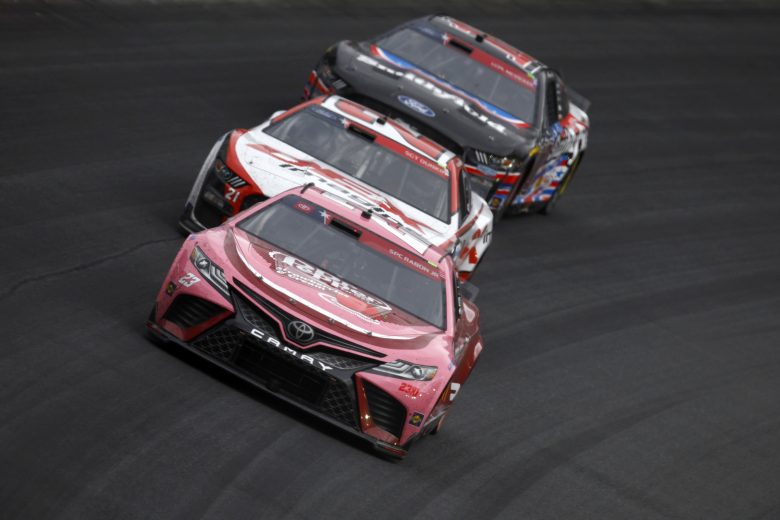 Featured Image: Ryan Blaney, driver of the #12 BodyArmor Cherry Lime Ford, celebrates after winning the NASCAR Cup Series Coca-Cola 600 at Charlotte Motor Speedway on May 29, 2023 in Concord, North Carolina. (Photo by Logan Riely/Getty Images)
Full race results 
Ryan Blaney
William Byron
Martin Truex Jr.
Bubba Wallace
Tyler Reddick
Kyle Busch
Ricky Stenhouse Jr.
Chris Buescher
Austin Dillon
Zane Smith
Kevin Harvick
Alex Bowman
Ryan Preece
AJ Allmendinger
Justin Haley
J. J. Yeley
Corey LaJoie
Harrison Burton
Brad Keselowski
Chase Briscoe
Joey Logano
Ross Chastain
Daniel Suarez
Christopher Bell
Aric Almirola
Ty Gibbs
Ty Dillon
Michael McDowell
BJ McLeod
Kyle Larson
Austin Cindric
Erik Jones
Todd Gilliland
Chase Elliott
Denny Hamlin
Noah Gragson
Jimmie Johnson
 Points standings 
(*=Locked into playoffs)
Ross Chastain – 446
Ryan Blaney* – 445
William Byron* – 442
Kevin Harvick – 438
Martin Truex Jr.* – 433
Christopher Bell* – 429
Tyler Reddick* – 409
Denny Hamlin* – 400
Brad Keselowski – 394
Kyle Busch* – 392
Kyle Larson* – 377
Chris Buescher – 368
Ricky Stenhouse Jr.* – 358
Joey Logano* – 357
Bubba Wallace – 327
Alex Bowman – 296

---

Chase Briscoe – 292
Ty Gibbs – 281
Daniel Suarez – 276
Corey LaJoie – 258
Austin Cindric – 254
Michael McDowell – 250
Justin Haley – 247
Todd Gilliland – 244
AJ Allmendinger – 237
Aric Almirola – 233
Erik Jones – 226
Ryan Preece – 225
Chase Elliott – 215
Harrison Burton – 195
Austin Dillon – 194
Noah Gragson – 139
Ty Dillon – 120
B. J. McLeod – 78