Ai Ogura has won his first every Moto2 race at the Spanish GP in Jerez. He was joined on the podium by Aron Canet, who takes second despite recently having surgery, and Tony Arbolino in third.
The Angelo Nieto circuit was the setting for Ai Ogura's stunning maiden Moto2 race win. Having taken pole position yesterday, he flew off the starting grid and lead every lap on the way to victory. This dominant victory was celebrated by the whole Honda Team Asia crew.
Joining him on the podium was home hero, Aron Canet in second. This result comes just six days after Canet underwent surgery on this broken left arm, caused by a crash last time out in Portugal. As he celebrated with the Flexbox HP40 team, the emotion and pain he felt was evident.
The final podium position was taken by Tony Arbolino on the ELF Marc VDS machine. Having battled with Canet in the early stages of the race, he soon settled in to third and was unable to make any further challenges on the top two.
A number of riders faced a far more difficult day, with many failing to see the checkered flag. The first rider to crash was Pedro Acosta, shortly followed by Romano Fenati. Sam Lowes and Somkiat Chantra were the next to crash out, after both had been running in fourth. Jake Dixon and Fermin Aldeguer collided in the middle of the race before Marcos Ramirez crashed on the following lap.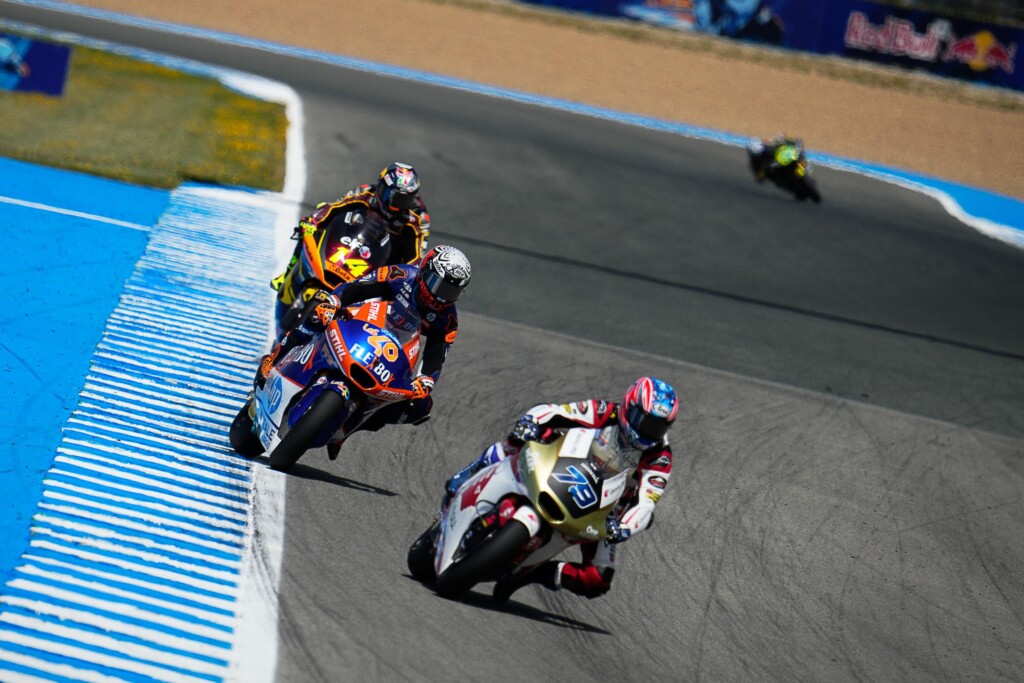 As it happened:
As the lights went out, Ogura enjoyed a brilliant start and flew off the line with ease. Behind him, the two ELF Marc VDS riders struggled and dropped places as they were swallowed by the field. At the end of lap one, the top three riders with Ogura, followed by Canet and Arbolino.
Lowes was pushing hard, clearly eager to make amends for his poor start and catch up with the leading group as quickly as possible. In a single lap, he progressed from eighth to fifth and was starting to close to gap to fourth place.
At Turn 6 on the second lap, Acosta made a move down the inside of Aldeguer which ended with the bike folding underneath him. Aldeguer was lucky to stay upright and keep racing as Acosta ended up in the kitty litter.
Back on track and Chantra was the fast man in fourth. Lowes continues to chase him down and, whilst doing so, steals the fastest lap honours from the Honda Team Asia rider.
On lap three, Arbolino is able to get past Canet whilst Ogura continues to lead. With Lowes now in touching distance of Chantra, we looked set for a five-way battle for the win.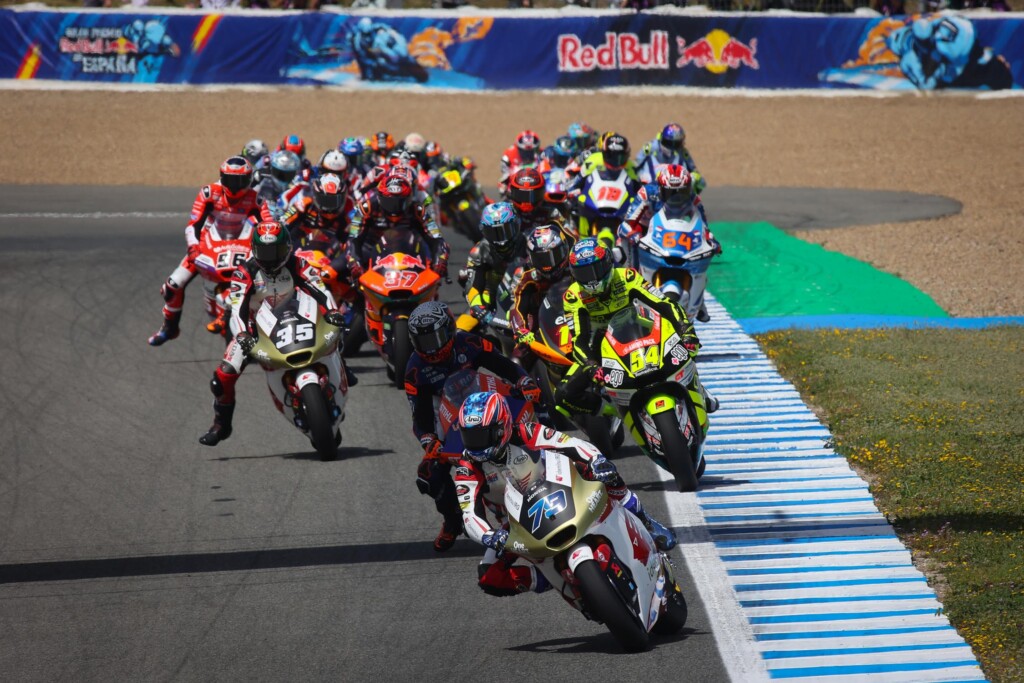 Turn 8 on the fifth lap saw Fenati land in the kitty litter – with numerous rumours burning around the paddock about his future, this result will continue to pile the pressure on the Italian's shoulders.
The following lap saw Canet looking to take second place back from Arbolino. He made a few moves but was unable to make them stick until they reached Turn 9. Shortly after, Lowes is able to duplicate this move and gains fourth place from Chantra at the same point on the track.
However, just one lap later, Lowes crashed out at Turn 8 – the bike tucked underneath him and there was nothing he could do but slide in to the kitty litter. This promoted Chantra to fourth – but not for long. At Turn 9 of the eighth lap, Chantra faced a similar fate as he crashed out of fourth.
Further down the grid, at Turn 13, Dixon was battling with Aldeguer. The British rider made a move down the inside was was unable to keep the bike upright. As he fell, he clattered in to Aldeguer and dragged him in to the kitty litter with him. Both riders was visible agitated as they quickly argued about who was to blamed.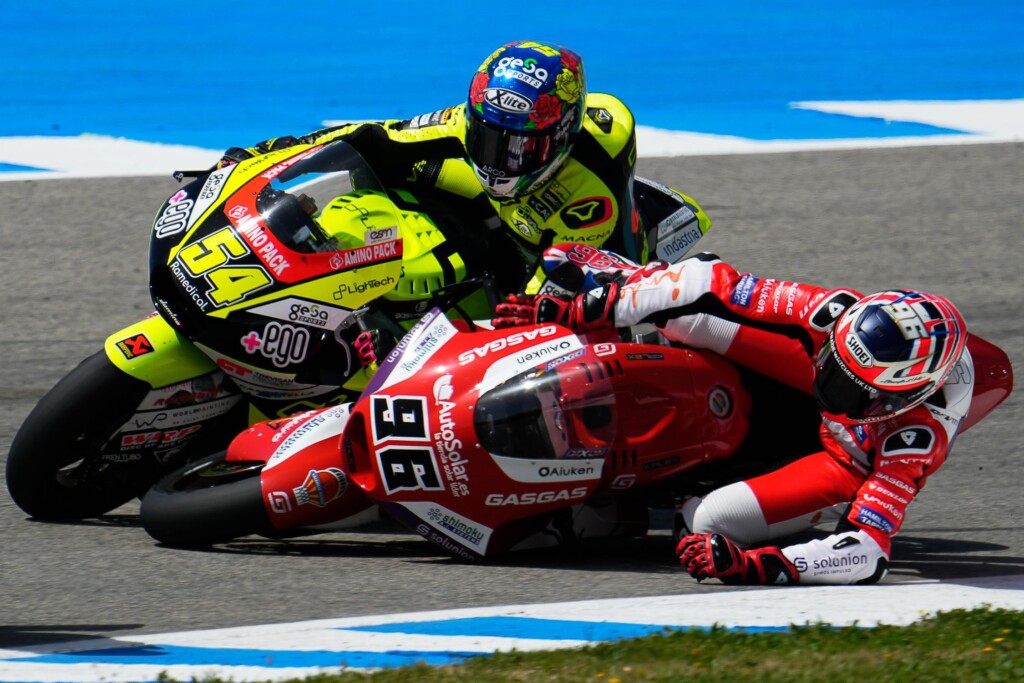 At this point in the race, on lap 10, our podium positions were provisionally filled by Ogura, Canet and Arbolino. There was then a comfortable 2.5s gap to Augusto Fernandez, Celestino Vietti and Marcel Schrotter in fourth, fifth and sixth respectively. Just behind them came Bo Bendsneyder and, our winner from last time out, Joe Roberts battling for seventh. It was Robert who came out on top of this battle. On the same lap, Ramirez went down at Turn 1 to end his race prematurely.
Ogura continued to set the pace from the front of the pack as the race seemed to settled down in the latter stages. Gaps were forming between riders and chasing groups. There was 1.5s between between Ogura and Canet in second, then a further 1s gap between Canet and Arbolino in third.
As the race drew to a close, the gaps settled and no one was able to make any significant impact on the result. So as the checkered flag fell, Ogura crossed the line ahead of Canet in second and Arbolino in third. Just behind them was Fernandez, Schrotter and Viettie in fourth, fifth and sixth respectively. Bendsneyder came out on top of the battle for seventh, just ahead of Roberts. The top ten was rounded out by Albert Arenas and Jorge Navarro.
Championship standings:
A sixth place finish means that Vietti is still at the top of the standings with a round 100 points. Ogura has closed his lead down to just 19 points.
Moto2 will be back in action in France on the 13th to 15th of May. Crew on Two will have all the action and coverage for you.
Feature Image Credit: MotoGP