From Ryan Blaney causing The Big One, to Chris Buescher barrel-rolling down the infield grass, NASACR's Coca-Cola 600 last weekend was far from the usually more tame and methodical 600 mile race and instead was one of the most dramatic and longest stock car races in recent history. 
This year's "longest night in stock car racing" didn't even start off like a typical Coca-Cola 600 as by the end of stage one there had been four cautions not including the stage ending caution for Chase Elliott's stage one win.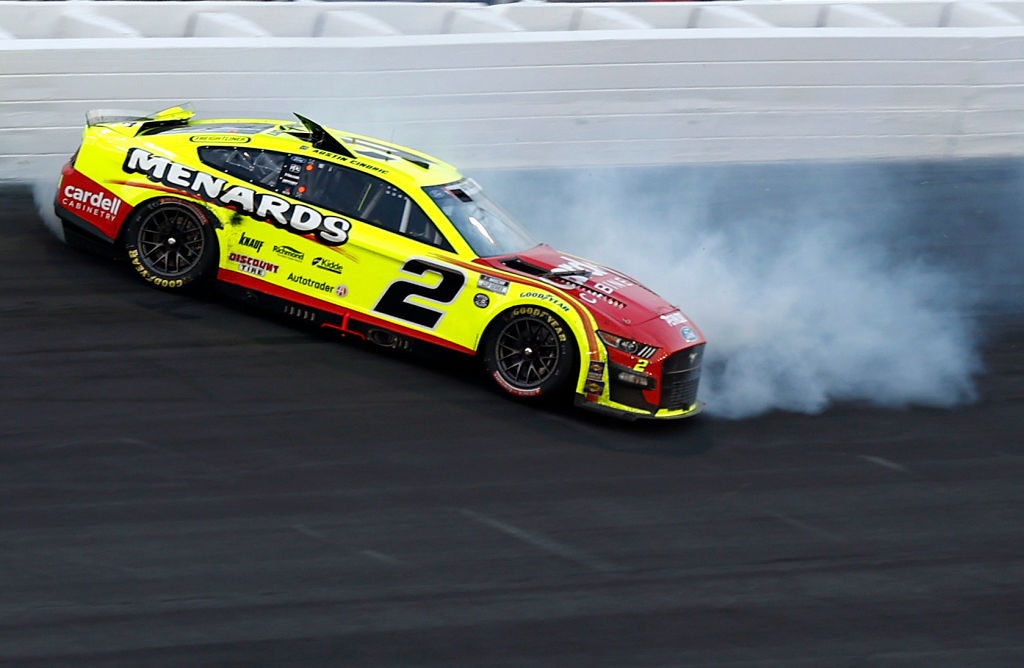 In recent editions of the race, the first half or more has been comprised of long green flag runs and a strung out field but this race was not like the others. One large contributor to more spins in the race such as Kyle Busch spinning out as Daniel Suárez ran him tight in turns one and two in stage one, is that the new NASCAR Cup cars are much harder to save once the car steps out and begins spinning compared to the old 6th gen NASCAR. With little practice time before the races and spec parts that teams are not allowed to modify, not to mention the absence of in-car adjustments for drivers during the race, the challenge is only heightened.
Late on in stage two, Ryan Blaney spun out in front of the pack in turns one and two causing The Big One that is usually only seen at Daytona and Talladega. Over ten cars were caught up in the pile up.
Aside from the several spin-outs by drivers in the first two stages, there had been thrilling side by side action with many drivers fighting over positions throughout the field including for the lead with Suárez who would go on to take the stage two win after fending off Trackhouse Racing teammate Ross Chastain and Erik Jones.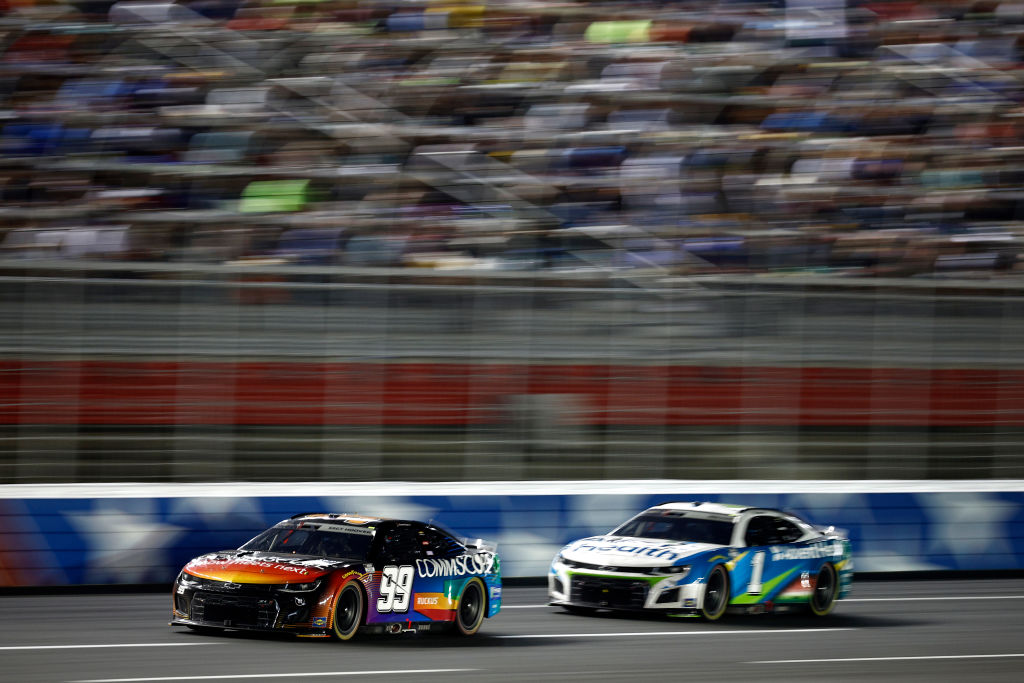 The NASCAR drivers were racing in honour of fallen veterans as the Coca-Cola 600 runs on Memorial Day Weekend. During the stage two break, for the second year running, NASCAR brought the cars down pit road and parked them and paused the race to take a moment to remember those who have made the ultimate sacrifice.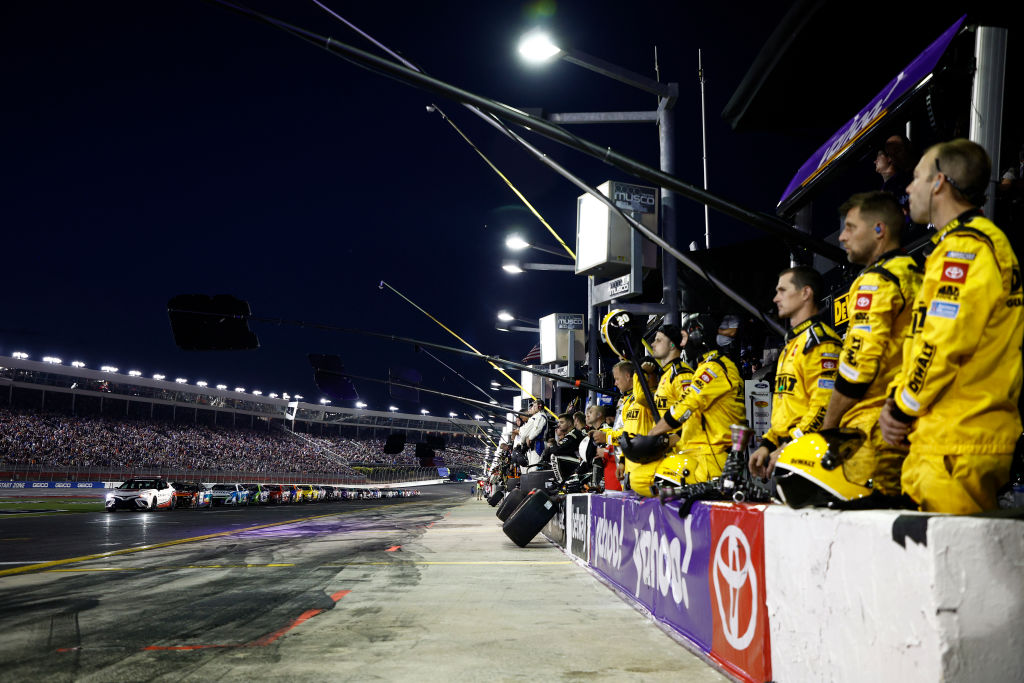 The second half of the race proved only to be more wild as the 16th caution of the night came out halfway in stage four when Chris Buescher, after piling into a spinning Daniel Suárez , was sent skidding across the infield grass before the car got hooked causing it to flip over wildly several times before coming to a stop upside down . Buescher's car was righted by the AMR safety team. He was ok.
With two laps to go in the race Kyle Larson was holding off Chase Briscoe for the lead. Larson's night had been a rollercoaster ride in itself. After qualifying 36th and making his way through to the top half of the field, Larson would get two pit equipment interference penalties in quick succession that sent him to the rear each time. His car also caught fire forcing him to take two emergency trips down pit road. He then spun out on old tyres in turn four in stage two after having led the race on the previous restart. With plenty of laps left and plenty of cautions to bunch up the field, Larson was able to finish third in stage three and get by Chastain, the stage three winner, in turn three to take the lead with 46 laps to go.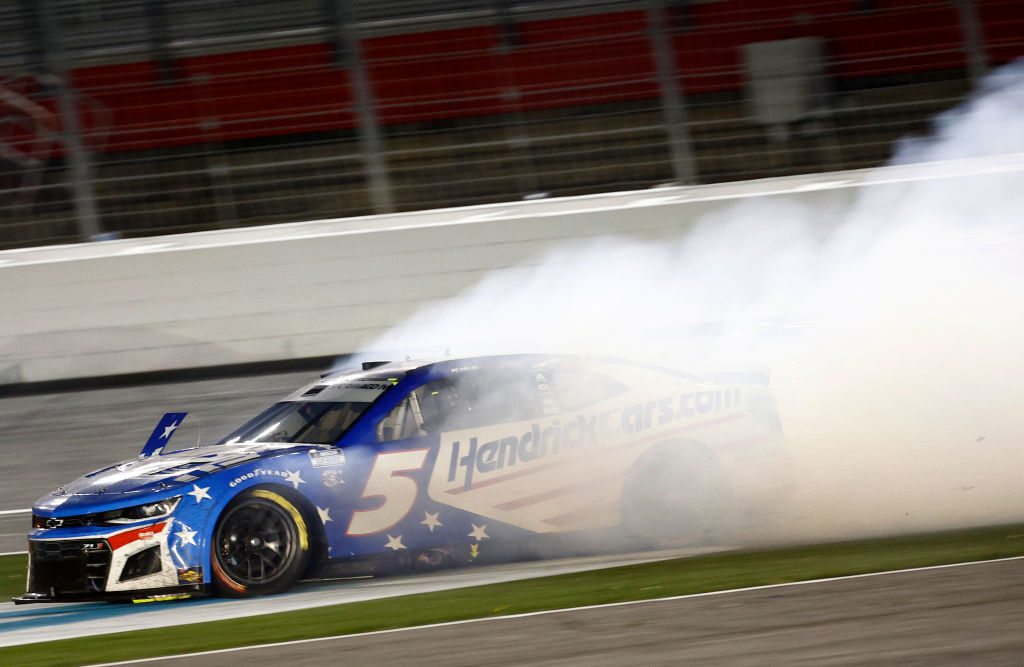 Larson's amazing comeback would be halted when Briscoe spun out on his own in turns one and two with two laps to go as he sent it into turn one in an attempt to pass Larson.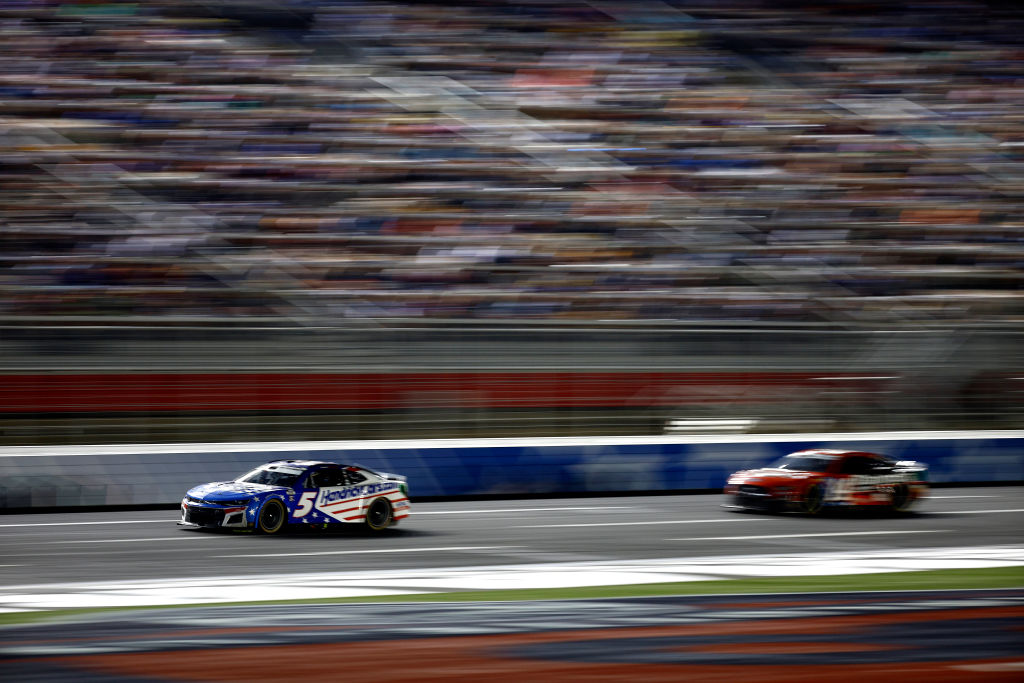 The first overtime restart saw Laron's chance of another Coca-Cola 600 win come to an end as Austin Dillon had got alongside him in turns three and four before washing up and slowing them down before Hamlin and Chastain joined them to make it four wide coming off turn four heading to get the white flag. They would only see yellow as Dillon drifted up slightly and would get turned around off of Larson's front bumper causing another multi-car crash down the front straightaway with Larson caught in it.
Instead it would come down to Joe Gibbs Racing teammates Denny Hamlin and Kyle Busch for the 600 win on the next overtime restart. Polesitter Hamlin would race side by side with Busch for the first lap but would clear Busch in turns one and two on the final lap to finally win his first Coca-Cola 600.
Hamlin said: It's so special. It's the last big one that's not on my resume. It meant so much."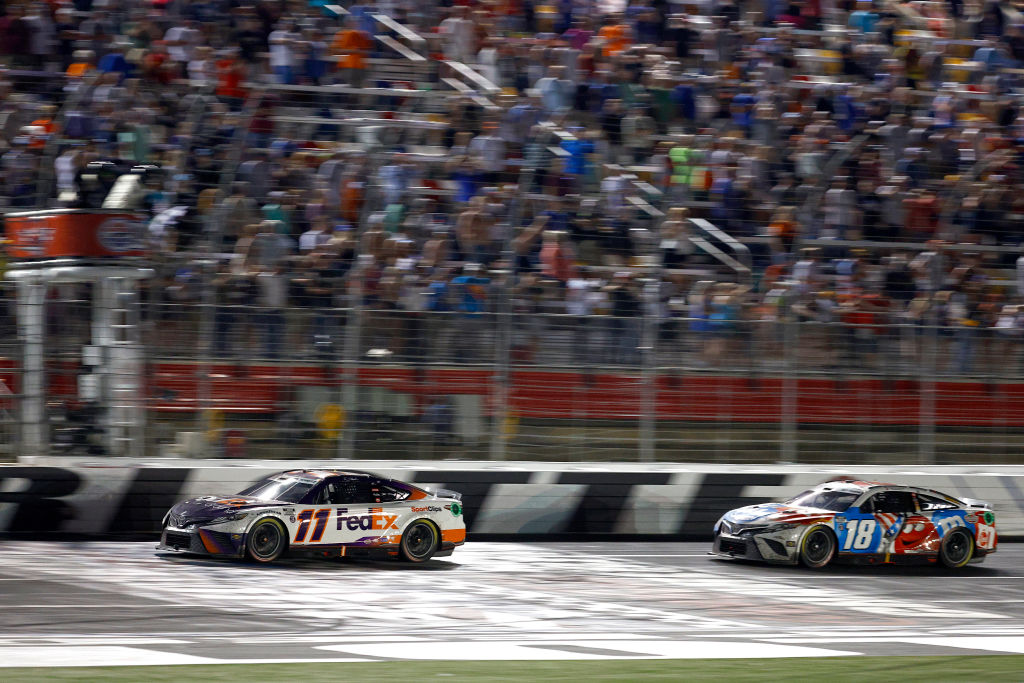 It was NASCAR's longest Cup race in history in terms of distance with the drivers having raced for 619.5 miles (413 laps) before taking the checkered flag and was the third longest Coca-Cola 600 ever after having raced for five hoursthirteen minutes, and eight seconds. It was only 34 seconds shy of being longer than the second longest Coca-Cola 600 race in 2005. The first Coca-Cola 600 in 1960 had been the longest being five hours and thirty four minutes long.
The 2022 edition of the Coca-Cola 600 had been one of the most competitive and action packed thrillers in years and delivered a race on a weekend where the world was watching after the Monaco Grand Prix and the Indy 500 earlier that day, making it an unforgettable day in racing.
Full race results: 1st Denny Hamlin, 2nd Kyle Busch, 3rd Kevin Harvick, 4th Chase Briscoe, 5th Christopher Bell, 6th Tyler Reddick, 7th Ricky Stenhouse Jr., 8th Michael McDowell, 9th Kyle Larson, 10th Alex Bowman, 11th Harrison Burton, 12th Martin Truex Jr., 13th Ty Dillon, 14th Erik Jones, 15th Ross Chastain, 16th Todd Gilliland, 17th Aric Almirola, 18th Cody Ware, 19th BJ McLeod, 20th Joey Logano, 21st Cole Custer, 22nd Austin Dillon, 23rd Kaz Grala, 24th Noah Gragson, 25th Daniel Suárez, 26th Chris Buescher, 27th Justin Haley, 28th Bubba Wallace, 29th Ryan Blaney, 30th Brad Keselowski, 31st Kurt Busch, 32nd William Byron, 33rd Chase Elliott, 34th Austin Cindric, 35th Corey Lajoie, 36th Josh Bilicki, 37th Ryan Preece.
Featured Image: Chris Buescher, driver of the No. 17 Fifth Third Bank Ford, flips into the infield grass after an on-track incident during the NASCAR Cup Series Coca-Cola 600 at Charlotte Motor Speedway on May 29, 2022. (Photo by James Gilbert/Getty Images)