Gosia Rdest – utalentowana Polka jest ambasadorem programu The Girls On Track – Karting Challenge. Gosia także była zaangażowana w tegoroczny Dzień Kobiet zorganizowany przez nas – wywiad można przeczytać tutaj.
Wyścigi, adrenalina, prędkość, wyzwanie, siła, niekończące się treningi, samodyscyplina. Tylko ty i samochód. I maksymalna koncentracja, nieraz przez kilka godzin – serio, czy to wszystko jest dla dziewczyn?
Oczywiście! Jestem pewna, że właśnie taką odpowiedź uzyskalibyście od każdej z blisko setki nastolatek, które wzięły udział w pierwszych eliminacjach do programu the Girls on Track – Karting Challenge, którego mam zaszczyt być Ambasadorką.
Dwudniowe eliminacje miały miejsce w Tychach 26/27 maja, 2018. Przyciągnęły prawie 100 dziewczyn w wieku 13 – 18 lat, które chciały spróbować swoich sił i szczęścia na specjalnie przygotowanym na tę okazję torze kartingowym. Każda z dziewcząt miała trzy przejazdy. Pierwszy testowy, a następnie dwa na czas. To był naprawdę fantastyczny widok móc obserwować dziewczyny rywalizujące z takim zacięciem na naprawdę wysokim poziomie. Każda z nich dała z siebie wszystko, by okazać się najlepszą. Patrząc na nie, nie mogłam powstrzymać się od wspomnień dnia, w którym to mnie Tata zabrał po raz pierwszy na tor kartingowy. Miałam wtedy 12 lat i całkowicie połknęłam bakcyla. Wyścigi do dzisiaj są moją największą pasją i miłością.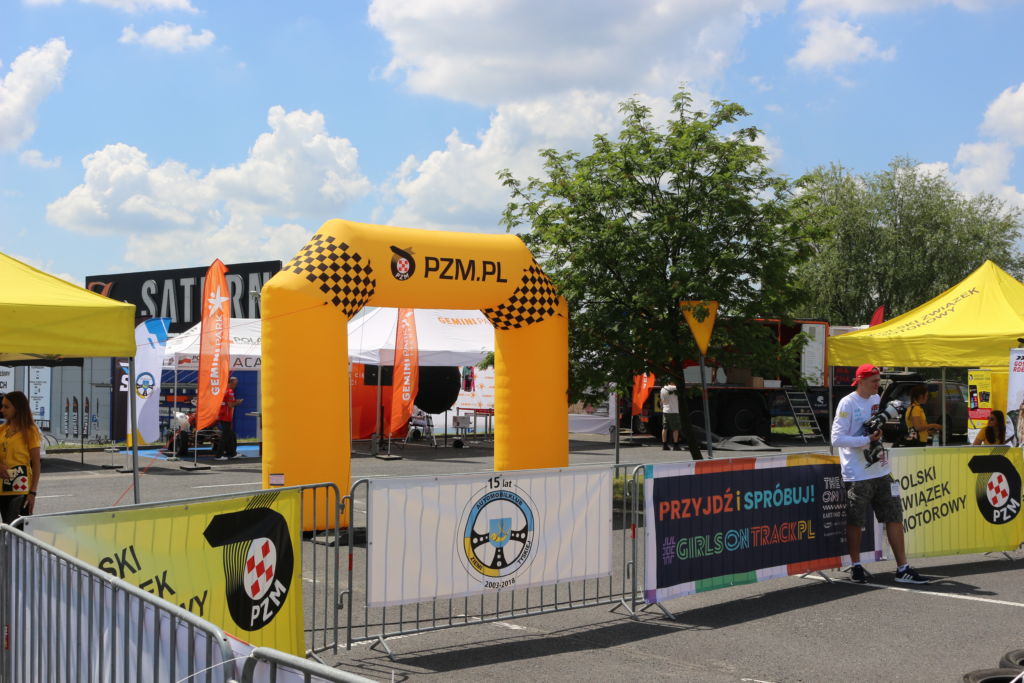 Tor był wymagający, by dać jury możliwość właściwej oceny umiejętności, predyspozycji i potencjału zawodniczek. Oglądanie współzawodnictwa dziewczyn było naprawdę ekscytujące. Ostatecznie, jury złożone z członków Polskiego Związku Motorowego (PZM), wybrało 8 finalistek. Musiało być to bardzo trudne zadanie, bo wszystkie dziewczyny dały z siebie wszystko. Kluczowym czynnikiem, decydującym o wyborze, był oczywiście czas przejazdu. Poza tym, brano pod uwagę generalne predyspozycje i wyczucie przestrzenne. Bardzo ważna była także "rozmowa kwalifikacyjna", przeprowadzana zarówno w języku polskim, jak i angielskim. Celem było wyłonienie kandydatek, które naprawdę chcą się ścigać, wysoce zmotywowanych i zdeterminowanych, by motorsport odegrał w ich przyszłości dużą rolę. Poziom kandydatek był oczywiście zróżnicowany, ale ogólnie rzecz biorąc, określam go jako bardzo satysfakcjonujący. Można było zauważyć kilka dziewcząt, które wyróżniły się znacznie większą motywacją i potencjałem.
Następna runda eliminacji odbędzie się w sierpniu. Ostatecznym etapem programu jest finał, w którym kandydatki z ośmiu krajów europejskich zmierzą się na słynnym torze Le Mans. To niesamowita szansa. Znaleźć się tam wśród najlepszych z najlepszych z ośmiu państw; ścigać się z nimi; potencjalnie stanąć tam na podium – na absolutnie legendarnym Le Mans; i przywieźć do domu trofeum. Czy to samo w sobie nie jest wystarczającą nagrodą? Prawdopodobnie jest.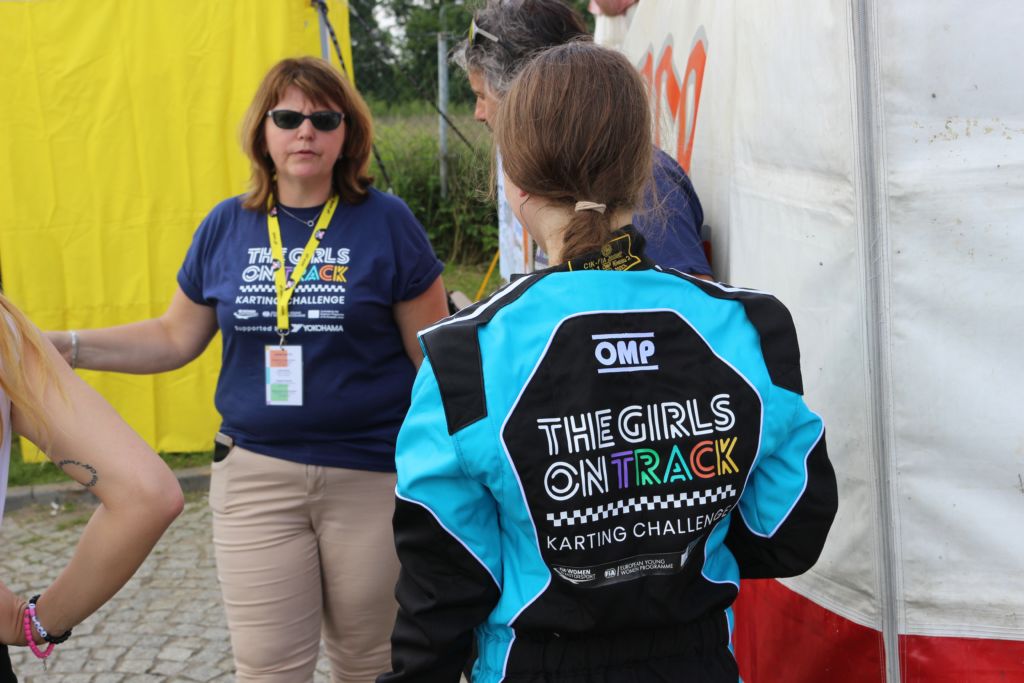 Ale razem z Polskim Związkiem Motorowym wierzymy, że dziewczyny powinny zyskać dzięki temu programowi jeszcze więcej – możliwość rozwoju i szlifowania umiejętności, zintegrowania się z grupą podobnych sobie entuzjastek, które razem dowiedzą się więcej o świecie motorsportu. Wyścigi są moim życie, a moje życie jest wyścigiem. Doskonale zdaję sobie sprawę, że nie będę mogła się ścigać całe życie. Jak w każdym sporcie – patrząc długoterminowo – czas nie stoi po naszej stronie. Ale w tym momencie, wyścigi to całe moje życie i robię wszystko co w mojej mocy, by utrzymać taki stan przez jak najdłuższy czas.
Zaczęłam moją przygodę z motorsportem właśnie od kartingu. W 2011 roku, zdobyłam tytuł Mistrza Polski w Kartingu. Następnie reprezentowałam kraj w Polskiej Kadrze Narodowej za granicą. Dzisiaj ścigam się na torach wyścigowych na całym świecie, od Dubaju po Daytonę. W tym sezonie walczę o tytuł w Mistrzostwach Europy GT4. Jest to niesamowicie ekscytująca przygoda, okupiona niezliczonymi godzinami treningów, zarówno na torze jak i na siłowni, ciągłymi podróżami i czasami ciągnącymi się w nieskończoność godzinami oczekiwania na lotnisku. Zawsze stawiałam ściganie ponad wszystko inne. I nigdy nie zamieniłabym tego na nic innego.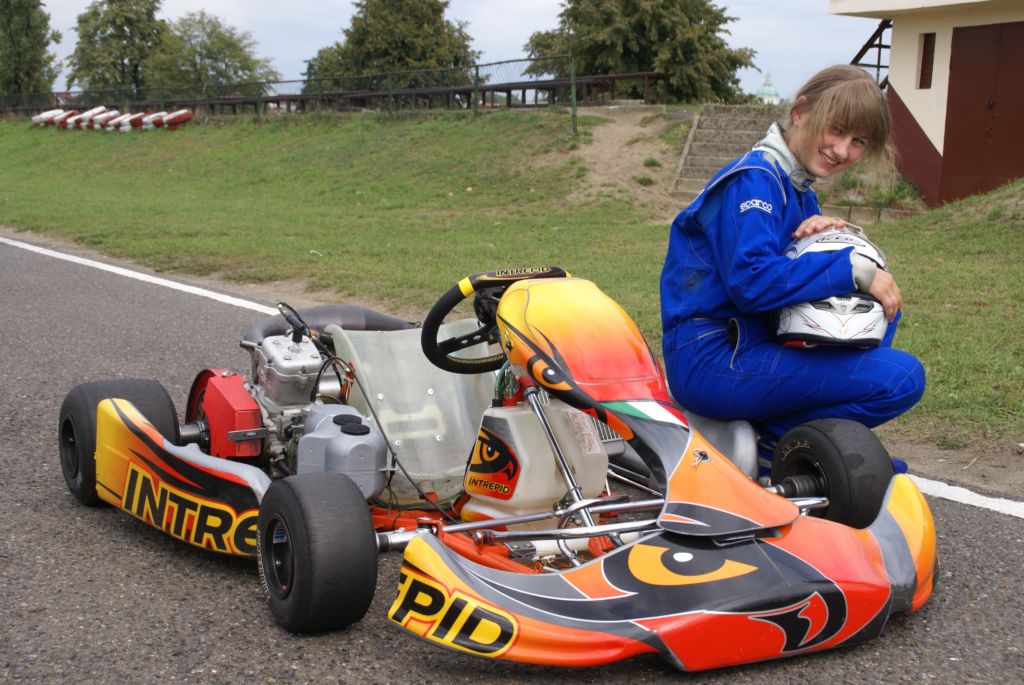 Czy idealnie odnajduję się na torze? Czy zrozumiałam naturę bestii? Czy umiem ją poskromić? Do pewnego stopnia tak, choć nadal zdarzają się niespodzianki i momenty, w których nerwy napinają się do granic możliwości. Jak to mówią, "na torze wyścigowym nie ma chwili nudy". To jest właśnie to, co sprawia, że zmysły nieustannie są wyczulone, wciąż jesteś w maksymalnym skupieniu, a umiejętności u szczytu możliwości. Bo gdy siedzisz za kierownicą samochodu, każda setna sekundy ma znaczenie; i możesz wtedy liczyć tylko na siebie.
Czy pamiętam jeszcze jak to było stawiać pierwsze kroki w kartingu? Oczywiście! Tego się nie zapomina. Nadal pamiętam wszystkie pytania, które mnie nurtowały, a jedyną osobą, do której mogłam się z nimi zwrócić był mój Tata. Nieznana mi wtedy terminologia brzmiała tym bardziej magicznie, że podana w obcym języku. Te wszystkie rzeczy, które z czasem stały się naturalnymi odruchami i sprawami oczywistymi, wtedy takie dla mnie nie były. Miałam i nadal mam szczęście spotykać na swojej ścieżce wspaniałe osoby, które są w stanie mną pokierować i zawsze służą pomocą. Mam szansę ścigać się i uczyć od najlepszych. Przede wszystkim, w moim narożniku zawsze stał i stoi mój najwierniejszy kibic i najlepszy przyjaciel – mój Tata, który jest dla mnie największym wsparciem.
Ale czasami pojawiały się momenty samotności i niepewności, zwłaszcza na początku. To właśnie dlatego, we współpracy z PZM i grupą zaprzyjaźnionych ekspertów, opracowaliśmy 6-miesięczny program treningowy dla grupy finalistek. Składa się z sześciu dwudniowych warsztatów, podczas których dziewczęta nie tylko będą miały okazję poprawić praktyczne umiejętności za kierownicą, ale także poznają specjalistyczne słownictwo w języku angielskim i popracują nad komunikacją interpersonalną, by jak najlepiej móc komunikować się z zespołem i innymi zawodnikami. Przewidziano blok tematyczny o życiu po ściganiu, czyli o profesjach dla tych dziewcząt, które chciałyby związać swoje życie zawodowe z motorsportem, czy to jako dziennikarki sportowe, trenerki, specjalistki do spraw komunikacji w zespołach wyścigowych i nie tylko. Finalistki dowiedzą się o budowaniu relacji w zespole i jak pracować nad swoją motywacją i samodyscypliną. Najbardziej pragniemy, by uczestniczki nie tylko stały się najlepszymi kierowcami, ale przede wszystkim najlepszymi ludźmi.
Bardzo się cieszę, że PZM objął patronat nad akcją; że Rafał Sonik również został ambasadorem projektu, a rzesza innych znanych osób ze świata motorsportu i nie tylko, zaangażowała się we wsparcie i nagłośnienie akcji. Całym sercem wierzę, że jest to wspaniała okazja, by pokazać dziewczynom niezwykły świat motorpsortu i możliwości, jakie przed nimi stoją, by w tym świecie aktywnie uczestniczyć, jeśli nie jako kierowcy, to jako specjalistki w innym dziedzinach. I oczywiście będę trzymać mocno kciuki za naszą polską reprezentację podczas finału w Le Mans!
Więcej informacji: www.girlsontrack.pl