After a 2020 campaign which promised to be so much more for Fabio Quartararo, the Frenchman showed exactly why he is a star of both the present and the future in 2021.
At the beginning of the 2020 season it looked like Quartararo was on course to dominate the entire year. But after a strong start the then SRT rider faded away as the rounds went on and Joan Mir took the crown.
But this year there was no doubting the Frenchman to take the title as he entered the paddock in Yamaha's factory outfit with a fresh outlook on what was ahead of him. With two rounds still remaining in 2021, Quartararo currently has five race wins including 10 podiums to his name this year. Only six times in 16 races has he finished outside of the top three in the current campaign.
The title fight looked like it would be heading to Portimao as Pecco Bagnaia was set to take the victory in the Emilia Romagna GP but after crashing out with only a few laps remaining, Quartararo's glory was confirmed.
After the race, the new World Champion said he is in disbelief at becoming France's first premier-class title winner.
"I still can't believe it! I can't even talk, it feels amazing," he said in a Yamaha press release.
"Maybe later I can talk a bit more. Right now, I'm living the dream! It feels good to also have my family with me, and we will enjoy this a lot tonight and until the end of the season.
"Of course this was not the way I wanted Pecco (Bagnaia's) weekend to end, but I'm happy he's okay. Now we are the World Champion.
"I have no words and I have no more liquid left in my body to cry. It feels so good, but I can't even describe what I'm feeling right now."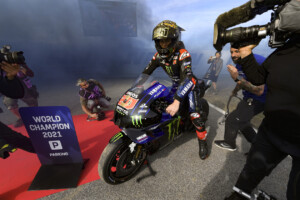 But it wasn't an easy task to clinch the championship in Misano. Wet weather in qualifying disrupted the Yamaha rider's pace which saw him start the race down in 15th.
A cool and controlled charge through the pack however put the 22-year-old right where he needed to be when Bagnaia crashed out. Quartararo was tantalizingly close to making it the perfect finish with a podium position, but tyre wear and a charging Enea Bastianini ultimately led to him ending fourth.
But at the end of the top-three's celebrations, the Frenchman took to the podium stand with his family in an emotional celebration.
"To be on the podium with a big part of my family and my family from the circuit – I have no words," he said.
"MotoGP has been going on for quite a long time. To be the first Frenchman to win it is amazing. I'm also happy for Yamaha because they haven't won a title since 2015, and today we won it again.
"It's an amazing feeling!"
A truly deserving winner of the MotoGP Championship after what has been an impeccable year for Quartararo. All eyes will now be on 2022 to see if he can defend the crown.