Former F1 drivers Pascal Wehrlein and Brendon Hartley have been named as Ferrari's new simulator drivers alongside Davide Rigon and Antonio Fuoco.
Brendon Hartley raced for Toro Rosso in the last four races of 2017 and for the whole of 2018 before being unceremoniously dropped from their line-up. In 2019, alongside his role in the Ferrari simulator, he will once again make up part of Porsche's factory driver program, with a potential return to the World Endurance Championship – where he won the LMP1 title in 2015 and 2017 – on the cards.
Wehrlein last competed in F1 in 2017 for the Sauber team, and now races for Mahindra in Formula E. Rumours had linked him with Ferrari ever since it was announced that the ties between himself and Mercedes had been cut in September of last year.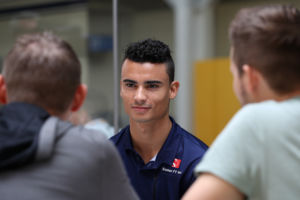 As mentioned, the pair will join Davide Rigon and Antonio Fuoco at the Scuderia. Rigon has worked in the Ferrari simulator since 2014, whilst Fuoco has long been a part of the Ferrari Driver Academy and took part in F2 last year.
Speaking of the signings, team principal Mattia Binotto said, "Our team has taken on four undoubtedly talented drivers, who possess innate feeling, with a strong  understanding of race cars and tracks. These are exactly the qualities required in the skillful role of driving in a simulator, one of the vital pieces of equipment in the Formula 1 of today."
[Featured image: Peter Fox/Getty Images]