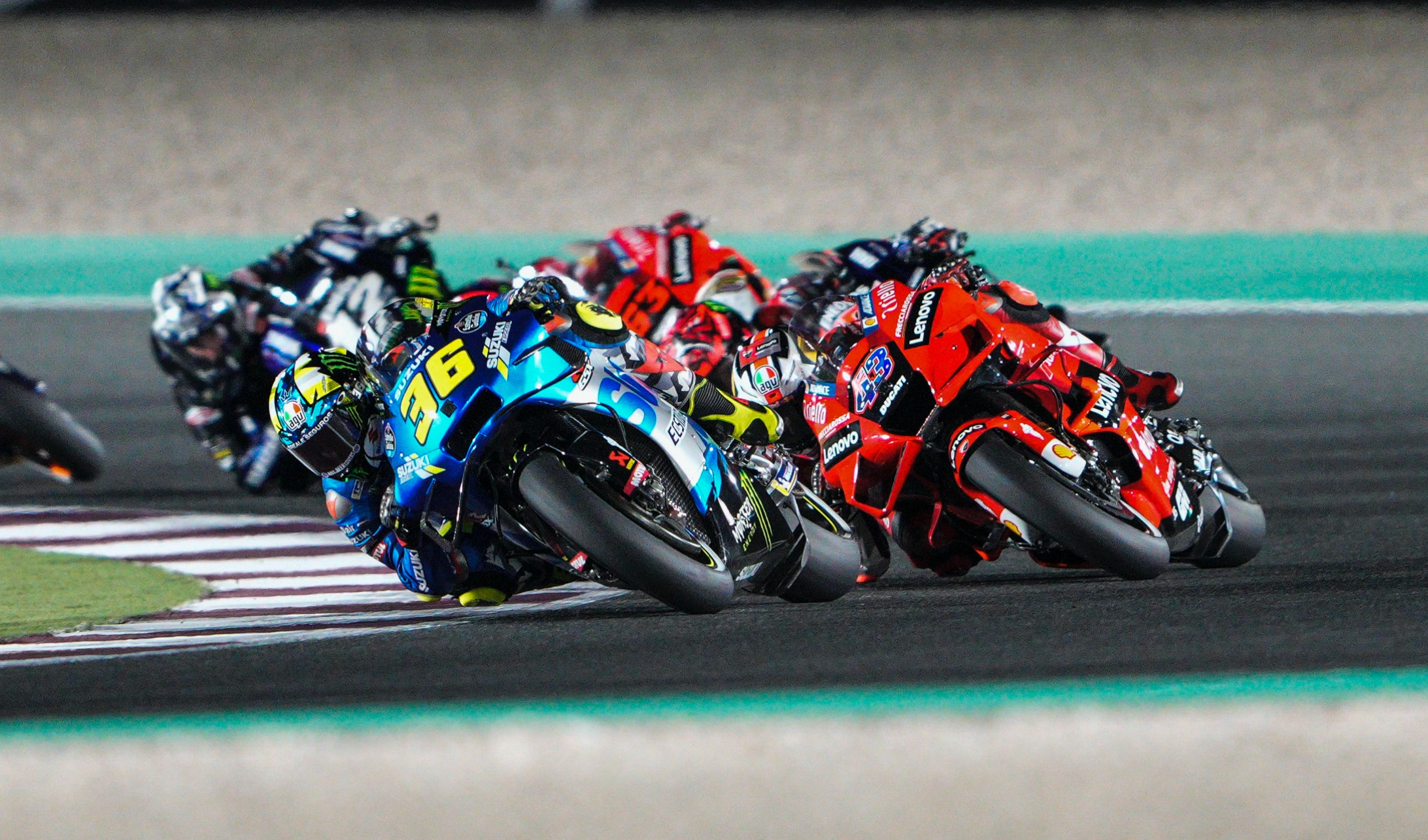 The 2021 MotoGP season has got off to a flyer, after two pulsating rounds of action in the Qatari desert. Lap records have been smashed and the rookies have shown already that their time is now! What we've also now got is a dose of controversy.
The decision by the race stewards to not penalise either Joan Mir (Team Suzuki Ecstar) and Jack Miller (Ducati Lenovo) for their coming together during the latter stages of the Doha grand prix was divisive amongst fans, to say the least. Depending on which rider is preferred, comments have varied from mild annoyance at supposed 'inconsistent stewards' to calling for riders' heads to roll. Impressive really, when you consider that both riders involved finished the race.
Whilst fans of rival riders will always be tribal in these instances (and it's partly what makes the sport so loved), the accusations that the race stewards are inconsistent could not be further misguided. The referees of the motor racing world have the unenviable job of trying to keep order of 22 adrenaline-fueled racers going at it on track hammer-and-tongs treading an incredibly thin line between heroics and disaster. I say unenviable, but having done some officiating in sport events myself I can confirm it is also a very enjoyable (if often thankless) thing to do.     
To gain an understanding as to how the stewards came to their decision, one must accept that there are a series of protocols that must be followed – protocols ultimately governed by the rules/laws of that particular sport. First and foremost is reviewing the evidence in chronological order, to determine what happened. 
Now knowing that, below is what objectionably happened with the two incidents:
Mir outbreaks himself into turn 6, resulting in his bike overshooting the apex. Mir corrects this by sitting the bike up, however he makes contact with Miller, and the two are forced out wide. However, Miller is not forced to take evasive action, neither are he and his bike sent tumbling into the gravel. Mir – as mentioned – is deemed to be making corrective action. Lastly, Miller is not forced beyond the track limits, so Mir's overtake is allowed to stand. As such, no ill-intent can be proven, so it is simply classed as a 'racing incident'. 
So far, so good. Now we move on to the second incidents where the roles are reversed.
Miller outbreaks himself into the final corner, and he overshoots the apex. Miller then 'squares off' the corner and begins to sit the bike up. As he does so, he makes contact with Mir. However, as with the first incident, Mir is not forced beyond the track limits, and he is not forced off the bike. If this was a stand alone incident it would be waived straight through as a legitimate overtake maneuver (albeit a very ugly one). 
However, because this incident has occurred almost immediately after the previous, the stewards are obliged to ensure there was no clear or blatant notion of the rider (Miller in this case) actively seeking revenge on another. This process has been thoroughly enforced following the controversial incidents between Marc Marquez and Valentino Rossi at Sepang in 2015, and Roman Fenati grabbing a rival's brake lever at Misano in 2016. 
To aid with this process, the stewards have access to every camera angle possible – TV and closed-circuit cameras. As such, when reviewing the incident they can not just track the incident, but the moments leading up to it. It is the only way to ascertain whether an incident was premeditated or not. With that, it also enables the stewards to determine external events which may have contributed to the incident in question. In this case, both Mir and Miller are clearly under pressure from riders behind them as they make their attempted overtakes. As such there is a need and urgency from the rider to brake as late as possible to ensure not only their overtake sticks, but also keeps the chasers behind. 
Finally, track conditions are also accounted for – around the Losail circuit, when the wind picks up anywhere off the racing line becomes littered with sand and grip levels drop off the proverbial cliff. With this in mind you are left with two options: 1) Ban overtaking if clean passes can't be guaranteed. 2) Accept that some overtakes will result in contact as riders struggle for grip off the ideal racing line. 
When all is said and done it is therefore impossible to conclude that Miller intentionally set up an avoidable collision with Mir, nevermind any notion of actively seeking revenge – that one shall reside in a box labelled 'conspiracy theories'. As such, the only decision the stewards can come to is to not penalise either rider. There is no doubt though that race organisers will have had words with both parties following the race that overtakes like that on a regular basis are not encouraged. 
No penalties this time and it was the correct call – but you can be sure the stewards will be keeping an eye on both riders next time out in Portimao just in case…