Hamilton finally gets his 100th win in a race with changing conditions. Heartbreak for Norris who was leading for most of the race, but a call to stick to slicks as the rain got heavier with just 3 laps left meant that he finished P7. Verstappen gained the most though finishing P2 after starting at the back of the grid.
Qualifying yesterday created a dream top 3 for some fans, and with Verstappen starting from the back it was set to be a good race. Bottas took a shock engine penalty this morning meaning he start P17, interesting tactics by Mercedes? The weather, which had played a part all weekend, looked like it may play a part with rain out at sea closing in.
Lights out and Norris got a great start, Sainz was battling Russell through to turn 2 but wins out. Sainz picked up an incredible slip stream and takes the lead around the outside of turn 3. Hamilton had a terrible start, bogged down and lost out to Ricciardo and Stroll who picked up a slipstream from Hamilton as he was boxed in.
Now in P6, Hamilton was on a charge as part of the train behind Russell who was still in P3 on lap 5. Verstappen was making up places, up to P15 but was stuck behind Bottas. The Mercedes team game looking at the bigger championship picture. However, Verstappen made a move after just 3 laps, Bottas leaving the door open and Verstappen going through.
10 laps in and Norris was now within DRS of Sainz and closing every lap. Russell holding up the rest of the pack meant that the top 2 were now 7 seconds clear to battle each other. Just 1 lap later and Verstappen was making up more places. Leclerc made a move on Vettel on the inside of turn 4 but went too deep. Verstappen just behind wanted to take advantage, but nearly pinched into the wall he had to back out and wait for Leclerc to go wide again, which happened just 2 corners later.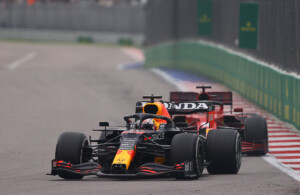 Lap 13 and Norris makes it past Sainz in a great move down the back straight using DRS. He managed to pull out a gap before Sainz went in to pit just a few laps later with an unfortunate slow stop. Stroll was the first to pit and took full advantage of the powerful undercut. Once Russell pitted, who was ahead of Stroll before pitting, he came out behind Stroll.
Ricciardo came into the pits 23 laps in. Both McLaren and Mercedes were ready but Hamilton was told to do the opposite. Ricciardo had a very slow stop trying to get to grips with the new, slower, pitstop system. The light didn't change and therefore Ricciardo was held in his pit box. This played into Hamilton's hands, who had a whole pitstop over Ricciardo. However, Hamilton, in clear air, decided to stay out longer and was putting in fastest laps. Lap 27 and having pulled a gap to Ricciardo, Hamilton had a clean stop but still came out behind Stroll. Verstappen pitted for mediums at the same time, coming out only 2 places behind Hamilton.
Norris finally pits for a set of hard tyres with a much cleaner stop. He came out in clean air with the 3 drivers ahead of him yet to stop. Hamilton on fresh hard tyres made use of the action packed back straight to dispatch of Stroll, Sainz and Gasly to begin gaining on Norris just over halfway through the race.
By lap 37 Verstappen was still behind Ricciardo, which was hurting his medium tyres. Perez pitted but had a very slow stop with problems on the rear right, meaning he came out just ahead of Verstappen. This is where team orders were expected but there was no change over and Verstappen lost out to Alonso who had fresh tyres, having pitted at the same time as Perez.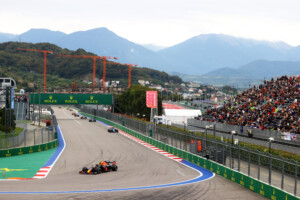 Lap 46, the rain finally came around turn 5. Umbrellas were up and every team now deciding what to do because it came in initially as light rain. Norris thinking about the race win and Hamilton thinking about the championship. Sainz the first to make a call about getting ready for intermediates. Norris went wide on the wet corners, but Hamilton also had to go slowly around the corner and stayed behind Norris.
Trying to decide when to come in the entire grid were changing positions. Importantly Norris decided to stick with the slicks with a 25 second gap to Hamilton who did pit for intermediates. Hamilton had over a 40 second to Perez so knew he had a free pit stop.
As the rain got heavier chaos ensued. Norris couldn't keep control and slides off down the back straight giving the place to Hamilton who was able to make up the gap with Norris  around. Verstappen, who did also pit for inters, took advantage of those falling off the track and made it up to P2 after starting from the back of the grid. Heartbreakingly for Norris, he couldn't control the car into the pits, crossed the line twice and will likely get a penalty to add to his eventual P7 finish. Carlos Sainz rounded out the podium with a solid performance along with the right call at the right time for the intermediate tyres.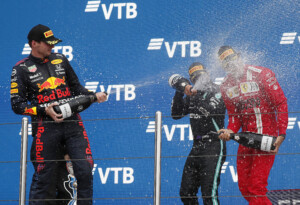 Sire Lewis Hamilton finally gets his 100th win. The first driver in Formula 1 history to achieve this especially in changing weather conditions. He also now leads the championship by only 2 points to Verstappen going into the next round.