McLaren have confirmed that Daniel Ricciardo will leave the team at the end of the season by mutual consent.
The Australian joined from Renault in 2021 to replace Carlos Sainz, who headed to Ferrari while Sebastian Vettel joined Aston Martin.
The Australian struggled to find form last season though, scoring points on 13 occasions while team-mate Lando Norris finished in the top ten 20 times.
The 22-year-old also achieved four podium finishes, although Ricciardo did get the team's first win since 2012 at the Italian Grand Prix in September.
All in all however, it was a disappointing opening campaign for the eight-time race winner, who was in search better fortunes in 2022.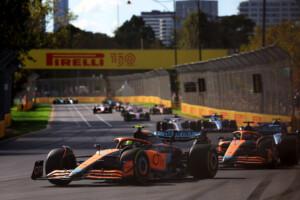 But this has not really materialised, and solid performances in Baku and Canada have been outweighed by nightmares in Imola, Miami, Silverstone and Budapest.
Norris leads the qualifying battle 11-2 this year, so there has been little reprieve for Ricciardo, who has often not quite been at one with a very tricky McLaren car.
He has added four more points finishes to his tally this year, and his frustrating afternoon in Hungary before the summer break summed up what has been, sadly, a tough time of it for Ricciardo at McLaren.
The results from the Aussie have led to public criticism from CEO Zak Brown, who is now reported to have signed Alpine reserve driver Oscar Piastri, with the Formula 2 champion having turned down the French side for next year.
There is a possibility that the former Red Bull and Renault driver could return to Enstone to replace the departing Fernando Alonso, but this would partly depend on Renault CEO Luca de Meo, who was not pleased by Ricciardo's decision to leave after just two seasons together in 2020.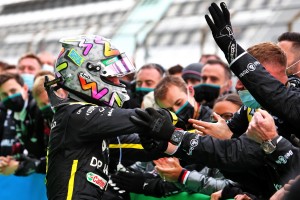 Ricciardo's time at McLaren has been unfortunate, and it can largely be put down to a lack of suitability with the car.
However, Formula 1, like many sports, is a results business, and the results were not good enough for the two parties to continue together.
Team principal Andreas Seidl thanked Ricciardo for his commitment, and praised him for keeping his head high when things were tough.
"I would like to thank Daniel for his dedication and contribution over the last two seasons so far," said team principal Andreas Seidl.
"Despite the shared challenges, he has always turned up with a fighting spirit and positivity and helped the entire team to always keep pushing forward.
"We will never forget that memorable race win in Monza which was a great boost for the whole team.
"We still have an important battle in the Constructors' Championship ahead of us for the remainder of the season and we look forward to battle this out with Daniel and Lando."
Brown acknowledged that his driver's time with the team was not as big a success as anyone wanted, but he is proud of last year's victory.
"Daniel has been a great addition to McLaren, and it's been a pleasure working with him," said the American.
"I'd like to thank him for all of his efforts over the last two seasons both trackside and back at base.
"It's no secret that we hoped we could achieve more together but seeing him stand on the top step of the podium as a McLaren driver was a highlight.
"We wish him well for the future and let's go enjoy the rest of the season together."
As for Ricciardo's future, it might not be long until he has news on that front.
"It's been a privilege to be a part of the McLaren Racing family for the last two seasons but following several months of discussions with Zak & Andreas we have decided to terminate my contract with the team early and agree to mutually part ways at the end of this season," he explained.
"I'll be announcing my own future plans in due course but regardless of what this next chapter brings, I have no regrets and am proud of the effort and work I gave McLaren, especially the win in Monza, last season.
"I've enjoyed working with everyone at McLaren both trackside and back in Woking and will be giving my all on and off track as we enjoy the remainder of the season together.
"I've never been more motivated to compete and be a part of a sport that I love so much and look forward to what comes next."
Ricciardo had previously affirmed that he would be seeing out the rest of his contract with McLaren, but the mutual termination now all but confirms the arrival of Piastri next year.