Red Bull revealed their title contender for 2022 sport the same livery as previous years but hoping it will help reigning world champion Max Verstappen to a second world drivers' championship. Christian Horner, Oracle Red Bull Racing team principle and CEO, reflects "2021 will go down in history as one of the all time great years. Our challenge is now to build on that."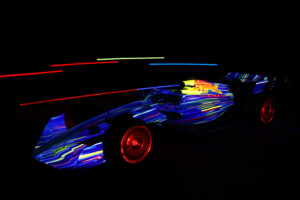 This year Red Bull decided on a virtual reveal allowing 5000 fans to stream the reveal across their own social media. The aim is to get the fans to be more involved with the team through out the year. This theme continued throughout the reveal with the announcement of new title sponsor Oracle.
Christian Horner explained he was excited about the partnership, "Oracle Cloud enabled us to make race-day decisions that helped Max Verstappen win the 2021 Drivers' Championship. With the new Oracle cloud infrastructure, we can expand the volume and variety of the data we analyse. Data is our life blood so it is really important we can access as much as possible to run faster simulations which improve tactics."
He continued: "It will also bring us closer to the fans with more digital content and interaction through development with Oracle"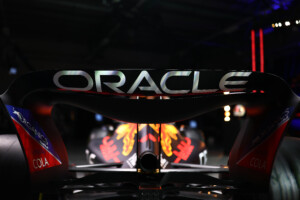 Executive vice president and chief marketing officer for Oracle, Ariel Kelman said "We have learned how Red Bull work over the last year and how they use technology to gain an edge. Our commitment to this partnership reflects our belief that OCI is a strategic weapon on race day, helps create the most exciting fan experience in sports, and can define the future of F1. Oracle Red Bull Racing is, and will continue to be, the most forward-thinking and innovative F1 team in the world."
Formula 1 is seeing a change in the regulations this year, Christian Horner describing it as " the biggest regulation change for 30 to 40 years in F1. It's a whole new philosophy so everything has changed on the car."
Max Verstappen and Sergio Perez will again be stepping up to drive the RB18 for 2022. Coming into the season as reigning world champion, Max Verstappen seemed quite relaxed "it feels no different, I'm just looking forward to getting back in the car."
He continued: "A lot is unknown about the car, but personally I feel good. I am very curious to see how the car is behaving on track." Sergio Perez is excited for 2022 "We are already working a lot with the engineers, and we can not wait to be on track. We are all starting from zero."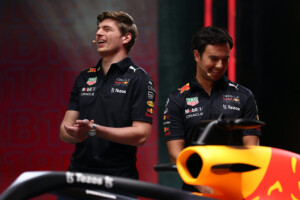 Despite the regulation changes Max explained his approach to the season, "there is no reason to suddenly be different. With the new regulations as a driver, you have to get used to the car, its not like you can just jump in and it's like an upgrade from last year so that's the biggest adaptation but it's pretty straight forward."
Sergio is looking forward to interacting with the fans but most to good racing "the new regulations are said to improve the racing and I hope as drivers we are able to compete more and follow each other more closely."
It was time for the car to be revealed with the same livery as in previous years but with the new number 1 on the front. When asked why the change in number Max simply said "it looks better than 33"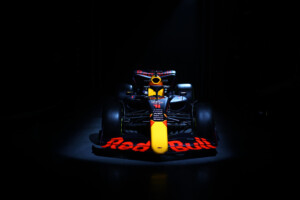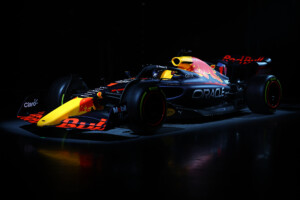 Oracle Red Bull Racing are ready for 2022 with the RB18 to defend the drivers world championship.