It has perhaps been massively overblown, but the fact of the matter is that in each of the last two races that Lewis Hamilton and Max Verstappen have gone side-by-side, they have not only made contact – but produced two frightful crashes.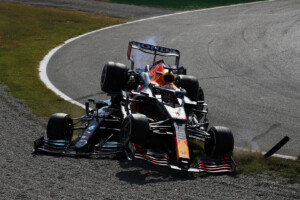 It has, unfortunately, begged the question as to whether these two elite racing drivers are actually able to go side-by-side cleanly, and it has frankly been a frustrating plot to an otherwise sublime title story. The events of Monza two weeks ago gave us a first McLaren one-two finish in over 11 years, with Daniel Ricciardo leading Lando Norris to the finish and putting a tremendously positive spin on a difficult opening campaign with the Woking-based team for the Australian.
It is no less than McLaren deserve following years of development having fallen behind since their switch to Honda engines in 2015. Even before that in 2013, Jenson Button and Sergio Perez experienced an almost insufferable car, but nobody imagined it would take this long to climb back into a winning position.
What it certainly has done is display that, when the chips are down for the front-runners, they are the midfield team that will step up and take advantage. Ferrari and Charles Leclerc had a similar opportunity in Silverstone, albeit Lewis Hamilton was still in the race following his crash with Verstappen. Hamilton of course went on to win on that occasion.
Almost mercifully, this weekend veers back away from the sprint format, which has seen the two collisions between our protagonists, but the format is not so important as the technical prowess of the cars and drivers.
The 5.8 kilometre Sochi Autodrom is a notoriously tough track to race at, so qualifying will be vital, and strategy will be crucial. This does not mean to say there can be no racing in Krasnodar – Lando Norris, George Russell and Alex Albon can testify to that.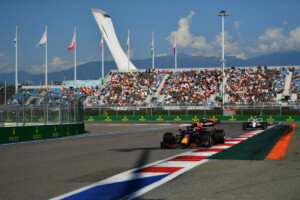 Further to their entertaining wheel-to-wheel racing last season, is the story emerging through Mercedes' Finnish departure Valtteri Bottas. He made an excellent recovery to third in Monza after his grid penalty, and there is still the odd chuckle at his defiance of team orders – setting the fastest lap again Mercedes' wishes. This is a track that Bottas has always done ever so well at, and the seemingly new-found shackles off attitude to the nine-time race winner would lead one believe we will not be seeing the same passivity as 2018 if he ends up in a similar position this weekend. he did of course win this race last year.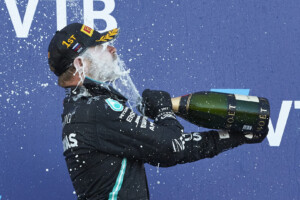 His compatriot Kimi Raikkonen will also return, having missed the last two races by virtue of contracting COVID-19.
But the focus will sadly be on Verstappen and Hamilton, whose close shaves have now come to a head twice, and let's hope they can keep it clean if they end up side by side in Russia this weekend. Either way, this is now set to be a thrilling final run-in to what has been an enticing 2021 for Formula One so far.