Max Verstappen took victory at his home Dutch Grand Prix with a dominant display at Zandvoort.
36 years since the last race at Zandvoort and anticipation was high. The Orange Army were in full force all weekend as Super Max blared through the speakers at the track. Having qualified on pole, it was all set for Verstappen to win with overtaking being notoriously difficult here.
Having gone out in Q1, Sergio Perez was already on the back foot but a change in engine for both him and Latifi meant they started from the pitlane. This meant that Verstappen would have to fight off both Mercedes to take the victory.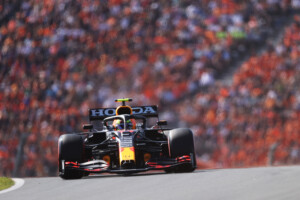 Lights out and both front runners got a good start with Verstappen closing the door on Hamilton before turn 1. All cars managed to get through lap 1 cleanly, the Alpines touched but Alonso got around the outside of his teammate in turn 3. There was some concern for Daniel Ricciardo whose engine appeared to be blowing smoke and dropping oil. However, the team were happy with the car and asked him to carry on. Verstappen had pulled out a 2 second gap at the end of lap 2 and the cars began to separate, making this a race of strategy.
After a huge flat spot on the hard tyres trying to overtake the Haas, Perez came in early on lap 10 to get rid of those vibrations. There was also a switch up of strategy from Aston Martin, who pit Vettel for a new set of soft tyres around lap 13. An unexpected move from them as most pitstops were predicted at lap 25, but this was to try an affect his race.
Overtaking is difficult here but not impossible as Perez makes a great move on Mazepin through the chicane stadium section. Proving the Red bull is a very fast car, he quickly made his way past Latifi, Kubica and Tsunoda in the next couple of laps.
Hamilton came in on lap 21, with a slow stop on the front right. Verstappen then reacted the next lap with a good stop from them and expectedly came out in front of Hamilton. Importantly, Mercedes left Bottas out longer than Hamilton, so he was leading the race after the pit stops. This looked to be a strategy to hold up Verstappen and potentially back him into Hamilton.
It was now time to see if leaving Bottas out was a good decision, Verstappen had caught up around lap 30. The narrow track made it hard for Verstappen to pass Bottas, he was only help up for 1 lap, but it was enough to bring Hamilton into the DRS zone. Although once in clean air, the gap was back to 1.5 seconds between the top 2.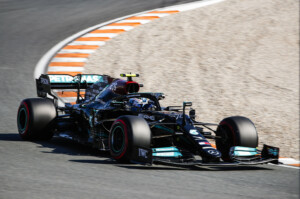 Just as George Russell makes a great move around turn 1 on his former teammate Kubica, he received a 5 second time penalty for speeding in the pitlane. Lando Norris was P8 at the halfway point and still putting in impressive lap times on his 35 lap old medium tyres. He was managing his tyres back into the points after starting 14th on the grid.
Vettel went for a spin around turn 3, briefly bringing out the yellow flag and impeding Bottas who had to take avoiding action to miss Vettel's car in the middle of the corner. This meant that when the 2 leaders pitted, he was no longer able to help Mercedes.
Hamilton pitted again on lap 40 and use the extra set of new medium tyres Mercedes have over Red Bull. A response from Red Bull the following lap with Verstappen, who ended up on new hard tyres, importantly the slower of the 2 sets. The chase was then on for Hamilton, only just edging Verstappen for fastest lap each lap.
By lap 55 Hamilton started to catch Verstappen with a gap now back down to 1.5 seconds. Having been told by his team to focus on P2, he could see Verstappen in front of him so decided to ignore his engineer and close the gap. However, the medium tyres couldn't cope with the speed and, with 10 laps to go, Hamilton had to back off and the gap opened up again.
A battle between Perez and Norris was rising in tension for P9. Both drivers put in solid performances all race with each putting in some decent moves. Perez managed to make the move on Norris at lap 67 around turn 3 after carrying the speed on the outside of turn 1, touching wheels on the way. Alonso was also showing his experience, looking for a move on Sainz who had a very different race to his teammate, being off Leclerc's pace by at least half a second.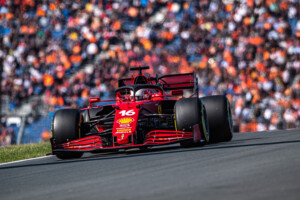 Mercedes pitted Bottas as a precautionary measure in case they needed to pit Hamilton for fastest lap point. Bottas was told not to do the fastest lap attempt, and after going purple in sectors 1 and 2 it was the infamous message "Valtteri, it's James" and was told to abort the lap. Bottas did slow down but it was not enough, and he achieved fastest lap. Hamilton was then forced to pit with 1 lap left.
Verstappen won with a very dominant performance around a Zandvoort lined with Orange. Hamilton crucially got the fastest lap on the line but conceded defeat from an outright faster Verstappen and Red Bull. Bottas rounded off the podium with a P3 finish. Verstappen led from start to finish, achieving over 1000 race laps lead. He was in control for the whole race meaning Mercedes had no answer for him.
Gasly managed to convert his great P4 qualifying into a P4 finish, an excellent result for him and Alpha Tauri after Tsunoda had to retire early having had power issues on track. Perez got a deserved driver of the day and finished P8 from starting in the pitlane.
This means that Verstappen goes into Monza next week with a 3 point lead in the championship. Having broken his Italy curse earlier on in the year he will want to replicate today's performance.