It had to happen eventually. Max Verstappen and Lewis Hamilton have been battling hammer and tong all season long so far and, while we are all enjoying the psychological and physical challenges that come with a great title fight, we all feared that it might come to blows at some point.
The British Grand Prix at Silverstone proved to be a resplendent one for action and drama over the course of two races that weekend, and it also saw the moment that our two front-runners for the world championship become intense adversaries.
Hamilton's win following the lap one collision now places him eight points behind the Dutchman coming into Budapest, where all eyes will be on who can take the incentive going into the summer break.
Glad I'm ok. Very disappointed with being taken out like this. The penalty given does not help us and doesn't do justice to the dangerous move Lewis made on track. Watching the celebrations while still in hospital is disrespectful and unsportsmanlike behavior but we move on pic.twitter.com/iCrgyYWYkm

— Max Verstappen (@Max33Verstappen) July 18, 2021
The 4.3 kilometre Hungaroring has held 35 races in the Formula One Championship in its tenure thus far, and the 36th is as highly anticipated as ever, with two drivers not displaced to give an inch going head-to-head in the 11th round of the championship.
If 2019 is anything to go by, they may well end up being pitted directly against one another again, after the seven-time-champion caught the Red Bull driver following an extra pit stop, passing him to win a thrilling Grand Prix.
This was a time, however, when Red Bull were not in a position to contend for the title, and at a circuit in which Red Bull should thrive, Verstappen will be seeking instant redemption for Silverstone.
The 23-year-old comfortably took victory in Monaco earlier in the campaign, making him the favourite on a similar racetrack. But who else might it favour?
McLaren are bringing updates to the upcoming weekend, as they try to solidify their place in third in the Constructors' standings. Ferrari's Carlos Sainz affirms that the McLaren is already the most difficult car to overtake. With Lando Norris' three podiums and Daniel Ricciardo seemingly improving his pace, it is going to take a lot of work from the likes of Ferrari and Alpine to leapfrog McLaren. Charles Leclerc's impressive performance over all three days at Silverstone, however, puts Ferrari in a positive position this weekend.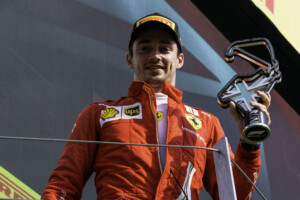 Silverstone has made Budapest a spicy encounter before it has even begun, and we cannot wait. Be sure to follow our live coverage on Twitter and our website as F1 heads into its last race before the summer break.