Sergio Perez won a bonkers Azerbaijan Grand Prix on Sunday as Lewis Hamilton finished fifteenth, failing to close the ground in the championship.
This race came with high anticipation because of all the incidents in qualifying which led to an unpredictable starting grid. Charles Leclerc managed to start on pole this week with Lewis Hamilton and Max Verstappen behind with arguably faster cars on race pace. Positioning for Leclerc was key as the long run into turn 1 provides a great overtaking opportunity at the start of the race. Hamilton pointed at Verstappen, showing that he would be covering the Dutchman off.
The start of race was a clean one, everyone making it through turn one without any issues. Hamilton pushed Leclerc but decided to back out this time, while Sergio Perez made a great overtake on Pierre Gasly, meaning he gained two places. Antonio Giovinazzi gained five places with an epic first lap, to then come in and change for Hard tyres along with George Russell in a strategic move.
At the end of lap one, the power of the slipstream around Baku showed, as Hamilton was able to make a move on Leclerc to take the lead without the use of DRS. One lap later, Verstappen had the chance to overtake the Ferrari man; this time they both had DRS and Verstappen would not make the crucial move until lap seven. Perez was able to follow his teammate on the next lap, bringing in both Red Bulls against just one Mercedes from a strategic point of view.
As the pit stops began, Lando Norris and Fernando Alonso came in at the same time, continuing the battle from on track. Norris was able to overtake the Alpine with a great move on lap 11. Leclerc pitted on lap 10, considerably earlier than predicted and Tsunoda was told to push with a fantastic response by telling his engineers: "I am, Shut up!" At this point, Mercedes decided to pit Hamilton for the hard tyres; he was held for two seconds too many to allow a passing car. A very quick 1.9 second pit stop for Verstappen meant that the extra 2 seconds were costly for Hamilton. Perez had been quietly making up the gap and pushing while the front two were pitting. Once Perez came into his pit stop, he had a slow left rear tyre change, but Hamilton's delay proved even more costly when Perez came out behind Verstappen but, importantly, ahead of the champion.
Vettel was then leading the race because he hadn't stopped. He opened up a gap, allowing himself to create a gap to his rivals for when he pitted, gaining positions on them when he came out in P7. Valtteri Bottas was being given the hurry up from his team whilst Vettel pitted, while the Finn was locked in an intense battle with Norris, the team requiring him to pass for a top six finish. This was squashed when he took a small trip through the runoff area at turn 16, opening up the gap.
As we were settling into the race, on lap 31 Lance Stroll had a massive, high speed crash on the straight. Stroll was understandably shaken, but okay and got out of the car with no issues. It appeared to be a potential left rear tyre failure, but this yet to be confirmed. The safety car was brought out, the cars were bunched up, and the tyres could not be changed due to Stroll's crash happening in the pit lane entry. This was the extra bit of excitement the race needed at that point.
At the restart, Vettel had an epic getaway, taking Leclerc and nearly making a move on Gasly to gain some places. The four-time champion then completed the move on Gasly and charged for Hamilton. Bottas, conversely, had a terrible restart, losing 3 places by the end of the lap. Unfortunately, his race went from bad to worse at that point, not able to make any overtakes at this circuit.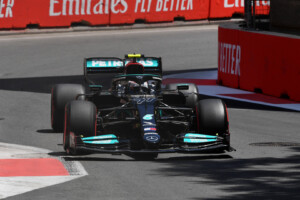 Once we had calmed down from that restart, there was a second major incident. This time Verstappen crashed near the start finish line on lap 48! Similarly, to Stroll's crash it was the left rear tyre which appeared to have failed – again, this is yet to be confirmed. The race was then red-flagged after a very interesting FIA team radio with Red Bull was revealed, where it was suggested a red flag was necessary to allow everyone to change tyres after they had no warning that there was a problem.
It was then confirmed that the race would be restarted with a standing start; a 2 lap sprint race had everyone nervous and excited. After the 20-minute stop, they lined up on the grid, Hamilton's brakes smoking very heavily. The lights went out, Hamilton had a better start on Perez and looked like he would take Perez in turn 1 with the inside line, but he went straight on! This was down to the brakes, revealing in a radio after the race that he "left the magic on". The magic believed to be a is a tyre warming set up used for safety car tyre warm up (yet to be confirmed).
In an intense battle to the finish, Leclerc and Gasly fought for the final podium place. Mercifully for both Gasly and Perez the chequered flag came out. Perez won, with Vettel P2 and Gasly P3. The didn't end there because Perez had to stop on the cool down lap with an apparent hydraulics issue which meant they nearly had to retire the car.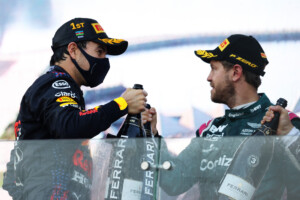 This is possibly one of the happiest podiums. Perez got his second win ever, and his first with is new team. Vettel looks to be back to his old form with a first podium for Aston Martin, and Gasly had a great race finishing third, definitely deserved for the whole Alpha Tauri team. With Hamilton, Bottas and Verstappen out of the points, it was important that Perez picked up the extra points for Red Bull in the Constructors' Championship.