With championship protagonists trying to stamp down their authority and new faces struggling to make an impression, Formula One looks very interesting indeed right now as we head to Barcelona for the Spanish Grand Prix.
It has been an immense back-and-forth battle so far between Lewis Hamilton and Max Verstappen over the course of the first three races, with Hamilton ensuring robustly last race that Verstappen knows he will need a magnificent season to beat the seven-time champion.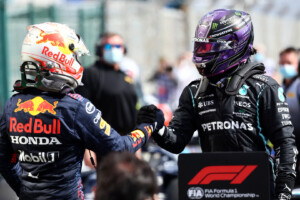 Hamilton strongly overtook Verstappen in Portugal on his way to reversing the qualifying deficit to his team mate Valtteri Bottas and claiming Grand Prix victory in the Algarve.
Just to make things a little more exciting, the 4.6 kilometre Spanish track has undergone a change, with turn 10 going deeper and widening the exit. It means that qualifying will become much more significant, with the opportunity for overtaking becoming even more oppressed than before.
It also means that, with a two-stop strategy anticipated, the boffins on the Mercedes and Red Bull pit walls are going to find themselves under enormous pressure. Add in Sergio Perez's impressive performances to this point for Red Bull, and we are about to find ourselves in an immensely gripping game of chess between two teams that know exactly what it takes to find success in Formula One.
Spain will see Ferrari's Carlos Sainz and Alpine's Fernando Alonso strap in for their home race, and they need all the momentum they can get. Sainz fell back out of the points following an impressive qualifying in Portugal, while Alonso needed a resurgence after an incredibly difficult qualifying to finish eighth.
Daniel Ricciardo is still finding his feet at McLaren, and his recovery to the points last weekend scarcely papered over a stuttering start for the Honey Badger at the Woking-based outfit. Given the necessity of strong one-lap pace in Spain, getting knocked out in Q1 cannot be an option for the Australian this weekend; his team mate Lando Norris, by contrast, has made an immaculate start to the campaign, contriving to finish on the podium finish in Imola.
After three races, Spain is the checkpoint e have been looking to as a reference for the title and who will be best of the rest and, if the first three races have been anything to go by, it will still be impossible to call after the chequered flag falls in Barcelona.