Champion Sir Lewis Hamilton came through a tremendously exciting battle with Red Bull's Max Verstappen to win the season-opening Bahrain Grand Prix.
The Milton Keynes-based team were dealt a rough hand before the race even began, as Mexican driver Sergio Perez, who was eliminated from Q2 yesterday, suffered a problem on the formation lap, and thus was forced to start from the pitlane.
Verstappen led from pole on an opening lap that saw Haas' number 9 car spin off into the wall on the exit of turn 2. As a result, the Aston Martin safety car made its race debut, as Verstappen began to complain of problems under throttle just two laps into the race.
Hamilton's team mate Valtteri Bottas, who was leapfrogged by Charles Leclerc off the start, managed to etch back ahead of the resurgent Ferrari, as the 2021 season got off to a frenetic start.
The returning Fernando Alonso instantly made some waves, taking full advantage of Aston Martin's team orders to pass Sebastian Vettel; the German was going long on strategy after a grid penalty for ignoring yellow flags compounded his already-calamitous qualifying. The four-time champion, however, came back at the Spaniard as Alonso's team mate Carlos Sainz got involved in the battle on his Ferrari debut.
Alonso's first race back however, ended in retirement just over midway through the race due to a mechanical issue.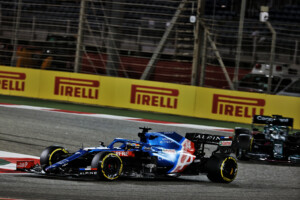 The other Alpine did not fare much better. Esteban Ocon was punted and spun by Sebastian Vettel at Turn One after the Frenchman had passed him down the home straight, and failed to score points after the incident. Vettel has now been given two penalty points in what turned out to be an abject Aston martin debut.
Back out front, it was a strategic war between Mercedes and Red Bull for the victory. Mercedes blinked first, bringing Hamilton into the pits to attempt the undercut on Verstappen on the Hard tyres. Red Bull refused to bite though, opting to stay out and pit later onto the mediums, sacrificing track position as a result. Interestingly, Mercedes pitted Bottas just a lap before red Bull's change, but he was sent back out on Hards.
One more stop each for the leaders meant that Verstappen was chasing Hamilton with 17 laps to go, and we were set for a grandstand finish. We got a controversial one.
Verstappen passed Hamilton at Turn four, but was adjudged to have completed the move off the track, forcing him to return the position. This prompted Red Bull to protest Hamilton's extensions at the same corner, as yet more stewarding inconsistencies reigned in the desert.
But it was Hamilton who survived the mammoth challenge from Verstappen to win the opener by just half a second.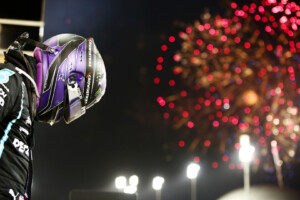 Valtteri Bottas took the other spot on the podium, as Lando Norris scored an impressive fourth for McLaren. Sergio Perez recovered excellently to finish fifth, while Yuki Tsunoda scored points in his first Formula One race for Alpha Tauri.