Red Bull junior and Hitech driver Juri Vips took victory in the final sprint race of the season in Sochi, seeing off a charge from yesterday's feature race winner Marcus Armstrong.
Vips was slow away from his reverse grid pole position, which allowed second-placed starter Jake Hughes to challenge him into Turn 2. Behind them, Leo Pulcini went around the outside of Pedro Piquet to take third place while Armstrong got the jump on Robert Shwartzman and Niko Kari to move up to fifth.
Hughes kept up the pressure on Vips throughout the early laps and on lap 4 pulled alongside the Hitech into Turn 13. But Vips closed the door and Hughes dropped back from the lead to come under attack from Pulcini. The Italian driver set up a move on Hughes into Turn 5, but came off worse as the pair banged wheels and Pulcini was spun out of the points.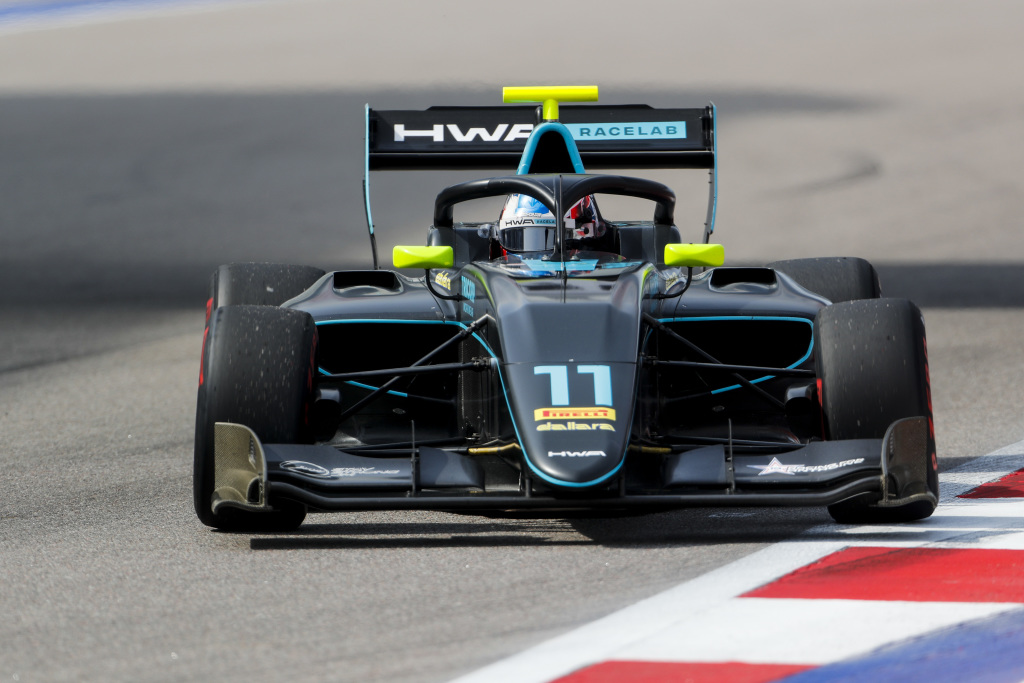 Their incident allowed Piquet and Armstrong to both pass Hughes for second and third. Armstrong then took second from Piquet at the start of lap 7 only to be repassed by the Trident at Turn 13, but on the following lap Armstrong once again passed Piquet into Turn 2 and got far enough ahead to keep the position.
After breaking out of DRS range of Piquet on lap 10, Armstrong set about reeling in Vips with a series of fastest laps. At the start of lap 14 Vips had an advantage of 3.5 seconds over Armstrong, but this dropped to half by lap 17.
However, Armstrong's charge faded in the final few laps as his tyres eventually ran out of grip. Vips was able to open the gap back up between them, having two seconds in hand when he crossed the line to take his third win of the season.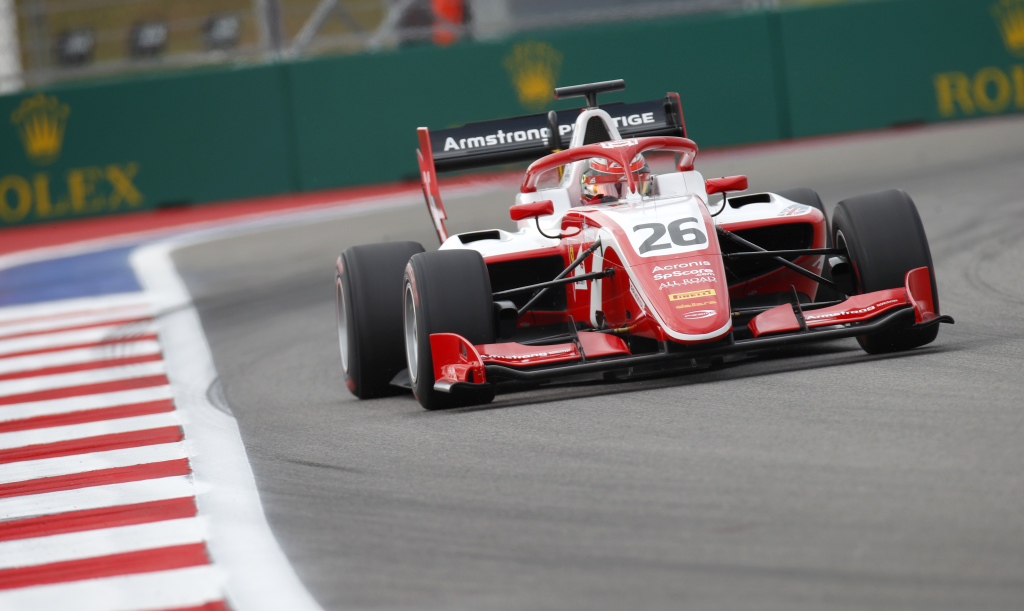 After being demoted by Armstrong, Piquet had been running in a comfortable third for most of the race. But on lap 17 the Brazilian driver pulled over and retired with a mechanical problem, promoting newly-crowned F3 champion Shwartzman to third.
Hughes finished in fourth after his clash with Pulcini, and Kari was fifth for Trident. The battle for the last three points positions raged throughout the final laps with Richard Verschoor, Yuki Tsunoda and Max Fewtrell all changing positions. But in the end Hitech's Yi Yifei, who was trailing at the back of the trio, took advantage of their fighting and managed to jump all three to take his first points of the season in sixth. Verschoor finished seventh, and Liam Lawson took eighth place after Tsunoda and Fewtrell both ran off the road with fading grip.
With second place and the fastest lap, Armstrong gained enough points from the sprint race to overhaul his Prema teammate Jehan Daruvala for runner-up in the final standings. Daruvala had been due to start from fourth on the grid, but was relegated to a pitlane start due to an engine problem before the formation lap. He then picked up a five-second penalty later in the race for leaving the track and gaining an advantage, and ultimately finished in 15th place.