A group of fans have come together through Twitter and Facebook to cheer on D-Mack driver and Welsh Wizard during Rally Wales GB this coming October. The rally takes place from the 26th to the 29th of October.
They're going to gather together in Myherin, a stage that is very well known in the rally world. The stage is just under 20km's in length and will be run twice on Friday.
Those currently joining the fun at the moment are, Phil, Kevin, Sam, Lee and Andrew. I asked them what for their hopes were for Elfyn. Here's what they said to me.
Phil Duke said:
"To show our support for Elfyn, Daniel and D-Mack as they don't get the acknowledgement they deserve. Hopefully #ELFYNSCORNER will bring the attention to ELFYN and co and to have a laugh and meet new and old friends. This is going to be the first time the whole group has got together so will great to meet them all in person and show our support. Hoping Elfyn and Daniel will have a full time full works backing for 2018 and to be fighting for the win at Wales Rally GB 2017 it's what he has proved this year that can fight at the front and a win is just around the 6 left!"
Sam Walker adds:
"I for one, think the lad has done amazing to get where he is, he has worked his backside off and done everything asked of him within the BRC and WRC.  I think next year, having gained experience with the car and knowing how it works, there is every chance he will be on the podium more often than not.  Not sure he is capable of winning just yet, but give him a couple more years and I have high hopes for our very own Welsh lad."
Kevin Pascoe said:
"My hopes are for a top 2 finish for Elfyn, but a wet Wales Rally GB, with the current tyres, doesn't inspire confidence for supporters or for him. Taking a longer-term perspective, hopefully good results in Spain and Australia should secure a competitive car and critically tyres for next season. Probably still with Ford, but would not rule out any of the three factory teams. Team managers know the challenges he has faced this year – but he has delivered anyway on most events."
Lee said:
"I hope Elfyn becomes a world champ and keeps flying our flag with pride" and he added, "he is a national hero to us and he deserves to be a champ."
Peter Jones said:
"Followed him from his first rally, and seen him grow into what I believe is a driver who can now compete at the very top. Thankful to D-MACK for giving him the opportunity this year, but that has also brought with it some frustrations i.e. Tyres have in most rallies been a handicap, and have beyond doubt held him back from exhibiting his full potential. Hope tyres work well on GB and that he can give it a real go. Hopes for next year is for him to be on Michelins, in a strong car, and getting that first important win."
"Elfyns' corner, an opportunity for his fans to get together and show the support he has got, and a chance to meet the idiots I have been tweeting over the past 12 months, and have some fun. Here endeth the lesson."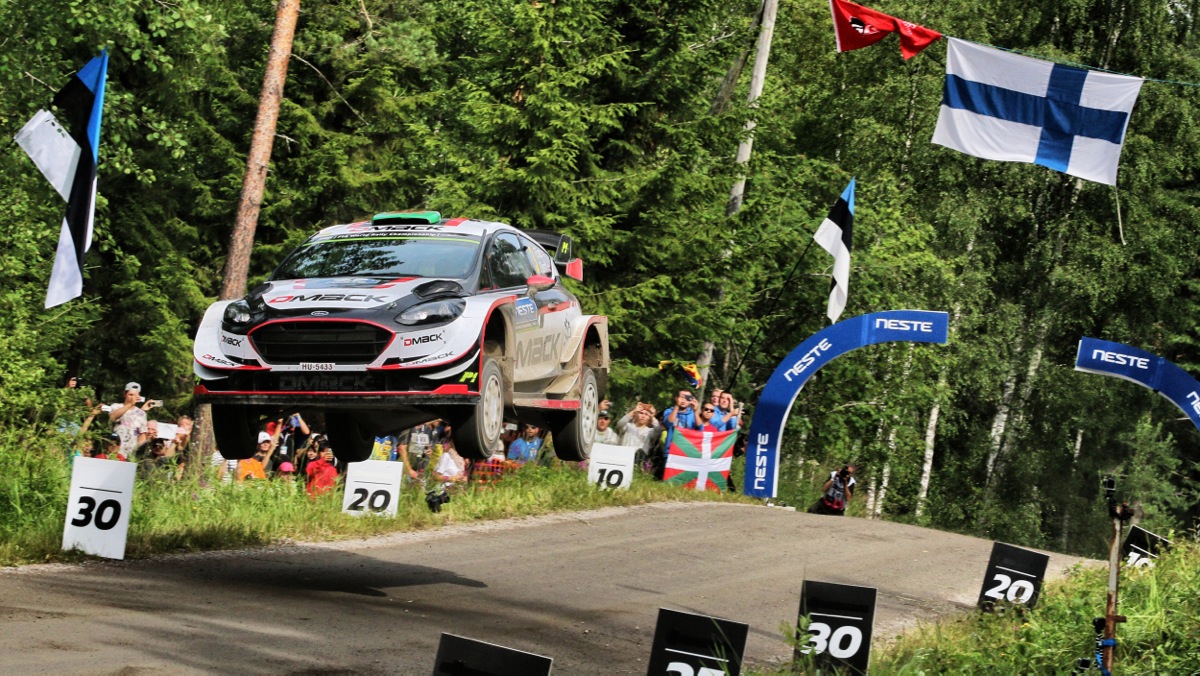 Now, let me take you back to last year.
Ott Tanak pushed Seb very closely for the win last year with the D-Mack tyres on his Fiesta WRC winning a number of stages and finishing second in the end. Well, Elfyn will be using D-Mack tyres this year. I'm not going to speculate, but my feelings are that he will certainly be running near the front and will definitely take some stage victories.
The conditions in the stages will largely dictate the overall finishing position, and at this point it's impossible to say what the drivers will face at this point.
However, these fans will hope that their efforts to support Elfyn and Dan will spur the crew to a top result.
All I will say is you won't miss this banner. It's huge! Emma Duke, Phil's wife did most of the work to get it looking so great! Look out for it!

People featured in this article
@rallymadphil @welshroadhog @samwalker170875 @pjhj51 @KevinPascoe  @madmumov3 @ELFYNSCORNER