Scott Dixon keeps his remarkable momentum going with a fourth pole position at the Indianapolis 500. His four-lap average of 231.685 mph topped the Fast Nine Shootout and will start on the front-row alongside Andretti Autosport's Colton Herta and Ed Carpenter Racing's Rinus VeeKay.
Colton Herta initially set a blistering four-lap average of 231.655 mph to take provisional pole, but Dixon had other ideas. Dixon was the last to run, and when he landed a 232.757 on his opening lap it was clear that Ganassi's six-time IndyCar champion had the potential to earn his fourth pole. His drop-off was around 1.1mph across the four laps, so his final margin over Herta was only 0.03mph – after 10 miles of flat-out driving around the Indianapolis Motor Speedway – but the job was done.
The next closest threat came from Rinus VeeKay, one of two drivers for Ed Carpenter Racing in the Fast Nine Shootout in what was a remarkable day for the team. Despite a small wiggle coming out of Turn 1 on his fourth lap, the Dutchman's 231.511 was enough to start ahead of teammate Ed Carpenter (231.504 mph). They made up the only Chevrolet cars in an afternoon that was dominated by Honda.
Tony Kanaan (231.032 mph) starts ahead of his Spanish teammate Alex Palou (231.032 mph) to round out the second-row. For the Brazilian to out-qualify two of his full-time counterparts is nothing short of sensational.
The third-row will be shared between Ryan Hunter-Reay (230.499 mph), Helio Castroneves (230.355 mph), and Marcus Ericsson (230.318 mph). Meyer Shank Racing will be incredibly happy with Castroneves's performance to pip the final Chip Ganassi driver in the session.
This afternoon also saw the final-row shootout for those who failed to make the Top 30 in yesterday's qualifying. Will Power, Simona de Silvestro, Sage Karam, Charlie Kimball, and RC Enerson were all at risk of not qualifying for this year's Indianapolis 500.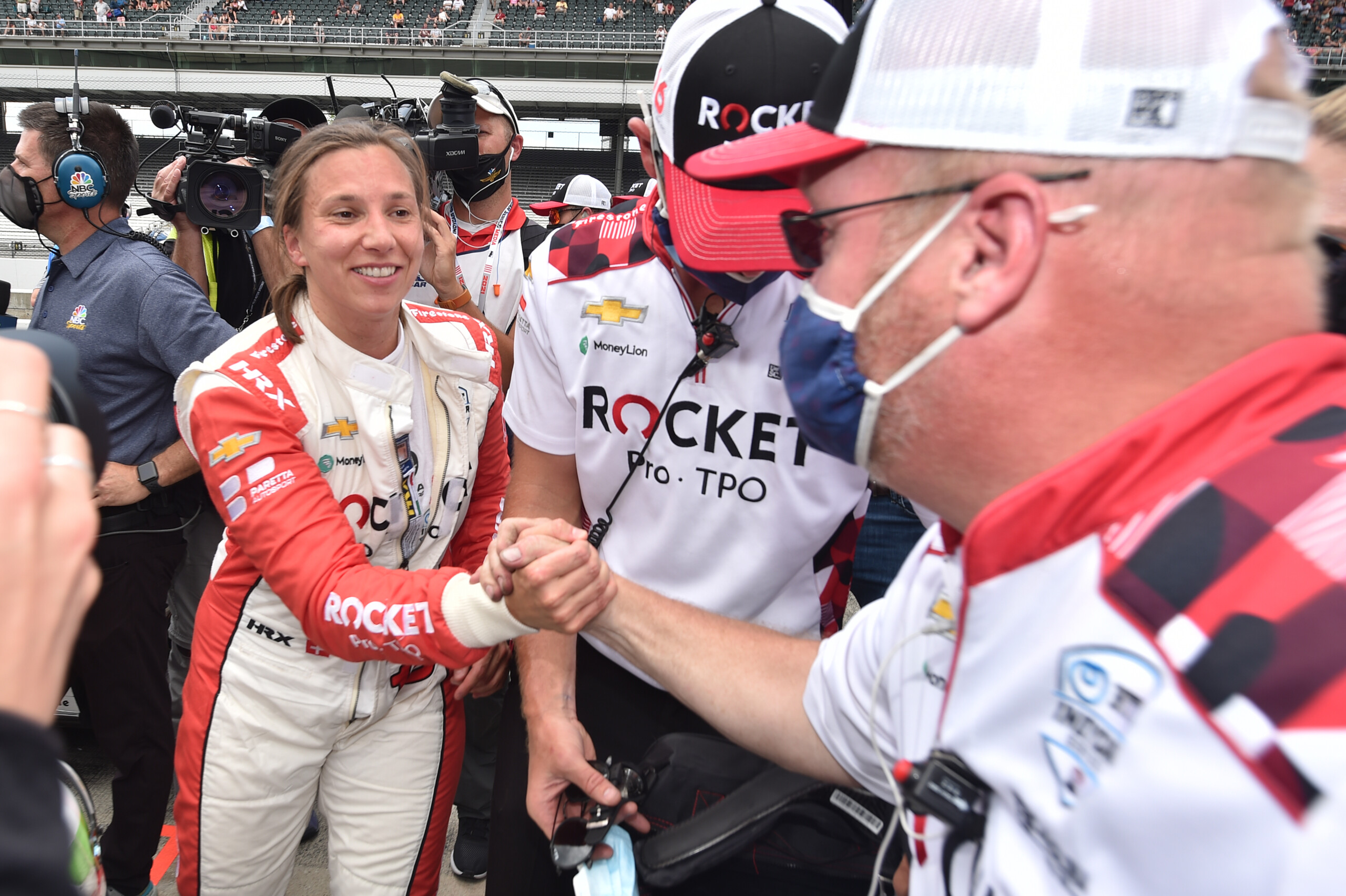 It was Karam, Power, and de Silvestro who eventually qualified for the final-row in what was a significant milestone in the history of The Brickyard. de Silvestro and Paretta Autosport become the first female driver and all female-led team to qualify for 'The Greatest Spectacle in Motorsport'.
Team Owner Beth Paretta was full of elation and had this to say on their achievement: "This is just the beginning!"
Consequentially, that means both Kimball and Enerson fail to qualify for the Indianapolis 500.
Some other shock performances in Saturday qualifying came from Penske's Josef Newgarden and Simon Pagenaud. Newgarden made multiple qualifying attempts but was forced to settle with a 230.071 mph four-lap average, good enough only for 21st. Likewise, Simon Pagenaud closed the day in 26th after setting an average of 229.778 mph in what was a difficult day for Chevrolet-powered teams.
Defending Indianapolis 500 winner Takuma Sato will start from 15th. The last to win the 500′ after starting outside the Top 10 was Alexander Rossi in 2016. Incidentally, Rossi just missed out on the Fast Nine Shootout and starts 10th.
With the grid now set, teams have two more practice sessions before the 105th running of the Indianapolis 500, which will take place next Sunday 30 May at  17:00 (BST.)
FULL CLASSIFICATION:
Dixon
Herta
VeeKay
Carpenter
Kanaan
Palou
Hunter-reay
Castroneves
Ericsson
Rossi
Jones
O'Ward
Fittipaldi
Rosenqvist
Sato
Hinchcliffe
McLaughlin
Rahal
Daly
Harvey
Newgarden
Hildebrand
Ferrucci
Montoya
Andretti
Pagenayd
Bourdais
 Wilson
Chilton
Kellet
Karam
Power
de Silvestro