Qualifying:
Moto GP was back in America!
Viewers would have noted that Maverick Vinales (Aprilia) was missing from the Qualifying sessions (and indeed the race) as he took compassionate leave due to the tragic passing of his cousin Dean Berta Vinales, last weekend.
Q2 saw a surprise lap from Luca Marini (Ducati), which took him through to Q1 where he finished 9th on the grid.
But it was a third pole in a row for the other impressive Ducati rider Francesco Bagnaia. Putting in a time of 2:02.781 over Fabio Quartararo (Yamaha) in second and Marc Marquez (Honda), who took last place on the front row of the grid.
Race:
It was the first time back on American soil since the pandemic struck. It should have been wonderful news but for many riders it caused some grievances – mainly due to the ever-deteriorating track conditions. It had become even more bumpy and the track surface even poorer, with visible differences in tarmacked sections. Some riders had even gone so far as to say that if the track wasn't fixed they would not return next year.
Regardless of the track conditions, Marc Marquez was determined to win again at the Austin track. He gave himself the very best of starts, flying straight into first from third. Leading Quartararo and Alex Rins (Suzuki).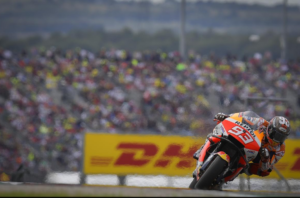 Lap 2 of 20, saw Jorge Martin (Ducati) pass fellow Ducati rider Bagnaia and gain fastest lap in the meantime. At the other end of the pack though Takaaki Nakagami (Honda) took a tumble on turn 12, but managed to continue on into the race, finishing 17th.
Lap 3 saw Jack Miller (Ducati) pass Brad Binder (KTM) and Joan Mir (Suzuki) for a place behind teammate Bagnaia, taking fastest lap from Martin soon after. Would Miller decide to remain behind Bagnaia or try to pass?
Gaps started to appear quite early on in the race with the Spaniard out on his own from Frenchman, Quartararo, then Martin and Rins. Marquez was out to prove that he could still conquer at COTA.
The leading riders had all chosen to use hard front tyres and soft rear tyres, except the Australian Miller, who had opted to ride with two hard tyres. Was there something that Jack knew and the others didn't? Or was he gambling on his tyres having something extra towards the end?
Lap 5 saw Johann Zarco (Ducati) leave his race early and crash out turn 1. While teammate Martin passed Rins again, after losing an earlier battle between the two. He quickly started to pull away from the Suzuki and put some pressure on Quartararo, who was still in 2nd.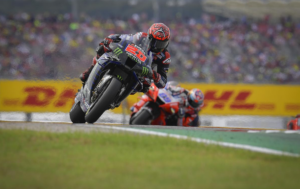 It was then time for Miller to make his decision and on lap 6 he passed Bagnaia. Could he use his tyres and get near to the top four? Rins was soon in his sights and Miller quickly passed him for fourth place.
With 12 laps remaining the gap grew bigger still between first and second, with Marquez constantly doing metronomic laps from Championship leader Quartararo. The gap became 1.736 seconds.
It was a disastrous weekend for Aprilia rider Aleix Espargaro, after having crashed numerous times over the weekend, he crashed once more- lap 10, turn 13, ending his race early.
Also half-way through the race Bagnaia passed Rins for 5th, knowing he needed to gain some more points on Quartararo for his championship hopes to stay alive. Was it too little too late?
Meanwhile, still leading, Marquez was busy proving all the doubters wrong about his physical abilities and was still gaining a lead over Fabio. Having created a 2.930 second lead. Quartararo stated that "it tastes even better than a victory" to remain in 2nd, knowing that he still had a lead over closest championship rival, Bagnaia.
Lap 13 saw Jack be the ultimate team-player and let Pecco past for 4th place. Having the precious championship points in mind for both Ducati and Bagnaia. Perhaps he was also having tyre issues with his choice of both hard Michelins, as soon after Rins passed him for 5th.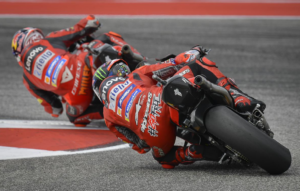 Continuing to put in impressive laps, Marc was stunning audiences with his continuous lead extension, up to 3.499 seconds from Fabio.
Bagnaia had another Ducati rider in front of him by lap 17, in the form of Jorge Martin. Speculation occurred when Martin went wide and soon after Bagnaia passed him to get the last podium position. Was this a purposeful maneuver from Martin? Or just a simple mistake? Whatever the reason Bagnaia went through while Martin received a long-lap penalty for cutting turns 4 and 5.
Last Lap:
Marquez had increased his lead even further and was 4.512 seconds ahead of Quartararo, who was also 4.513 seconds ahead of the two Ducati's of Bagnaia and Martin. Martin decided to take his long-lap penalty and came back on track behind Rins for 5th place. Becoming the top independent race finisher. Mir nudged past Miller and in doing so Enea Bastianini (Ducati) passed them both to take 6th spot.
Marquez sailed over the finish line for his 7th win at the Circuit Of The Americas and for Honda's 450th Premier Class podium. Celebrating in style with a tribute to the late Nicky Hayden #69.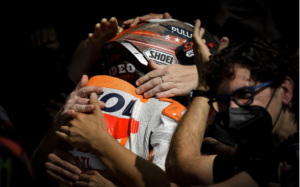 Marquez was certainly back on form and was impressive from lights out.
Race Results (Top Ten):
| | |
| --- | --- |
| 1st | M. Marquez |
| 2nd | F. Quartararo |
| 3rd | F. Bagnaia |
| 4th | A. Rins |
| 5th | J. Martin |
| 6th | E. Bastianini |
| 7th | J. Miller |
| 8th | J. Mir |
| 9th | B. Binder |
| 10th | P. Espargaro |
Even though Mir passed Miller on the last lap, the stewards demoted Mir one place for irresponsible riding (results above include this decision).
Valentino Rossi (Yamaha) also picked up the last point and set fastest lap during the last lap.
Championship Results Update:
| | | |
| --- | --- | --- |
| 1st | F. Quartararo | 254 points |
| 2nd | F. Bagnaia | 202 points |
| 3rd | J. Mir | 176 points |
| 4th | J. Miller | 148 points |
With only three races left until the end of the season. Could we see Quartararo wrap up his championship next time out? Will Marquez continue to improve? Or will we see another new race winner for the year?
(Featured image- Courtesy of: Moto GP Twitter page).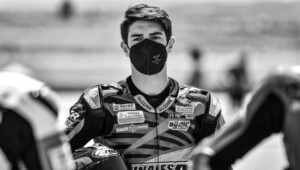 Always in our thoughts: Dean Berta Vinales. Taken too young.