People are hyping Charles Leclerc saying that he will be right in the mix next year with him moving to Ferrari. But, most are forgetting Frenchman Pierre Gasly, who is joining Red Bull for 2019. Both Gasly and Leclerc got their first action in their new teams at the end of season test. 
Pierre made his entry into the Red Bull programme in 2014 when he joined Formula Renault 3.5 alongside Carlos Sainz, and in his debut season he finished runner up taking eight podiums, after which he moved up to GP2.
The Frenchman then had a solid 2015 season taking three podiums and four poles, showing the outright speed needed to carve a successful career in the higher echelons of motorsport. He just needed to show stability across the whole season, which he showed in 2016. He moved to the PREMA team where he partned Ferrari-backed Antonio Giovinazzi. This season Gasly was impeccable and won the championship, proving himself to be a feature race specialist with four victories. 
Gasly's debut at Toro Rosso in Malaysia in 2017 was brilliant. He showed his speed with limited access to the car. He was only one tenth slower than Carlos Sainz in qualifying, incredible seeing as he had never raced in junior categories at Malaysia. He didn't score any points but Toro Rosso were struggling for performance and reliability much more than this current season.
In 2018 Toro Rosso had a much better package, especially with them being the only team running the Honda power unit. He had some outstanding performances across 2018, with the main one that comes to mind being at the second round in Bahrain. He finished fourth, claiming the best result of a Honda-powered car since their re-entry into the sport, and also the best finish for Toro Rosso since Sebastian Vettel's victory in 2008.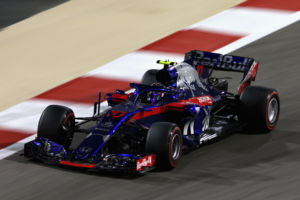 Still struggling with power early in the season at the less dependent tracks of Monaco and Hungary, Pierre nonetheless finished high in the field with solid points crucial to the team. Honda brought a big upgrade after the summer break, which showed when Gasly finished ninth in Belgium. One of his more overlooked drives happened at Mexico where he started last but finished ninth, overshadowed due to Verstappen winning and Hamilton taking his fifth world title. Across the season this showed the speed and passing characteristics required to battle at the front. 
Red Bull may have Verstappen who has shown his speed on multiple occasions at the front, but don't rule out Gasly. He has multiple titles to his name and has shown speed in the midfield. If the Honda power unit shows improvement and Red Bull chassis continues to be one of, if not maybe the best, then Gasly could be very much so battling for victories. 
Featured image – Getty Images / Red Bull Content Pool