Round 6 of the British Superbike Championship was teed up to be an absolute belter and it did not disappoint!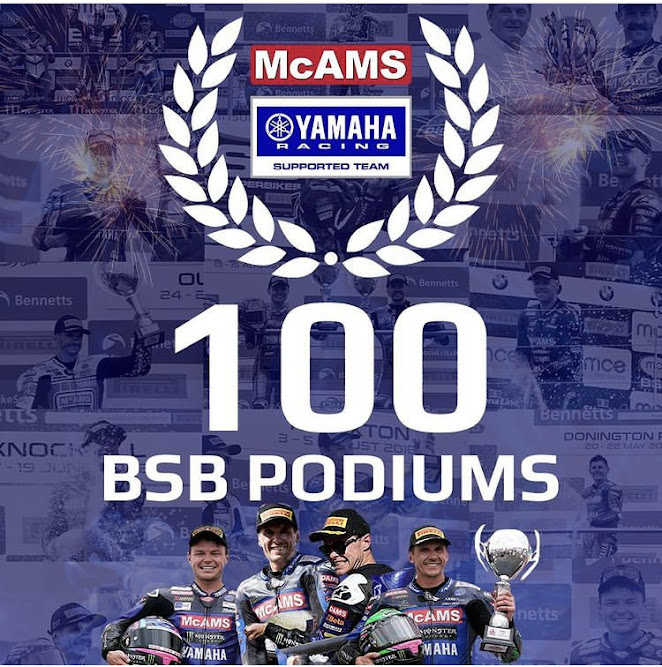 Viewers at the circuit and TV audiences were treated to a stunning show from Yamaha riders Jason O'Halloran, Tarran Mackenzie and Bradley Ray with the podium positions in races 1, 2 and 3 shared between them. The Yamaha R1 has proven to be the bike in the best riding window throughout 2021 and 2022. Tarran Mackenzie took championship glory in 2021 on the YZF-R1 and this year it is looking dead set to be another Yamaha victory (though which rider is yet to be seen). You must go back to 2015 previously and 2011 before that, to see Yamaha's last British Superbike titles in the hands of Josh Brookes and Tommy Hill respectively. 2022 more so than ever, the Yamahas seem to be able to handle what the tracks throw at them and have a handle on the remainder of the field using the bikes strengths. It gets off the corner well, although it doesn't have the legs on say the Ducati Panigale or the BMW M1000R but in true BSB style, most tracks don't have long straights where the other manufacturers can overtake, as we see in the likes of World Superbikes and MotoGP. The Yamaha (according to its riders) has very good edge grip on the tyres and gives a good feeling in the turns. To the layman, it corners well and doesn't destroy its tyres. All a combination of engine characteristics and chassis/swingarm combination which is the bike to beat again in 2022.
Race 1 on Saturday morning started off as a bit of an unknown with riders such as FHO BMW's Peter Hickman, Honda Racing's Glenn Irwin, Cheshire Mouldings FS3 Kawasaki riders Lee Jackson and Rory Skinner being in the mix on lap 1. McAMS Yamaha's Taz Mackenzie and Rich Energy OMG Racing's Bradley Ray were running 4th and 5th followed by Buildbase Suzuki rider Danny Kent, Rich Energy OMG Racing's Kyle Ryde, MCE Ducati's Tom Sykes, Oxford Products Ducati Tommy Bridewell and Christian Iddon bringing up the rear of the front running pack.
The field had been split by a first lap crash involving Luke Mossey and Chrissy Rouse which looked to have been a collision caused by contact from Josh Brookes Ducati but was put down to a racing incident as no further action was taken by race control. The gap continued to grow as the field spread out. Things settled down by the midway point as Brad Ray and Taz Mackenzie made their way to the front of the group and sat in behind Jason O'Halloran, followed closely by Peter Hickman on the BMW but it seemed Hicky was doing everything he could to stay within a second or 2 of the front three Yamahas, Unfortunately Peter Hickman couldn't keep the pace for the full race distance and was eventually overtaken by Glenn Irwin on the Honda Fireblade.
Interestingly Kyle Ryde had a problem, later alluded to as a setting issue which was out of their hands with his Rich Energy OMG Racing Yamaha and soon found himself slipping backwards out of the top 10. As the laps counted down, the field had settled into their rhythm and Jason O'Halloran maintained a few bike lengths of a lead going into the final lap.
Tarran and Ray overtook each other, back and forth in the battle for 2nd place which gave Jason the space he needed to take the victory for Saturday's Race 1. Brad Ray thought he had seen off Mackenzie in the final chicane, but Taz was able to turn a tighter racing line and cut back toward the chequered flag and pip Brad to 2nd by 0.003th of a second. On the photo finish picture released by the event organiser, 0.003 is about the profile depth of Tarran's front tyre. Approx 2 inches was the difference between 2nd and 3rd place on the day.
Race 1 Points Finishers: – O'Halloran, Mackenzie, Ray, Irwin, Hickman, Jackson, Skinner, Haslam, Sykes, Bridewell, Vickers, Iddon, Ryde, Buchan and Mizuno in 15th.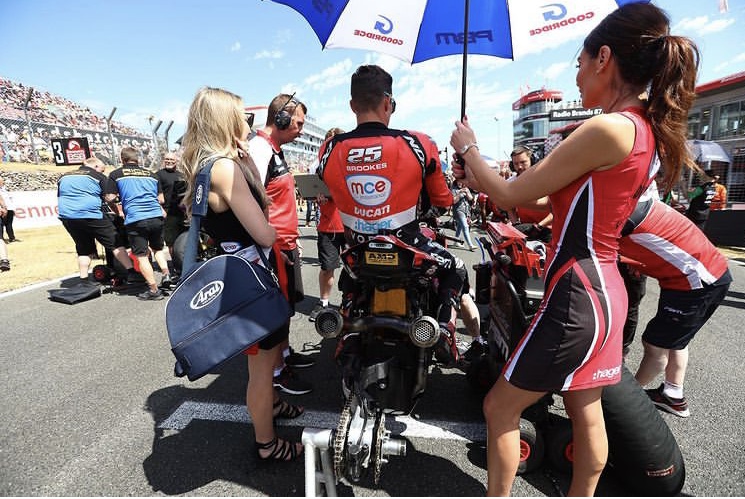 Of the riders finishing out of the points, the two riders of interest were Tito Rabat, who had been drafted in to ride the TAG Honda CBR1000RR Fireblade this weekend. The Spaniard is currently leading the Spanish Superbike Championship on board a Honda.
I got some grief on social media last week for stating that I didn't see Rabat anywhere but at the back of the field. In my eyes, if the best riders in this championship struggle with Thruxton, a circuit where no testing or track days take place due to local planning rules, I didn't see how someone can come to the championship and kick off there, on a bike with no electronic intervention, different tyres, a bike he hasn't ridden, a team he's never met etc etc etc (insert multiple other reasons here).
There is no doubting the skill of the 2014 Moto2 World Champion and EX-MotoGP rider, but Thruxton was only going to be a very rude awakening for the popular Spaniard. Tito has also ridden in the World Superbike series and failed to make an impression on their production based motorcycles. Perhaps I feel a little like James Toseland on commentary for the Donington Park round of the World Superbikes, where he spoke out against being unprepared for what you are letting yourself in for with reference to the McAMS Yamaha wild card, but for me it seemed an ill prepared choice and one that has proven to be the wrong one for Tito with 2 last place finishes and a DNF in race 3.
Tito will run out for the team again in 2 weeks at Cadwell Park and he is very excited to ride the Lincolnshire course after watching the races on the TV. Fingers crossed with more time on the bike and a better understanding of the team, his results will be more positive but again, one round after the next, Cadwell is another of Britain's quirky tracks that leaves people wide-eyed. Imagine telling any of the current MotoGP riders (barring Jack Miller) there is a jump in the middle of the track. I can't see Cadwell being much different for Tito but welcome the exposure his presence brings to the series.
The second rider shockingly outside the points on Saturday was two time British Champion Josh Brookes, who finished down in 20th place. Josh Brookes had grip issues at the circuit back in 2021 and it was clear by the end of Qualifying for this weekend's Thruxton race, his problems were there and still the same. After a qualifying position of 26th for Race 1, Josh couldn't make the progress through the field he needed to give his showdown chances a much-needed lifeline. I fear at this point the 2022 season has been written off for Josh Brookes.
Race 2 panned out in much the same way with O'Halloran, Ray, Mackenzie and Hickman getting into their rhythm and pulling a gap. O'Halloran setting a pace with Mackenzie and Ray putting overtakes on each other and Hickman watching on. Mackenzie made the first move sliding up the inside of O'Halloran at the end of lap 14 and this was the point the pin was pulled. Ray outbroke O'Halloran in the chicane on lap 15, rubbing himself up the inside of the McAMS rider but O'Halloran retaliated straightaway barging back through to 2nd place.
Ray and O'Halloran started to repeat the Ray/Mackenzie show from Saturday, allowing Taz to pull a small gap while Brad and Jason squabbled. Once Brad got his head down, he was able to catch and overtake Mackenzie and put himself in 1st position, battling for the win, but his tyres were about to show him why Thruxton is a very hard track to judge. Upon exiting Church corner and at approximately 170mph, Ray had a huge slide forcing him to close the throttle, bringing Mackenzie and O'Halloran back into contention.
Battle ensued and the race boiled down to the last lap. Ray led O'Halloran, who led Mackenzie and after a huge slide at Church corner this time for O'Halloran, they entered the final chicane three abreast for the race victory. Tarran drifting wide allowing Jason to square off to the line and sneak the victory in the same way Mackenzie pipped Ray, in Saturday's sprint race.
Race 2 Points Finishers: – O'Halloran, Mackenzie, Ray, Hickman, Jackson, Irwin, Skinner, Buchan, Haslam, Bridewell, Iddon, Sykes, Irwin, Mizuno and Brookes in 15th place.
The surprise non-points finish for Race 2 was Danny Kent. After a podium in Race 3 last year, and a DNF Crash in Race 1 on Saturday, Danny would have been fired up for a good crack at Race 2, but it wasn't to be for the local rider on the Buildbase Suzuki.
As you would expect, Race 3 panned out much the same, but the adrenaline seemed to have been spent in Race 2 for the most part. The three Yamaha riders got settled into their rhythm and made their way off into the distance leaving the midfield to fight amongst themselves. A strong race start from Sykes saw him running in the top 6 with Haslam, Jackson, Glenn Irwin and co but later would see his tyres struggle to maintain the grip on the 40+° tarmac.
Andy Irwin battled his way into the top 10 after a disastrous round so far with a DNS in Race 1 and finishing in just 13th place for Race 2, as the action from the leaders waited until the final laps. It seemed Jason O'Halloran either had no tyre left or the energy to use them. A goliath of a battle between these three Yamaha riders had entertained the viewers all weekend but the last lap battle came down to Tarran Mackenzie and Bradley Ray. Tarran defeating Brad using one of Jason O'Halloran's own moves with the 170mph "up the inside" at Church corner and maintaining the lead into the final chicane. If you watched the drag to the line on the TV you will have seen both Taz and Brad's rear wheels sideway pouring blue smoke while both tried to get the power down early to win the race.
British Superbikes seems to have moved in a different direction with its podium rider interviews. Previously they waited until the riders were off the bike and calmer, but it seems good viewing to have the interview as soon as the helmet comes off in parc ferme, while the rider is still sat on the bike. The result of this? Just go and take a look at the emotion pouring off Tarran Mackenzie after Race 3. Ecstatic with another return to the top step after battling his way back from an ankle injury earlier in the year, Tarran looked like he could burst into tears and was visibly shaking with adrenaline. It was quite something to see.
Race 3 Points Finishers: – Mackenzie, Ray, O'Halloran, Glenn Irwin, Jackson, Haslam, Bridwell, Andy Irwin, Rory Skinner, Tom Sykes, Christian Iddon, Mizuno, Vickers, Takahashi and Danny Kent bringing up the last point.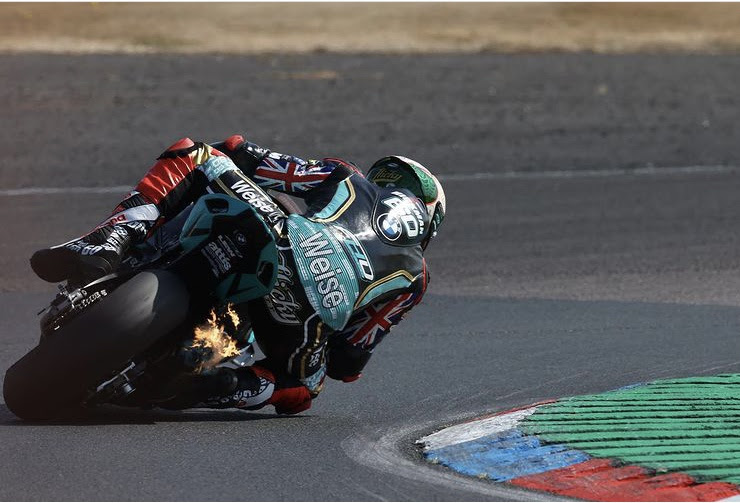 What does this mean for the championship table and the showdown positions? It means Jason O'Halloran has extended his lead over Bradley Ray in second but more importantly, he has extended his podium credits lead.
1 Jason O'Halloran – 331 Points – 48 Podium Credits.
2 Bradley Ray – 307 Points – 35 Podium Credits.
3 Lee Jackson – 219 Points – 14 Podium Credits.
4 Rory Skinner – 199 Points – 6 Podium Credits.
5 Glenn Irwin – 192 Points – 16 Podium Credits.
6 Kyle Ryde – 173 Points – 12 Podium Credits.
7 Tarran Mackenzie – 170 Points – 24 Podium Credits.
8 Tommy Bridewell – 158 Points – 5 Podium Credits.
Looking at the podium credits, this is where people can lose out. For example, Rory Skinner would move from 4th in the championship to 7th based on podium credits. Tarran from 7th to 3rd etc. If the showdown was now announced, it would be O'Halloran, Ray, Mackenzie, Irwin, Jackson, Ryde, Skinner, and Bridewell as the championship standings.
Thruxton was a fantastic spectacle this year. Certainly one that can be looked back on as one of the key races of 2022. I cannot wait for Cadwell Park in two weeks, I just hope for some of the other riders to come and mix it at the front, however if the show is another Yamaha dominated one, after the three races at Thruxton, it's still going to be a belter!
See you all soon.