Qualifying:
It is a home track for many of the riders but it was a Frenchman that claimed pole.
During Q1 Marc Marquez (Honda) decided to follow and gain a tow from Jack Miller (Ducati). Unfortunately, given his best efforts, this didn't help Marquez and he couldn't manage better than 13th  place.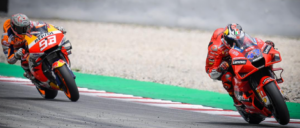 Miller on the other-hand made it all the way through and finished on the front row. Even a crash didn't interfere with his result.
Viewers may have noticed that Alex Rins (Suzuki) wasn't out on track, this was due to a cycling accident that occurred off-track where he went into a Dorna vehicle and hurt his wrist. He would also not participate in the race.
Fabio Quartararo (Yamaha) would start from pole (his fifth pole in a row this year). Miller second and Zarco third – finishing the front row.
Race:
The Catalan circuit always produces some entertaining races and this one was no exception. But there was a twist in the script book, which saw it  be thrown completely out of the window.
Prior to the race, Jorge Martin (Ducati) had an accident and was made to start from the pit-lane, from 15th slot on the grid.
Once the lights turned green it was all go – Miller and Miguel Oliveira (KTM) managed to get past Quartararo on the straight. Knowing they had to make a break for it and disrupt Fabio's rhythm.
All riders were so close together, quickly creating battles between: Maverick Vinales (Yamaha) and Brad Binder (KTM). Miller and Quartararo. Joan Mir (Suzuki) and Aleix Espargaro (Aprilia).
Mir got a fantastic start and went from tenth to fourth by turn seven, lap one.
All within the first three laps Quartararo and Miller tussled for second place but Quartararo came out worse and made a mistake causing the other riders to take full advantage, pushing him down to fifth. Mir passed Espargaro. Oliveira got fastest lap. Zarco passed Quartararo. Bagnaia then took fastest lap. Quartararo re-took fourth position back from Zarco and Binder went into the rear of Vinales – both riders remained on the track and un-hurt and finally fastest lap went back to Oliveira.
Quartararo soon gained his composure back and started to hunt down the riders in front. He passed A. Espargaro and Mir was next on the radar. On the same lap, Pol Espargaro (Honda) crashed out of the race, turn 5, lap 5.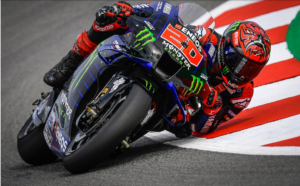 All the riders knew they had to conserve their tyres as much as possible but it was hard to think this was in the fore-front of their minds as all top 6 racers (bar Oliveira) were constantly battling for positions. By lap 7, Quartararo re-gained second place, managed to get fastest lap in the process and was soon hot-on-the-heels of the KTM.
Meanwhile, Danilo Petrucci (KTM) crashed turn 9.
Riding well was Marc Marquez, with 17 laps left in 7th position chasing A. Espargaro and Zarco down. But then disaster struck and he crashed out (for the third time in a row) on the infamous turn 10. With Pol, his team-mate already out, neither factory Honda riders gained any points at their home race.
It went from bad to worse for Honda, with Takaaki Nakagami (Honda) receiving a long lap penalty for taking a shortcut through turns one and two. Alex Marquez (Honda) would take the best finish result for the manufacturer in 11th.
With 15 laps to the chequered flag Oliveira still led Quartararo, Mir, Miller and Zarco.
The next local boy to have a DNF was A. Espargaro, same turn as Marquez a few laps earlier.
Meanwhile at the front of the pack positions were being swapped again. Quartararo passed Oliveira on turn 5, half-way through the race. But the Portuguese rider had other plans and soon re-took the lead. Zarco passed Miller for fourth and Miller and Mir had a mini battle which saw Miller win.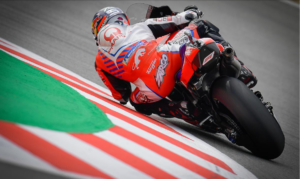 Turn 10 soon took out yet another rider, this time it was the nine-time world champion Valentino Rossi (Yamaha) who took to the dirt, with 8 laps until the end.
Iker Lecuona (KTM) then tumbled, turn 13, lap 18.
Six laps until the race finish gapping had started to appear between the racers. Oliveira and Quartararo were out on their own in 1st and 2nd. Zarco, Miller, Mir and Vinales were in another group fighting for the last podium position.
The number 88 (Oliveira) started to pull away from 20 (Quartararo) and Zarco was soon on his rear. Lap 22 Zarco passed his fellow Frenchman on the start-finish straight. Moments later Fabio lost the front of his bike a-little and he went off track but rejoined in-front of Miller. Slotting into third.
Then a very unusual thing happened, Quartararo's leathers were suddenly open and he had pulled out his chest protector. Both things had become a safety issue but the race officials did not bring out a black flag for the rider. Instead he was allowed to carry on racing. The rules clearly state that "…equipment must be worn, correctly fastened, at all times during on-track activity". This has caused controversy already. When asked at the end of the race Fabio was hesitant to give an explanation and said that enquiries were already being held on the matter and that the incident wasn't his fault.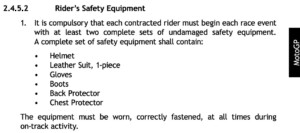 However, on the last lap he received a three-second penalty for a different rule-break – a shortcut on turns one and two, just like Nakagami earlier on in the race. Meaning that his position in third was given to Miller.
Oliveira went on to win his third ever race in Moto GP, from Zarco and Miller.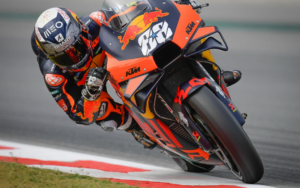 As there were only 15 riders to finish the race, everyone got at least one point towards their championship positions.
Championship results:
| | | |
| --- | --- | --- |
| First | Quartararo | 121 points |
| Second | Zarco | 101 points |
| Third | Bagnaia | 88 points |
| Fourth | Miller | 87 points |
Race results:
| | |
| --- | --- |
| First | Oliveira |
| Second | Zarco |
| Third | Miller |
| Fourth | Quartararo |
| Fifth | Mir |
| Sixth | Vinales |
| Seventh | Bagnaia |
| Eighth | Binder |
| Ninth | Morbidelli |
| Tenth | Bastianini |
Sachsenring (Germany) is next on the calendar – Sunday 20th June – Marc Marquez has never been beaten there. Will we see a miraculous win from the Spaniard or will there be a new King of the track?
Wishing all the best to Alex Rins and Suzi Perry in their recovery.
(Featured image: Celebrating with the fans – Courtesy of Moto GP)