Watermelon farmer turned NASCAR Cup racer Ross Chastain smashed out his first career win at Circuit of the Americas in final lap brawl.
On the hottest day of the year just outside of Austin, Texas, the NASCAR race at COTA came down to an overtime finish between Ross Chastain, road-course ringer AJ Allmendinger and Hendrick's Alex Bowman.
On the final restart, it was Richard Childress Racing's Tyler Reddick who led the field to green with Ross Chastain right beside him in second, but Chastain used the chrome horn and power moved by Reddick in the S's to retake the lead.
Reddick would fall back to sixth while Chastain would take the white flag and would lead the break away with AJ Allmendinger and Alex Bowman in tandem.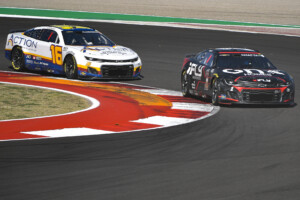 Allmendinger closed up to Chastain in the turn 12 heavy braking zone and would continue to fill his mirrors up in turns 13 and 14 before sticking his Camaro up the inside of Chastain in turn 15, consequently pushing Chastain wide after he tried to cover him off.
Chastain would get passed by Bowman too after he dived past him on the inside of 18 while Chastain returned the favour to Allmendinger going into the penultimate corner, using him as a braking block. Allmendinger's car stepped out on him and flew into Bowman who was alongside him. Allmendinger ended up backwards in the sand while Bowman had to take evasive action to avoid him. Chastain went on to take the checkered flag.
The highly anticipated ritual-like smashing of the watermelon was performed by Chastain on the straightaway from on top of his ONX Homes/iFly Camaro. Chastain was so thrilled he ate the juicy fruit while being interviewed, saying to FOX, "it's never tasted sweeter."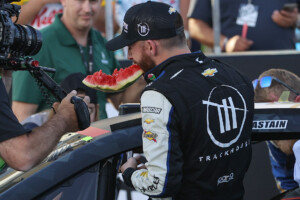 It was also Trackhouse Racing's first Cup win and was quite the birthday present for co-team owner Justin Marks.
Celebrations continued throughout the first half of the week with Chastain's own Melon Man Brand, a grassroots lifestyle organisation uniting all watermelon lovers, putting up pre-orders for a most appropriate T-shirt on Tuesday to mark the iconic moment.
Co-team owner Mr. Worldwide also put out a congratulatory post to his driver and team.
It was not the end of Ross's 'victory lap' either. On FOX's own NASCAR Race Hub, Chastain taught Jimmie Johnson's former crew chief Chad Knaus the arts of watermelon smashing.
Back at the race shop on Tuesday, Team Trackhouse were all bought a celebratory breakfast. Watermelon may or may not have been present.
Back to Sunday's race, other drivers had found to be fast throughout the race, most notably Team Trackhouse teammate Daniel Suárez, who after starting second would take the lead away from polesitter Ryan Blaney on the opening lap. Suárez would go onto win the first stage of the race. He had a not so fun experience on the restart however, finding himself spinning around while in a five-wide mess in turn one. Denny Hamlin, in desperate need of points, would sacrifice track position and stay out to win stage two.
Ford drivers Chase Briscoe and Austin Cindric would also be at the front throughout much of the race but not when Cindric brought out the first non-scheduled caution of the day for spinning coming out of the turn 10 kink, with Christopher Bell narrowly avoiding him by a whisker. The race would go to overtime when Kurt Busch, Kyle Larson, and Joey Logano came together in the turn one sandpit.
Bowman, Bell, Elliott, and Reddick made up the top five finishing order.
Featured Image: Ross Chastain, celebrates after winning at COTA (Photo by Dylan Buell/Getty Images)