This Sunday the NASCAR Cup Series' regular season gets underway at Daytona International Speedway, Daytona Beach, Florida, for the 65th running of the Daytona 500 on its 75th anniversary. 40 cars will compete in the Great American Race in front of a sold out crowd at speeds over 200mph, inches apart from each other for 200 laps, in a bid to win one of NASCAR's most prestigious prizes, the Harley J. Earl Trophy and forever immortalise themselves in the history books on stock car racing's biggest day. 
Schedule
Drivers to watch 
Schedule summary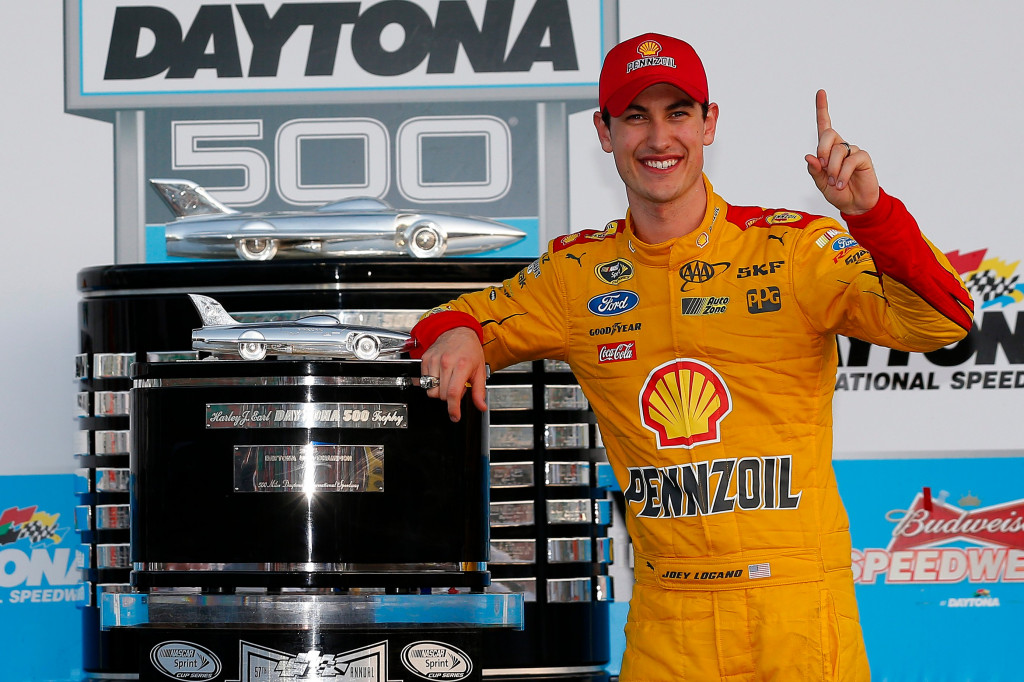 42 drivers have entered  into the 500-mile 200 lap race around the 2.5-mile superspeedway with seven part-time entries including seven-time Cup Series champion and Legacy Motor Club co-owner Jimmie Johnson and X Games gold medallist and Hoonigan driver Travis Pastrana.
Last year saw Team Penske rookie Austin Cindric win the Daytona 500 on his full-time debut. It was the first time a rookie has won the Daytona 500 since Trevor Bayne in 2011, driving for Wood Brothers Racing.
Schedule  
There are 36 chartered cars in this year's Daytona 500 meaning they are guaranteed a spot in the race regardless of where they qualify. There are four spots available for non-chartered cars to claim with six entering meaning two will fail to qualify for this year's race. Two cars will able to secure their spot from single car qualifying while the remaining two spots will be decided in the duels.
The NASCAR Cup Cars will run single car qualifying on Wednesday at 8pm ET where in round one they will run a single timed lap attempting to lay down a top-10 lap to get through to the final round where they will set another single timed lap in an attempt to secure the pole for the Great American Race.
The top two from single car qualifying will keep their starting positions on the front row for the Daytona 500 regardless of where they finish in their duel race. Hendrick Motorsport's Kyle Larson scored the pole in last year's event with teammate Alex Bowman qualifying second.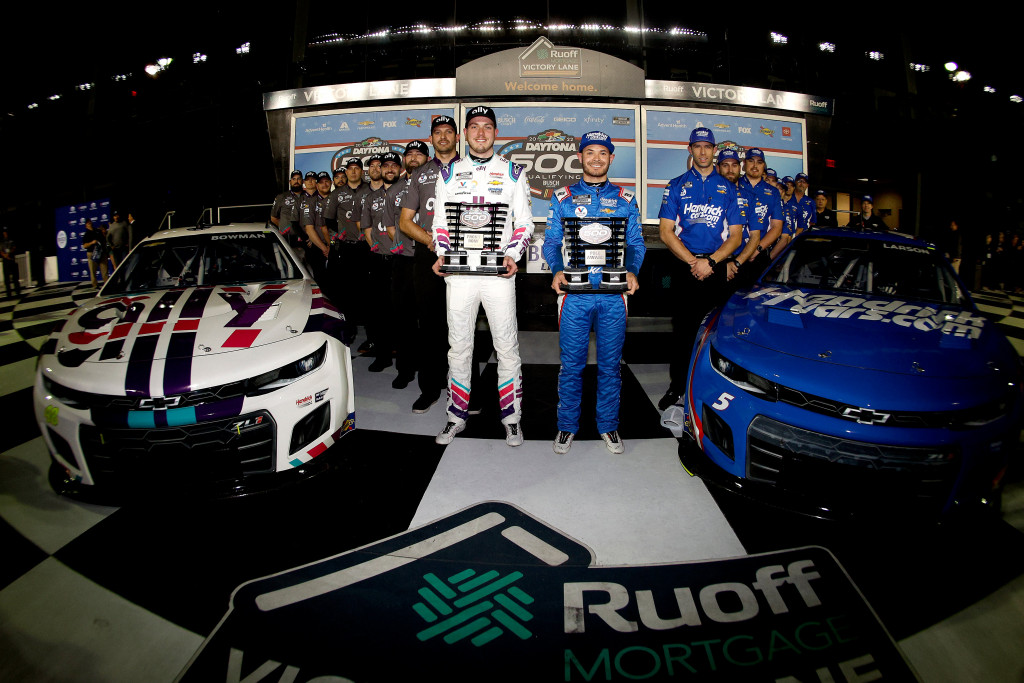 The Bluegreen Vacations Duels, the two qualifying 60-lap races, will be run on Thursday starting at 7pm ET. The finishing positions determine where the drivers will start the Daytona 500, and which two non-chartered cars will go home. Roush Fenway Keselowski Racing's Brad Keselowski and Chris Buescher won last year's duels.
As and added incentive, the top 10 in each duel race will receive points; 10 for finishing first, nine for second and so on all the way down to receiving one point for finishing 10th.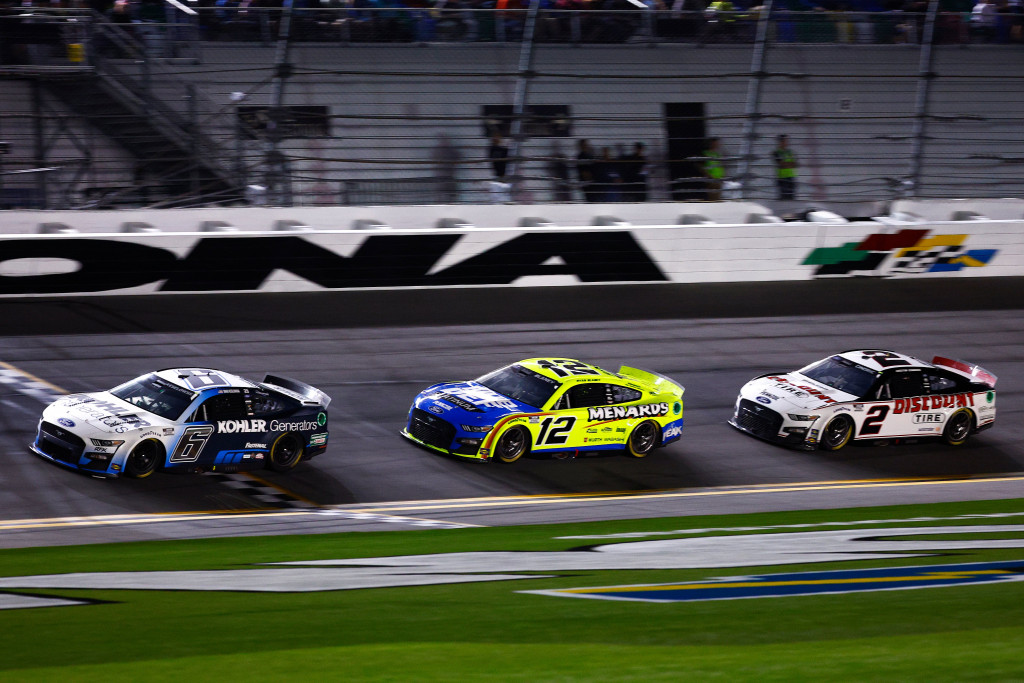 On Friday the Cup Series will have the first of two 50-minute practice sessions starting at 5:35pm ET before the NextEra Energy 250, the Craftsman Truck Series 100-lap night race, starting at 7:30pm ET.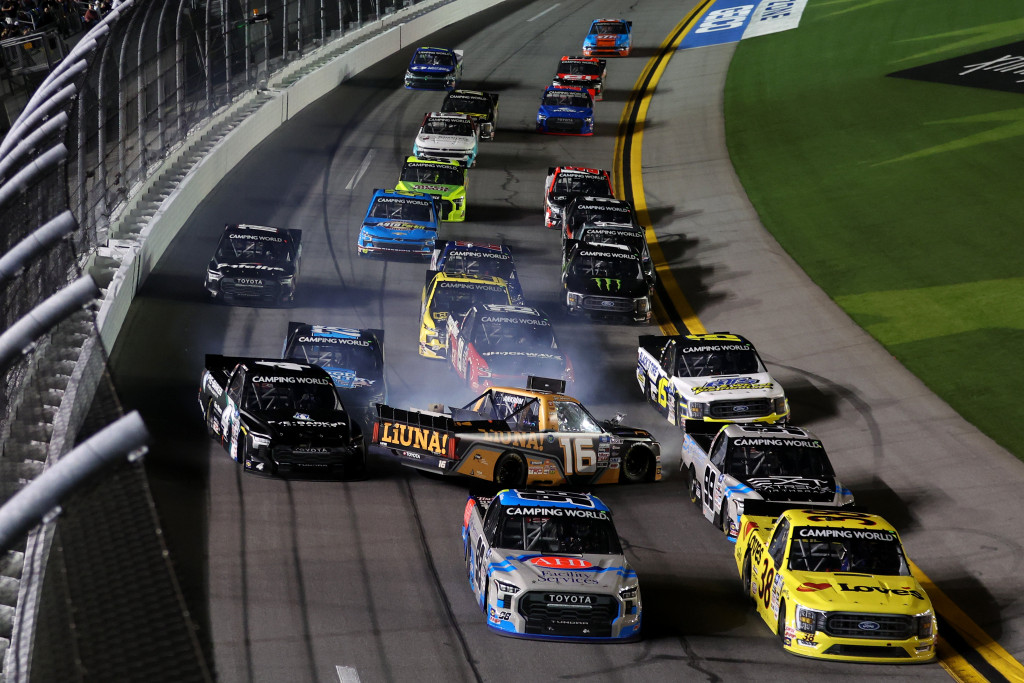 Saturday sees the Cup Series have its final 50-minute practice session starting at 10:30am ET before the Beef. It's What's For Dinner 300, the Xfinity Series 120-lap race, starting at 5pm ET.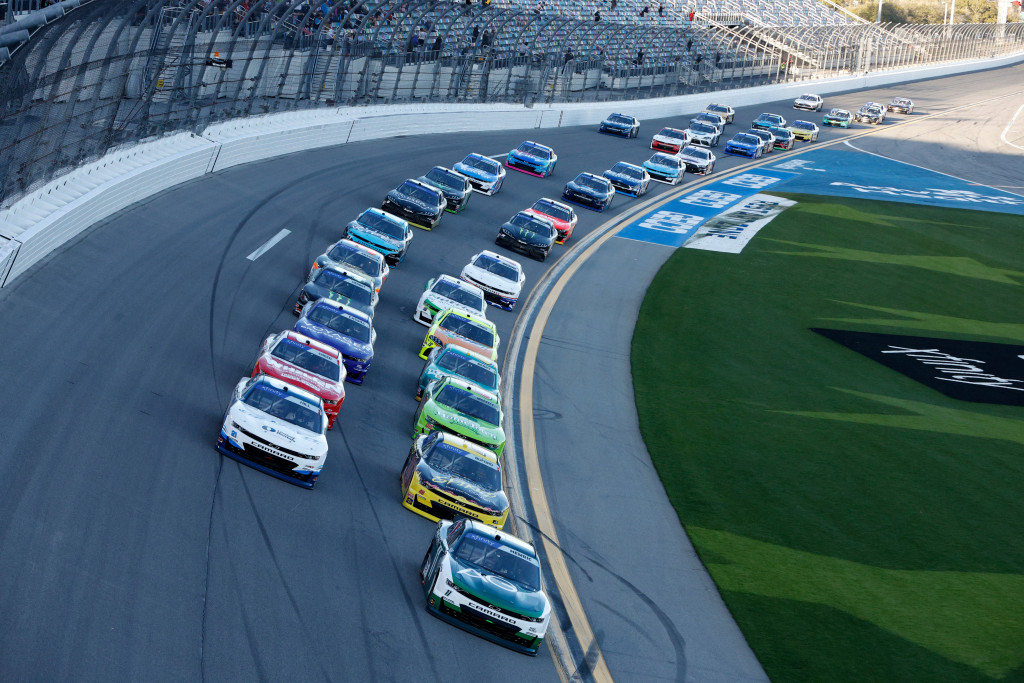 Sunday sees the biggest day in stock car racing with the 65th running of the Daytona 500 starting at 2:30pm ET in front of a sold out crowd for the eighth year running. The 200-lap race will be broken down into three stages of 65,65 and 70 laps respectively.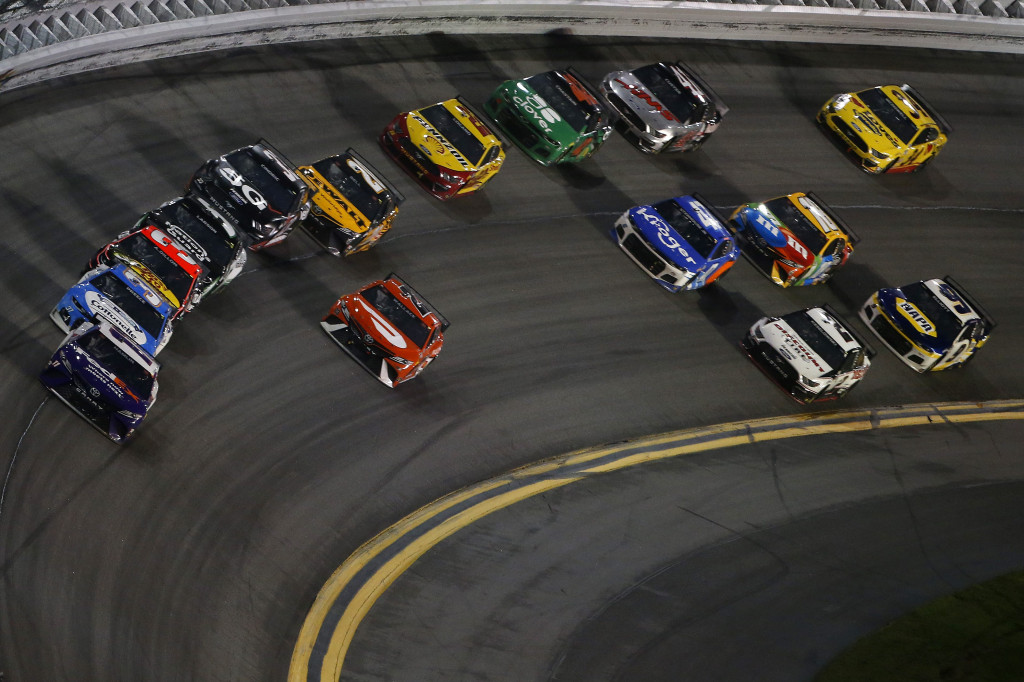 Drivers to watch
Jimmie Johnson
Two-time Daytona 500 champion Jimmie Johnson will attempt to win the Daytona 500 for a third time to join the likes of three-time Daytona 500 champions Denny Hamlin and old Hendrick Motorsports teammate Jeff Gordon in the history books. He will drive the No. 84 Carvana Chevrolet for Legacy Motor Club. He has to qualify his way into the race due to having an non-chartered car.
Travis Pastrana
Travis Pastrana, the legendary Hoonigan stunt performer and Nitro RallyCross series founder will attempt to qualify for his first Daytona 500 as a third entry for 23XI Racing driving the No. 67 Black Rifle Coffee Toyota.
Pastrana said: "I'm thrilled at the chance to race in the Daytona 500. It's the one event every year that all my friends and family come together to watch at our buddy Dale's house and it's an event I've wanted to race my entire life."
He has competed in five Craftsman Truck Series races and 42 Xfinity Series races and has raced at Daytona three times before in NACAR's national series including finishing 10th in the 2013 Xfinity Series Daytona season-opener.
Conor Daly
Conor Daly, who competes full-time in the NTT IndyCar Series, will also attempt to qualify for his first Daytona 500 with The Money Team Racing which is co-owned by boxing legend Floyd Mayweather, sporting the No. 50 BitNile.com Chevrolet. Daly has one Cup start to his name, competing in last year's Charlotte Roval race where he finished 34th.
Ty Gibbs
Rookie Ty Gibbs will make his first start for his grandfather's team Joe Gibbs Racing competing full-time, replacing two-time NASCAR Cup Series champion Kyle Busch. The reigning Xfinity Series champion will be driving the No. 54 Monster Energy/Interstates Batteries Toyota.
Ty Gibbs is racing with a heavy heart after his dad, a member of the Joe Gibbs Racing family, Coy Gibbs, suddenly passed away the day after he won the Xfinity Series title last November. Ty made 15 Cup starts last year after subbing for Kurt Busch where he earned one top-10 at Michigan.
Noah Gragson
Rookie Noah Gragson will drive the No. 42 Legacy Motor Club Wendy's Chevrolet in what will be his second Daytona 500 start. Gragson is in his first full-time Cup season, after 18 Cup races last year with the majority being with Kaulig Racing. The 13-times Xfinity Series winner was runner up to Ty Gibbs last season championship finale in Phoenix.
Denny Hamlin
Denny Hamlin will be going for a fourth Daytona 500 victory with Joe Gibbs Racing, sporting the FedEx 50 Toyota. Hamlin won the 2016, '19, and 2020 Daytona 500's with JGR.
Bubba Wallace
Bubba Wallace will compete in his sixth Daytona 500, racing the No. 23 McDonald's Toyota for Denny Hamlin's and Michael Jordan's 23XI Racing. The Alabama native will hope to finish one place better after being the 2018 and 2022 runner-up. If Wallace wins this year's race, he would become the first African-American to have done so.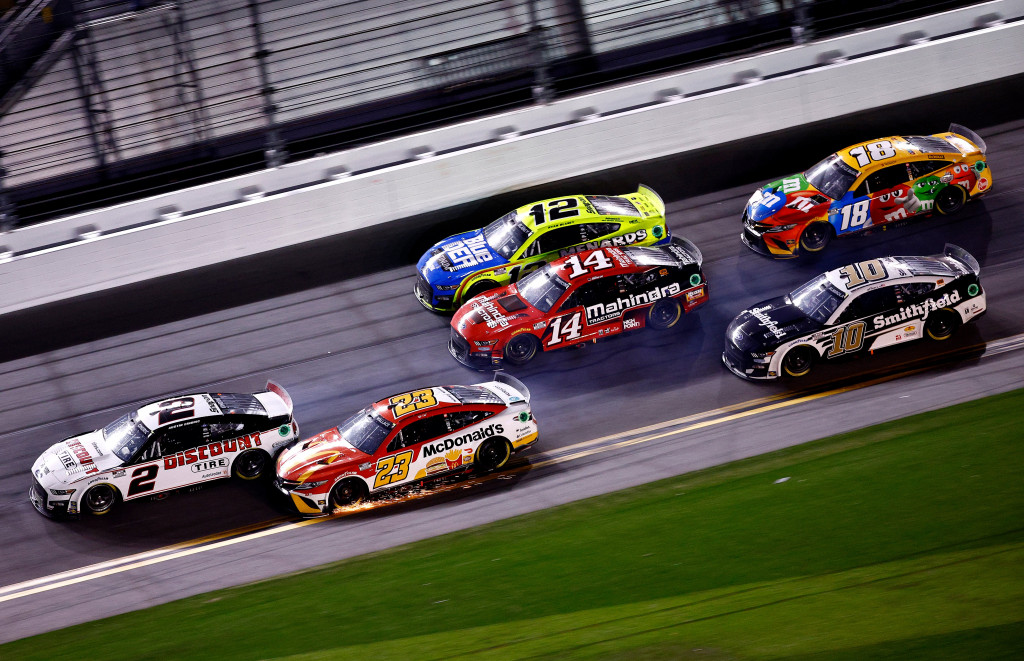 Kevin Harvick
This will be Kevin Harvick's final Daytona 500 driver as a full-time Cup driver after announcing his retirement in the off-season. Harvick won the 2007 Daytona 500 when he pipped fan-favourite Mark Martin at the finish line. Harvick will drive No. 4 Busch Light Ford for Stewart-Haas Racing.
Austin Hill
Austin Hill, the 2022 Daytona Xfinity Series race winner, will attempt to qualify for his first Daytona 500 for Beard Motorsports and will pilot the No. 62 Bennett Transportation and Logistics Chevrolet. He made his Cup debut at last August's Michigan race in the No. 33 Richard Childress Racing Bennett Transportation and Logistics sponsored Chevrolet where he impressively finished 18th.
Zane Smith
23-year-old Zane Smith, the 2022 Craftsman Truck Series champion, will attempt to qualify for his first Daytona 500 with Front Row Motorsports driving the No. 36 Wellcare Ford. Smith impressed the NASCAR garage when he subbed for RFK's Chris Buescher last season, finishing 17th on his Cup debut at World Wide Technology Raceway.
Chandler Smith
Rookie Chandler Smith, the five-time Craftsman Truck Series winner, will attempt to qualify for his first Daytona 500 with Kaulig Racing driving the No. 13 Quick Tie Inc. Chevrolet. The 20-year-old is racing full-time in the Xfinity Series for Kaulig Racing this season.
Austin Cindric
Austin Cindric will hope to go back to back in this year's edition of the Great American race, joining Denny Hamlin and Sterling Marlin who did it in 2019 and 2020, and 1994 and '95 respectively. Cindric will drive the No. 2 Discount Tire Team Penske Ford.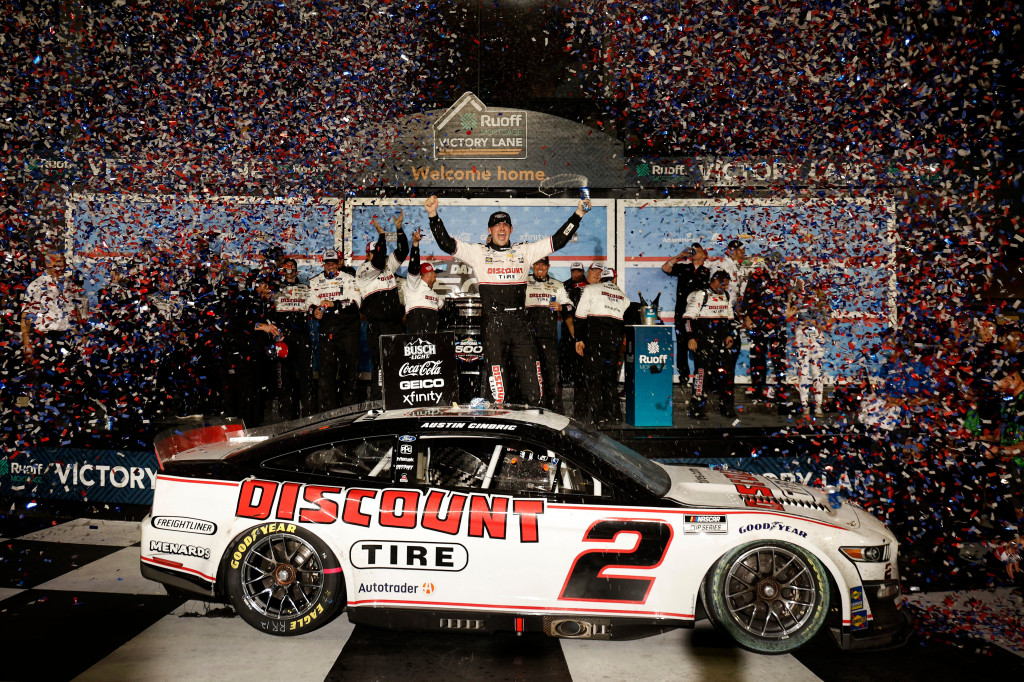 Riley Herbst
Rookie Riley Herbst will race in his first Daytona 500 and first Cup start with Rick Ware Racing, sporting the No. 15 Sunny D Ford. The Las Vegas native has competed in 109 Xfinity races, bagging 54 top-10 finishes.
Herbst said: "It's such a big event and for it be my first Cup start will be a crazy experience. I'm looking forward to seeing what I can do behind the wheel."
Catch the 65th running of the Daytona 500 this Sunday at 2:30pm ET!
Schedule summary 
Wednesday 8:15pm ET – Cup Series single car qualifying
Thursday 7pm ET –  Bluegreen Vacations Duels (Cup Series two 60-lap qualifying races)
Friday 5:35pm ET – 1st Cup Series 50 minute practice session
Friday 7pm ET – NextEra Energy 250 (Craftsman Truck Series 100-lap race) 
Saturday 10:30am ET – 2nd Cup Series 50 minute practice session 
Saturday 5pm ET – Beef. It's What's For Dinner. 300 (Xfinity Series 120-lap race) 
Sunday 2:30pm ET – 65th running of the Daytona 500 (Cup Series 200-lap race)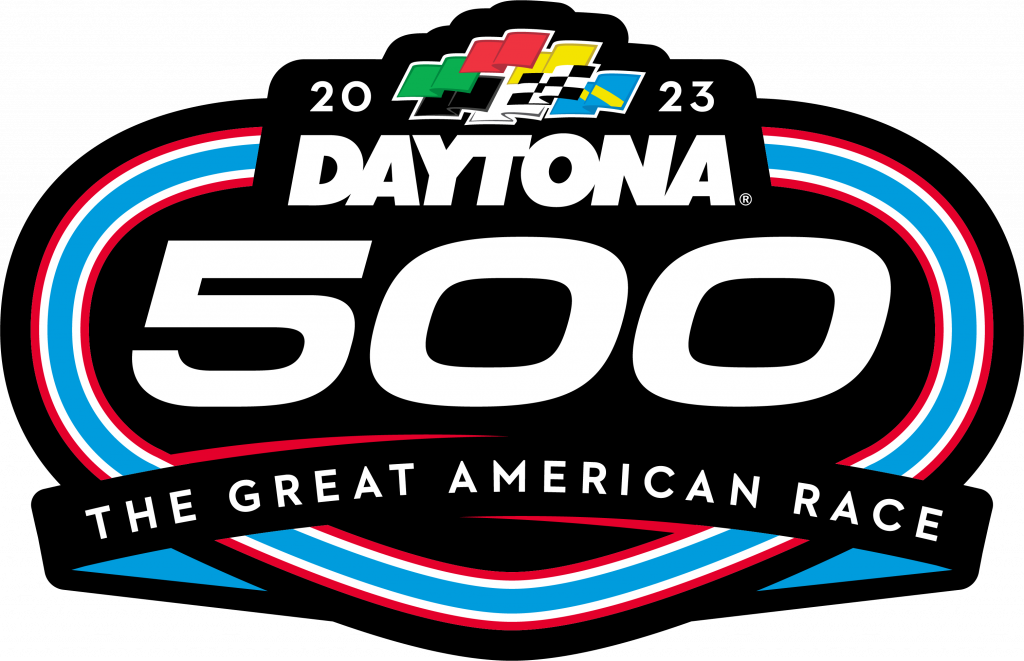 Featured Image: 20: Kyle Larson, driver of the #5 HendrickCars.com Chevrolet, leads the field to the green flag to start the NASCAR Cup Series 64th Annual Daytona 500 at Daytona International Speedway on February 20, 2022 in Daytona Beach, Florida. (Photo by Sean Gardner/Getty Images)