Its time for Round Two! The WRC heads for the amazing snow-covered roads of Sweden, one of the fastest rallies of the year! Helping the drivers keep a grip will be the special tyres that Michelin bring.
Two centimetres narrower that their gravel equivalent, and a full five centimetres narrower than the tarmac version, Michelin's "Sweden" tyre mainly stands out due to the 384 studs glued into drilled holes on the tyre tread. The studs provide such a high level of grip that at equivalent speeds, the braking distances are the same as on dry tarmac! The challenge in Sweden therefore consists of taking great care of these twenty-millimetre-long spikes, which protrude around seven millimetres from the tread blocks. The Scandinavian rally is also one of the few events where taking two spare wheels, especially on the second pass when gravel begins to appear and lines form, actually helps performance. The challenge is to switch tyres at the right moment, so that the studs wear out evenly, and avoid having an uneven tyre set-up.
This year there are 19 stages and a total of 314,25 competitive km's.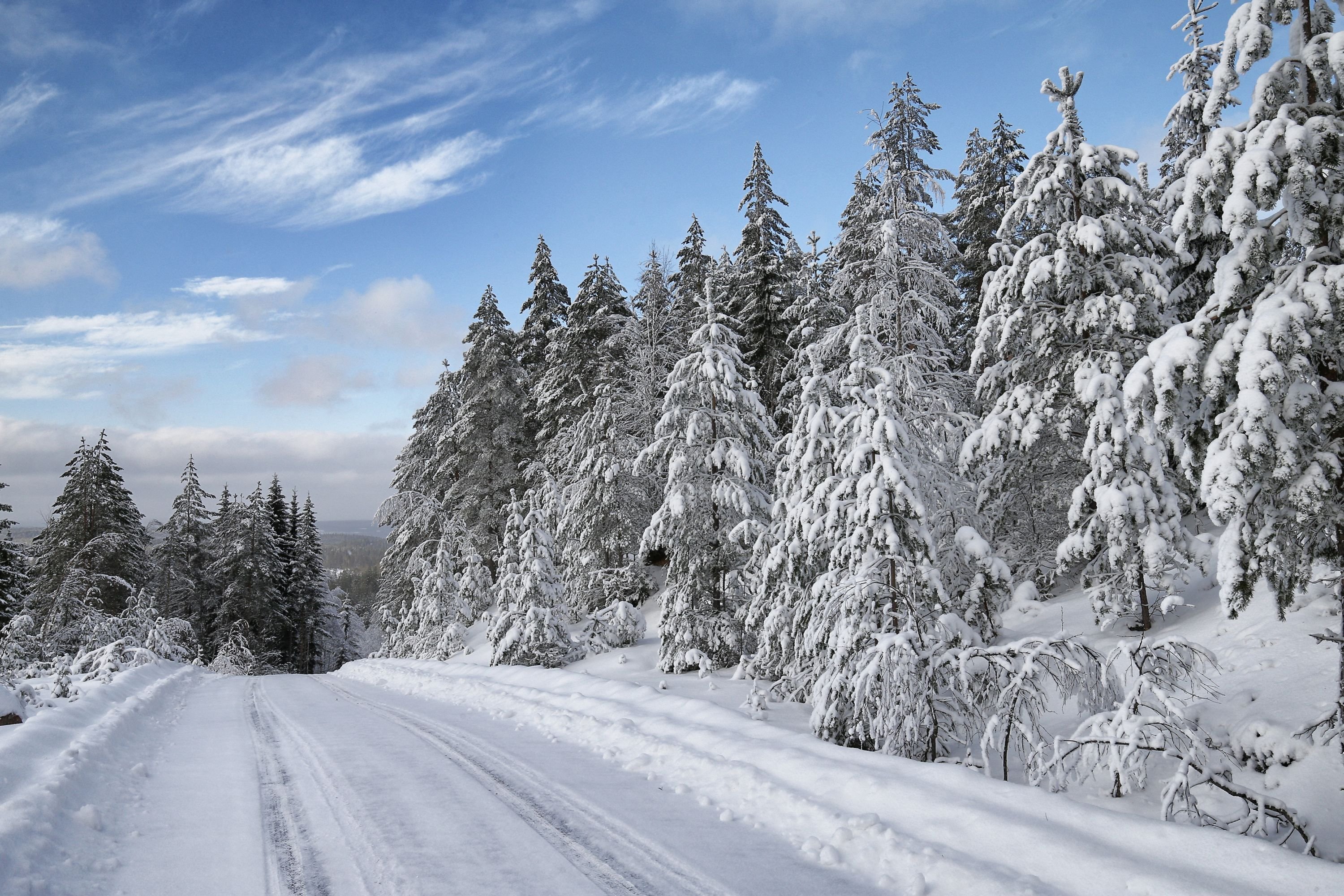 Here's the full details of the stages!
THURSDAY 15 FEBRUARY
8.00am: shakedown (Skalla)
8.04pm: Start day 1 (Karlstad)
8.08pm: SS 1 – Karlstad (1,90 km)
9.54pm: End of day 1
FRIDAY 16 FEBRUARY
6.00am: Start day 2 and Service A (Torsby – 15 mins)
7.55am: SS 2 – Hof-Finnskog 1 (21,26 km)
9.07am: SS 3 – Svullrya 1 (24,88 km)
9.54am: SS 4 – Röjden 1 (19,13 km)
11.31am: Service B (Torsby – 30 mins)
1.41pm: SS 5 – Hof-Finnskog 2 (21,26 km)
3.03pm: SS 6 – Svullrya 2 (24,88 km)
3.50pm: SS 7 – Röjden 2 (19,13 km)
4.56pm: SS 8 – Torsby 1 (9,56 km)
5.31pm: Flexi Service C (Torsby – 45 mins)
SATURDAY 17 FEBRUARY
7.05am: Start day 3 and Service D (Torsby – 15 mins)
7.54am: SS 9 – Torntorp 1 (19,88 km)
9.12am: SS 10 – Hagfors 1 (23,40 km)
10.08am: SS 11 – Vargasen 1 (14,21 km)
11.40am: Service E (Torsby – 30 mins)
12.44pm: SS 12 – Torntorp 2 (19,88 km)
2.12pm: SS 13 – Hagfors 2 (23,40 km)
3.08pm: SS 14 – Vargasen 2 (14,21 km)
5.45pm: SS 15 – Karlstad 2 (1,90 km)
7.26pm: SS 16 – Torsby Sprint (3,43 km)
7.56pm: Flexi Service F (Torsby – 45 mins)
SUNDAY 18 FEBRUARY
6.30am: Start day 4 and Service G (Torsby – 15 mins)
7.50am: SS 17 – Likenäs 1 (21,19 km)
9.51am: SS 18 – Likenäs 2 (21,19 km)
12.18pm: SS 19 – Torsby 2 (9,56 km)
1.00pm: Podium (Torsby)
Here's the views of all the teams then!
M-Sport Ford
Sébastien Ogier
"It looks as though we are in for a true winter rally next week with everything needed for a classic Rally Sweden. Reports from the region suggest that there's a good ice base and high snow banks which is everything a driver wants to hear ahead of this event.
"In those conditions, we can reach incredible speeds and lean the cars on the snow banks to help guide us through the corners. It's an amazing feeling, but it's not without its challenges.
"There's certainly an art to driving on snow and you need to be precise. You have to judge the strength of the snow banks perfectly and – with more snow than previous years – there could be a lot of work to do on the Pacenotes.
"As the first car on the road, we'll also have to wait and see what the conditions are like and we're certainly not hoping to see any fresh snow on Friday.
"We got the season off to a great start last month, but we all know how strong the competition is and we're expecting it to be even stronger next week. The Scandinavians are always strong here, but we plan to give them a hard time and secure another strong haul of points for our championship defence."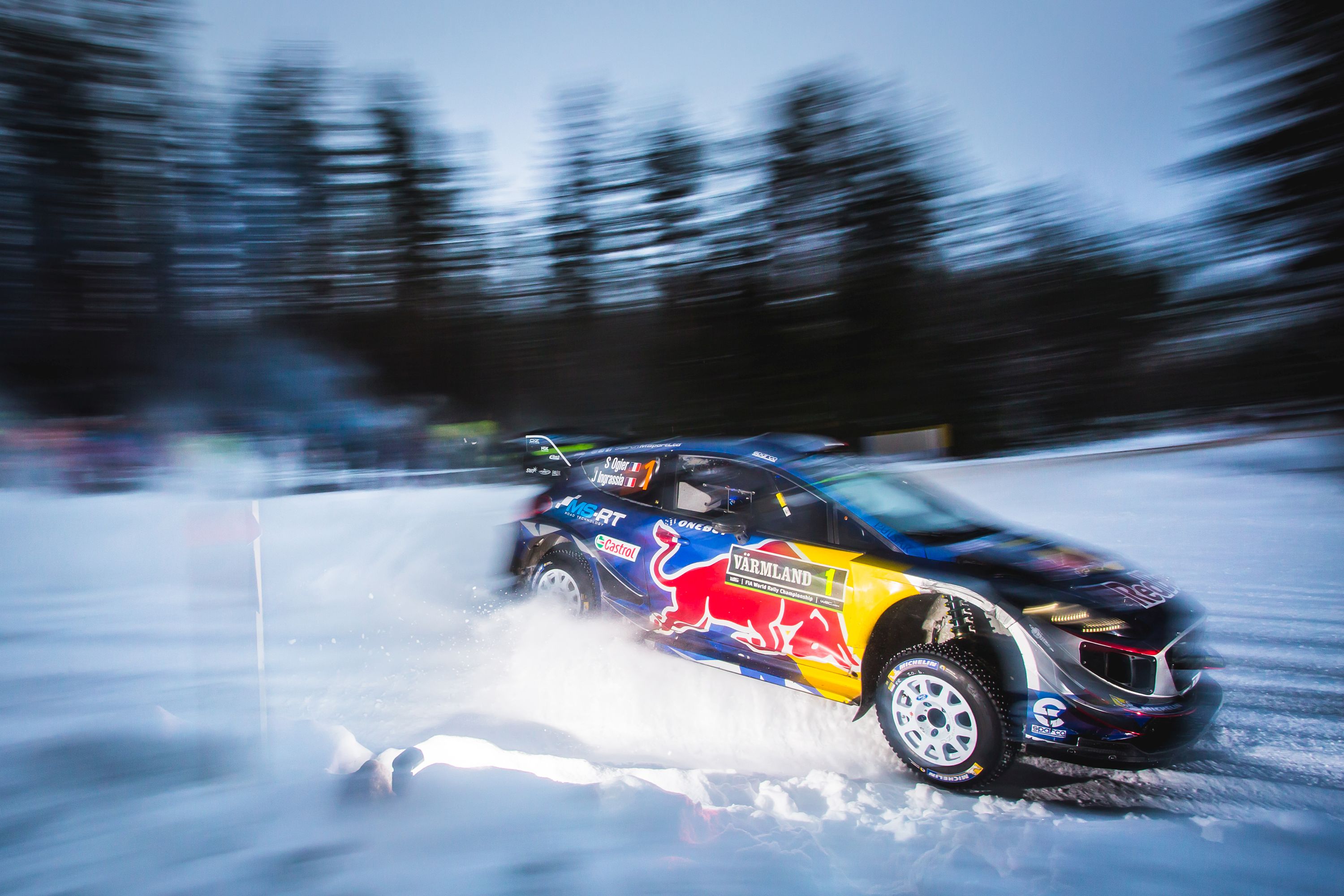 Elfyn Evans
"Rally Sweden is an event that everyone looks forward to. On a classic Rally Sweden – like what we're expecting this year – we can reach incredible speeds and if you get it right it's easily one of the most enjoyable rallies on the calendar.
"The feeling on snow isn't a million miles away from driving on gravel, but there are certain techniques that we'll need to adapt and it can take a bit of getting used to at first.
"Vision can often be a challenge – particularly if there is a lot of fresh snow making it difficult to read the road ahead. Our Pacenotes and recce are going to have to be spot on, but we're ready for it and really looking forward to it.
"There's something of a score to settle after Monte where we were capable of achieving more than we did, so let's see what we can do in Sweden."
Teemu Suninen
"We've just completed some good test kilometres in Northern Sweden which went really well. I've not driven the Fiesta WRC since last year's Rally Finland, so that gave us a chance to get familiar with the car and we're now feeling well prepared for the start of the rally.
"It would be amazing to challenge for a podium again. Perhaps that is a realistic goal, but we would have to deliver the perfect rally to achieve it. With eight events this year, we also have to consider a slightly different approach. In 2017, we were solely focused on our future and showing what we could do, but this time we also have to think about the team and scoring points for the manufacturers' championship.
"In terms of the weather, there have been talks of freezing temperatures and high snow banks but we'll have to wait for the recce before we can see for ourselves. Whatever the conditions, the speed is always high. On a rally as fast as this the seconds are harder to gain, and we will have to be on the pace from the very first stage."
Citroen Abu Dhabi WRT
Kris Meeke
"It looks like we going to get perfect winter conditions this year and like all the WRC drivers, I can't wait to get started! In the last few seasons, with a limited amount of snow, you had to be very cautious or risk getting stuck in a snow bank after the slightest impact. The snow banks seem to be bigger and more compact this time around, so we'll undoubtedly be able to drive more aggressively and use the banks more, although we may need a bit of time to get used to that. In any event, it's an exciting challenge that I'm going to try and tackle with the same sensible approach as in Monte-Carlo."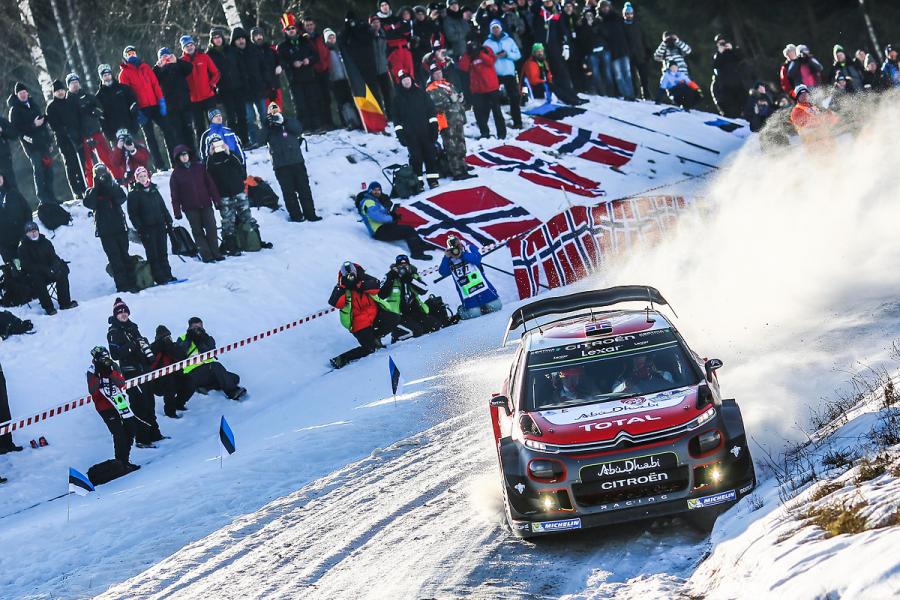 Craig Breen
"Between the start and end of last season, the C3 WRC made a lot of progress on gravel, so I hope it'll be the same on snow and ice. Especially as Sweden is one of my favourite rallies, and one where I feel really confident. In fact, I had my very first race in a WRC here in 2014 and also made my maiden appearance in Sweden with Citroën Racing in 2016. After a difficult Monte, I'd love to get decent points on the board. And it looks like the road conditions will be perfect for this year's rally, with really solid snow banks that are forgiving if you make a relatively minor mistake."
Mads Ostberg
"Rally Sweden is a special event for me and I have always been quick here, so I'm very happy to have this opportunity to rejoin the team. I'm hoping to make the most of the shakedown at Satory and then the day of pre-event testing to adapt quickly to the C3 WRC. In any case, I'm already up to speed in these conditions, having contested two winter rallies in Norway, the second of which I won. With the bigger snow banks this year, the roads are likely to be narrower and more technically demanding, so perhaps we Scandinavians may be able to take advantage of our greater experience in conditions like these."
Toyota Gazoo WRT
Jari-Matti Latvala
"Sweden is one of my favourite rallies and actually the place where I took my first WRC victory 10 years ago – although it really doesn't feel like so long ago! Compared to last year I think we have a better car: we concentrated on improving it on the slower and more technical sections during our test, and we definitely made a step forward in this area. Having said that, the competition is even tougher this year: within our own team as well. It's going to be a really nice challenge in proper winter conditions and that of course helps me raise my own game; I'm confident we can fight for the win again. This weekend I'm also taking part in a local rally on snow in Finland with Juho Hänninen in my historic Toyota Celica, so this will be a lot of fun and the perfect way to prepare."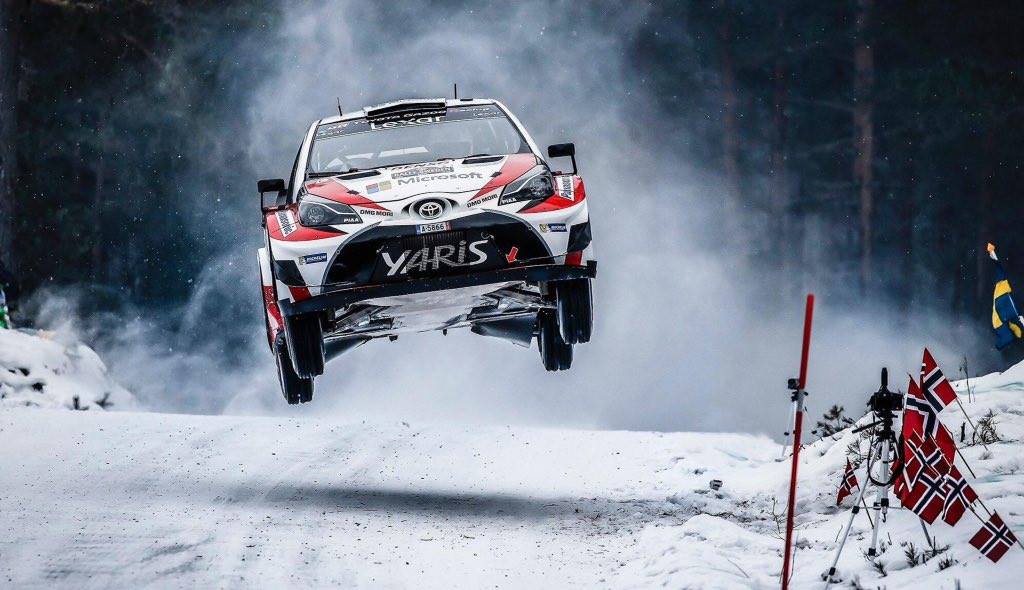 Ott Tänak
"I'm still learning about the Yaris WRC, but after driving it on snow during the test I'm beginning to understand why Jari-Matti won in Sweden last year. For the first part of the rally we'll just have to see how everything goes, but of course I'm hoping that we can fight for the podium and even the win. If the snow is heavy on the stages, which seems to be the case, our start position of second on the road won't be ideal, but of course the weather can change. I'm just going to enjoy the weekend and do my best. There's a lot more still to come."
Esapekka Lappi
"It took me a few days to get over the disappointment of losing fourth place in Monte-Carlo on the last stage, but in the end, there were more positives than negatives. Up to that point, we had driven a very consistent rally, and my aim is to do the same in Sweden. We had a good test and did around 400 kilometres in two days, which was enough for me to get a good feel. Our car should be well-suited to Sweden but it's a very different type of rally to Monte-Carlo: in Monte, sometimes you have to be brave by going slow enough, whereas in Sweden you need a different type of commitment. I didn't compete on the rally last year, so I am missing a bit of experience, but snow is a surface I always feel comfortable on."
Hyundai Motorsport
Andreas Mikkelsen
"Rally Sweden is a very special event for me because of the opportunity we have to go rallying across the border into my home country of Norway. We have a lot of support from fans, family and friends. It's a beautiful event and the only one we get to tackle completely on snow and ice with proper studded tyres. They give amazing grip and the feeling is unbelievable. We expect a good number of snow banks this year, so we will be able to explore the limits."
Thierry Neuville
"We had good speed on the Swedish and Norwegian stages last year but unfortunately things didn't end well when we were forced to retire on the penultimate day. This year, I am aiming to challenge once again for the win but with a far better outcome. Sweden is truly a unique event; the only one where we can compete with fully studded tyres for the complete rally. As one of the fastest rallies of the season, it's an exhilarating one from inside the cockpit and for the fans lining the stages. We want to put on a good show and, most importantly, deliver a good result."
Hayden Paddon
"I can't wait to get my 2018 season underway finally. It feels like a long time since we were competing in Australia.  Sweden will be a fresh start for us. I have good memories from finishing on the podium two years ago, and I will be trying to repeat some of that performance. It was great to get re-acquainted with the car in testing recently. We were able to enjoy some outstanding winter driving conditions. More of that in the rally, as well as a decent result, would be the perfect start to my season."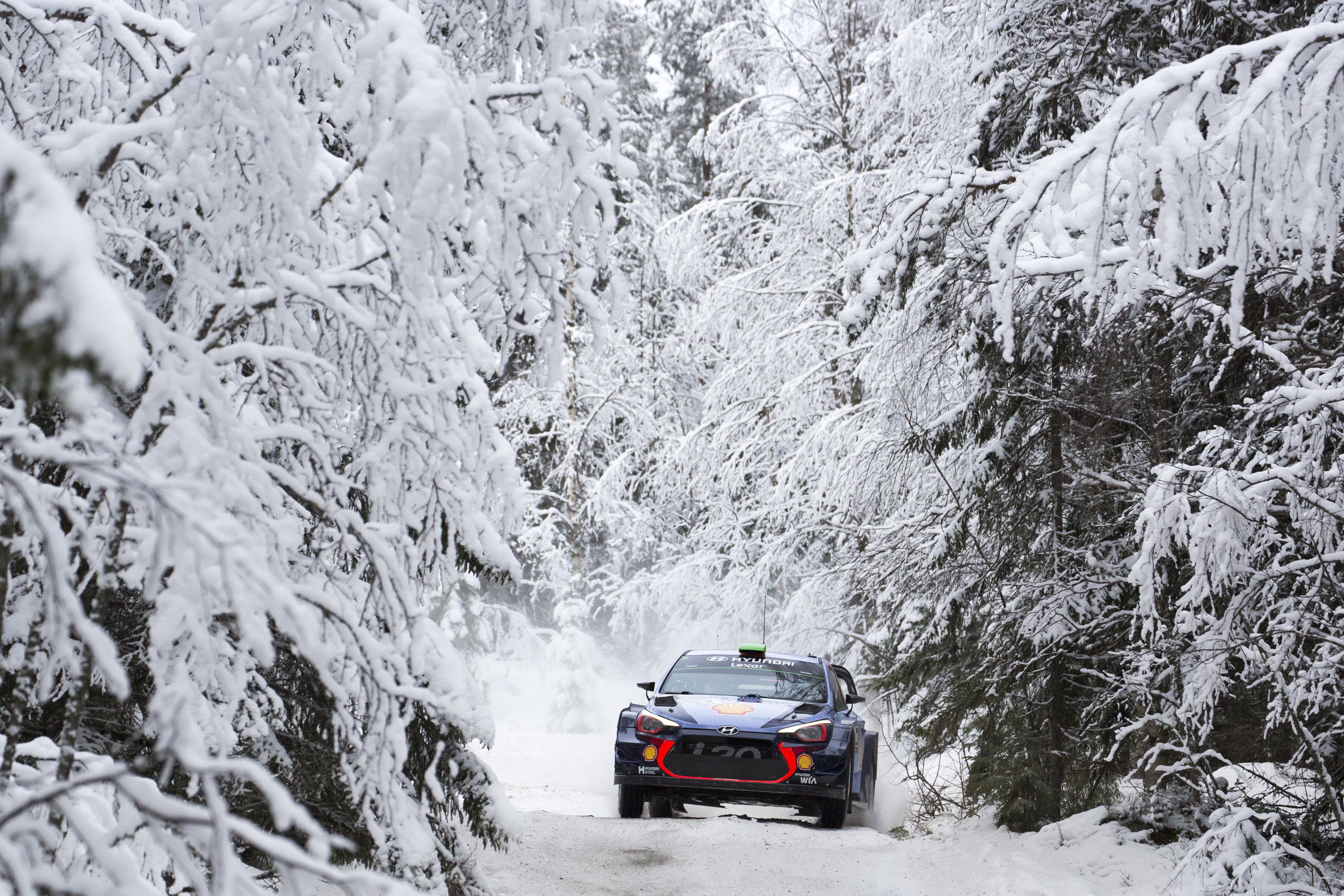 Now, there are lots of spectacular stages in this event, none more so than Vargasen, which features Colins Crest! Lots of fans base themselves there, just to see these amazing cars fly through the air and last year, Mads got the biggest jump of the event.
This year looks to be just as amazing! There has been a lot of snow, which means the snow banks are of very good quality!
We've got the returning Hayden and Mads, plus a good battle between Ott and Seb. What chance we have seeing a different driver leading the championship on Sunday afternoon?
Enjoy!