Qualifying:
Jorge Martin (Ducati) and Miguel Oliveira (KTM) made the top ten and went through to FP2.
It looked like Quartararo had secured pole but Martin put in an all-time lap record (1:22.643) and stole pole in the last few seconds. Pushing Fabio to 2nd, Franceso Bagnaia (Ducati) went to 3rd and Johann Zarco (Ducati) 4th.
The big news that was announced was: Maverick Vinales (Yamaha) had been suspended from racing, due to last weekends antics on track. It was discovered that he had tried to blow up his Yamaha M1 engine, possibly causing serious danger to both himself and others. It is believed that he will not compete in any further races this year.
Race:
The weather was hot and humid in Austria, with massive black rain clouds looming above the track. The race was declared dry and would be a flag-to-flag affair. But, if hopes for a repeat of last weekend's Austria race were anywhere near, they were soon to be dashed.
Martin sat in pole and got a fantastic launch, quickly leading Bagnaia, Zarco and Quartararo. Immediately, as all four riders went into turn one, the white flags started to wave signifying that bikes could then be swapped.
Bagnaia soon took the lead and Martin and Quartararo tussled for 2nd. Marc Marquez (Honda) was also battling at the front, gaining 4th and then 3rd place by lap 3. By lap 4, he had made it into 2nd. He was the only rider to have a soft (rear) tyre.
By lap 6 all top five riders kept swapping positions, none of them wanting to give an inch.
With the black clouds heavy with rain above them, a few rain drops suddenly started to appear and thunder rumbled in the distance. It was then the time for white and red flags to be waved on turn 2, meaning there was rain in that sector.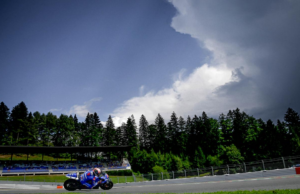 Lap 8 of 28, saw Quartararo take the lead, but it was quickly taken back by Bagnaia on the start-finish line. Bagnaia took his chance and soon started to gap from the pack. By the half-way point in the race, there were more gaps appearing between the riders.
Meanwhile the black clouds continued to gather and then drama ensued:
The start of the second part of the incredible entertainment came from Enea Bastianini's Ducati. The fairing suddenly broke free and flew off onto the side of the track, causing him to have to retire.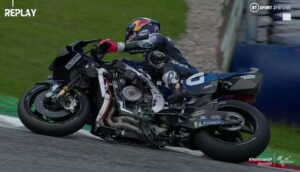 Zarco then crashed out of the race on turn 9. Marquez and Quartararo continued to fight with each-other for 2nd place, behind Bagnaia and in-front of last weekends winner in 4th. But an unusual mistake from Fabio meant Marquez was suddenly on the back of Pecco. On lap 22 he took the lead with a sensational maneuver, but Bagnaia was quick to respond and re-took first within seconds. That of course brought Quartararo back into play.
7 laps to go, the rain became heavier, causing Oliveira to crash on turn one. Everyone was becoming more and more tentative into the corners. Jack Miller (Ducati) and Alex Rins (Suzuki) decided that was their moment to enter the pits and swap their bikes. Would this prove to be effective, with very little race left?
Racing like they were on ice, all front five riders continued to circulate on slick tyres and not only that, they continued to fight for positions!
Marquez led Quartararo, Bagnaia, Martin and Binder. Incredible passes upon passes continued. Hands were being thrown in the air, regarding the poor weather conditions but the race was not going to be stopped as it was a flag-to-flag event.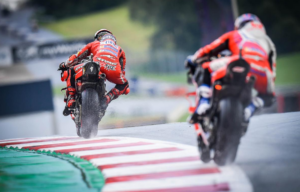 Then with no hesitation all 5 front leading riders went straight into the pits to change to their wet weather bikes, leaving the KTM rider, Brad Binder alone to lead the race from Aleix Espargaro (Aprilia), Takaaki Nakagami (Honda) and Valentino Rossi (Yamaha). Only nine riders remained on slick tyres, on a very wet track.
It was hard to believe that then there was only three laps remaining until the end. Binder was riding an incredibly brave race, skidding and sliding in ever-increasing hazardous conditions.
Marc Marquez crashed out on lap 26, turn 1. He had been riding all-in and unfortunately couldn't quite pull it off. He managed to get back on the bike and later said "this is my best Sunday of the year"… "it's only one championship point but I really enjoyed getting it". Meanwhile, Binder was doing the unthinkable and started to break away from the rest of the riders, with only 2.6miles of track to the line. Could he hold on? Could he bring KTM's first win at their home track in Moto GP?
The riders behind Binder were racing incredibly slowly – most of them having stayed out on slick tyres. A. Espagaro and Iker Lecuona (KTM) battled for 2nd. Luca Marini (Ducati) passed his brother (46) and Espargaro. But it was the 'Bagnaia Bullet' that came from no-where and passed everyone to gain 2nd place! Following close behind were Martin and Mir. Leaving Binder to get his second victory in the premier class. He was given a 3-second penalty for exceeding track limits on the last lap, but he had hardly any control over his bike in the treacherous conditions. The penalty didn't effect the result though, in the end he managed to gain 12 seconds from his nearest rival, even with Bagania racing through to gain 2nd. Brad's gamble had indeed paid off!
The number 33 became the 7th different winner in 2021 and the rookie Martin secured not only his 2nd pole in a row but his 2nd race podium as well.
Top Ten Race Results:
| | |
| --- | --- |
| 1 | Binder |
| 2 | Bagnaia |
| 3 | Martin |
| 4 | Mir |
| 5 | Marini |
| 6 | Lecuona |
| 7 | Quartararo |
| 8 | Rossi |
| 9 | A. Marquez |
| 10 | A. Espargaro |
Updated Championship Reults:
| | | |
| --- | --- | --- |
| 1st | Quartararo | 181 points |
| 2nd | Bagnaia | 134 points |
| 3rd | Mir | 134 points |
| 4th | Zarco | 132 points |
What a race?! The championship hunt is hotting up once again, with Quartararo's lead now less and Zarco unfortunately dropping to fourth. Bagnaia and Mir are now on equal points. Could we see Mr. Consistency rise in the ranks once again and fight to remain World Number One?
What will we witness next round at Silverstone in two weeks time?
(Featured image: Courtesy of Moto GP website).