With Extreme E's second season kicking off in NEOM, Saudi Arabia this weekend, here's everything you need to know about the upcoming season.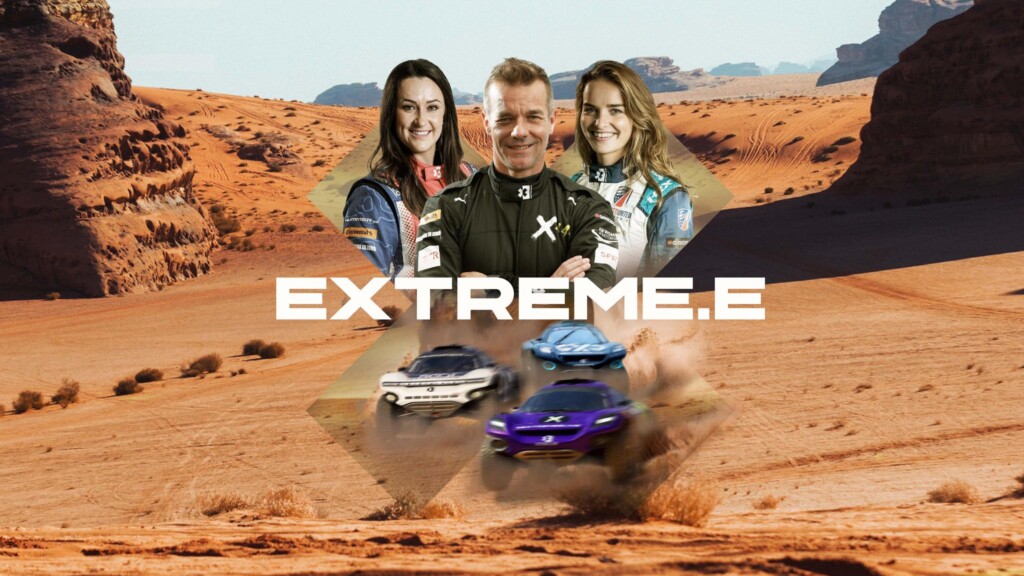 A New Challenger:
Car and racing giant McLaren has entered Extreme E for the championship's second season. The Woking based team have become just the second car manufacturer to participate in the series, after ABT Cupra joined in Season 1.
Speaking at the car launch, sporting director Mark Grain said: "This is about as different as it gets from other racing series, and it is going to be a huge learning experience in terms of the different terrains in which we race as well as the environmental challenges these parts of the world face."
Driver Musical Chairs:
Over the off-season the teams have been busy signing up the drivers they believe can deliver them the title this coming season.
One of the most notable swaps was at reigning champions Rosberg X Racing (RXR). The German team decided they did not want to keep their winning team and asked swede Mikaela Ahlin-Kottulinsky to race for them this time around. Molly Taylor, who was previously at RXR, has done a direct swap and joined Ahlin-Kottulinsky's former team JBXE.
Previous Xite-Energy driver Christine GZ has replaced the out-going Jamie Chadwick at Veloce Racing, with GZ's seat at Xite Energy being filled by new-comer Klara Andersson. Unfortunately, Andersson will have to wait for her debut after testing positive for Covid-19. Championship driver Tamara Molinaro will take her place for the Desert X-Prix this weekend.
Joining GZ at Veloce will be Lance Woolridge. The South-African was Veloce's reserve driver for much of last season but has been promoted after the team parted ways with Stephane Sarrazin.
ABT Cupra's Mattias Ekstrom has also left the series, with four time Dakar Rally winner Nasser Al-Attiyah partnering Jutta Kleinschmidt instead.
However, the driver pairing that drummed up the most excitement was McLaren Extreme E's. Towards the end of last year the Woking team announced that New Zealander Emma Gilmour would partner American Tanner Foust. Foust has won multiple rally championships and also co-hosted the American Top Gear from 2010-2016. This was a major coup for the team.
The full driver line-up is as follows:
Veloce Racing – Christine GZ and Lance Woolridge
RXR – Johan Kristofferson and Mikaela Ahlin-Kottulinsky
JBXE – Kevin Hansen and Molly Taylor
Andretti United – Katie Munnings and Timmy Hansen
X44 – Christina Gutierrez and Sebastian Loeb
Acciona Sainz – Carlos Sainz and Laia Sanz
McLaren Extreme E – Emma Gilmour and Tanner Foust
Chip Ganassi – Sara Price and Kyle Leduc
ABT Cupra – Jutta Kleinschmidt and Nasser Al-Attiyah
Xite Energy – Oliver Bennett and Klara Andersson (Klara Anderson will be replaced by Tamara Molinaro for the Desert X-Prix whilst she recovers from Covid-19).
Calendar Shake-Up:
The racing calendar has been switched up a little this year with a combination of returning locations as well as some new ones.
The first race of the season stays in Saudi Arabia but has been moved from Al-Ula to NEOM. The Desert X-Prix, as it is to be called, will also take place a couple of months earlier this year than the last, meaning temperature won't be as much of a factor.
Following the Desert X-Prix, the Island X-Prix will take place in Sardinia, Italy on the 7th-8th May. Extreme E will return to Sardinia after it filled in for the cancelled Amazon X-Prix in 2021.
The location of the third race of the season is still yet to be decided, with the two main candidates being a return trip to Senegal, or a new location in Scotland. At the time of writing it is due to take place on the 9th-10th July.
The final two races of the season will be on an entirely new continent for Extreme E. Exploring South America, the all-electric racing series will go to Antofagasta, Chile on the 10th-11th September and Punta del Este, Uruguay on the 26th-27th November.
The provisional race calendar is as follows:
| | | |
| --- | --- | --- |
| 19th-20th February | Desert X-Prix | NEOM, Saudi Arabia |
| 7th-8th May | Island X-Prix | Sardinia, Italy |
| 9th-10th July | TBC | Scotland/Senegal |
| 10th-11th September | Copper X-Prix | Antofagasta, Chile |
| 26th-27th November | Energy X-Prix | Punta del Este, Uruguay |
Alternative Format:
If you'd just got used to Extreme E's weekend format from last year, they've changed it again!
Qualifying has had a complete make-over for this season with the extra team on the grid causing a few headaches for the organisers.
Now, qualifying position will be determined by races, with each team being put into one of two five-car heats.  Over the course of qualifying day each heat will run twice, once in each qualifying session. The grids for Qualifying 1 will be set by a lottery draw, whereas the grids in Qualifying 2 will be based on the finishing positions from the previous heats.
Each heat offers intermediate points (points that do not count towards the championship) 5 through to 1 based on your finishing position of that heat.
After both Qualifying sessions have been completed, the points are added up and the teams will be ordered from highest to lowest. Any ties on points will be separated by time through the continental traction challenge (which has a greatly diminished role this year).
The teams placed in first, fourth and fifth will be put into semi final one, whilst teams second, third, and sixth will be placed into semi final two. The bottom four teams will compete in the Crazy Race.
Finals day remains relatively unchanged, with the top two teams from each semi final and the winner of the crazy race progressing to the final.
Here's how championship points will be awarded on finals day:
| | | |
| --- | --- | --- |
| 1st | 25 Points | Final 1st Place |
| 2nd | 18 Points | Final 2nd Place |
| 3rd | 15 Points | Final 3rd Place |
| 4th | 12 Points | Final 4th Place |
| 5th | 10 Points | Final 5th Place |
| 6th | 8 Points | Semi Final 1/2 3rd Place* |
| 7th | 6 Points | Semi Final 1/2 3rd Place* |
| 8th | 4 Points | Crazy Race 2nd Place |
| 9th | 2 Points | Crazy Race 3rd Place |
| 10th | 1 Point | Crazy Race 4th Place |
*6th position will be awarded to the semi final 3rd place team with the fastest time through the continental traction challenge.
Desert X-Prix:
This weekend sees Extreme E return to Saudi Arabia for its season opener. The different sand conditions at NEOM will provide a tough challenge for the drivers as they try to negotiate the rocks, dunes, and bushes.
As always, Extreme E is committed to leaving a positive impact wherever it goes. For this race we will see a continuation of last year's legacy programme, which was aimed at protecting the endangered turtle species.
With the Ba'a Foundation they have taken on a five-year initiative to help conserve the endangered Green Turtle and the critically endangered Hawksbill Turtle. The project hopes to: clean beaches of pollution, build fencing around the beach to protect nesting turtles, improve beach management, and import sand to raise the beach to an appropriate level for nesting. Over the years the levels have sand have decreased along the Red Sea Coast due to sea-level rise and dust storms.
As with last year you can find out how and when to watch the Desert X-Prix by heading over to Extreme E's official website. This is sure to be a weekend you won't want to miss!