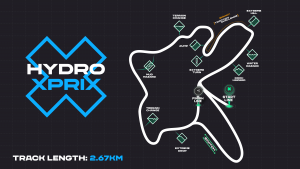 Extreme E will take to an old Scottish coal mine for the Hydro XPrix this weekend. This is only the second time the series has raced in the UK, with the UK's last event coming at the end of the first season in Dorset.
New Driver Line-Up:
With the long gap between rounds, Extreme E is known for its constant adjustments. But with the series now in its third season, it appears that the championship has become more stable – with just one change from the last round in Neom, Saudi Arabia.
It appeared that Jensen Button's team, JBXE, had pulled off a major coup when they signed former Formula One driver Heikki Kovalainen at the start of this campaign. But, after a less than impressive debut, the team have opted for experienced rally driver Andreas Bakkerud.
Bakkerud has won two Super1600's and has seven wins in the World Rallycross Championship.
Carlos Sainz Sr remains side-lined by a back injury he sustained at the 2023 Dakar Rally. Mattias Ekstrom will continue to partner Laia Sanz in his stead.
Format:
If you missed the last round, you may not be aware of the new format for this season.
Now, both the Saturday and Sunday are their own separate events with two rounds of qualifying, a redemption race, and a final each.
Timed qualifying has been ditched for this season, with teams now competing in two five-car heats, in which teams are awarded classification points based on finishing position.
After qualifying is completed, the five teams with the most classification points progress to the final. The other five teams compete in the Redemption Race. In the event that multiple teams are tied for classification points, the team that has the fastest combined male-female time in the Continental Traction Challenge will be classified ahead.
Championship Standings:
After a tough first two seasons, the surprise of the last round were Veloce, who currently tied Acciona Sainz for the lead of the championship.
The team has an all new driver-pairing for this year (Kevin Hansen and inaugural Extreme E champion Molly Taylor) which looks to have turned their fortunes around.
A difficult opening weekend for Andretti sees them prop up the table with a 10th and an 8th placed finish.
Veloce – 46 Points
Acciona Sainz – 46 Points
Rosberg X Racing – 31 Points
X44 – 23 Points
Chip Ganassi – 21 Points
ABT Cupra – 15 Points
McLaren – 14 Points
Carl Cox Motorsport – 8 Points
JBXE – 5 Points
Andretti – 5 Points
Legacy Programme:
As viewers of the series will be aware, one of the main aims of Extreme E is to raise awareness of different environmental issues, and leave a positive impact on their race locations.
This weekend, the focus is on energy, with the track being held at a former coal mine. The mine was closed in 2012 but will soon become a Pumped Storage Hydropower plant and wind farm.
For its legacy programme, the series will work with various organisations to help restore and protect salmon stocks on the River Nith.
When and Where to Watch:
UK viewers will be able to watch qualifying on YouTube at 7am, with the race broadcast being  on ITV1 at 1pm both days.
After Veloce's shock win last round, make sure you tune in this weekend for guaranteed racing excitement!