Qualifying:
Poor weather conditions resulted in championship leader Fabio Quartararo (Yamaha) qualifying in an unusual position of 15th on the grid.
Second-place-man in the championship Francesco Bagnaia (Ducati) took another pole. Team-mate Jack Miller was second and it was a surprise last place on the front row, for fellow Ducati rider, Luca Marini getting his best qualifying result.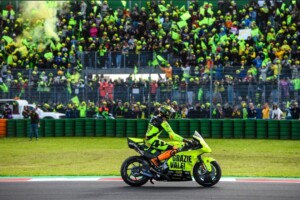 Race:
If the weather was dramatic in qualifying, it certainly wasn't for the race. However, the drama was there to stay:
The two factory Ducati's gained a great start from the front and remained in first and second from Marc Marquez (Honda) who quickly got himself to third. Quartararo however, went backwards from 15th to 17th.
Straight away Miller became the perfect team player and took the defensive line against Marquez, keeping him at bay, to let Bagnaia get away. Bagnaia responded and quickly started to create a gap.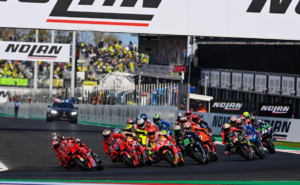 Meanwhile, down in 17th, Fabio started ticking people from his list and by lap 3 was up to 12th position, on the same lap unfortunately, last years champion Joan Mir (Suzuki) was told he had a jump start and was given a long-lap penalty, but soon after that he crashed out alongside Birthday-Boy Danilo Petrucci (Ducati) on turn 2.
Marquez was pushing himself and soon claimed fastest lap. Could he keep this form up and fight for a podium spot? With his fellow Repsol Honda rider behind him he only had to focus on the two Ducati's ahead.
But there was drama unfolding on the track and with 24 laps to go the first part played out. Jack Miller crashed from second on turn 15, trying to defend for Pecco – leaving him alone to fight for first.
Marquez took his opportunity and closed up on Bagnaia, piling on the pressure. It appeared he was able to turn his Honda better than the Ducati, his arm problems seemingly a thing of the past. Or was it due to the Michelin tyre choice between the two? Bagnaia chose to race with a hard front and medium rear, while Marquez chose a medium front and soft rear. Which set of tyres were going to prevail?
Also piling on pressure was Fabio, now up to 10th place, passing fellow Frenchman Johann Zarco (Ducati).
Crashing on the same lap however was Takaaki Nakagami (Honda) but he managed to rejoin, albeit in last place.
Continuing his hunt, Fabio was soon up to 9th place behind a group of riders, ready to pick them off one-by-one.
A technical issue resulted in Alex Marquez (Honda) having to retire early on lap 11 and Iker Lecuona (KTM) also retired early due to a crash on turn 1.
The tension meanwhile between first and second continued to build with Marc still looking like he was going to pounce at any moment on Pecco.
Quartararo started to pick off the riders in the pack and soon passed into 8th place, with 14 laps until the end. Whilst Fabio was riding high, disaster struck for another Ducati rider – Jorge Martin, who crashed out turn 1, lap 13.
The group in-front of El Diablo started to have mini battles for positions, bringing him into the fray. He soon passed team-mate Franko Morbidelli and number 10 rider – Marini, taking 7th place. With only 12 laps to go, could he progress any further? Any questions were answered when on lap 18 he also passed Alex Rins (Suzuki) and Aleix Espargaro (Aprilia) for 5th position. He only had KTM rider Miguel Oliveria and Honda rider Pol Espargaro in-front for a podium spot. Could he do it?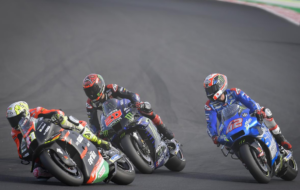 Meanwhile, Bagnaia was responding to Marquez's pressure and pushed for the fastest lap, trying to break away from the Spaniard.
But, the Ducati drama was not over and with only 5 crucial laps until the end, Bagnaia suddenly slid from first position into the gravel and alongside that his championship hopes. Ducati held their heads in their hands along with multiple fans who couldn't believe what they had seen. Leaving Marquez to claim first and lead the race all the way to the chequered flag. Quartararo was also granted another position, but Enea Bastianini (Ducati), who had come from 16th place on the grid, had other ideas for Fabio and with only 2 laps until the end, looked like he might fight for 3rd.
The edge-of-your-seat drama continued on the last lap and Bastianini did indeed pass Quartararo for the last spot on the podium.
There was too many things happening all at once – Marquez crossed the line, proving all the doubters wrong with regards to his arm health. Bastianini passed Quartararo on the last lap. Fabio claimed the World Championship and local Hero Valentino Rossi (Yamaha) finished in 10th at his last home race.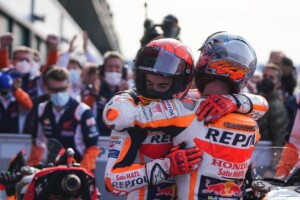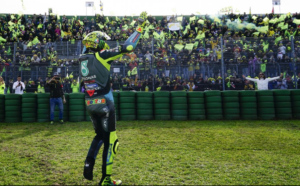 It was history in the making! Fabio Quartararo became the first Frenchman to ever claim the Moto GP World Championship title and along with it the first championship win for Yamaha since 2015.
It was also the first podium for Pol, racing for his new team and a second podium for rookie Bastianini in the Premier Class.
Fabio celebrated in style, walking down a red carpet to receive a golden helmet, alongside celebrations which included pyrotechnics and a live DJ.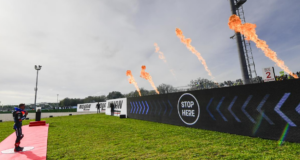 Top 10 race results:
| | |
| --- | --- |
| 1st | M. Marquez |
| 2nd | P. Espargaro |
| 3rd | E. Bastianini |
| 4th | F. Quartararo |
| 5th | J. Zarco |
| 6th | A. Rins |
| 7th | A. Espargaro |
| 8th | M. Vinales |
| 9th | L. Marini |
| 10th | V. Rossi |
Top Four Championship results:
| | | |
| --- | --- | --- |
| 1st | F. Quartararo | 267 points |
| 2nd | F. Bagnaia | 202 points |
| 3rd | J. Mir | 175 points |
| 4th | J. Zarco | 152 points |
With only 2 races left for the season, will there be another new race winner? A third in a row win for Marquez? Or will El Diablo want to go out with an even bigger bang?
(Featured image: Courtesy of Moto GP website).