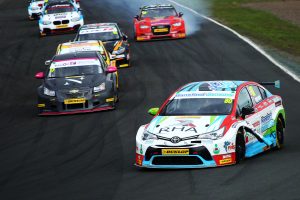 Bank holiday crowds set for enthralling Rockingham encounter
It's all-change at the top of the Dunlop MSA British Touring Car Championship heading into Rockingham (26-27 August) for Rounds 22, 23 and 24 of the 2017 campaign, with Team BMW's double champion Colin Turkington holding prime position atop the Drivers' standings with three events to go.
The trip to Northamptonshire is often a pivotal one as drivers fight to stamp their authority on the title or make their move to put themselves in the shakeup for the biggest prize in British motor sport, but is a shift in power already underway?
The pendulum swings
A week ago at Knockhill, reigning champion Gordon Shedden had to settle for damage limitation, as he and Honda contended with the rear-wheel drive might of the BMWs and Subarus – well suited to the stop-start ups-and-downs of the Scottish circuit. Home hero and triple champion Shedden had to make use of his local knowledge to notch a podium, as he battled through to hold onto a net third in the championship tally, 12 points down on new leader Turkington.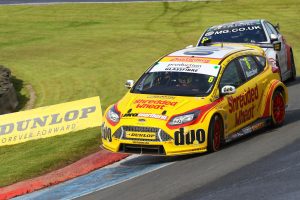 The Ulsterman has launched himself to the fore with consistency over recent rounds – that trait a must for any prospective champion. Five podium finishes from the latest five races sent a shot across the bow of his immediate rivals. Team BMW team-mate Rob Collard is also racking up points round-by-round, leaving him well-placed in fourth. In fact, Knockhill was the first event this season where the Hampshireman had failed to make the podium, though he's the only man to have scored points in every encounter this year.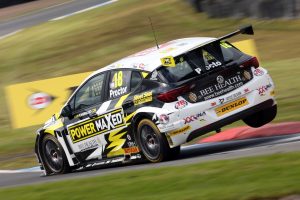 Form man Ashley Sutton, of Adrian Flux Subaru Racing, notched a race two win to cement his status as the man in form with a high of five victories to his name this season. That latest followed a first of the season for rejuvenated BTCC legend Jason Plato, who believes his squad have finally found the 'gremlin' that has hampered his progress since an accident on the opening Brands Hatch weekend.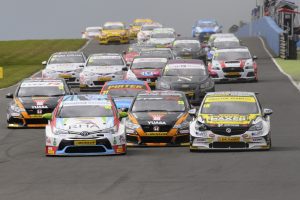 Sutton harbours second in the overall running just four points shy of Turkington, and while Plato will be going all-out to reach an unprecedented 100 wins in the series, he will be doing what he can to help Subaru and Sutton as the title fight heads towards its conclusion.
"I've had a right good kicking this year, and it's just nice to take another step forward towards being competitive again," said Plato. "It's not just the winning it's about being competitive and it's nice to be there. I'm pretty awful to be around when things aren't going well – this is my life.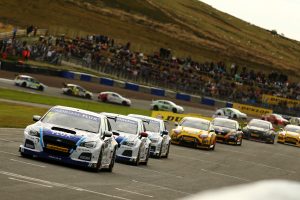 "We had a complete change of the differential and the car's a different machine now. We think we've found the gremlin and I'm just so happy to be competitive again.
"I'm going to start enjoying myself. I think the 100 wins might be doable (he currently stands on 96). I'm playing myself back into the game and I could have been a bit more robust with Ash but what would have been the point?
"He's got stuff to crack on with. I'm not going to give up wins, because I'm not going to take a financial penalty. But anything other than a win – he can have it! That is the way it goes and I'd expect that in return.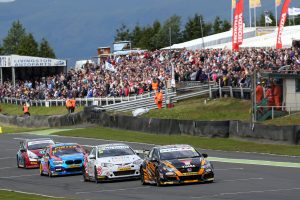 "I will play it honestly and nothing would give me more pleasure than to see Ash crack it and if I can help, I will. I have Ash at the forefront of my mind, most definitely."
Speedworks Motorsport's Tom Ingram made a long-awaited return to the top step of the podium after his start to the season had earmarked him as the early benchmark. Bad luck has conspired against the Toyota man in recent rounds, though at 61 points shy of the summit with more than 200 points still to play for, he's not done yet.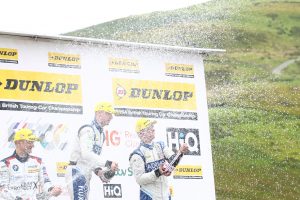 All three BTCC races on Sunday, 27 August – and the day's other races – will be broadcast live and in high definition on ITV4. Those in attendance at the circuit can stay in touch with the commentary and live timing from every session, available at btcc.net/live throughout the weekend.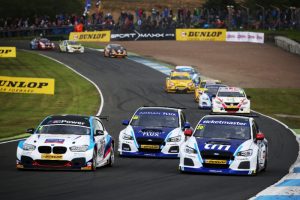 Advance tickets can be booked online at www.rockingham.co.uk or via the hotline on 01536 500500 (option 1), until midday on Friday 25 August. Weekend passes cost £38, Sunday race day tickets are £30 and Saturday entry price is just £12.50.
Neil Simmons
Twitter: @world_racing
Photographs: Copyright © 2017 Dunlop MSA British Touring Car Media Office