Kyle Busch led half the laps in Sunday's Enjoy Illinois 300, and conquered five late race restarts, including an overtime restart, to take the chequered to claim his third career win of the season, and win at World Wide Technology Raceway at Gateway, Illinois, in the Cup Series for the first time in his second try.  
Kyle Busch checks off Gateway
Brake rotor failures
Rest of race recap
Full race results
Points standings
The polesitter won stage one, and led five different times for 121 laps of the 240 to get his 63rd Cup Series career win.
Kyle Larson challenged Busch for the lead in each of the final five restarts, who had got to first with under 65 laps to go after only taking two tyres on pit road.
Larson was unable to challenge Busch on the final restart, allowing Denny Hamlin to take second with last year's winner Joey Logano finishing third and Larson fourth.
Kyle Busch said: "Man, to sit on the pole, lead a lot of laps and have my guys do such a great job today was pretty phenomenal for us. Great for RCR. Just win, baby! Thanks to Team Chevy, appreciate 3Chi (sponsor)."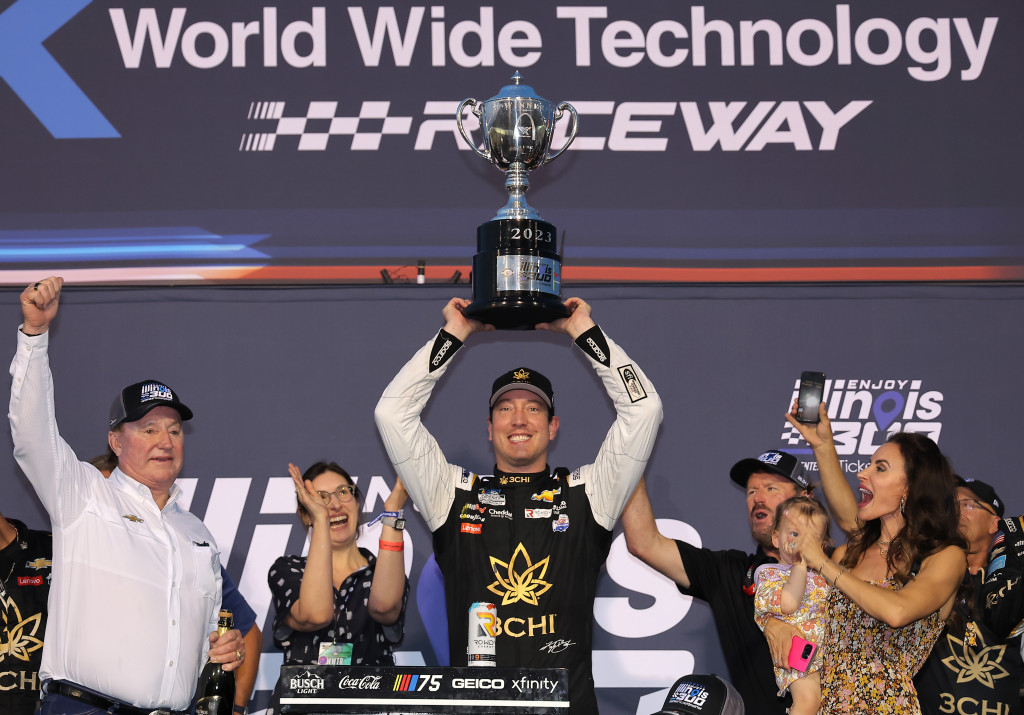 Kyle Busch had won at every track on the Cup Series schedule prior to the 2018 season, but with the addition of several new tracks in recent years, Busch has more work to do to reach that feat again. He has gotten one step closer by winning at World Wide Technology after only been added to the Cup Series schedule last year.
Kyle Larson had been outside the top 30 during stage one and described his car as "bad loose" finishing 28th in stage one. Several adjustments made to the car by the No. 5 Hendrick Motorsports crew, along with the two-tyre call with less than 60 laps to go miraculously saw him go to the front briefly.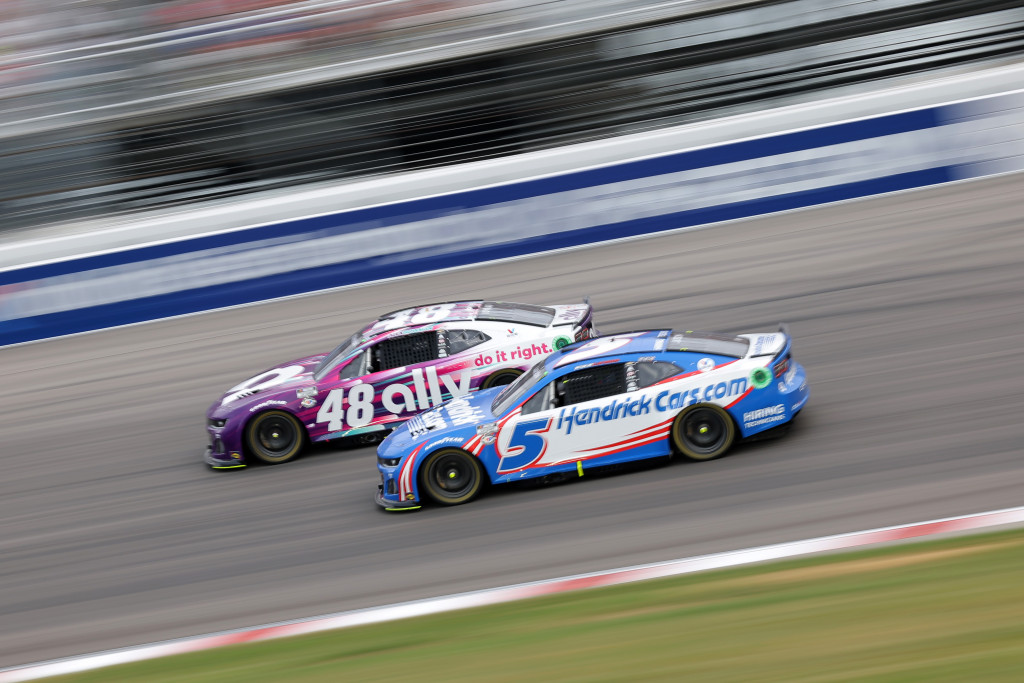 Ryan Blaney left off where he finished last week where he ended his 59 winless drought to win the Coca-Cola 600, led 83 laps, including dominating and winning stage two, but was unable to get by Busch and Larson in the closing 50 laps of the race and would finish sixth.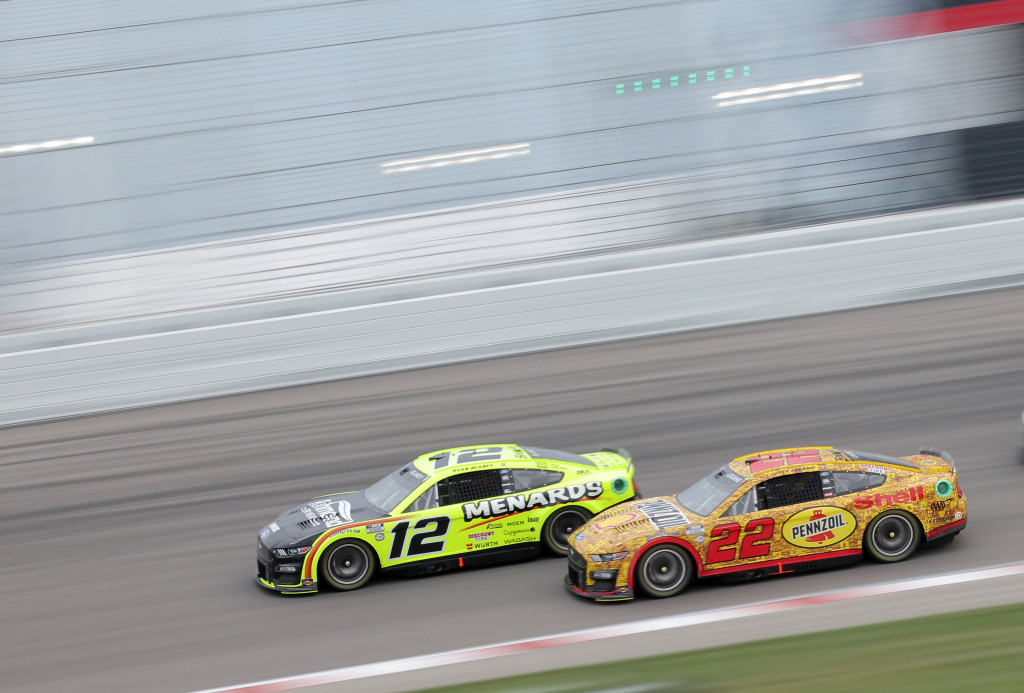 William Byron had taken over the lead of the race halfway through the final stage but a slow pit stop under caution on lap 178 dropped him down to fourth and sank further through the field under green. Byron finished eighth.
Corey Lajoie made his debut for Hendrick Motorsports filling in for Chase Elliott, who was serving a one race suspension by NASCAR for intentionally wrecking Denny Hamlin in last week's Coca-Cola 600.
LaJoie's No. 9 Chevrolet was not handling well in the first half of the race after qualifying 30th,  being stuck outside the the top 25 but managed a solid 21st place finish despite the ill handling race car.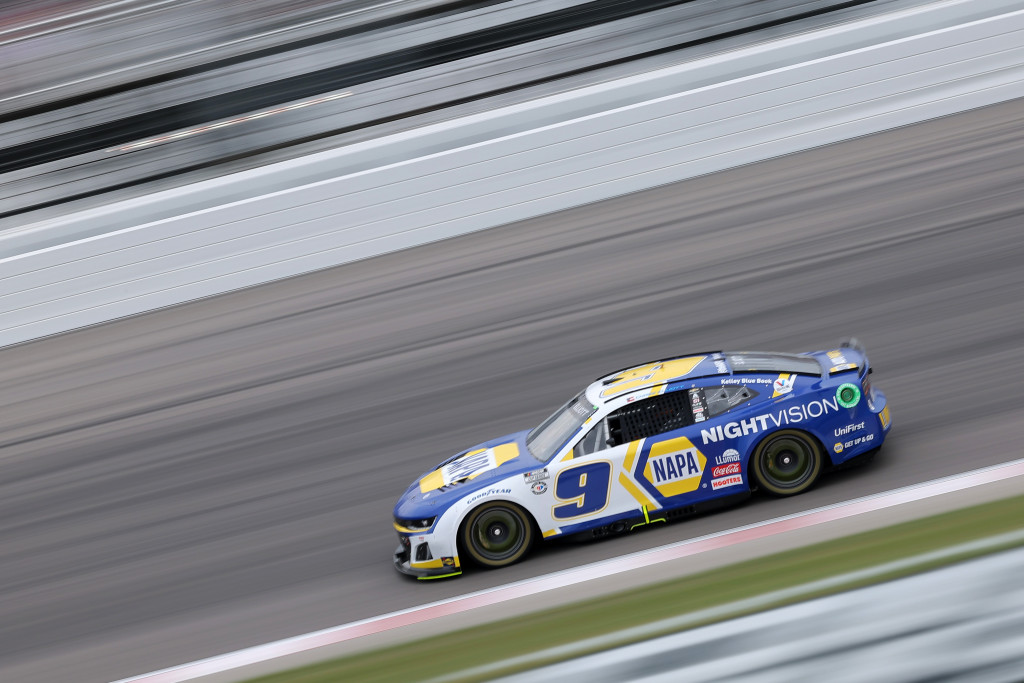 Brake rotor failures
Full time Truck Series competitor Carson Hocevar, who got his first Truck Series win at Texas Motor Speedway earlier this year, filled in for LaJoie in the No. 7 Spire Motorsports Chevrolet, making his Cup Series debut and put on an impressive show.
He qualified 26th  but worked his way up the order in the first two stages challenging Austin Dillon for 16th but his race ended early when on lap 90 his right front brake rotor exploded, taking him out of the race.
Hocevar said: "I had a blast. Just so thankful for the opportunity. I was running 16th… just so surreal for the first time ever. I thought we were going to have a good day and be in a good spot for the No. 7 Chevy team. Hopefully, that call for a Cup ride isn't the only one I get in my life."
Despite the brake failure that plagued not only @CarsonHocevar but a handful of drivers in the field, we are very proud of his Cup debut and happy we had him to fill the @schluterNA #7 seat. Where do you think he would've finished? #spiremotorsports #schlutersystems #celsius pic.twitter.com/JuCF52HbSw

— Spire Motorsports (@SpireMotorsport) June 5, 2023
Several drivers experienced brake rotor failures in the race, most likely down to the hard braking required from high speed to make turns one and three. The brakes appeared to be worse when drivers only took two tyres and ran long.
Tyler Reddick, Noah Gragson, and Bubba Wallace all had front right brake rotor failures on lap 175, 198, and 235 respectively, bringing out the caution as brake rotor debris littered turns one and two.
Rest of race recap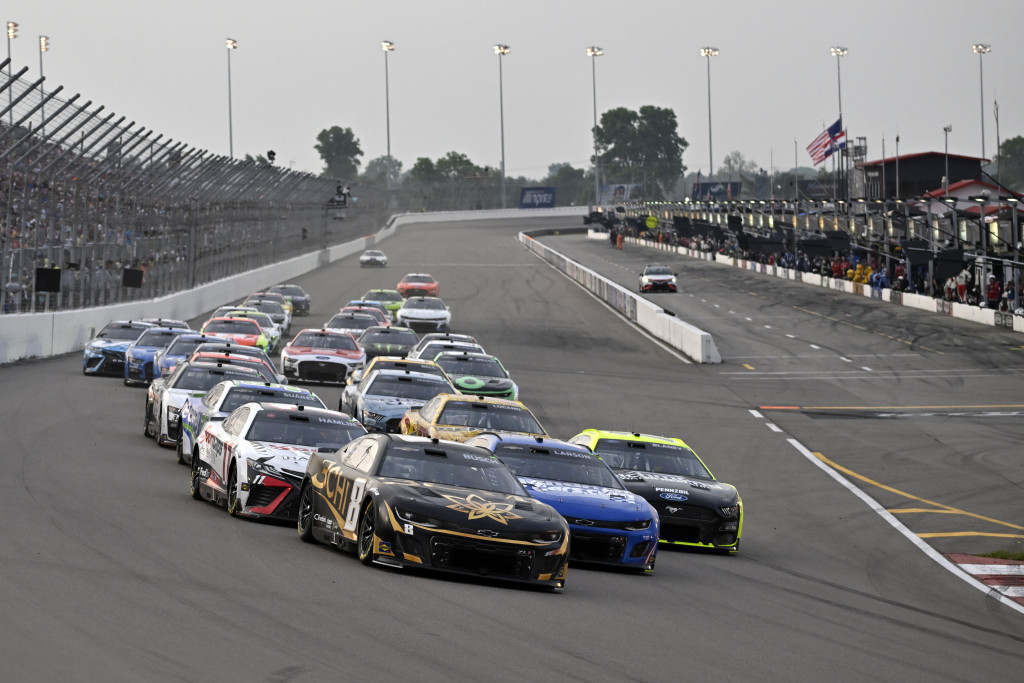 The race was stopped on lap seven and delayed for two hours due to lightning in the area but no rain reached the race track.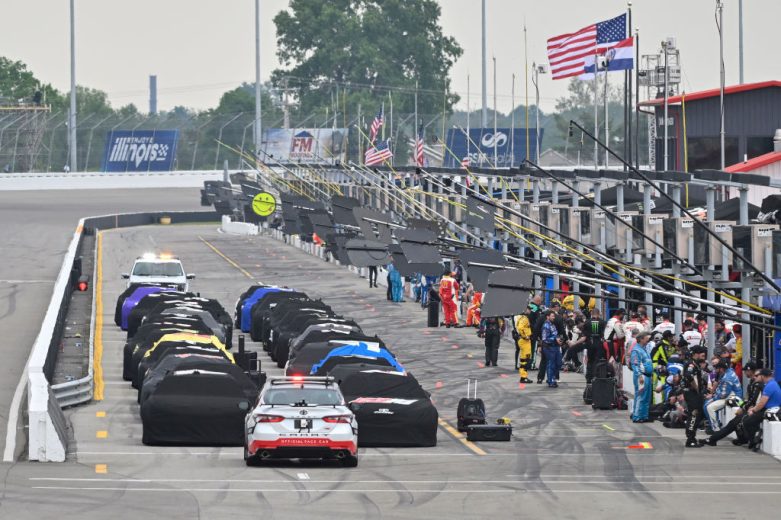 Brad Keselowski lost engine performance at the end of stage one and went down a lap. Due to a flurry of late race cautions, Keselowski was able to finish 28th on the lead lap despite the loss in performance.
The start of stage two saw Ross Chastain tag Michael McDowell on the restart sending McDowell go for a spin. McDowell had taken two tires during the stage break, gaining 11 positions, that put him inside the top 10. McDowell recovered from this to finish ninth.
Lap 61 saw Ryan Blaney finally clear Kyle Busch for the lead after racing side by side for several laps, and would lead the rest of stage two to lap 90 to take the stage win.
Daniel Suarez and Ricky Stenhouse Jr. had strong runs going in the first two stages, running inside the top 10.
William Byron took over the lead briefly from Tyler Reddick at the start of the final stage. Reddick had gained 11 positions during the stage break on pit road by taking two tyres only. Byron lost the lead to Larson on pit road during the next caution due to Reddick's brake rotor failure.
With 55 to go, Kyle Busch cleared Kyle Larson for the lead coming off turn two, who had held it briefly on the restart. Busch would stay out front for the remainder of the race.
Christopher Bell was spun out by Austin Cindric in a three-wide incident in turn two but recovered to a 11th place finish.
Klye Busch's RCR teammate Austin Dillon ended Ricky Stenhouse Jr.'s strong day with 22 laps to go when he turned off of the nose of Austin Cindric and piled into Stenhouse going into turn one, taking both of them out of the race.
Ricky Stenhouse Jr. is done for the day after this one. https://t.co/zS0GIfQPqN pic.twitter.com/Q4gpAqMHzd

— FOX: NASCAR (@NASCARONFOX) June 5, 2023
Bubba Wallace's brake rotor failure with five laps to go saw the caution come out again that led to the overtime finish that saw Kyle Busch take the chequered flag for Richard Childress Racing.
The next race for the NASCAR Cup Series will be the Toyota/Save Mart 350 at Sonoma Raceway in California with the green flag flying this Sunday at 3:30pm ET.
Full race results 
Kyle Busch
Denny Hamlin
Joey Logano
Kyle Larson
Martin Truex Jr.
Ryan Blaney
Daniel Suarez
William Byron
Michael McDowell
Kevin Harvick
Christopher Bell
Chris Buescher
Austin Cindric
AJ Allmendinger
Todd Gilliland
Justin Haley
Ryan Preece
Erik Jones
Aric Almirola
Ty Gibbs
Corey LaJoie
Ross Chastain
Harrison Burton
JJ Yeley
Ty Dillon
Alex Bowman
BJ McLeod
Brad Keselowski
Gray Gaulding
Bubba Wallace
Austin Dillon
Ricky Stenhouse Jr.
Noah Gragson
Chase Briscoe
Tyler Reddick
Carson Hocevar
Stage one
Kyle Busch
Ryan Blaney
Denny Hamlin
Martin Truex Jr.
Joey Logano
Kevin Harvick
William Byron
Ross Chastain
Austin Cindric
Daniel Suarez
Stage two 
Ryan Blaney
Kyle Busch
Denny Hamlin
William Byron
Daniel Suarez
Ricky Stenhouse Jr.
Joey Logano
Kevin Harvick
Ross Chastain
Kyle Larson
Points standings
(* = locked into playoffs)
Ryan Blaney* – 495
William Byron* – 482
Kevin Harvick – 473
Martin Truex Jr.* – 472
Ross Chastain – 466
Christopher Bell* – 455
Kyle Busch* – 451
Denny Hamlin* – 451
Kyle Larson* – 411
Tyler Reddick* – 411
Brad Keselowski – 403
Joey Logano* – 401
Chris Buescher – 393
Ricky Stenhouse Jr.* – 368
Bubba Wallace – 334
Daniel Suarez – 313


---

Alex Bowman – 307
Ty Gibbs – 298
Austin Cindric – 280
Michael McDowell – 278
Corey LaJoie – 274
Justin Haley – 268
Todd Gilliland – 266
AJ Allmendinger – 260
Aric Almirola – 251
Erik Jones – 245
Ryan Preece – 245
Chase Elliott – 215
Harrison Burton – 209
Austin Dillon – 200
Chase Briscoe – 175
Noah Gragson – 143
Ty Dillon – 132
BJ McLeod – 88
Featured Image: Kyle Busch, driver of the No. 8 3CHI Chevrolet, takes a bow after winning the NASCAR Cup Series Enjoy Illinois 300 at WWT Raceway (Photo by Jeff Curry/Getty Images)