Erik Jones inherited the lead with just over 20 laps to go after Martin Truex Jr. and Kyle Busch both dropped out of the race due to engine issues. Jones then defiantly held off three-time Southern 500 winner Denny Hamlin to win his second Southern 500.
This is Jones' third career win, last winning the 2019 Southern 500 when he himself raced for Joe Gibbs Racing. This is the first win for the Maury Gallagher group who partnered with Richard Petty in the 2021 offseason to form Petty GMS Racing.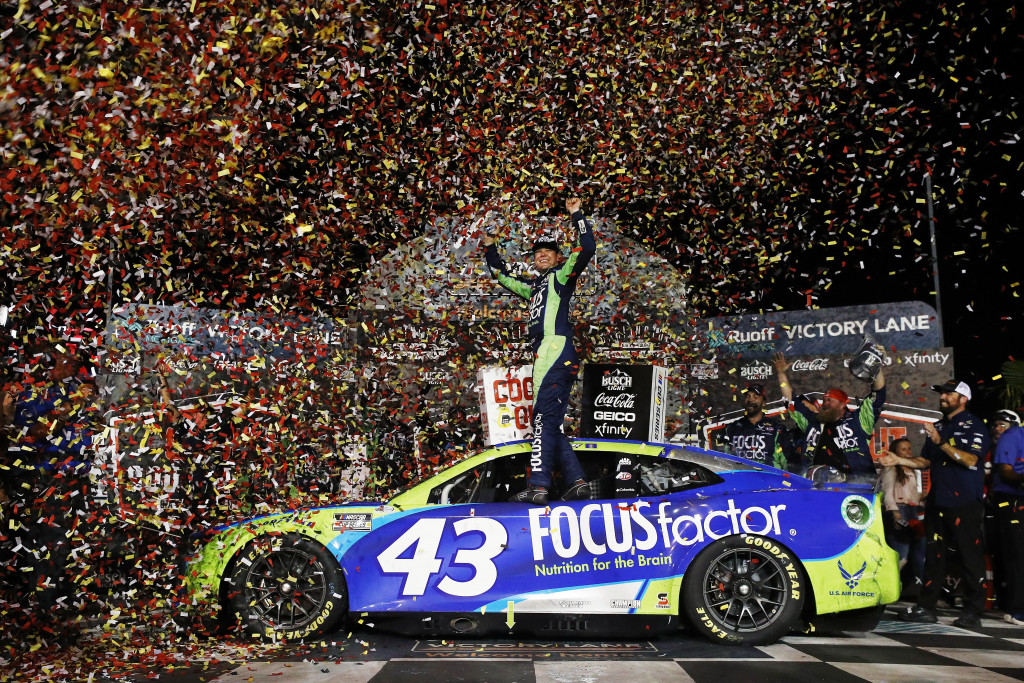 It was exactly 55 years to the day for when the last time the 43 car won the Southern 500 which was with Richard Petty himself on September 4th 1967. 
Ironically, it was the two JGR cars and former teammates of Truex Jr. and Busch that handed the lead to Jones in what Jones described as a "gift from above" and had to hold off JGR's Denny Hamlin to win the race in what felt like a flashback to the 2019 race for Jones.
With 18 laps to go as Denny Hamlin came up on Jones, Jones changed his line to take away Hamlin's clean air and then laid down a set of blistering laps that kept Hamlin from mounting a charge.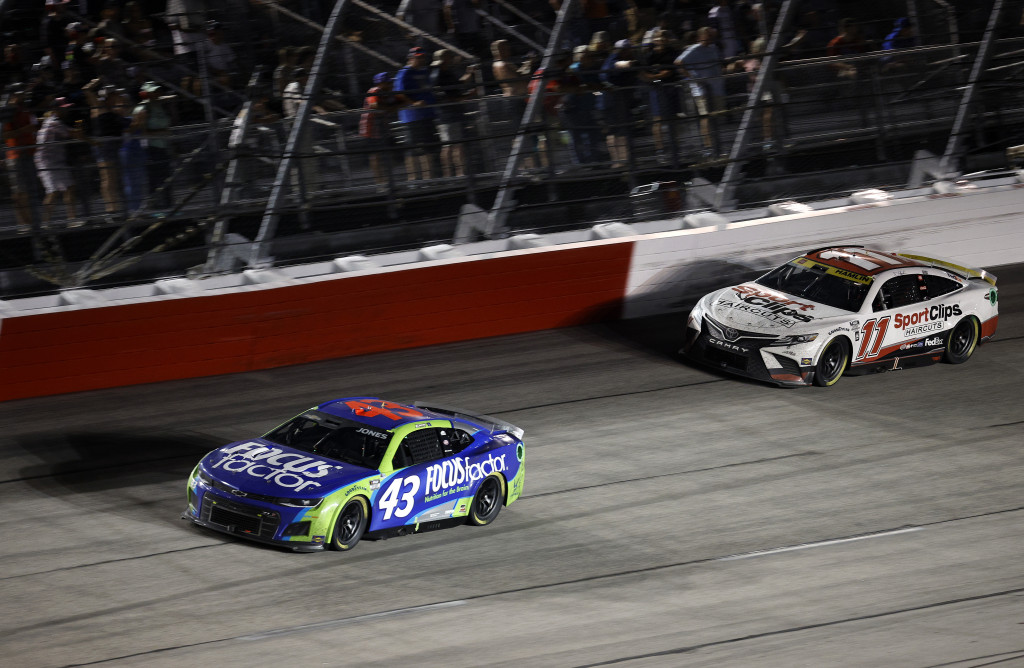 Hamlin came close on the final lap when he attempted to send it in turn three but was unable to get side by side with Jones or reach his rear and had to settle for the runner up spot. Richard Childress Racing's Tyler Reddick finished third.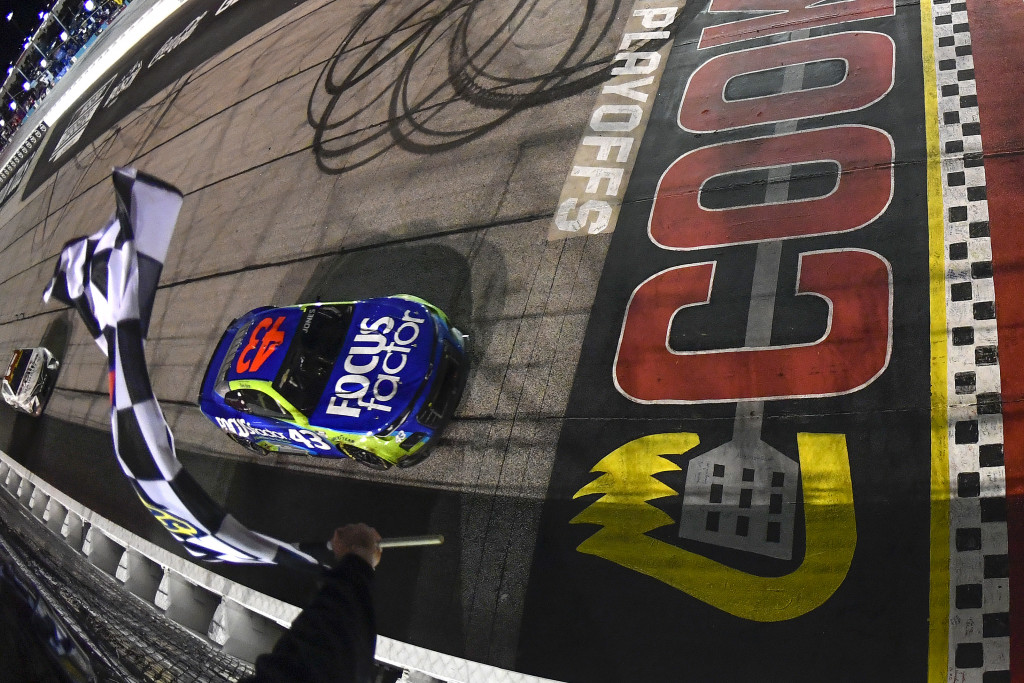 Jones said he was "very happy to have won the race, but was more proud of the group around him who are apart of this win."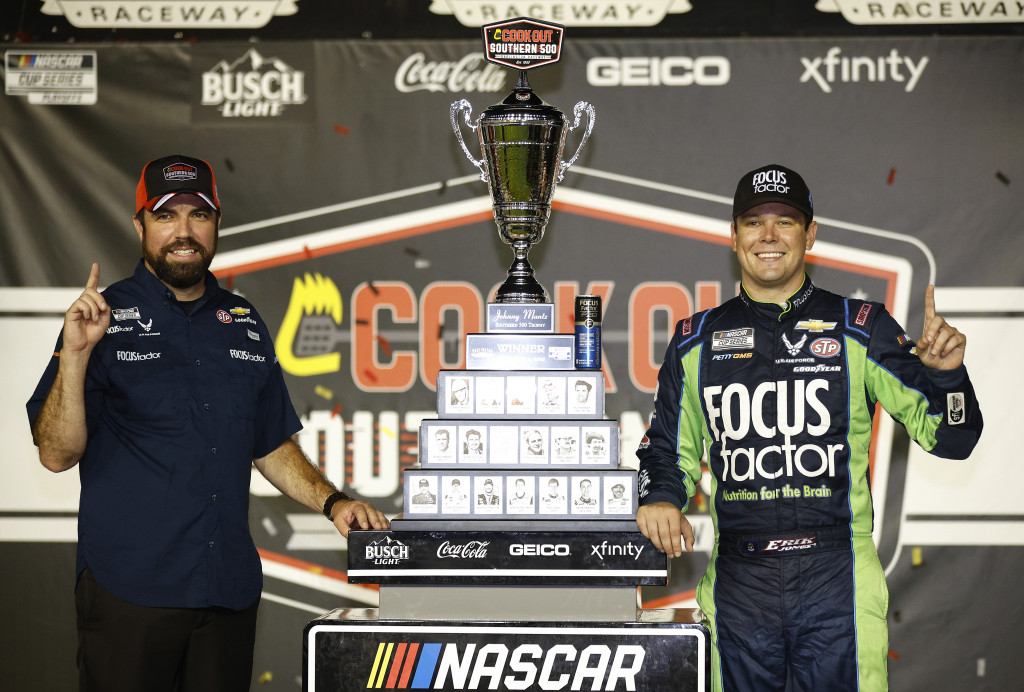 Jones had ran inside the top five for part of the night on raw pace, and earned eighth and ninth place finishes in stages one and two respectively. It was near disaster though when he came close to wrecking on lap 80 as he got sent up the race track after losing grip on the apron, nearly collecting Ryan Blaney in the process.
The Michigan driver had come close to winning with the 43 car for the first time since joining Richard Petty Motorsports in 2021 at Fontana at the beginning of the season but failed to seal the deal.
The last time Richard Petty had won a Cup race as an owner was with now Stewart-Haas Racing driver Aric Almirola in the 2014 summer Daytona race. It was also the 200th win for the 43 car.
Jones' win also means it's the first time a non-playoff driver has won the opening race of the playoffs since the playoffs began in 2004. Jones was two places short of making the 2022 NASCAR playoffs after the conclusion of the regular season last week at Daytona.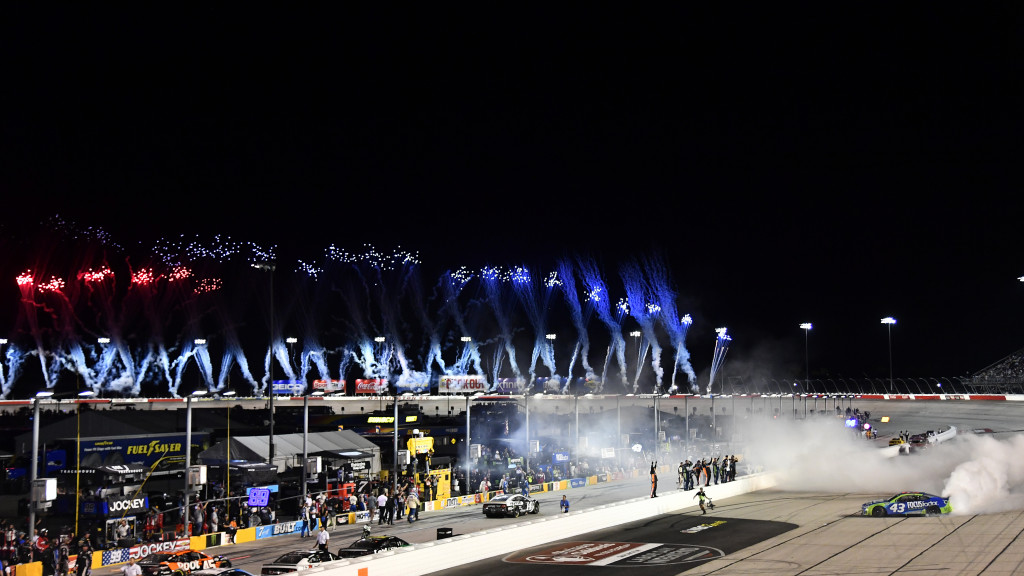 Jones taking the chequered flag was not just an upset win in that it seemed almost certain it would be a JGR car in victory lane. Kyle Busch finished third in stage one and had pressured stage one winner William Byron for the lead in the closing laps before going on to lead nearly all of stage two including taking the stage two win.
Stage three saw JGR teammate Martin Truex Jr, who had briefly taken the lead away from Busch in stage two, reclaim the top spot on lap 293, but following his final green flag pit stop Truex Jr, lost power steering due to the engine suddenly overheating with Kyle Busch taking the lead back with 32 laps to go. Truex Jr, who was two points short of making place of making this year's playoffs, then was forced to retire the car.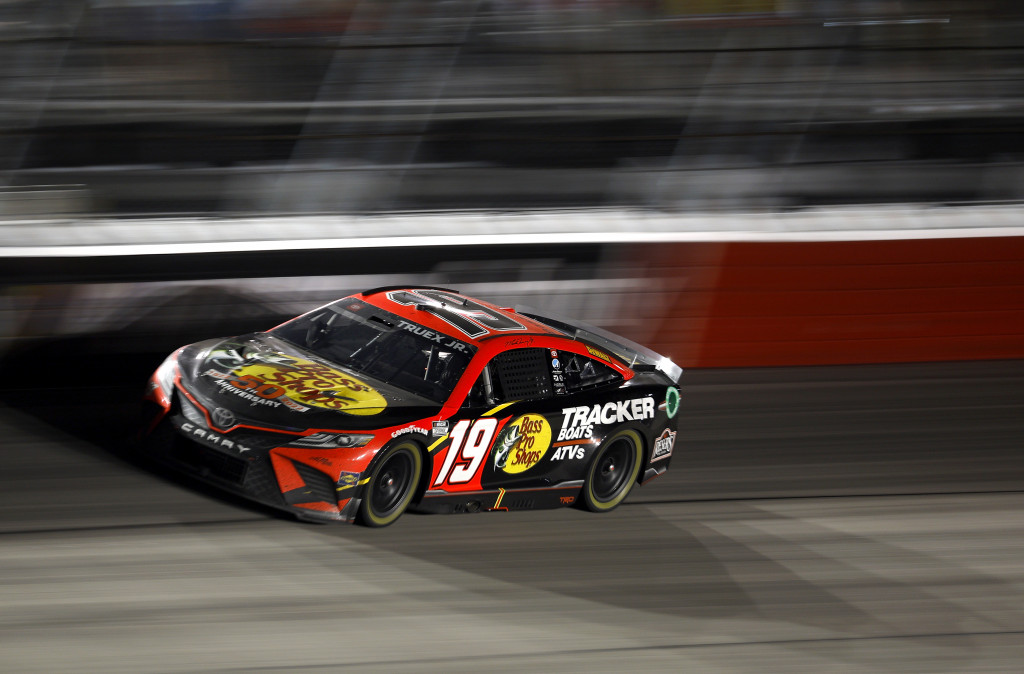 After a caution came out for a stopped Cody Ware, Kyle Busch's car, after pitting under yellow, began puffing out smoke while following the pace car before the engine blew up taking him out of the race. Erik Jones who had just gained two spots on pit road, inherited the lead and led the final 20 green flag laps. Busch led the most laps with 155 whilst Truex led 48.
Kyle Busch responded to the tragic late race retirement saying: "the sun will come up tomorrow."
Playoff contender Kevin Harvick had a scary moment when his car began to fill with fire from his dash for two laps before being forced to stop the car on the apron and quickly evacuated himself before the car violently burst into flames. Harvick put it down to "crappy-ass parts."
It was a rollercoaster Southern 500 for the Hendrick Motorsports camp. Regular season champ Chase Elliott crashed out in stage one after he "greedily" dived into turn one and made contact with the wall before spinning down the race track and getting collected by fellow playoff contender Chase Briscoe. Elliott was unable to continue after the 10-minute Damage Vehicle Repair clock expired for the No. 9 team on pit road.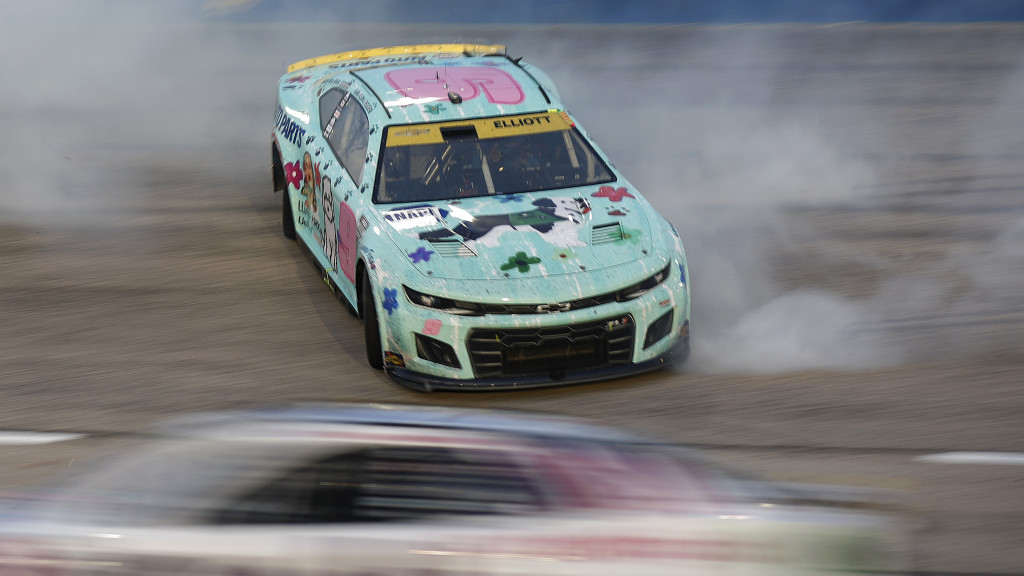 Reigning NASCAR Cup champion Kyle Larson began losing engine power 78 laps into stage one in what was a near repeat of last week and went three laps down. Miraculously despite the engine issues not being fully resolved, Larson worked his way back onto the lead lap upon completion of stage two and came home to finish 12th. This wasn't before Larson brought out the caution on lap 190 in stage two after spinning out in turn four when he was still two laps down.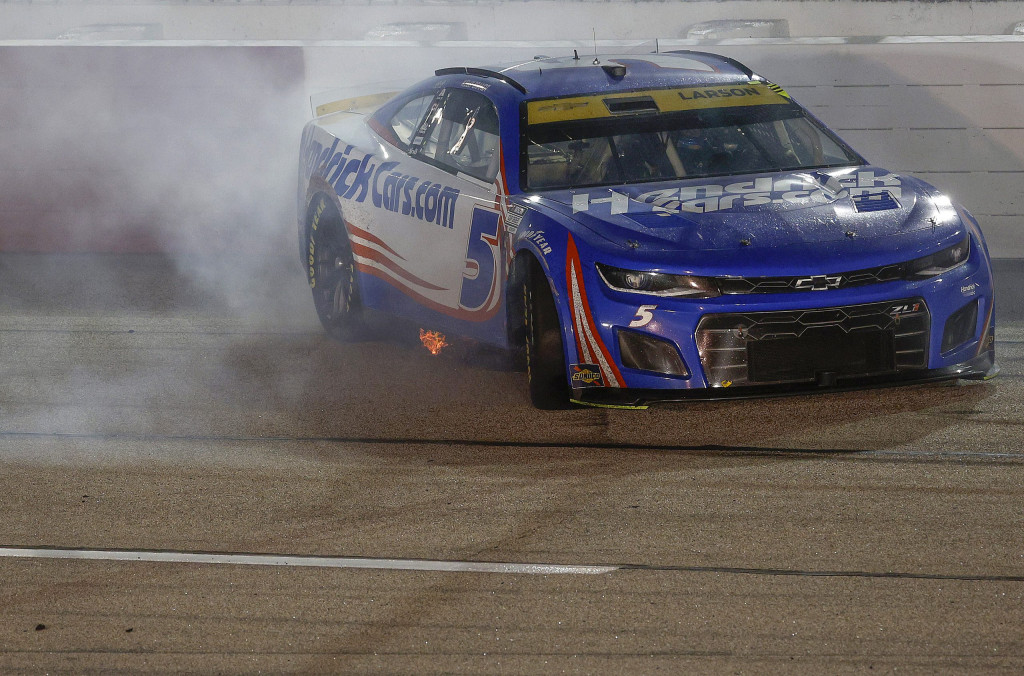 Hendrick teammate William Byron took the lead away from polesitter Joey Logano in stage 1 who led the first 66 laps, and went on to win stage one. Byron then fell to fourth in stage two after reporting that his engine was "flat and loud." Byron came home eighth.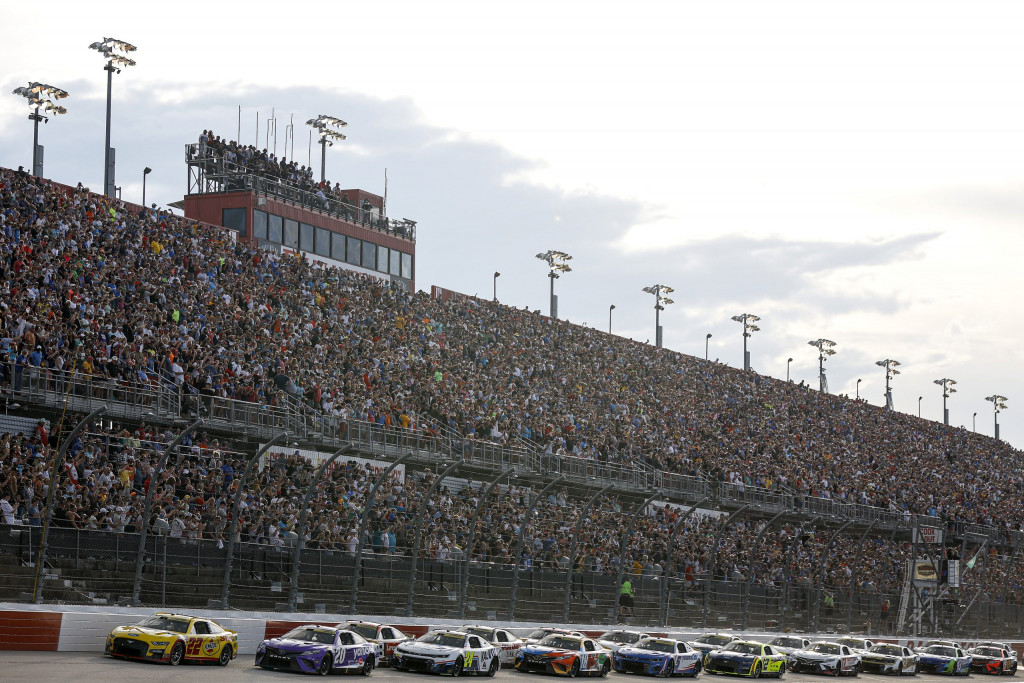 It was also a rough day for playoff contenders Trackhouse Racing with Daniel Suárez serving a drive-through penalty at the start of the race for failing pre-race inspection three times and immediately went a lap down. Then with five laps to go in stage two Bell squeezed Suárez into the turn one wall nearly wrecking both of them as Logano and Byron slipped past.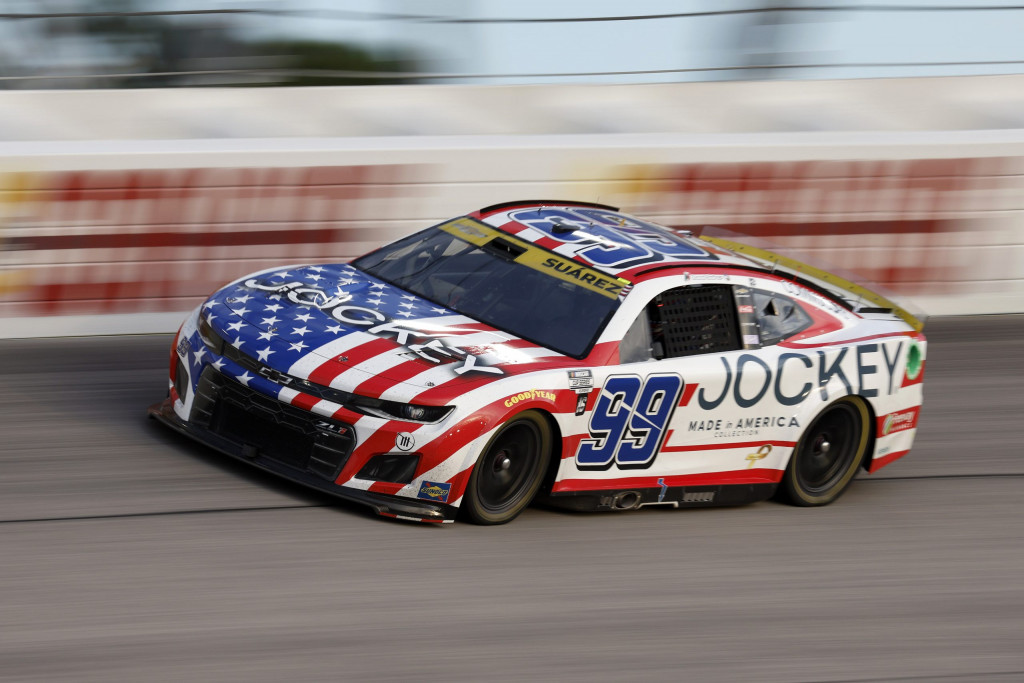 Trackhouse teammate Ross Chastain had worked his way up third in stage two but was then forced to come down pit road after having suspension issues in the left rear. Suárez found himself in fifth at the start of stage three and came home 18th while Chastain finished 20th.
The second race of round one of the NASCAR Cup Series Playoffs is the Hollywood Casino 400 at Kansas Speedway this Sunday at 3pm ET.
Full Race Results
1st Erik Jones, 2nd Denny Hamlin, 3rd Tyler Reddick, 4th Joey Logano, 5th Christopher Bell, 6th Michael McDowell, 7th Brad Keselowski, 8th William Byron, 9th Bubba Wallace, 10th Alex Bowman, 11th Aric Almirola, 12th Kyle Larson, 13th Ryan Blaney, 14th Cole Custer, 15th Ty Gibbs, 16th Austin Cindric, 17th Austin Dillon, 18th Daniel Suárez, 19th Justin Haley, 20th Ross Chastain, 21st Harrison Burton, 22nd Ty Dillon, 23rd Daniel Hemric, 24th Corey LaJoie, 25th Landon Cassill, 26th Christopher Buescher, 27th Chase Briscoe, 28th Todd Gilliland, 29th BJ McLeod, 30th Kyle Busch, 31st Martin Truex Jr., 32nd Cody Ware, 33rd Kevin Harvick, 34th JJ Yeley, 35th Ricky Stenhouse Jr., 36th Chase Elliott.
Stage 1 results
1st William Byron, 2nd Denny Hamlin, 3rd Kyle Busch, 4th Christopher Bell, 5th Martin Truex Jr., 6th Ross Chastain, 7th Tyler Reddick, 8th Erik Jones, 9th Ryan Blaney, 10th Bubba Wallace.
Stage 2 results
1st Kyle Busch, 2nd Martin Truex Jr., 3rd Ryan Blaney, 4th Joey Logano, 5th William Byron, 6th Christopher Bell, 7th Alex Bowman, 8th Daniel Suárez, 9th Erik Jones, 10th Michael McDowell.
Playoff Standings
1st Joey Logano (+38), 2nd William Byron (+32), 3rd Denny Hamlin (+30), 4th Christopher Bell (+28), 5th Tyler Reddick (+23), 6th Ryan Blaney (+20), 7th Kyle Larson (+17), 8th Ross Chastain (+15), 9th Chase Elliott (+14), 10th Alex Bowman (+10), 11th Kyle Busch (+8), 12th Daniel Suárez (+2), 13th Austin Cindric (-2), 14th Austin Dillon (-4), 15th Chase Briscoe (-10), 16th Kevin Harvick (-13).
Featured Image: Erik Jones, driver of the No. 43 FOCUSfactor Chevrolet, celebrates in victory lane after winning the NASCAR Cup Series Cook Out Southern 500 at Darlington Raceway on September 04, 2022 in Darlington, South Carolina (Photo by Jared C. Tilton/Getty Images)