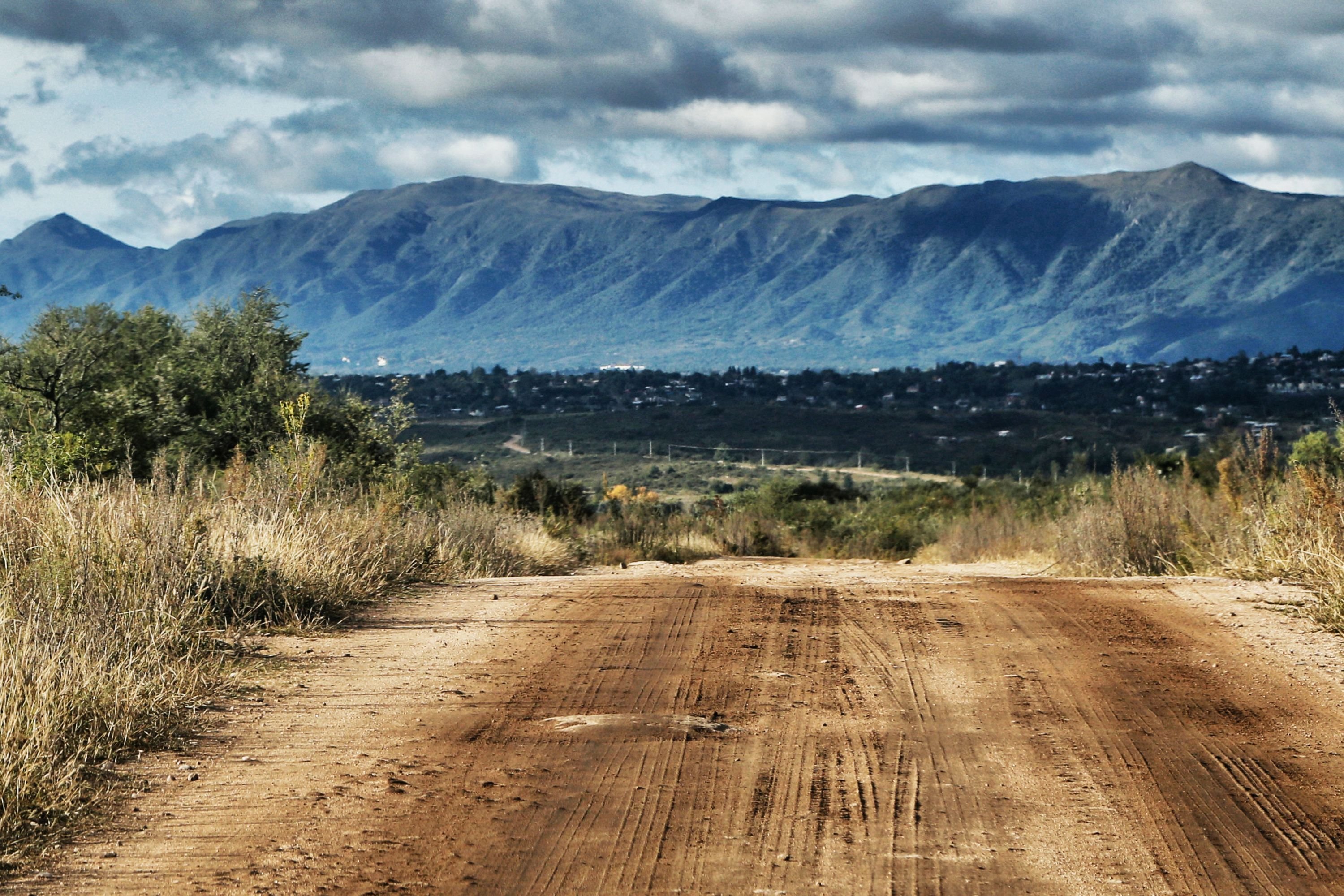 The WRC heads to Argentina for the fifth round of this year's championship. Seb Ogier increased his lead over Thierry Neuville last time out with a dominant victory on the tricky roads that make the Tour de Corse. This year's event features 18 stages and a very interesting twist at the end. El Condor, which is the Power Stage and is one of the most famous stages in the world will be tackled uphill this year.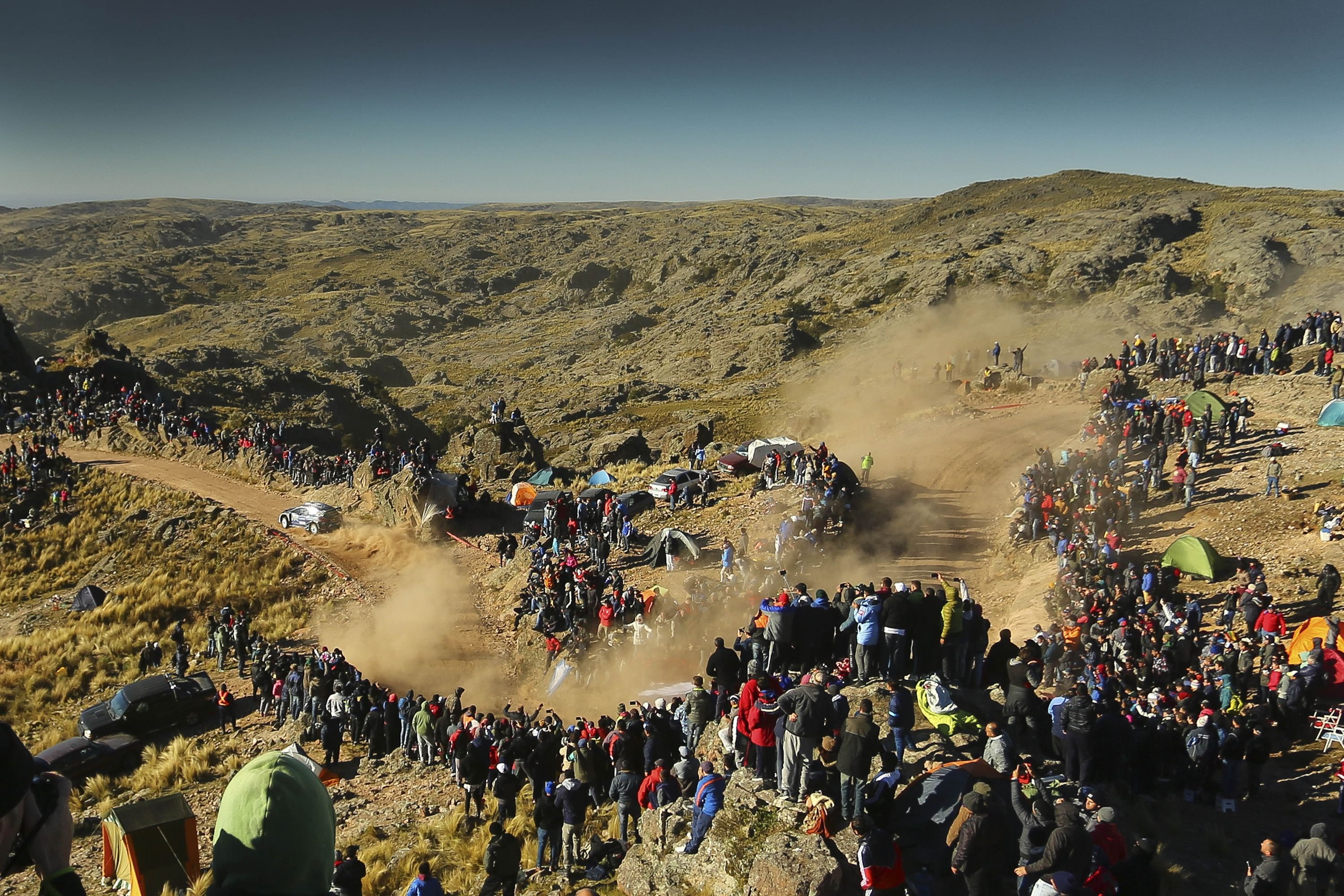 Here's the full stage schedule.
RALLY ARGENTINA SCHEDULE (GMT-3)
THURSDAY 26 APRIL
8.00am: Shakedown (Villa Carlos Paz – Cabalango)
6.30pm: Start (Villa Carlos Paz)
6.45pm: Regrouping (Villa Carlos Paz – 20 min)
7.08pm: SS 1 – Villa Carlos Paz (1,90 km)
7.33pm: Parc fermé (Villa Carlos Paz)
FRIDAY 27 APRIL
6.25am: Start and Service A (Villa Carlos Paz – 15 min)
8.10am: SS 2 – Las Bajadas – Villa Del Dique 1 (16,65 km)
9.00am: SS 3 – Amboy – Yacanto 1 (33,58 km)
10.13am: SS 4 – Santa Rosa – San Agustin 1 (23,85 km)
12.08pm: SS 5 – Super Especial Fernet Branca 1 (6,04 km)
12.48pm: Service B (Villa Carlos Paz – 30 min)
2.51pm: SS 6 – Las Bajadas – Villa Del Dique 2 (16,65 km)
3.38pm: SS 7 – Amboy – Yacanto 2 (33,58 km)
4.51pm: SS 8 – Santa Rosa – San Agustin 2 (23,85 km)
6.41pm: Flexi service C (Villa Carlos Paz – 45 min)
SATURDAY 28 APRIL
7.30am: Start and Service D (Villa Carlos Paz – 15 min)
8.23am: SS 9 – Tanti – Mataderos 1 (13,92 km)
9.08am: SS 10 – Los Gigantes – Cuchilla Nevada 1 (16,02 km)
9.35am: SS 11 – Cuchilla Nevada – Rio Pintos 1 (40,48 km)
11.38am: SS 12 – Super Especial Fernet Branca 2 (6,04 km)
12.15pm: Service E (Villa Carlos Paz – 30 min)
1.23pm: SS 13 – Tanti – Mataderos 2 (13,92 km)
2.08pm: SS 14 – Los Gigantes – Cuchilla Nevada 2 (16,02 km)
2.35pm: SS 15 – Cuchilla Nevada – Rio Pintos 2 (40,8 km)
4.35pm: Flexi service F (Villa Carlos Paz – 45 min)
SUNDAY 29 APRIL
7.45am: Start and Service G (Villa Carlos Paz – 15 min)
9.08am: SS 16 – Copina – El Condor (16,43 km)
9.55am: SS 17 – Giulio Cesare – Mina Clavero (22,41 km)
12.18pm: SS 18 – Copina – El Condor Power Stage (16,43 km)
2.21pm: Service H (Villa Carlos Paz – 10 min)
2.31pm: Finish
There's 358km of stages this year. Last year, we saw welsh wizard Elfyn Evans and Dan Barritt drive brilliantly throughout the event, only to be denied victory after some technical problems by Thierry Neuville who won by just seven tenths of a second.
Here's the views from the drivers then.
Hyundai Motorsport
Thierry Neuville
"Rally Argentina is a famous event and one that attracts an incredible crowd of passionate rally fans. It creates a fantastic atmosphere that we appreciate during the stages. We have good memories of last year's rally, which we won in dramatic style in the Power Stage.  I hope we can pull off a similar result this time around. It is a highly demanding event, very tough on the car and the crew, so it's not one that we can take lightly."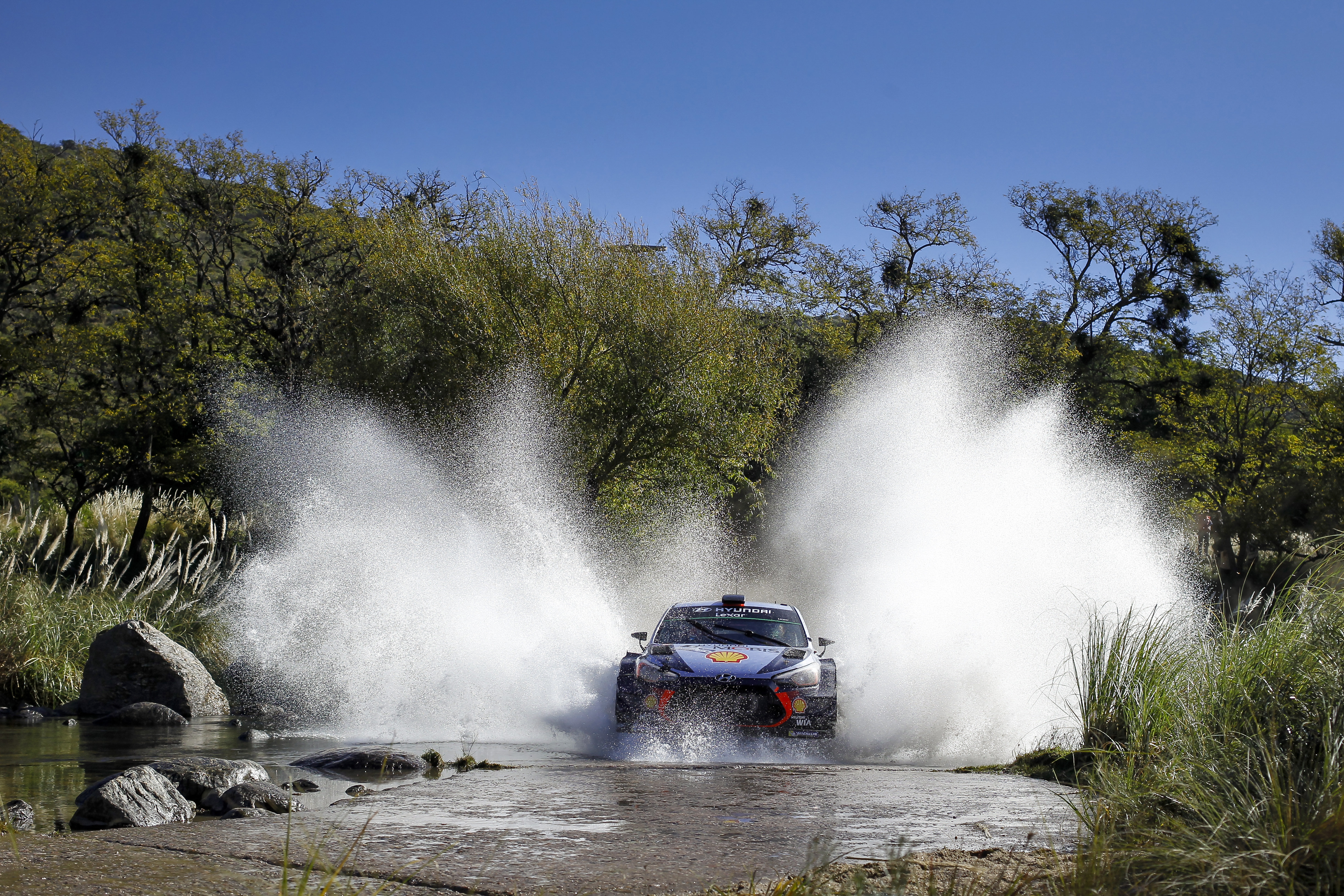 Andreas Mikkelsen
"Rally Argentina is probably one of my favourite rallies of the entire season. It is a very special type of gravel event because the roads are sandier which suits my driving style a bit more; you can really create an angle, which helps to attack the corner. The stages can get quite rough on the second pass so it's important to take care of the car, but all in all it is a beautiful rally. El Condor and Mina Clavero are two stages I particularly look forward to."
Dani Sordo
"The huge number of spectators really makes this a special rally for everyone. It is always nice to see so many people lining the routes and cheering us on. It gives us a real boost regardless of how we are performing. Of course, our aim is to be fighting towards the front. We have had a couple of solid results in a row, so we want to use the momentum to add another gravel podium to the one we scored in Mexico."
Toyota Gazoo Racing WRT
Jari-Matti Latvala
"Argentina is a place where I have had some very enjoyable moments in the past, including my win there in 2014. It is a really challenging event and that makes it very satisfying when things are going well. There is a nice mixture of different stages over the weekend, from the fast and sandy roads in the valley on Friday to the rougher mountain stages on Sunday, including the famous El Condor, which is the Power Stage again this year. It is always a very spectacular stage with all of the fans up on the hillsides cheering us on. Argentina is a very demanding rally for the cars, and we learned a lot there as a team last year. Together, we are working hard to constantly improve the car, and hopefully we can show some good progress. It would be good to get some more points on the board."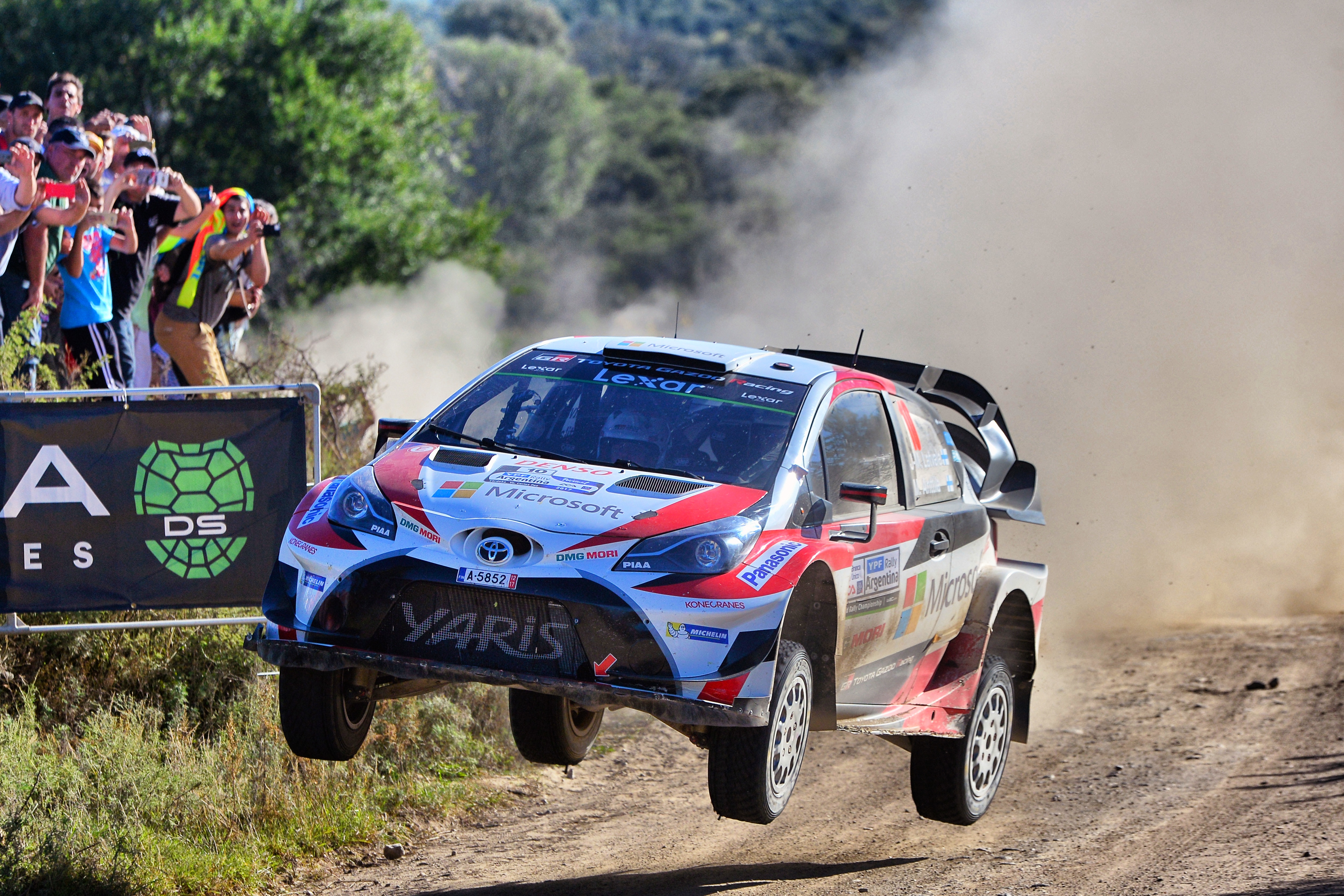 Ott Tanak
"Rally Argentina has always been a tough event. There are some nice smooth and fast stages but also some pretty technical roads, so it's a rally where you get a bit of everything in one weekend. It's also really demanding on the cars, as the stages can get pretty rough. I finished third there last year, and that gives me confidence that I can perform well this time. I'm also feeling good after our pre-event test in Sardinia: the roads went from wet to dry during the test and the surface can be just as rough there, so I think that we got just the right conditions that we needed for a good test for Argentina. I am pretty happy with the improvements that we were able to make to the car and now I am eager to see how we are going to compare against the others."
Esapekka Lappi
"Although I haven't competed in Argentina before, I have done the recce twice, so I have some picture of what the rally is like. I have heard that it can be the toughest round of the championship: the surface can get very rough in places, and there are a lot of rocks, so you need to take care sometimes. It looks as though on Friday the roads are going to be a little bit softer than on Saturday, and then on Sunday in the mountains there will be more loose gravel and rocks. I am really confident that we can do much better in Argentina than in our last gravel rally in Mexico, where I think I learnt quite a lot. It is usually a rally where a lot of things can happen, so it might be that my main target will be to just try and stay out of trouble, but let's see how it goes."
Citroen Abu Dhabi WRT
Kris Meeke
"I come into this fifth round very determined to move back up the championship standings, but this rally is such a challenge, you have to treat it with respect it deserves. I'll do my very best, as always, but the weather may be a factor. The condition of the roads is often determined by how much rainfall there has been over the previous six months. In any case, it's a rally that I really love, both for the wide range of difficulties involved and the warm, very enthusiastic welcome we get from the local fans. Added to which, I have always been comfortable here: I've finished on the podium twice in my four appearances, including my first WRC win."
Craig Breen
"Having only raced here once before, and even then, only for part of the rally, when the other guys have been driving on these stages for years, I fear that my lack of knowledge may hamper me a bit. But I really enjoyed the brief glimpse of the rally that I got here last season and I can't wait to get started. Testing went really well. It had been a little while since I had last driven the C3 WRC on gravel and the car has clearly improved on this surface. So, my confidence has been given a serious boost coming into this rally, which is set to be pretty demanding."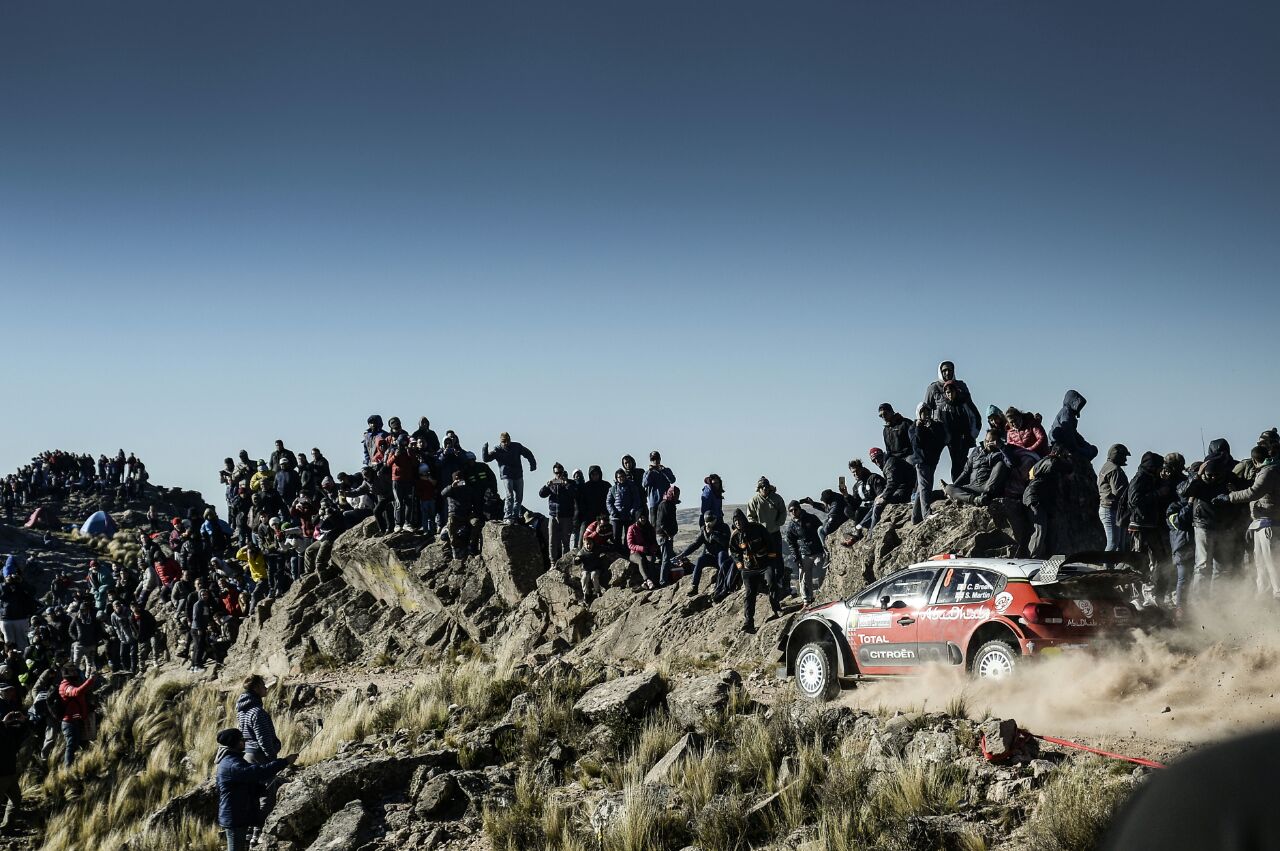 Khalid Al Qassimi
"I think this rally is going to be a real challenge for me because it has been some time since I last competed here, but I am very much looking forward to it. I'll have to get my bearings again, review and revise the pace notes for the stages. My sole aim is to make it to the finish and enjoy myself, whilst also supporting the team."
M-Sport Ford WRT
Sébastien Ogier
"We've made a great start to the season and come to Argentina with the ambition of continuing this positive start. It's the only event Julien and I are yet to win and, even though I won't be fixated on a win this week, I would also love to stand on the top step of the podium in Argentina!
"We know that the win won't be easy, but we have made a lot of progress this year and will certainly give it our best. The competition is strong, but if we can limit the time loss on Friday, which will be the key, I'm sure we'll be in with a chance.
"The car felt great last time out on gravel, but the surface in Argentina is completely different. The roads are much softer and sandier here, but also quite rough in places meaning that a good result is dependent on a compromise between speed and endurance.
"We completed a development test in Portugal last week and everything continues to go in the right direction. We're keen to see what we can do next week, and optimistic of delivering another strong result."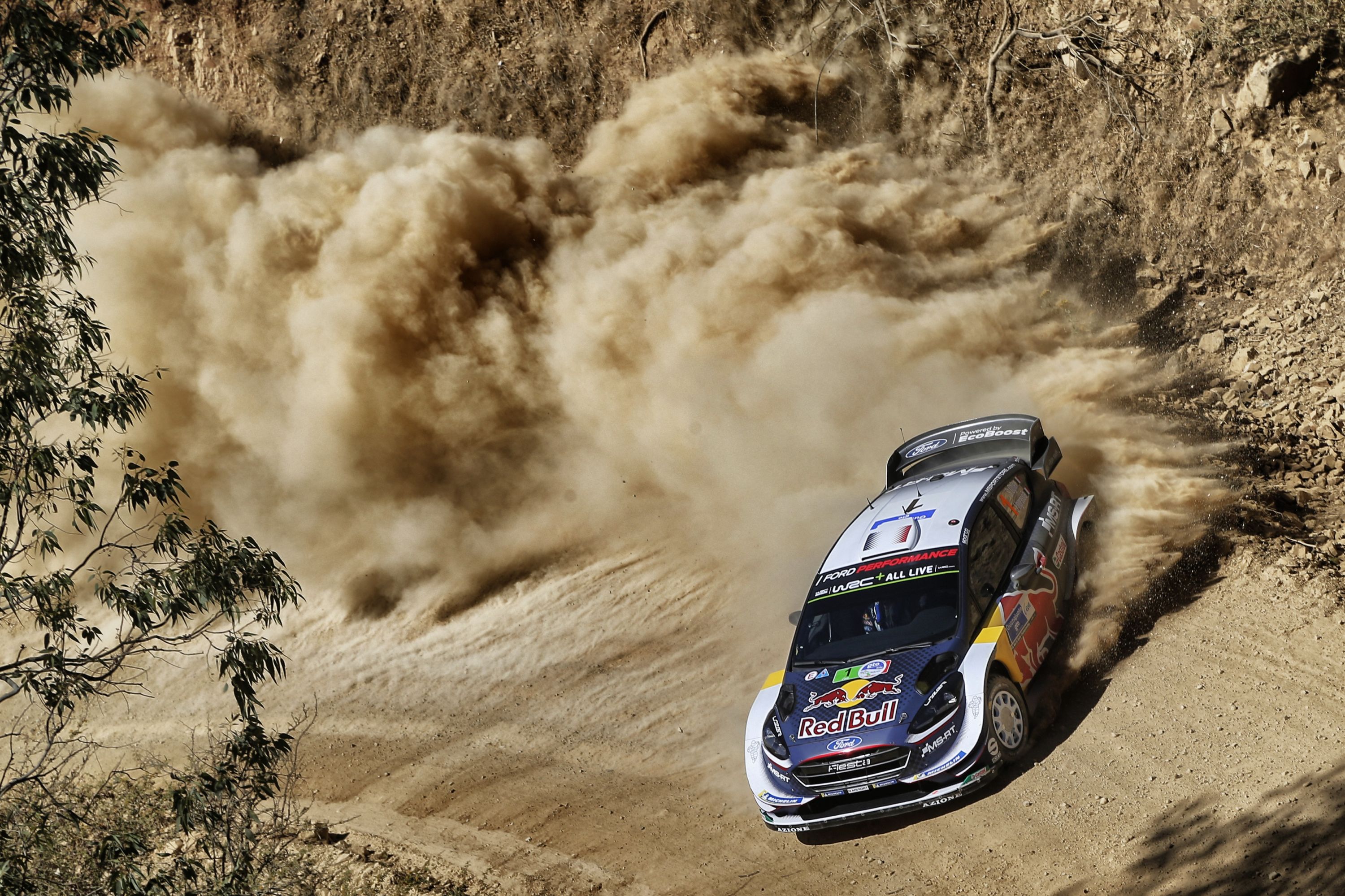 Elfyn Evans
"It's great to see Dan fully recovered and back at an event that holds a lot of special memories for the both of us. It's where we secured our first podium in 2015, and where we came so close to victory last year. That was a hard defeat to take at the time, but it made us stronger and we'll be hoping to challenge for the top results again this year.
"It's fair to say that I've not had the best start to the season, but we're determined to turn that around this week. With a solid result in Corsica, and Dan back by my side in Argentina, we're looking forward to the challenge and focused on delivering a strong result.
"You have to take a fairly measured approach to an event like this as there is very little margin for error. There's the potential for something to catch you out around practically every corner – so you have to have a clean rally and keep mistakes to a minimum.
"We completed some development testing in the lead-up to this event where we were able to get a feel for driving on gravel again. We will have a fairly good road position for the opening day and the car feels good – so let's see what we can do."
Teemu Suninen
"Argentina will be an interesting event in that sense that I have not competed here before. We did the recce in 2016 and from what I can remember there are quite a few rhythm changes on the stages – high-speed roads often turning into very narrow tracks with no room to run wide.
"The rhythm change is the biggest challenge, but the roads are also soft in places and the risk of punctures is increased by small stones bordering the road.
"We completed a development test in Portugal and got some good kilometres under our belt on gravel. It was really important to have that test. We have trust in the car but I know that the conditions will be a little different in Argentina.
"My aim this week is to continue to learn, continue to gain experience and continue developing my driving. If we can do that, the good results will come too."
Well, we are set for a very good rally. All the ingredients are there, with Kris and Thierry who have conquered these very challenging stages in recent years. Also, let's not forget that Elfyn and Dan led a large portion last year, only to miss out by such a small amount in the end. Perhaps Seb will take his first win here this weekend. He's come pretty close before, but with him opening the road throughout Friday, he'll need to ensure that the time loss to the leaders is kept small.
One driver missing, which is a shame, is 2016 winner Hayden Paddon. I'm surprised that Hyundai didn't have him in the third i20 this weekend. Still, we'll see him next time in Rally Portugal.
Enjoy the rally!