Well, into day one then and the startlist looked like this – Ogier, Evans, Neuville, Rovanperä, Tänak, Katsuta, Greensmith, Sordo, Fourmaux, Solberg, Solans. The crews had six stages ahead of them, with a lunchtime service break.
Well, it was Elfyn who flew through SS1 Vilaplana 1 – 20.00 km, going a full five seconds faster than Thierry and Seb. It was a big statement of intent, and certainly surprised many in the service park. The Hyundai crews were struggling with understeer our there on the stages which had quite long corners and they were just having to stay off the throttle just a bit longer than they wanted.
Into SS2 La Granadella 1 – 21.80 km and Thierry and Elfyn set the exact same time, with Seb third again. Ott who was fourth coming into this one dropped two places as Dani and Kalle both moved past the Estonian after he went for a spin in the stage. There was even bigger drama though for Takamoto and Aaron. He ran wide on the exit of a corner and hit the armco smashing the left front side of his Yaris up. He crawled to the end of the stage, but it really was over for them today.
Elfyn won SS3 Riba-roja 1 – 14.21 km from Seb and Dani, with Thierry only sixth fastest and 2.8 behind the Welshman who took a 7.9 second lead into the break. There was a good battle as well in the WRC2 and WRC3 categories. Mads was quickest in the stage and reduced the gap to former M-Sport teammate Eric Camilli to just four tenths of a second. Kajetan was doing a similar thing winning the category and jumping ahead into second place in the category.
Into the afternoon stages then with SS4 Vilaplana 2 – 20.00 km and Thierry was fastest from Elfyn and the gap came down just three tenths. Seb remained third fastest and had a good gap to Dani who was fourth. We lost Ott on this one after he lost control in a tree-lined section and after spinning he hit a tree. They were out for the day.
There was a big change in SS5 La Granadella 2 – 21.80 km with Thierry flying through the stage and Elfyn having a big moment as well, the Belgian moved into the lead by just three tenths of a second. Seb remained 18 seconds from the lead.
So, to the last stage SS6 Riba-roja 2 – 14.21 km and Thierry made it two in a row going through four tenths quicker than Elfyn with Dani finding some speed and going third fastest, just three tenths faster than Seb. It meant that the Belgian took a lead of just seven tenths into the overnight halt.
Classification after Day One
| | | | | |
| --- | --- | --- | --- | --- |
| 1 | T. Neuville | M. Wydaeghe | Hyundai i20 Coupe WRC | 1:01:26.6 |
| 2 | E. Evans | S. Martin | Toyota Yaris WRC | +0.7 |
| 3 | S. Ogier | J. Ingrassia | Toyota Yaris WRC | +19.4 |
| 4 | D. Sordo | C. Carrera | Hyundai i20 Coupe WRC | +24.8 |
| 5 | K. Rovanperä | J. Halttunen | Toyota Yaris WRC | +38.0 |
| 6 | A. Fourmaux | A. Coria | Ford Fiesta WRC | +1:10.2 |
| 7 | G. Greensmith | C. Patterson | Ford Fiesta WRC | +1:28.9 |
| 8 | O. Solberg | C. Drew | Hyundai i20 Coupe WRC | +1:55.6 |
| 9 | N. Solans | M. Martí | Hyundai i20 Coupe WRC | +2:30.5 |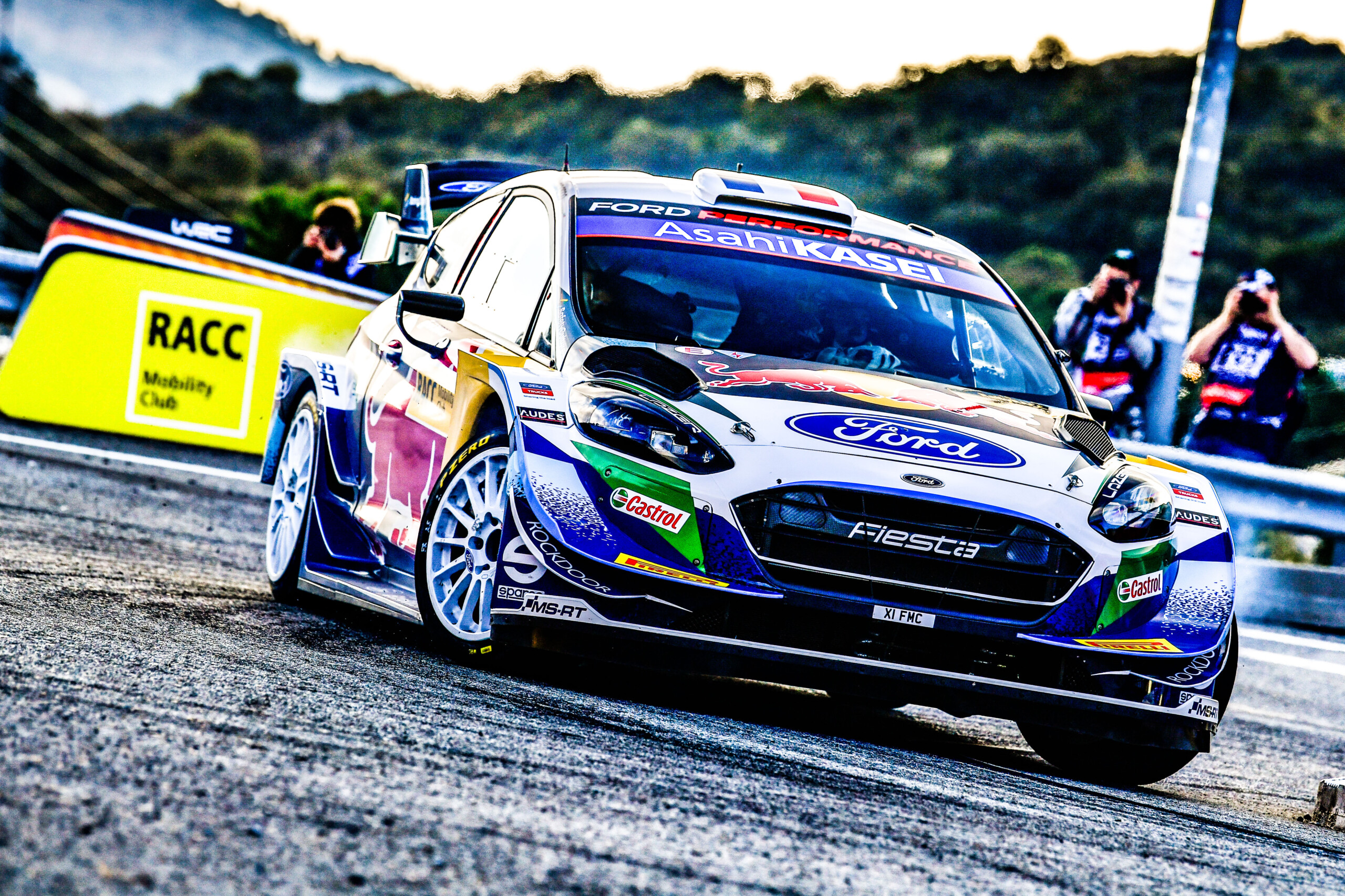 Let's hear from the drivers after day one.
Hyundai Motorsport
Thierry Neuville (1st)
"I am feeling more comfortable in the car this afternoon. We experienced a lot of understeer on the morning loop, and I felt that I was pushing the car through rather than driving it. On the twisty roads, I felt I could have gone faster but I wasn't able to get the car to turn in. Tomorrow, we have a different profile of stages, more flowing and I hope they will suit us better. We are going to do all we can to stay in the fight with Elfyn, who had a great start to the rally. It acted as a wake-up call for us, but now we're back in the game."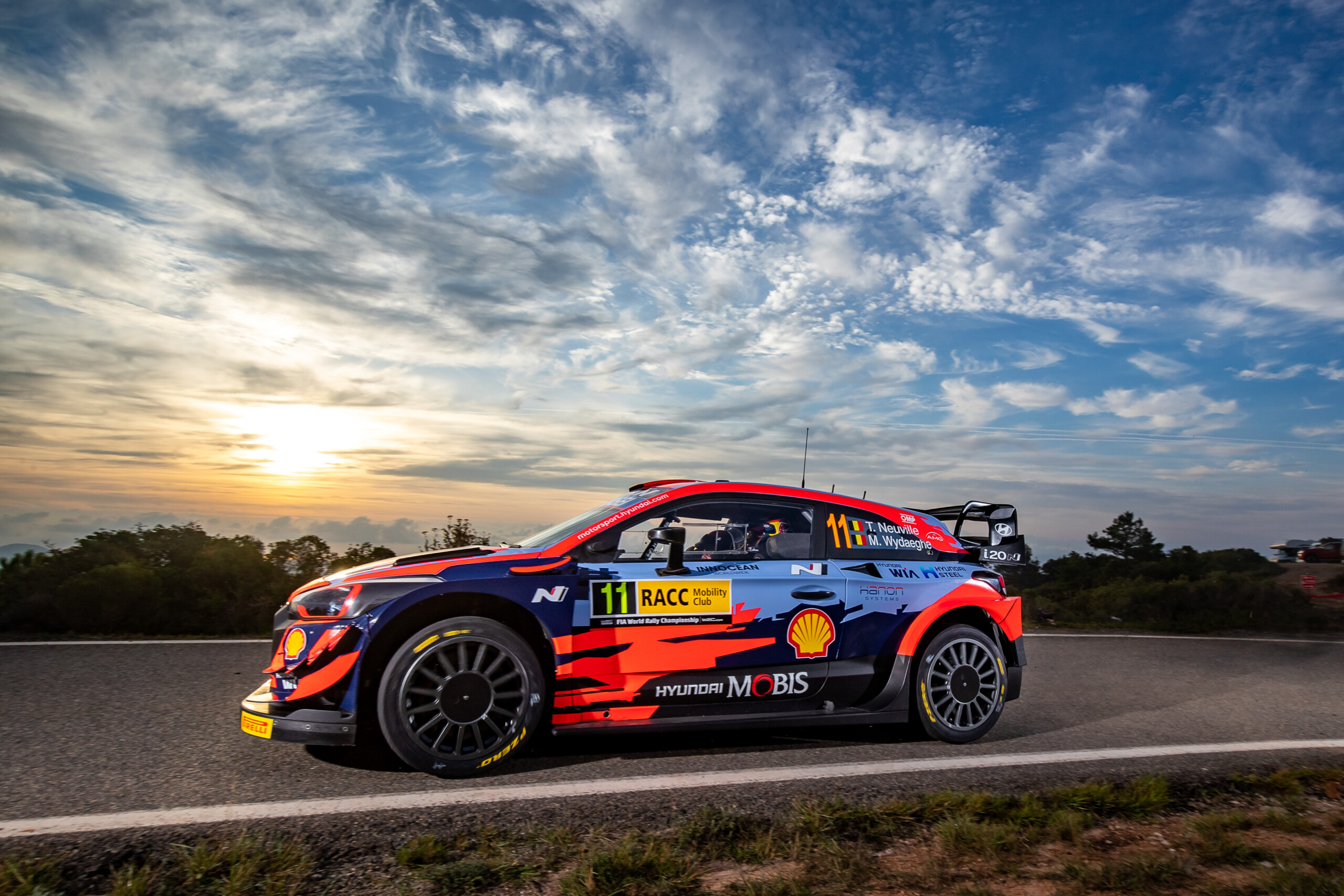 Dani Sordo (4th)
"I have pushed my hardest since the very start of the day. It is so good to be back here in Spain, competing in our home event. We are back to a full tarmac event, and I think we've had a decent Friday. We took a slightly different strategy in the afternoon loop with two spare tyres. That meant we were carrying more weight on the stages but had some better tyre performance in the final stage. I had hoped the time would be better but honestly it was difficult to get any closer. The guys in front are fast. We'll keep pushing for the podium."
Ott Tänak (DNF)
"It has been a day of unpleasant surprises. This morning, in SS2, we had quite an impressive spin, and then at the start of the afternoon loop we went off and had to retire the car. We hit a tree stump which caused damage to the car that is unfortunately irreparable. It was quite an impact, so we were probably carrying too much speed into the corner. We locked the wheel a bit, and together with the dirt, we couldn't save it. Martin and I are both fine; we weren't really over the limit, so it came a bit out of the blue."
Toyota Gazoo Racing WRT
Elfyn Evans (2nd)
"This morning was very good for us. The feeling in the car was good and we got into a pretty nice rhythm, but I was surprised to have such a strong time in the first stage. The afternoon loop was OK for the most part, it was just the middle stage where it was a bit more dirty that seemed to be a bit difficult for us. We had a big moment and hit the rear fairly hard on a kerb, but we got away with it. It's very close now between the top two positions and it's all to play for going into another tricky day tomorrow."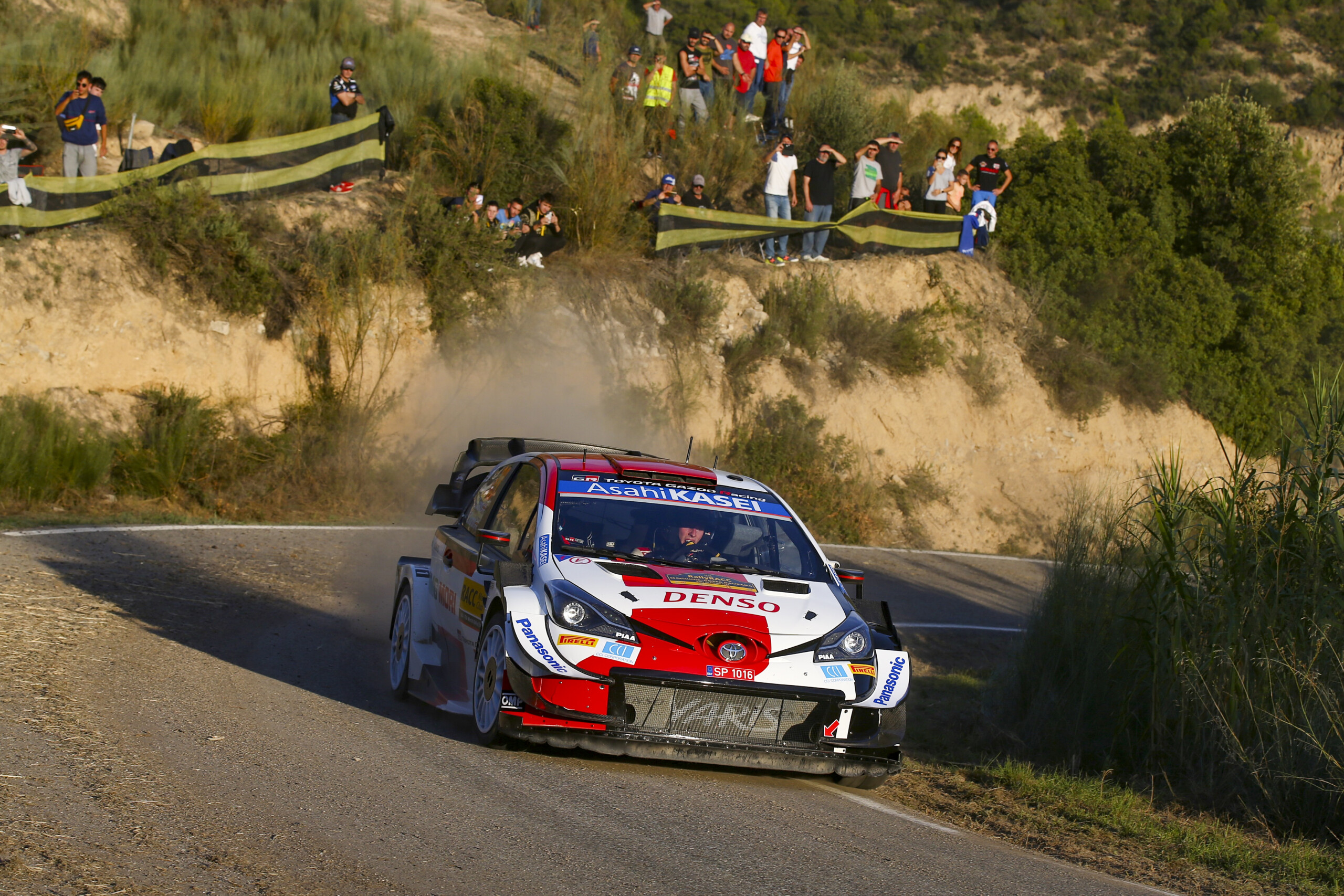 Sébastien Ogier (3rd)
"It's been an OK day for us today. It was not as good as we wanted, as we came here wanting to fight for the victory and at the moment, we didn't have the rhythm for that. This morning was not a bad loop, but Elfyn had a really good start. This afternoon there were some really dirty sections, and I struggled a bit on those, not wanting to take full risk. Nineteen seconds is a bit too much of a gap tonight but we'll keep working to improve and we're still in a position to fight for big points, so let's see what tomorrow brings."
Kalle Rovanperä (5th)
"Overall, it was quite an OK day for us. The morning was quite tricky and we struggled a bit too much. But in service we made some changes to the car which actually helped quite a lot, and it was more enjoyable this afternoon. It was good learning and we gained a lot of experience today that we didn't have before with this car. Tomorrow could also be quite tricky with stages that our rivals know quite well with World Rally Cars, but we will keep trying to improve."
Saturday's stages
Saturday sees 117km over seven stages. Can Elfyn fight back and retake the lead? I think he can and it will be amazing to see the battle for the lead unfold throughout the day.