Colton Herta thundered to the front from 14th place after pitting early for slick tyres on a drying race track, to go on to lead the majority of the race in changing weather conditions to win his first Indy Grand Prix. Herta had to keep the likes of Pato O'Ward and Simon Pagenaud behind and fight to stay on the soaked race track in the final laps as the heavens opened once again.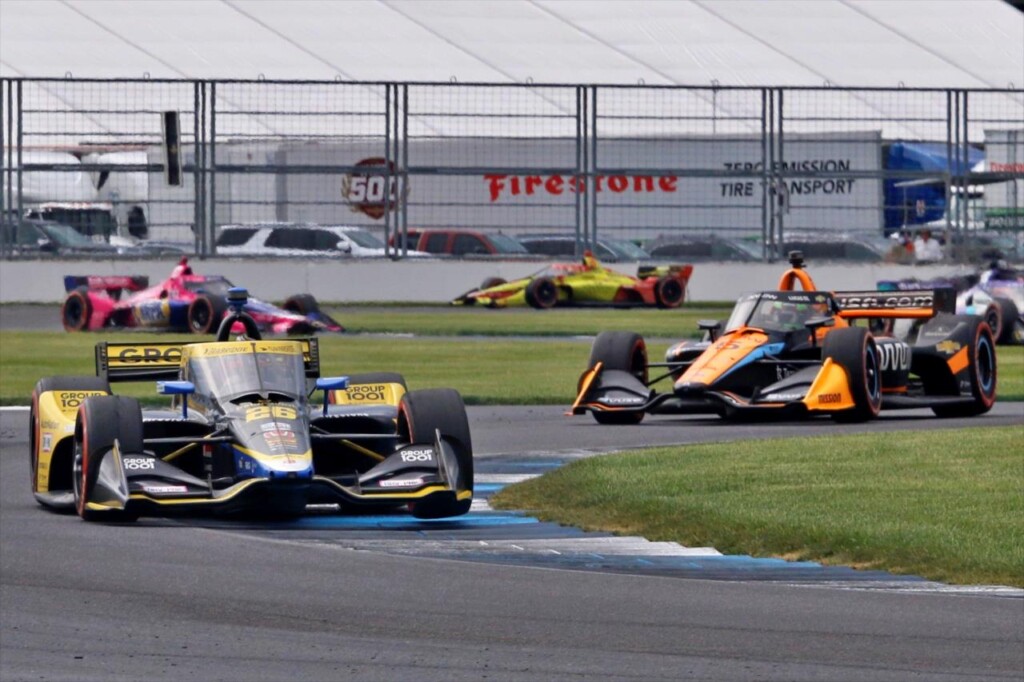 The race saw numerous crashes and spins including under the safety car as the track began to get wetter with only 13 of 27 cars on the lead lap at one point in the race.
Herta started off his race by power-drifting round turn eight in an unbelievable save as he attempted to warm up his alternate Firestone red tyres on a damp race track and close down Pato O'Ward for what would be the race lead. Herta would get past O'Ward on the next lap before taking the overall lead of the race before 10 laps were complete.
O'Ward would keep Herta honest for the next 20 laps before they dived for the pits once again for Firestone reds but more rain was reported to be less than 15 minutes away. Herta would go wheel to wheel with O'Ward's McLaren SP teammate Felix Rosenqvist but Rosenqvist being on cold tyres would lose out to taking the lead away from Herta.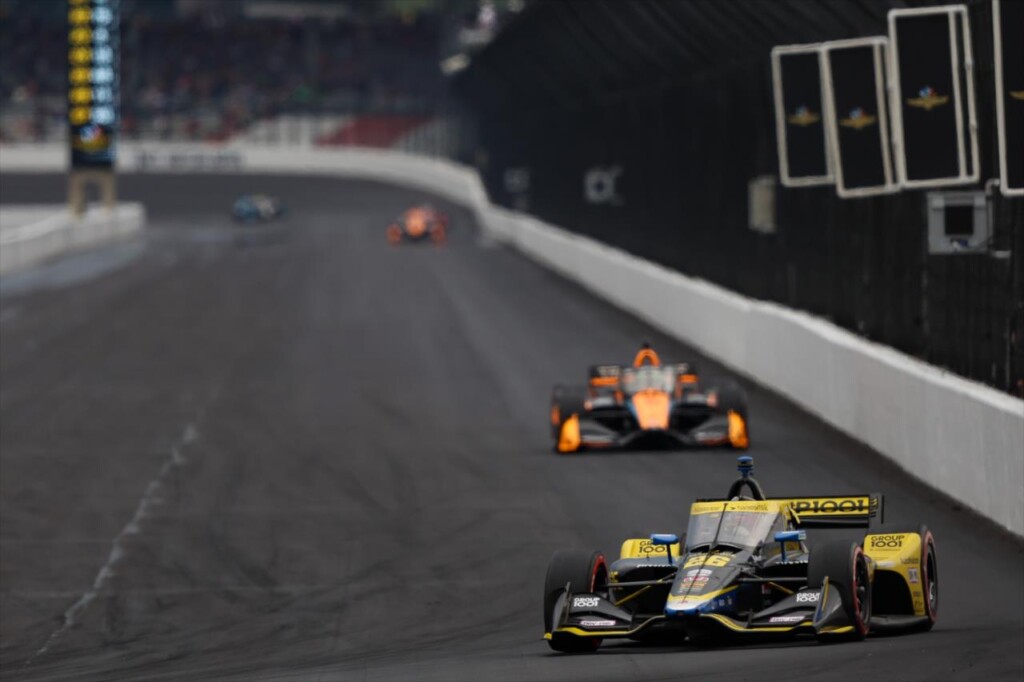 Due to several full course yellows, the race became a timed event. With less than 20 minutes to go, after multiple pit stops and strategy calls including Herta being the first of the drivers on the wet tyres in fourth a few laps earlier, he would get by O'Ward who was still on the dry tyre, again in turn one on a restart to retake the lead for the final time.
On a late race restart with the track getting soaked by arrival of the rain, Herta would now pull a six second gap over now second place Simon Pagenaud. This would be halved after Herta went wide at turn 12 and took to the grass to make the corner but would then maintain a healthy gap over Pagenaud until a full course yellow came out with less than two laps to go to end the race.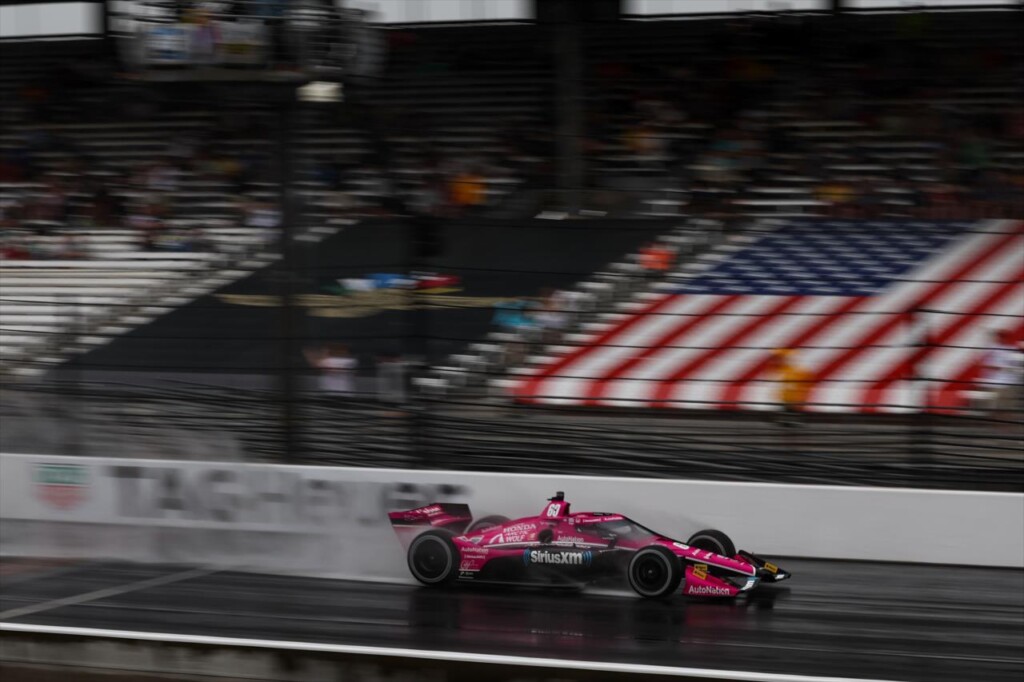 Over the team radio Herta said that this was his favourite win yet and did a burnout in the rain to celebrate.
Talking to NBC's Marty Snider in victory lane, Herta said: "That was the hardest race I have ever done."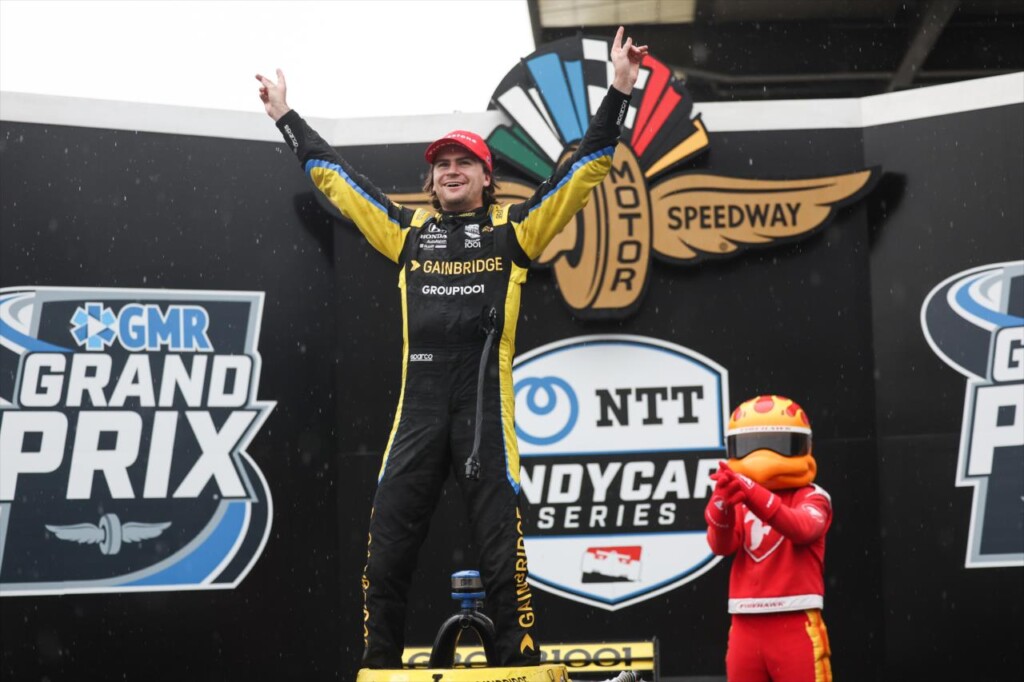 A dramatic turning point was over 50 laps into the race, with the belief that the race might end early due to a severe weather threat, for the next few laps, the race strategies went wild with the entire field flip flopping on their tyre choice due to the changing weather.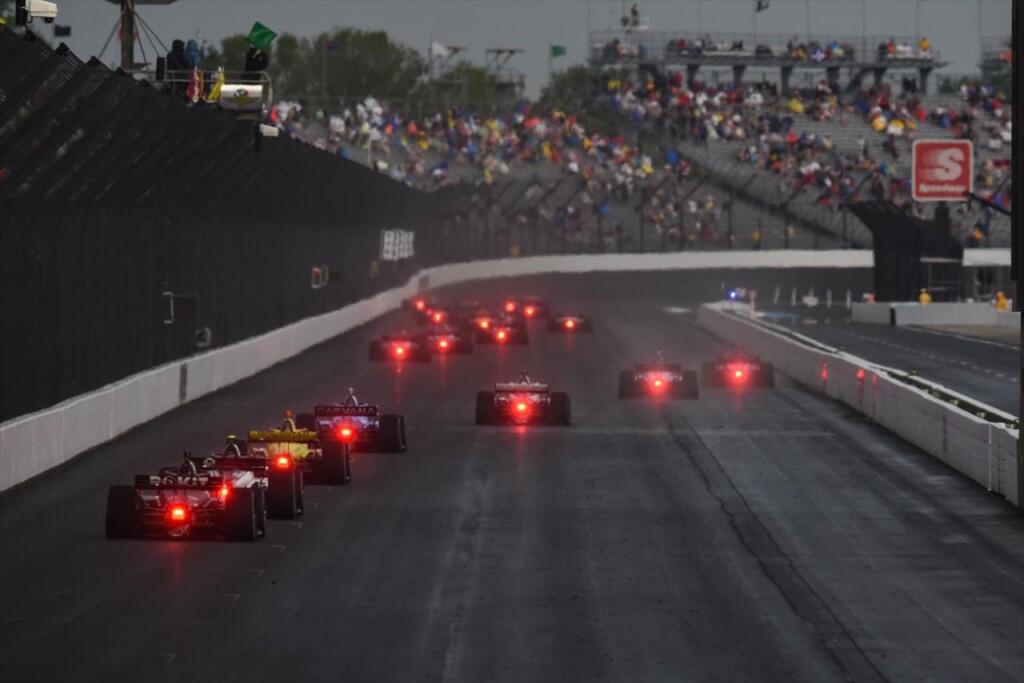 After Jimmie Johnson brought out a full course yellow after spinning and stalling in turns nine and 10 due to the tricky weather conditions, nearly everyone dived for the pits but only to take another set of the dry Firestone alternate tyres due to the belief that the track was not wet enough despite it continuing to rain. Scott McLaughlin, who had been running second on the track at this point won the race off pit road beating Herta.
It then began to rain harder under caution, causing Rinus VeeKay to spin out. Dixon, who had just taken the wave around was the first along with Rossi to dive for the pits for a set of wet tyres. The following lap saw the majority of the pack do the same including Herta.
McLaughlin, O'Ward and Romain Grosjean were now the top three, all deciding not to pit and stay out on the alternate tyre. Grosjean then spun under caution in turn two and fell to sixth.
More chaos ensued as race leader McLaughlin spun around just before coming back to green in turn 10 forcing IndyCar to halt the restart.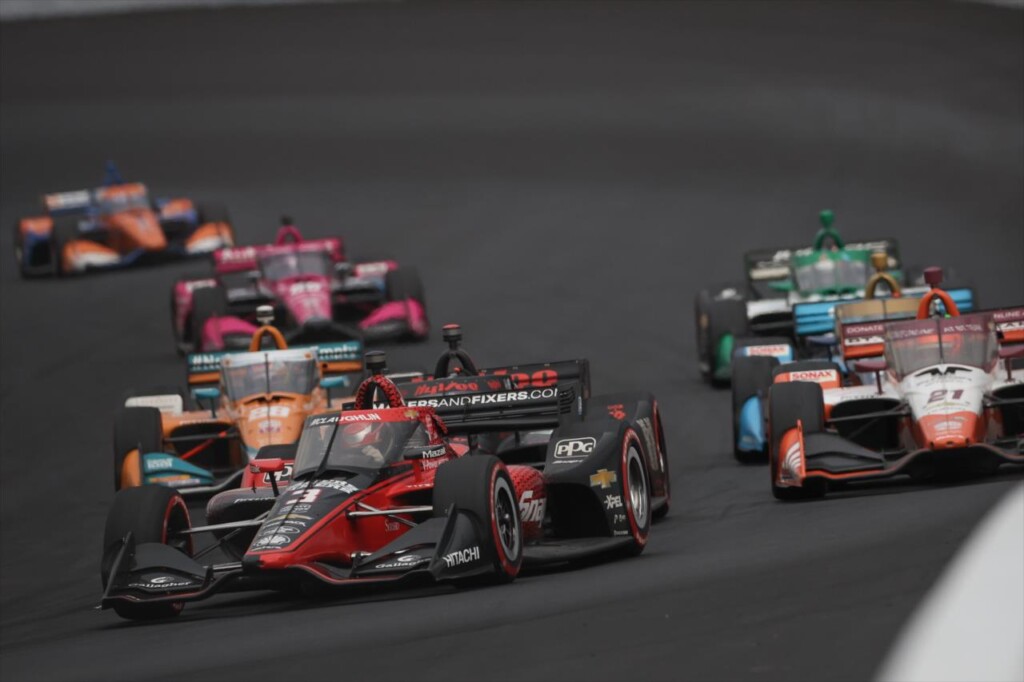 With O'Ward being the only one left at the front on the dry alternate tyre, he would get overtaken immediately on the restart by Herta into turn one. McLaughlin would bring out the next full course yellow after spinning again on the alternate tyre.
O'Ward would fall to fourth under that caution after spinning before bringing the car down pit road for a set of wet tyres as Herta brought the field back to green. O'Ward would finish 19th one lap down.
The opening 50 laps of the race were also highly entertaining. With all drivers starting the race on the wet tyre, it would be five time Indy GP winner Will Power who would take the green flag but on the backstretch on lap one, Álex Palou would come sailing past before O'Ward would do the same to Palou entering turn 12. Rosenqvist would make it a Arrow McLaren SP one-two again, just like in Friday's Firestone fast six after completing their banker laps, by getting past Palou. Power would remain in the top 10 for most of the race and had a strong final stint in the wet to come home third.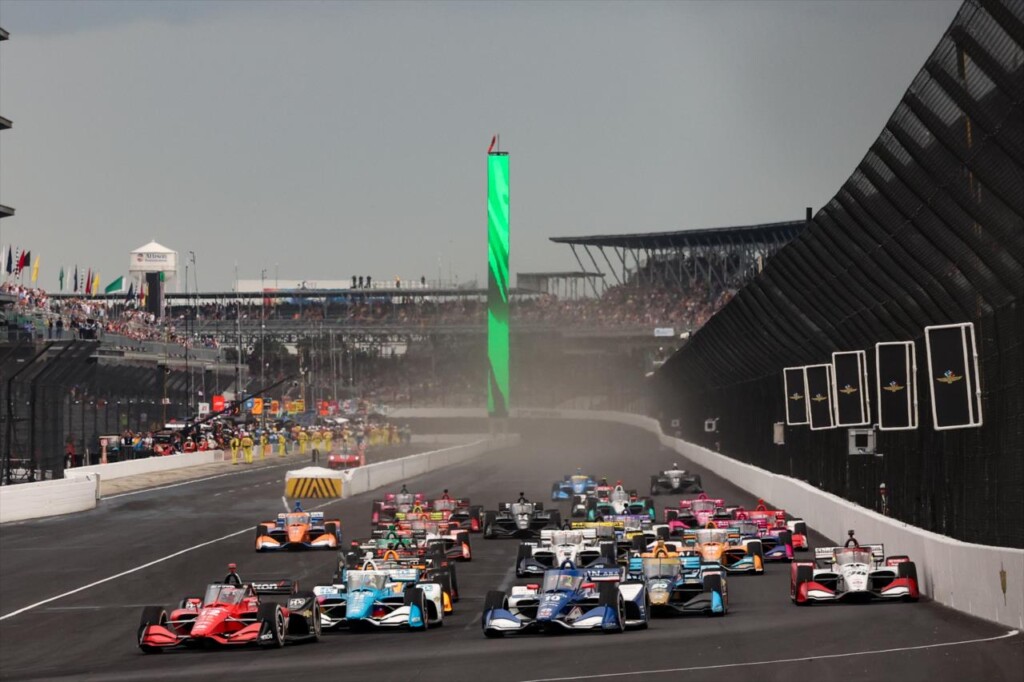 Palou's day would turn into a disaster after pitting for the alternate tyre a few laps in, as he would spin and stall his car in turn 11 after having gone off in the grass and would go a lap down. Palou would finish 18th.
A few laps later, 2022 two-time winner Josef Newgarden's race would turn into an even worse disaster after he spun wildly across the track in turn 11 after being sandwiched between Alexander Rossi and Jack Harvey, who were fighting over sixth place. Harvey failed to make an evasive manoeuvre when Rossi pulled down the race track slightly and instead clipped Newgarden's left rear tyre sending him around.
Newgarden would pull up on the track with two flat rear tyres and significant damage that saw him go straight to the garage. Later on, IndyCar allowed him to rejoin the race but was now many laps down. He had joined in last place but due to crashes later on, he would finish 25th, 15 laps down.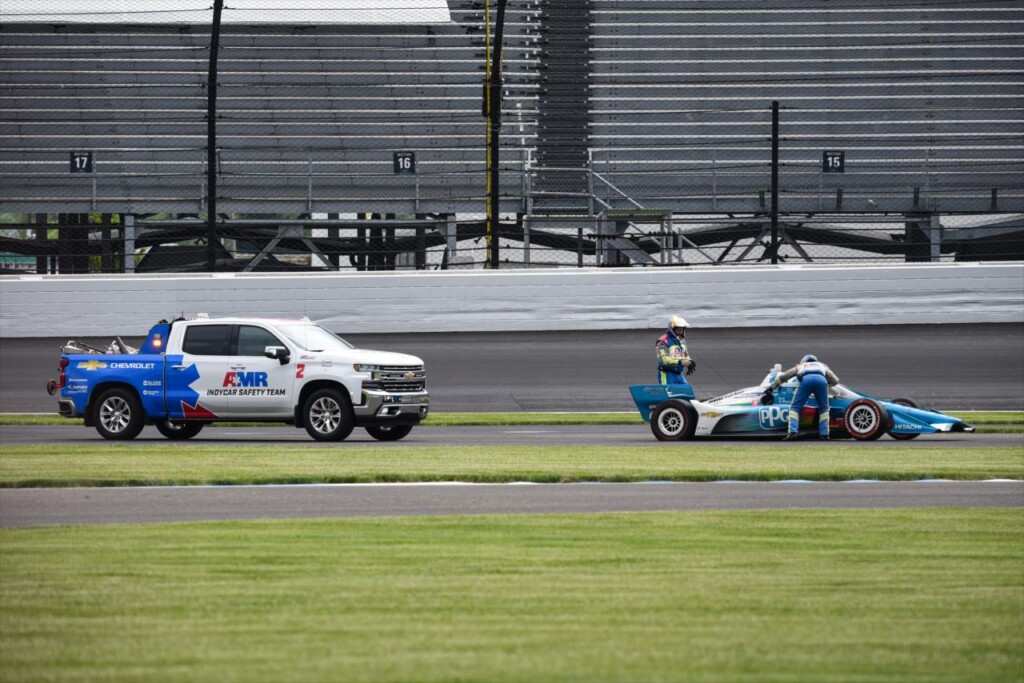 On lap 20, Devlin DeFrancesco was unable to avoid a spinning VeeKay who had just re-entered the track after getting knocked off by rookie Callum Ilott in turn two, bringing out another full course yellow.
After 30 laps, Takuma Sato had powered his way up to fourth place while Power had fallen down to fifth. Sato would finish the race in seventh.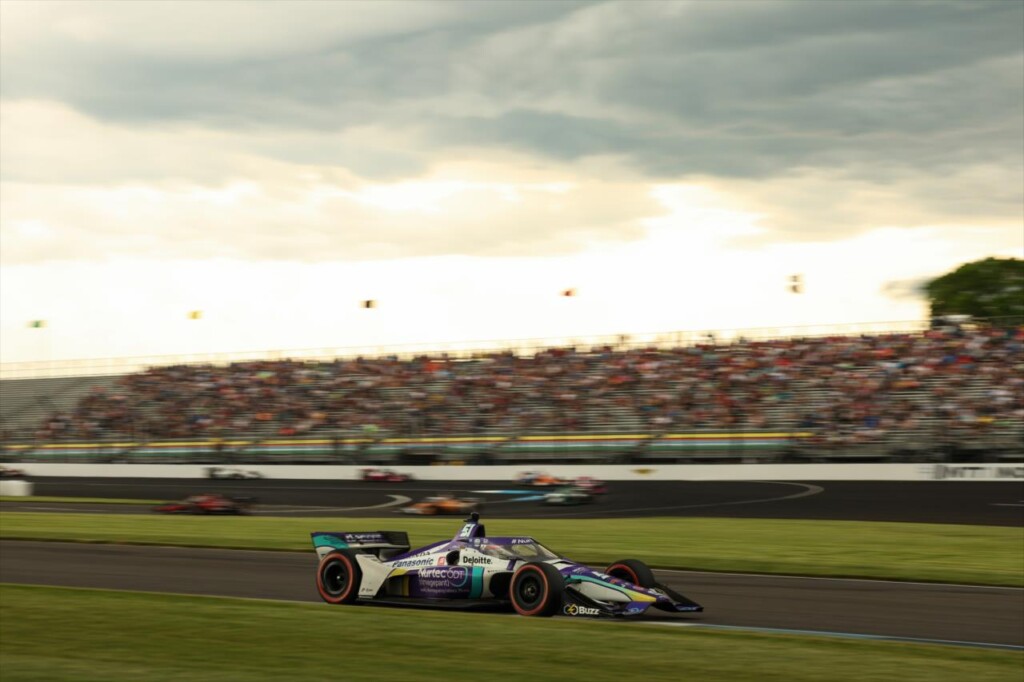 On the second round of pit stops, Scott Dixon would limp to pit road after uncharacteristically running out of fuel, but would be able to get refuelled and continue, only losing a lap to the leaders.
On lap 34, Dalton Kellett would bring out the fourth full course yellow and end his day on the back straightaway after going off in the grass after coming out of the turn six chicane and parking next to the barrier.
Marcus Ericsson and Kyle Kirkwood would now run one-two under yellow due to not having pitted for a second time. Kirkwood had spun off in turn 10 earlier in the race and had found himself at the back of the pack as a result. Unfortunately, Kirkwood would have more incidents and would finish 26th after retiring.
On the next restart, the two Arrow McLaren SP teammates of O'Ward and Rosenqvist would crash into each other in turn one after O'Ward had spun around on his own leaving Rosenqvist behind nowhere to go and would drive into a backwards facing O'Ward, braking his front wing and bringing out the yellow. Rosenqvist would recover in the second half of the race to finish sixth.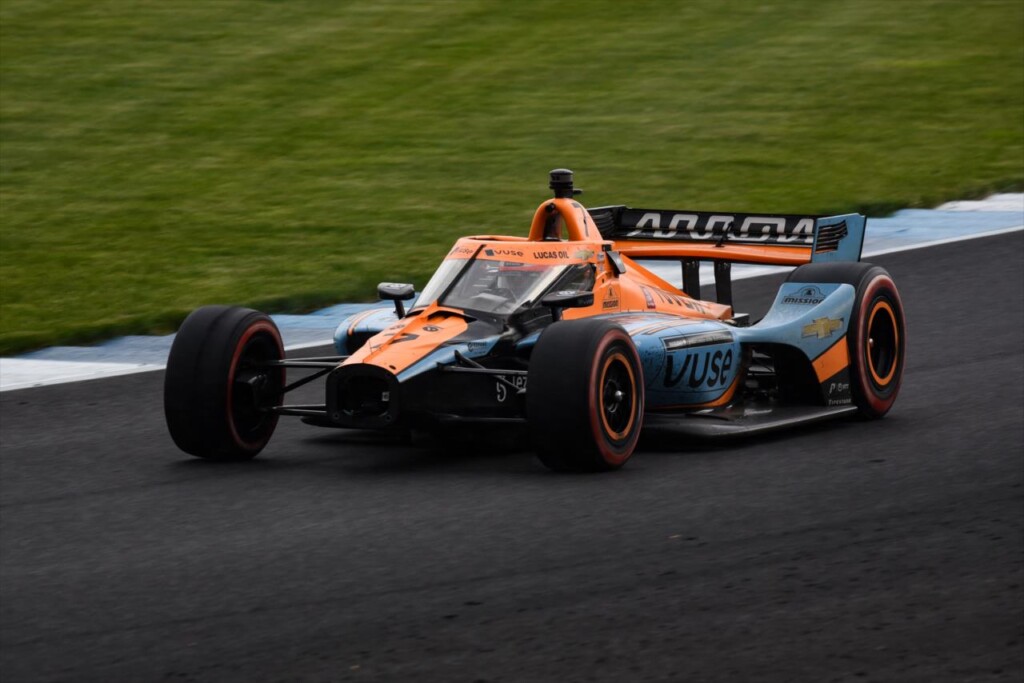 Rossi was also the first to take wet tyres before the heavy rain came but did so when the track was still too dry and burned up his tyres forcing him to pit for dry tyres again laps later.
On the lap 46 restart, Ericsson would lead the pack back to green on much older tyres before both Dixon who put himself back on the lead lap, and Herta would get by him in turn four. A few laps later Dixon would be put back down a lap by now race leader Herta. Ericsson would plummet down the order to 12th but would make a late race charge on the wet tyres to finish an impressive fourth place while Dixon would finish 10th on the lead lap.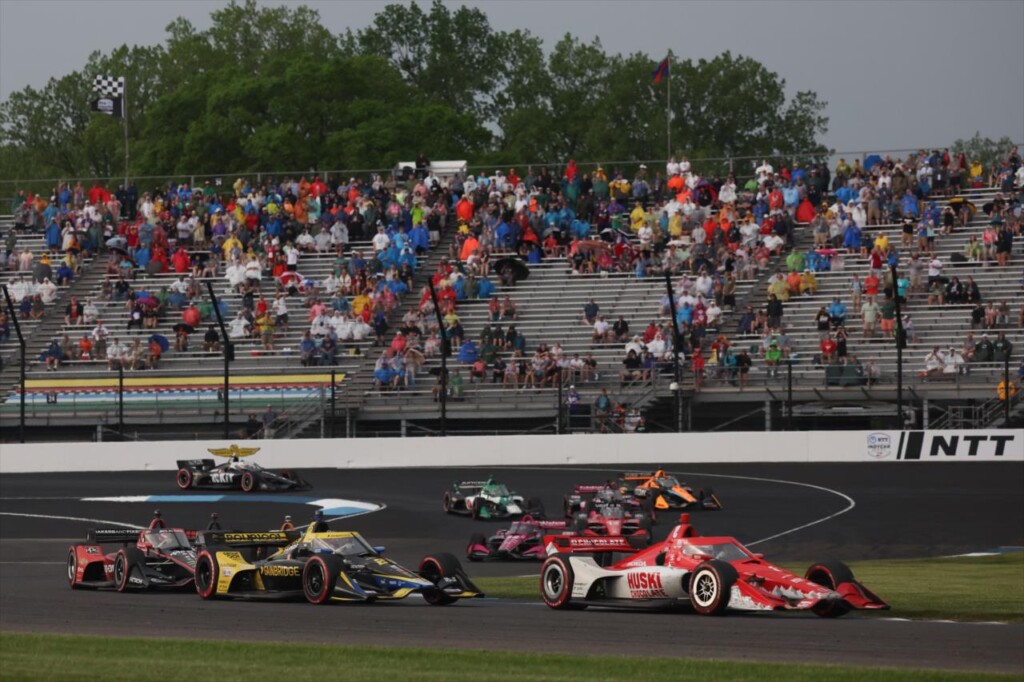 A few laps into the run saw Harvey take out Grosjean in turn seven by knocking him off into the grass before scrambling back onto the track in 12th position.
Ed Carpenter Racing's Conor Daly had started the race in fifth but in the first stint would drop back to 15th on a fuel saving strategy. Once it was clear the race would not end early, the strategy was scrapped and Daly would return to finish the race in fifth.
At the end of the race, Arrow McLaren SP's Juan Pablo Montoya would bring out the race ending full course yellow after receiving heavy damage after losing control in turn 11. He had been running 7th after starting the race in 24th. This was some warm up for the Colombian's Month of May and his third Indy 500 win attempt.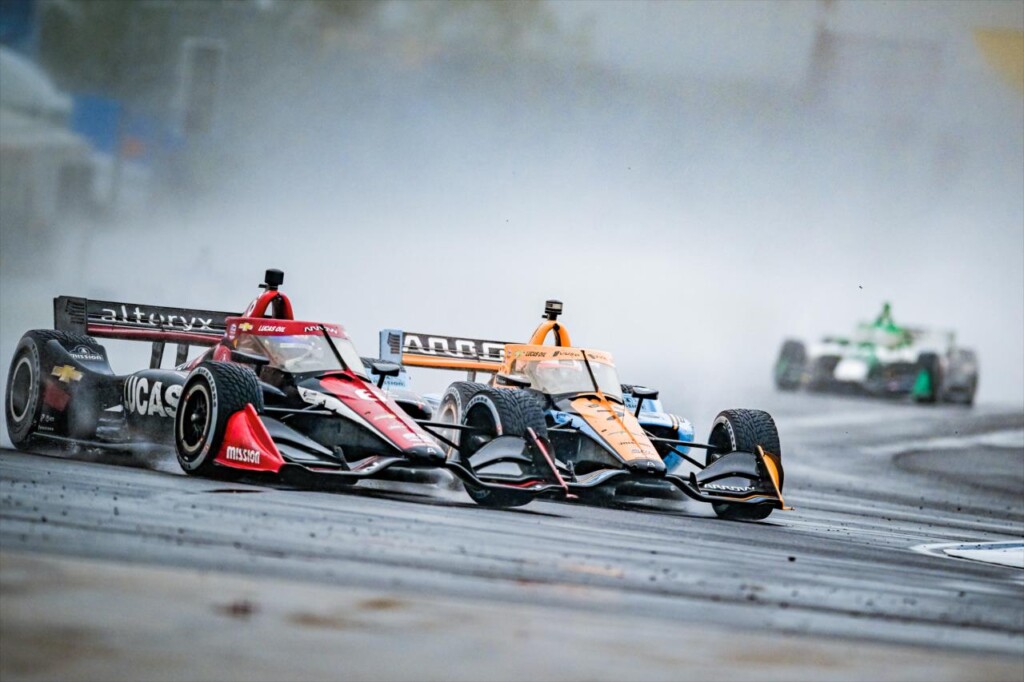 Fellow Colombian Tatiana Calderón would finish in a record 15th place in what appeared to be a quiet race for the AJ Foyt Enterprises's rookie.
The rookies of Ilott and Christian Lundgaard finished eighth and ninth but Lundgaard, on the soaking wet race track, managed to crash his race car after the race was over on the front straightaway.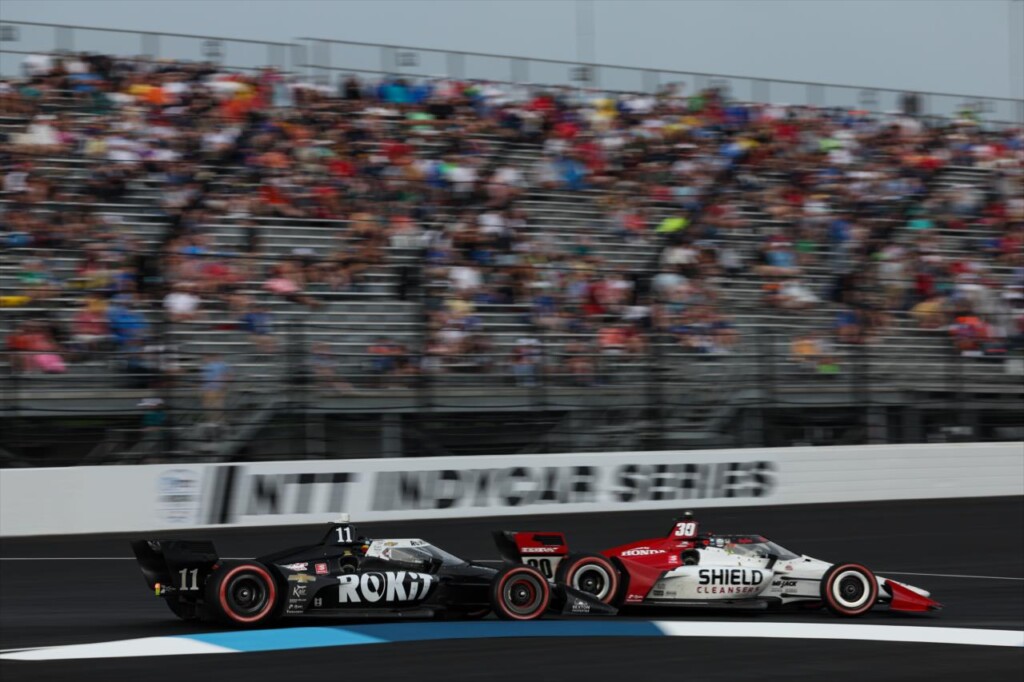 Full race results: (1st) Colton Herta, (2nd) Simon Pagenaud, (3rd) Will Power, (4th) Marcus Ericsson, (5th) Conor Daly, (6th) Felix Rosenqvist, (7th) Takuma Sato, (8th) Callum Ilott, (9th) Christian Lundgaard, (10th) Scott Dixon, (11th) Alexander Rossi, (12th) David Malukas, (13th) Jack Harvey, (14th) Hélio Castroneves, (15th) Tatiana Calderón, (16th) Graham Rahal, (17th) Romain Grosjean, (18th) Álex Palou, (19th) Pato O'Ward, (20th) Scott McLaughlin, (21st) Devlin DeFrancesco, (22nd) Jimmie Johnson, (23rd) Rinus VeeKay, (24th) Juan Pablo Montoya, (25th) Josef Newgarden, (26th) Kyle Kirkwood, (27th) Dalton Kellett.
Top 10 in points standings: 1st Will Power (170), 2nd Álex Palou (156), 3rd Scott McLaughlin (152), 4th Josef Newgarden (140), 5th Scott Dixon (133), 6th Colton Herta (132), 7th Pato O'Ward (126), 8th Marcus Ericsson (117), Romain Grosjean (114), 10th Rinus VeeKay (113).
Featured Image: Colton Herta takes the checkered flag under yellow to win the 2022 Indy Grand Prix (Photo by Travis Hinkle/IndyCar Media)