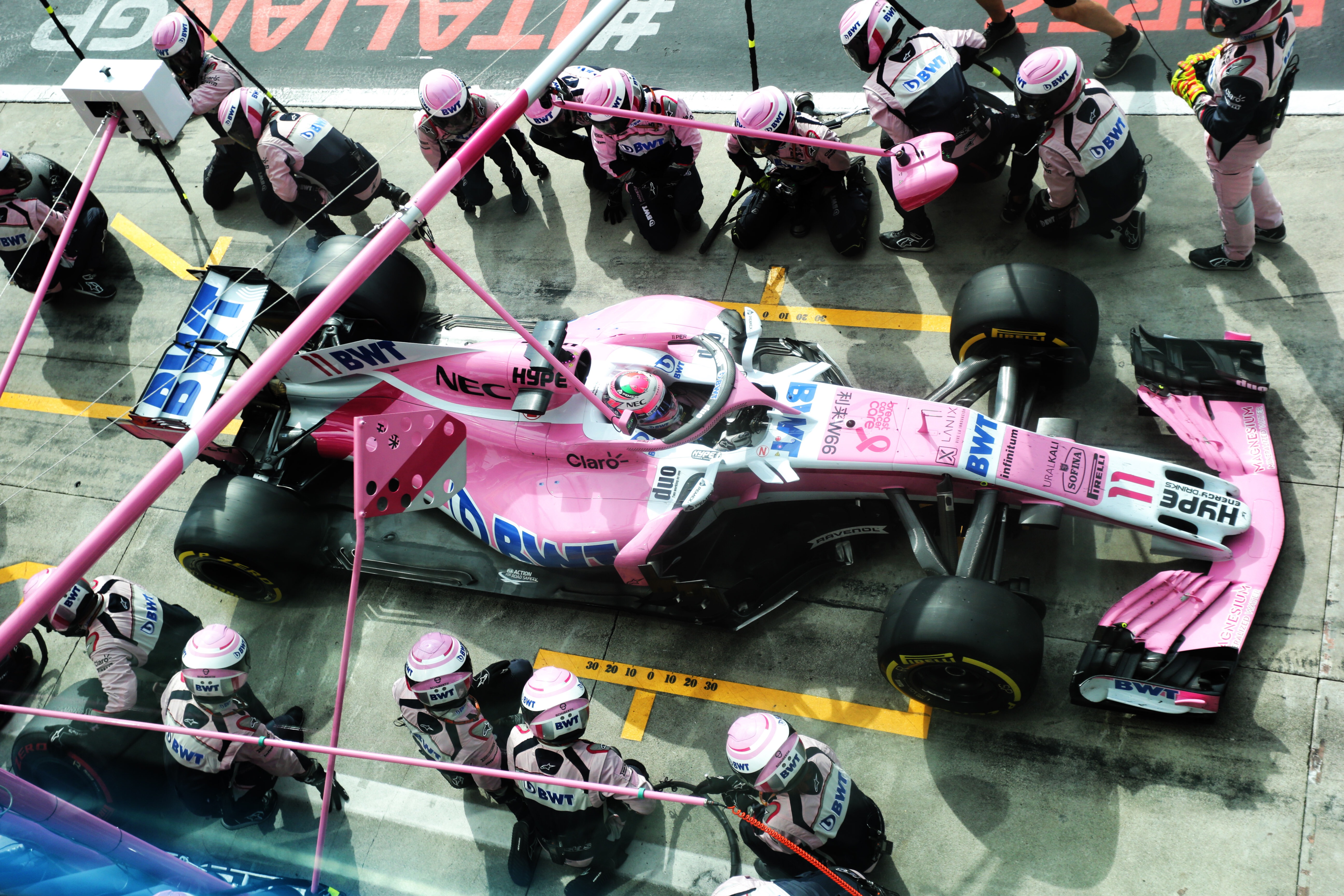 Following on from an impressive debut (if you can call it that) for Racing Point Force India at Spa, I held high hopes that the team would continue their climb up the points ladder this week in Monza. While the Pink Panthers had no problem at all in cruising past Williams in the (largely non-existent) points battle in Belgium, would passing Sauber for 8th in the standings prove more challenging?
The weekend got off to a great start, with the pink team again showing their wet weather prowess in FP1, with Perez and Ocon taking full advantage of the conditions to finish P1 and P3 respectively. Who knew panthers (albeit pink ones) were so fond of the rain? Things settled down a little once the rain clouds dissipated, but Perez and Ocon were still impressive in the dry FP2 and FP3 sessions, placing "best of the rest" or close to it.
Their competition in the standings for this weekend, Sauber, faced a more difficult time, most spectacularly for Marcus Ericsson in FP2, who became the unfortunate passenger of a car that jerked violently to the left before rolling repeatedly as a result of his DRS failing to close. Luckily he escaped unscathed, but it didn't look pretty, and forced the team to break curfew to fix the car during the night.
Although the pace was still looking good for Force India in qualifying, they looked to have made a costly mistake in Q1, deciding not to send Perez out for another run at the end of the session. Unbelievably, he found himself a single thousandth of a second on the wrong side of Romain Grosjean's time, pushing him down to 16th and out. Ocon made it comfortably through, meanwhile, eventually ending up a respectable eighth on the grid. It looked likely, at this point, that while Ocon might have a shot at the coveted best of the rest spot, Perez might struggle to even reach the points.
On Sunday though, Perez charged through the field like a man possessed, wrestling his way to where he probably should have been if not for Saturday's strategy oversight. By lap 10 he was in the points, and his charge continued impressively from there on. Ocon arguably had an easier ride, having started further forward, but both impressed in the race, finishing 7th and 8th on the road (more on that later).
Sauber meanwhile, continued to struggle without the straight-line speed required to excel at Monza, with Leclerc putting in a valiant effort but ultimately coming up short, and Ericsson having a tough time towards the back of the field. So while Perez and Ocon finished comfortably in the points, Sauber failed to score.
It doesn't take a genius to do the maths: going into the weekend with a mere one point advantage over Force India, Sauber were now very solidly on the back foot, with Force India sailing on through to rise up to P8 in the standings.
However, the story doesn't end there. After the race, the floor on the Romain Grosjean's Haas was found to be illegal, and he was promptly disqualified, pushing Ocon and Perez up to P6 and P7 in the race results. Although Haas may yet appeal, if the decision stands, Force India stand to gain – not just points, either, but yet another position in the standings! Yes, after just two races as a "new" team, Force India really do sit seventh in the Constructors' table.
So, what's next on the horizon? Sixth no longer seems impossible. Fifth might involve just a bit too much wishful thinking. But if there's one thing for sure, it's that I wouldn't want to bet against them.