Qualifying:
Unpleasant wet conditions for Saturday qualifying in Portugal saw Johann Zarco (Ducati) take pole position from Joan Mir (Suzuki) in 2nd and Aleix Espargaro (Aprilia) in 3rd. However, a pleasant surprise saw Marco Bezzecchi (Ducati) finish on the second row and teammate Luca Marini in the middle of the third row.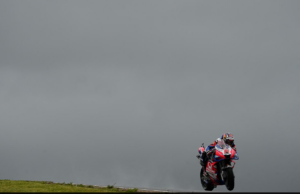 The wet weather wasn't as welcoming for others though – Enea Bastianini and Francesco Bagnaia crashed out, resulting in both riders receiving injuries.
The Home-Hero Miguel Oliveira (KTM) could only manage 11th on the grid. What could he do in the race though?
The wet conditions always manage to shake things up. Would the weather continue into Sunday?
Race:
Sunday: raceday and the black clouds still loomed large above the beautiful Portugal track but, with only 20 minutes of practice in the drier conditions, how would the racers fair?
Mir got a fantastic start from 2nd taking the lead straight away from Quartararo and Jack Miller (Ducati). But an even better start was from the other Suzuki in 23rd place – Rins propelled himself into 11th and soon took 10th place before the first lap was even complete. Up 13 places from lights out!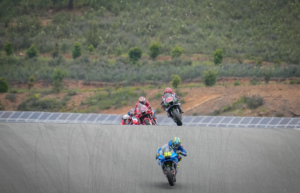 Lap 2 saw Zarco pass Miller for 3rd place and the fastest lap quickly went to the best Yamaha rider – Quartararo, who was in 2nd place, but was hunting down first-place man Mir.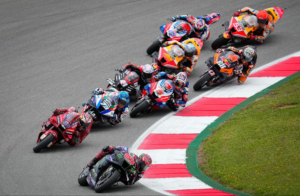 The two World Champions were out in the lead and by lap 4, Fabio had passed Joan, whilst taking fastest lap again. He continued to keep pushing and put in fastest lap after fastest lap, gaining a lead over Mir and Zarco.
Lap 5 – Rins continued to improve on positions and was soon up to 8th place.
Sector 4, lap 6 saw Jorge Martin lose the front of his Ducati, ending his race early.
The two Repsol Honda riders battled for 9th and 10th with 19 laps to go, resulting in Marquez winning the position from P. Espargaro. Meanwhile the brothers of both riders fought further up for 5th place. It was A. Espargaro that won this one over A. Marquez (Honda). However, he soon had to defend his new place from Rins, who had managed to also pass A. Marquez.
Lap 10 – the current championship leader, Bastianini broke up the two Repsol Hondas, taking 10th from P. Espargaro, but going into sector 2 he crashed out of the race.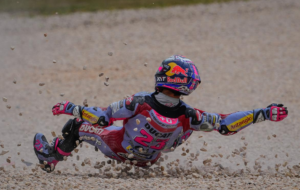 Black clouds continued to loom large above but with only 11 laps until the end, they didn't look like they would disrupt the proceedings.
Back at the front of the 'rollercoaster' track, Quartararo continued his pace and took another fastest lap, putting further distance between himself and Mir, who was under pressure by Zarco.
With 14 laps left, Takaaki Nakagami (Honda) crashed out but managed to rejoin, after clipping the back of Brad Binder's KTM, who later crashed out himself on lap 18.
Fabio was controlling the race from the front with a 3.269 second gap ahead of Mir. But Zarco had other plans and soon passed Mir for 2nd place. The Ducati-man couldn't make the pass stick though and the Suzuki was straight back in front.
The next lap (lap 9), Zarco tried again. He had learnt from his mistake on the previous lap and managed to remain in front, claiming 2nd place. This resulted in Mir then being under pressure by another Ducati, in the form of Miller who was close behind.
But more surprises were due: disaster struck as seconds later Miller tried to pass Mir for the last podium position, into turn 1, only to take both himself and the Suzuki out of the race, hurling them into the gravel.
The crash from 3rd and 4th meant that Quartararo then lead Zarco, A. Espargaro and Rins, who remember had unbelievably come from 23rd place!
With 6 laps to go, Bagnaia was also up to 9th place, fighting his shoulder injury against the relentless undulating track.
Two laps until the chequered flag and the Marquez brothers were fighting eachother for 6th. Marc managed to get the place from Alex but Alex took it back on the straight, leading into the last lap.
Last lap – Quartararo took his first victory this year and his first victory since August last year (at Silverstone) 5.776 seconds ahead of Zarco and A. Espargaro. Marc managed to take 6th back from Alex over the line as Bagnaia also stole 8th spot from P. Espargaro.
Home-Hero, Oliveira finished a respectable 5th.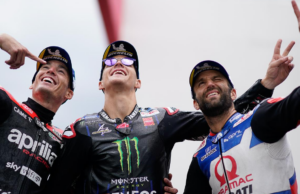 Top ten race finishers:
| | |
| --- | --- |
| 1st | F. Quartararo |
| 2nd | J. Zarco |
| 3rd | A. Espargaro |
| 4th | A. Rins |
| 5th | M. Oliveira |
| 6th | M. Marquez |
| 7th | A. Marquez |
| 8th | F. Bagnaia |
| 9th | P. Espargaro |
| 10th | M. Vinales |
Quartararo is now the fourth different winner of the season, with 5 races already complete, would we see a 5th? Could it be the seemingly illusive first win for the other French rider – Johann Zarco?
Top four Championship:
| | | |
| --- | --- | --- |
| 1st | F. Quartararo | 69 Points |
| 2nd | A. Rins | 69 Points |
| 3rd | A. Espargaro | 66 Points |
| 4th | E. Bastianini | 61 Points |
Two men are now equal on points for the championship lead and the others are very close behind. It is still anyone's to take.
With only 1 week to wait, who will be victorious in round 6 of the 2022 season?
Featured image: That winning feeling. Courtesy of: Moto GP website.