The wait is finally over, the predictions are in – who will win the opening race of the 2022 season?
Qualifying:
There were some interesting results, in less than favourable weather conditions. Jorge Martin (Ducati) took pole and fastest lap. Second was Enea Bastianini (Ducati) and taking last spot on the front row was Marc Marquez (Honda), who was declared fit enough to start the new season. Last year's championship winner – Fabio Quartararo (Yamaha) struggled to get to grips with his bike and qualified 11th with teammate Franco Morbidelli directly behind.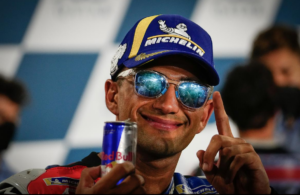 Race:
From pole Martin got an awful start to his race, starting with a wheelie from the line and almost rode into Bastianini, resulting in Martin going down into 8th spot. Pol Espargaro (Honda) on the other hand had a flying start and was quick to take the lead from teammate Marquez and Brad Binder (KTM).
Joan Mir (Suzuki) passed Bastianini for 4th place, while pre-seasons favourite to win, Pecco Bagnaia (Ducati) languished down in 14th place.
Riding on last years Ducati, Bastianini was quick to put in the fastest lap but Mir's teammate Alex Rins (Suzuki) soon beat it while overtaking Quartararo on the straight to go into 8th on lap 4.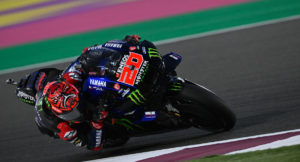 At the front P. Espargaro started to break away from the pack as the riders behind battled for positions. Lap 6 of 22 – Bastianini was ready to pounce on Mir and soon took full advantage, taking 4th place.
Binder was next – passing Marquez after Marc made a small mistake and went wide.
Ducati's rider Jack Miller had to retire from the race on lap 7 and VR46's racer Marco Bezzacchi crashed out on the last corner on lap 8.
Crashes seemed to come in thick and fast – lap 10, turn 1 Alex Marquez (Honda) ended his weekend. Miguel Oliveria (KTM) fell from 11th place – lap 11, turn 1. Then a shock crash between Bagnaia and Martin, meant both riders went into the gravel due to Bagnaia trying to overtake underneath Martin and losing the front. Three Ducati's had exited early from the first race of the year.
Under the floodlights of Qatar number 55 (P. Espargaro) slowly increased his gap from Binder and Bastianini. The gap went to 1.063 seconds.
Bastianini had had enough of seeing the rear of the KTM though and soon passed Binder for 2nd place on the straight. He went slightly wide on the first corner but managed to hold his new position. This only let Espargaro's lead intensify further to 1.406 seconds with only 8 laps to go. Could Bastianini push his Ducati to fight for the win?
It didn't take him long to take chunks out of the lead and soon the gap had decreased to just 0.856 seconds with 7 laps to go. Then it was 0.500 seconds and Bastianini's dream of winning his first race was in sight.
Taking fastest lap for the second time in the race Bastianini was pushing hard to get close to Espargaro. Meanwhile his brother Aleix Espargaro (Aprilia) managed to pass Marquez for 4th.
Bastianini had chosen to race with a rear medium tyre as apposed to Pol's soft. Was his tyre fairing better in the closing stages of the race? – it appeared so, as Bastianini blasted past the Repsol Honda on the straight, leaving Pol to make a small mistake and run wide into the first corner, resulting in him re-joining the track, only to be behind Binder.
The 2019 Ducati was soon taking full advantage of being in the top spot and soon had a gap of 1.446 seconds ahead of the KTM and the Honda.
It was down to the final lap and all Bastianini had to do was hold his nerve and take his bike over the finish line to take his maiden victory in only his second year.  As the chequered flag waved there were tears all around, not only for the young Italian but also for the whole Gresini Racing team. Bastianini had proved his dream could come true.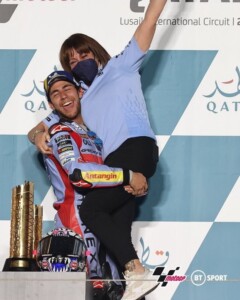 Top ten riders results:
| | |
| --- | --- |
| 1st | E. Bastianini |
| 2nd | B. Binder |
| 3rd | P. Espargaro |
| 4th | A. Espargaro |
| 5th | M. Marquez |
| 6th | J. Mir |
| 7th | A. Rins |
| 8th | J. Zarco |
| 9th | F. Quartararo |
| 10th | T. Nakagami |
2022 is the longest season ever for Moto GP, but what will the second round in Indonesia hold for us on 20th March?
#UnitedForPeace
Featured image – Enea Bastianini. Courtesy of: Moto GP website.