Another pole for Fabio in Qualifying:
Everything seemed to be carrying on from the previous race weekend for Fabio Quartararo (Yamaha), who managed to gain another pole, this time at Jerez, from his old teammate Franco Morbidelli (Yamaha) who claimed a solid second and Jack Miller (Ducati) clinching third.
During the qualifying Marc Marquez (Honda) however had another big accident on turn 7, ending up in the air barrier at the side of the track, coming out of it seemingly unscathed with a bruised leg and neck. He was cleared to race for Sunday, starting on the grid in 14th place.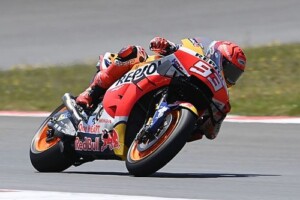 Francesco Bagnaia (Ducati) lead the second row alongside Taka Nakagami (Honda) and Johann Zarco (Honda) taking sixth.
Jerez Moto GP Race:
The Bologna Bullets take first and second in Spain, in the fourth round of the 2021 season.
It is a track not known to favour the Ducati's, but from the start Miller went straight into the lead, from Morbidelli and teammate Bagnaia. Quartararo went backwards into fourth. But it was Joan Mir (Suzuki) who shot up four places into sixth position. Unfortunately, Alex Marquez (Honda) made a quick exit from his weekend, falling on lap one.
Lap two, turn two, Brad Binder (KTM) found himself in the gravel, but he was soon back on his bike and back in the race.
Taking fastest lap – Quartararo quickly took third place from Bagnaia.
Making it twice in a row for Alex Rins (Suzuki), he made a swift exit on lap three, sliding off the track.
With 22 laps until the chequered flag, Quartararo forced his way into second place and started to hunt down Miller, who couldn't seem to use the Ducati power to its full advantage and hadn't managed to break enough away.
Down in ninth place, Zarco had great race pace and took fastest lap from Quartararo.
Fabio took prime position to begin lap 5. The Ducati tried to take it back on the straight but it wasn't quite enough and slowly had to watch as the number 20 steadily pulled away, quickly taking back fastest lap, getting into his rhythm and pulling further and further from the Australian.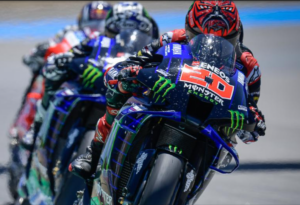 All the top six riders had picked medium front and rear tyres, creating an equal battlefield out on the track, but it was Bagnaia who seemed faster than Aleix Espargaro (Aprilia) in fourth place and on lap 9, took the position from him.
Lap 10, on the flat turn two, Enea Bastianini went into first gear, let the brake off, creating the front to fold and he fell. Meanwhile, the front two riders focused on pulling away from third and fourth. Bagnaia was doing faster laps than fellow countryman Morbidelli, this allowed him to take third place with 11 laps till the end.
Brad Binder crashed for the second time, on turn 13, but this time was unable to carry on.
With 12 laps till the finish line Quartararo led Miller by 1.434 seconds. Miller to Morbidelli gap was 2.705 seconds. On lap 15, the gap suddenly dropped to 0.438 seconds between Quartararo and Miller. Then to 0.205 seconds. Then 0.063 seconds. Miller took the lead, passing Quartararo on turn 1, lap 16. The Australian started to immediately pull away from the Frenchman. With no seemingly physical problems, Quartararo fell towards the clutches of Italian rider – Bagnaia.
The gapping that had started to be created then turned back into a concertina effect, as the group closed up. It wasn't soon until Bagnaia was on Quartararo's rear and soon passed him with 8 laps to go. Morbidelli was next in line to pass the Frenchman on lap 18. Claiming the last podium place.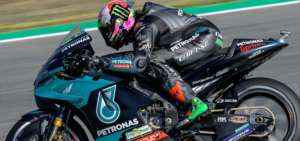 It was now only a matter of time before the rest of the pack claimed their positions from Quartararo. Who definitely seemed to have a problem, some speculating that he may be suffering from arm pump.
Nakagami was fighting with Aleix Espargaro for 6th place and took it alongside 5th from Quartararo, almost in the same pass. Then it was Mir's turn to to go up to 5th place from Quartararo and Espargaro. Vinales then took no mercy on his teammate and also claimed a position on lap 19.
Things went from bad to worse for Fabio as another two riders went past him on lap 20. Going from first to tenth in just two laps.
Meanwhile the Dukes eeked further away at the front. The normal racing at Jerez was being thrown-out-the-window, with the Ducati's finally going good at the track.
Pol Espargaro was the next rider to pass Quartararo, this time for 10th place.
Morbidelli was faster than Bagnaia and was giving it everything he had to try and pass him for second place. Riding on the 2019 Petronas Yamaha however, meant Morbidelli can't always use his full potential.
Then it was Oliveira's turn to pass Quartararo to take 12th place, which also saw Fabio's championship lead taken from him and given to Bagnaia. Another pass from Bradl gave further points to Bagnaia for the championship lead and with 2 laps to go Quartararo had fallen to 13th place, staying just inside the points.
But, it was a masterclass performance from Jack Miller, who gave us a 'Thriller' victory. His first in the dry for Moto GP. Claiming "…the last 7/8 laps were the longest of…" his career. Audiences will now be hoping this won't be his only win of the season. The last time Miller was on the top step of the podium was at the Dutch GP in 2016. This wasn't the only surprise for Ducati for the weekend though, as Bagnaia stepped onto the second podium spot.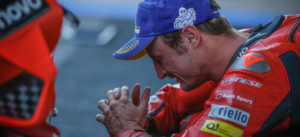 Third place went to Morbidelli who "…gave more than the maximum…" and "… risked a lot and finally…was rewarded with the podium…".
A brilliant fourth place went to Nakagami (who equalled his best race finish in Moto GP), with Mir in 5th, A. Espargaro in 6th, Vinales 7th, Zarco 8th, another impressive ride for Marquez, who finished 9th and 10th place went to P. Espargaro.
Updated championship:
| | | |
| --- | --- | --- |
| Position | Rider | Points |
| First | Bagnaia | 66 |
| Second | Quartararo | 64 |
| Third | Vinales | 50 |
Le Mans (next race) is one of the next three race tracks which are typically good for the Ducati's. Will we see another Ducati whitewash? Or will someone else step up to the plate?
Thank you to everyone who has taken part in the Social Media black-out this weekend, together we can #DrawTheLine and #StopTheHate.
(Featured image, courtesy of: Getty Images)