Mark Sutton is one of the best-known names in motorsport photography, being the the co-founder of Sutton Images, the largest independent motorsport picture agency in the world.
His interest in motorsport and in photography was piqued at a young age when his father took him to local race meets.
"My father Maurice was a huge [motorsport] fan and took us to our local circuit Oulton Park in Cheshire near Manchester," he told us, "so you could say I was brought up on motorsports as a young boy, going to races in my dad's MGT with his mates from work, who built aircraft like the Nimrod, Vulcan bomber and HS147.
"He always photographed me with racing drivers and cars as he was a keen amateur photographer, always taking photographs every weekend at the races and at home."
It was this initial foray into the world of motorsport that led to Mark's pursuit of a career in the industry, and in 1983 he attended his first race as a photographer.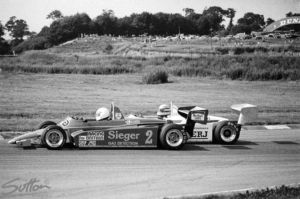 "My first race working as a photographer was the Formula Three race at Oulton Park in August 1983, covering the Ayrton Senna and Martin Brundle battle that year," he said. "My brother had a contract as Senna's photographer so I went along to assist him."
Positioned at Cascades Corner, once the race started Mark found himself in the ideal spot to get a shot of the action.
"Brundle led at the start and after a few laps Senna lunged down the inside of the corner and they collided, and Senna landed on Brundle's car. I have the frame of them side-by-side, but was shooting on a Praktica camera with no motor drive and this was in black and white.
"Then my next frame is them looking around the cars and those images were used all over the world as the story of the championship got bigger and bigger, and in fact it went down to the last round of the championship in Thruxton. It was a great start to my career at 18 years old!"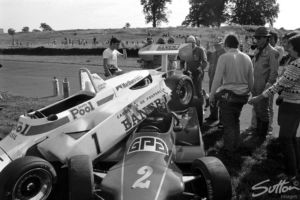 Just a few years later Mark made his move into the world of Formula One, and, out of the places he has visited in the few decades since, he highlighted Monaco and Spa-Francorchamps as two places he particularly enjoyed working at.
"The Monaco Grand Prix is my favourite track," he said. "You can photograph the cars very close as it's a very tight and twisty circuit that was first raced at in 1929 and has had different layouts, but the general feel is exactly the same. If a driver makes a mistake he is likely to cause a lot of damage to the car, and also it is very difficult to overtake.
"One of my favourite corners is Eau Rouge at Spa-Francorchamps in Belgium, which is a fast kink coming downhill from La Source and then into a hill going up. It offers you some very different opportunities to shoot different images with the speed of the cars and then the exit, sometimes with the cars sparking."
When asked about the nature of the relationship between photographers when working at a track, Mark said, "There is great camaraderie between all photographers, as most of them have worked in F1 or motorsports for a long time and have grown to love the sport. Of course there is competition between us all, but that's life in the business.
"I always laugh at the driver celebration photos when everyone is fighting for the same photo. Elbows get wider and then after, as we all check our photos, we recover from getting wet. It's all very stressful to get the images, but is also a funny moment."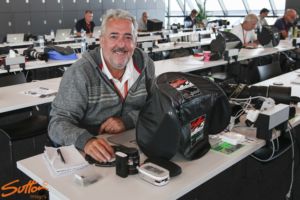 It goes without saying that at the heart of a photographer's job is their equipment, and Mark pointed out that when it comes to upgrading, it isn't necessarily as simple as immediately going for the highest quality camera.
"I tend to upgrade cameras every two to four years," he said. "This really depends on how often Nikon brings out the new professional camera into the market, [but it] tends to be every four years now, as progress on the equipment has slowed down from creating the best configured camera with twelve frames per second and 22MB sensors. These offer huge files for both JPEG and RAW files, so the quality is good enough for all uses.
"There are better or higher quality cameras, but these are generally used in studio or still-life photography where subjects are not moving quickly. When a car is moving at 200 miles per hour you must be able to move with the subject and in most cases take multiple frames of the car either head-on or from the side, and that is where the twelve frames per second are essential.
"The Nikon D5 will shoot 4K videos as required, but we are not allowed to shoot moving footage at F1 races."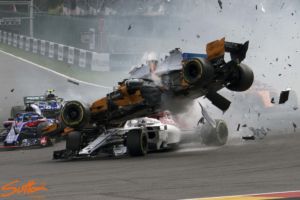 Equipment
X2 Nikon D5 bodies
Nikkor 200-400mm F4
Nikkor 500mm F4
Nikkor 70-200 F2.8
Nikkor 24-70mm F2.8
Nikkor 14-24mm F2.8
Nikkor 1.4x Mk3 converter
Nikkor 10.5mm F2.8 Fisheye
X2 Nikon speed light flash SB-910
Apple MacBook Pro
We thank Mark for taking the time to speak to us, and wish him all the best for 2019!
You can follow Mark on Instagram, and on Twitter | Sutton Images
Featured image: Sutton Images | Mark Sutton, Sutton Images F1 Photographer at Formula One Testing, Day Two, Yas Marina Circuit, Abu Dhabi, UAE, Wednesday 28 November 2018.