Phil Read MBE
B. 01-01-1939
D. 06-10-2022
'The Prince of Speed' didn't just get his name, he had to earn it:
Read's story could have been so different. He almost didn't go into Motorcycle racing, he started as an apprentice fitter at a machinery company but whilst there he competed in amateur short-circuit racing, gaining valuable experience for when two years later he won his first motorcycle event in the Junior Manx Grand Prix, breaking the speed record in the process. It was clear from an early age this young man had talent.
In 1959 he won another title, this time in the Junior 350cc TT race but it didn't end there. Keeping his winning streak up he went on to win the Thruxton 500 Endurance two years in a row. In the second season he also made the step-up into Grand-Prix road racing replacing Derek Minter, who was injured at the time.
Phil's 500cc debut came at the Isle of Man TT, he finished 3rd and followed that with podiums in the next two races.
But to become a house-hold name in the 1960's and 70's he had to push himself even further.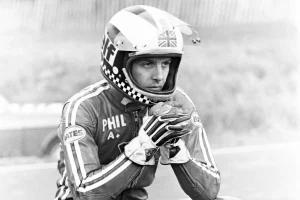 In 1964 he signed a contract for Yamaha and won the 250cc championship, not just that he also maintained it the second year. People were certainly now noticing Phil Read, if they hadn't already.
Throughout his career he battled many giants of the sport and in 1966 was no exception. Going toe-to-toe against fellow Brit Mike Hailwood (Honda), he lost his first championship since competing in the GP's.
Read had a rebellious streak and was known for being outspoken. In 1968 this behaviour came to the forefront in the most spectacular way:
Yamaha wanted to win both the 125 and 250 championships. For this they chose Read and another fellow Brit – Bill Ivy to race for them. Read for 125's and Ivy for 250's. However, Phil had decided this wasn't for him and defied team orders. Yamaha still won both championships, but it was Read who took the trophy for both. Yamaha did not take this well and responded by firing him and leaving him with no ride in 1969 and 1970!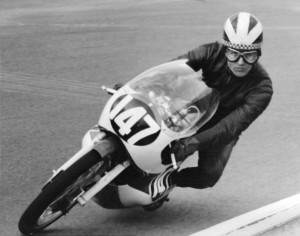 After two years away Phil came back with a bang! 1971 saw Read compete once again in the 250 championship on a private Yamaha. The odds were against him, but he succeeded in winning his 5th World Title – the first ever World Champion as a privateer.
MV Augusta took note of his performance and offered him a ride for the following season. Read took the chance with both hands and it proved to be a fantastic call. Together they won the 500cc Championship and also in the same year the 350cc Championship. Making him the first-ever rider to win the junior, intermediate and senior World Championships. To show how difficult this achievement truly is only Valentino Rossi and Marc Marquez have done so since.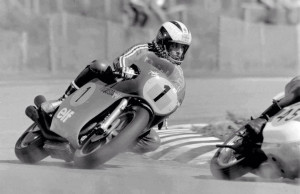 He then took back-to-back victories in the 500 class, claiming his 8th crown.
Read was a tough competitor, he needed this toughness to win all of his titles, but in 1975 he couldn't quite compete against another 'King of the Sport' – Giacomo Agostini (Yamaha). He fought well but, finished 2nd behind him. That same year would be Read's final GP victory. But not his last win ever – in 1977 he won the Formula TT.
Risk equals reward and during these times manufacturers were trying lots of new things as new technology became available. Riders would risk their lives (just like they do now) but the prize was always worth it. Read was rewarded with an MBE (for his services in motorcycle racing) in 1979 and skipping a few years, in 2002 the FIM – Motorcycling Racing Governing Body – named Phil a GP Legend, meaning he was entered into the Moto GP Hall of Fame.
He lived his best Rock 'n' Roll life and was known as the 'bad boy' in the paddock. Owning a Rolls Royce, flying his own private plane and having many glamorous ladies during this time.
He retired in 1982 to spend time on 'business interests' and to take part in classic racing.
His legendary status will always live on, and his large living lifestyle will always be remembered. He is a true icon of the sport.
(Featured image: Read winning for Yamaha. Courtesy of: Motor Company Website).