The principality of Monaco is the jewel in the crown of the Formula 1 season. It's one of the triple crown of motorsport, the others being the Indianapolis 500 and Le Mans 24 Hours. The tight and twisty track leaves little room for error, giving a full punishment for hitting the wall, as some experienced this weekend, one in paticular. There was without a doubt a driver of the weekend no one can argue with that.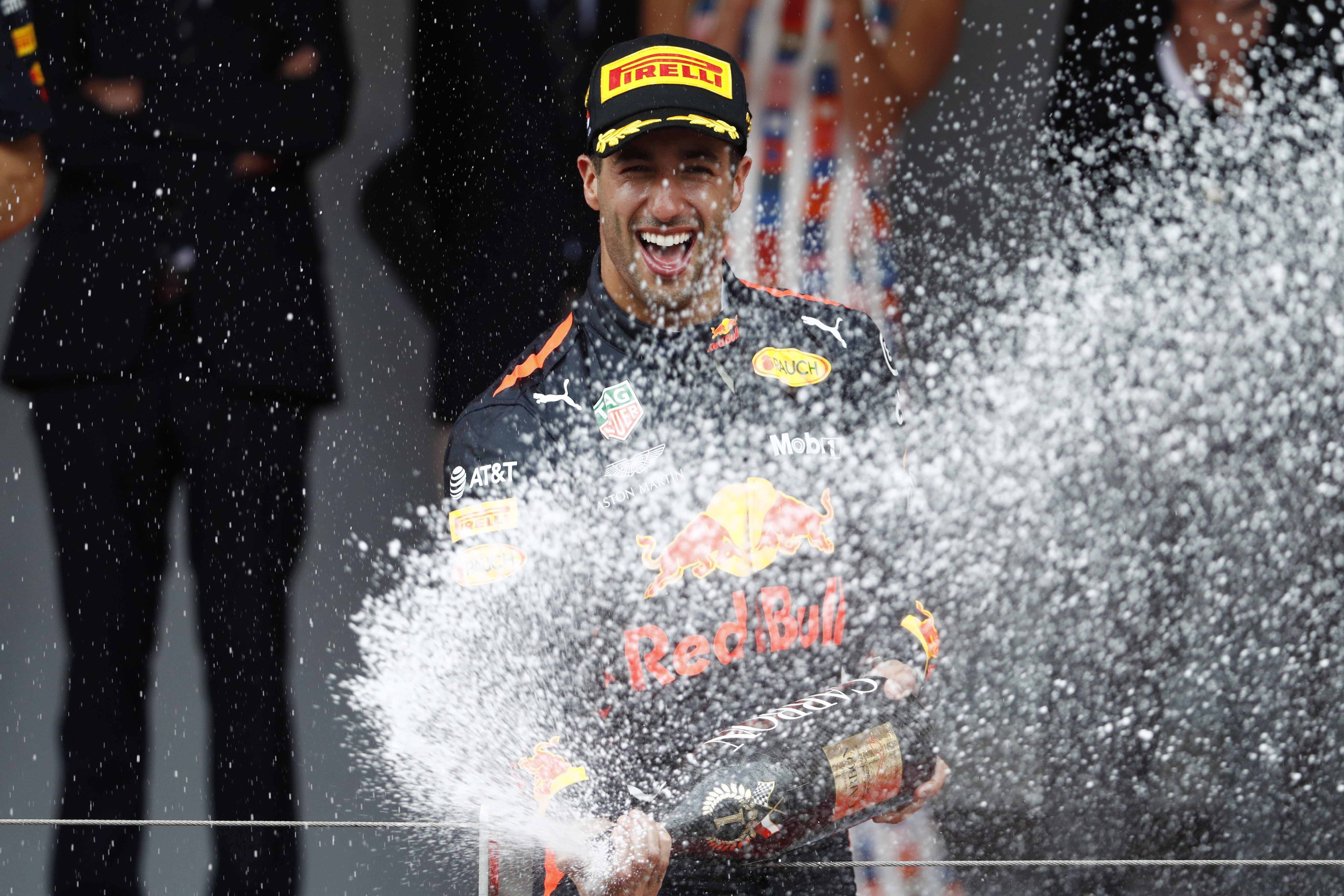 Ricciardo – 10
? courtesy of Pirelli Motorsports
Super from the Honeybadger, his best win without a doubt, the first time he has won a Grand Prix starting within the first two rows. He was fastest in all practice and qualifying sessions on Saturday. On Sunday he once again in a different league, he got off the line well, and pulled away from the field. The problems came with his engine many thought the curse had struck again but with a car much less power he kept his cool to win! Redemption from 2016, a great drive, his best win out of the seven wins. He led every lap of the race and without a doubt driver of the day!
Vettel – 8
A solid drive and took points off Hamilton. His start was great but Ricciardo just closed the gap so was unable to overtake. Kept Ricciardo within distance but does seem Ferrari are harder on their tyres. Coasted to second late on as he struggled to get back up to pace.
Hamilton – 7
An uneventful weekend for the Championship leader three points lost a damage limitation race leaving a 14 points gap between him and Vettel. Mercedes knew that this wasn't a good track for them and felt they had the third fastest car. Hamilton nearly caught Vettel midway through the race but fell away late on. Good haul of points.
Raikkonen – 7
In the battle of the number two drivers Kimi won this time. He was close to getting ahead of Hamilton and Vettel in qualifying. At a stage all three were 0.005 apart, but others improved whilst he didn't. The cool Finn kept it out the walls and helped Ferrari outscore Mercedes.
Bottas – 6
He was off pace all weekend and at one stage it was touch and go in Q2 whether he would get through as Mercedes tried a different strategy. He left it really late to get in to the shootout. Due to his choice of tyres he had better grip which allowed him to close the gap, he didn't have a lunge to even test Raikkonen with his better traction. 
Ocon – 9
Best of the rest from the Frenchman, only 5 seconds behind Bottas. Force India tend to not be known for their downforce and more their top speed hence previous results at Baku. Great qualifying and racecraft, a seasoned veteran now.
Gasly – 8
Pierre continues to impress, technically still a rookie season as he only drove for a few races last year from Round 15 onwards. The Honda engines not as bad in previous years, especially Monaco hiding the disadvantage. He battled with Alonso and Hulkenburg whilst keeping it clean. A long stint on the hypersoft gave him this chance, an opportunistic driver.
Hulkenberg – 7
A points finish after his two DNF's in Baku and Barcelona. Just what he needed, he may of been out qualified on Saturday but a strong drive on Sunday gave him what he more often than not achieves for his team, points!
Verstappen – 6
The Dutchman needs to learn that sometimes you don't need to go 100%. This was costly for him over the weekend when clearly Red Bull had the fastest car. A crash in FP3 in the swimming pool section, identical to a crash in 2016 cost him action in qualifying. The car was not rebuilt in time after a deeper look and had to start last. Max was more like himself on Sunday from great overtakes to score points but feel he was thinking about race win prior to third practice. Disapointing once again, involved in a collision somehow in the last six Grand Prix weekends.
Sainz – 6
The Spaniard had an unimpressive Sunday and left the principality with only one point after qualifying so well. He did a great job to defend his position from Ericcson at the end. 
Ericcson – 7
A good race in the streets of Monaco for the Swede. Finished in a solid P11, and was right up Sainz's gearbox for the final stages. Seems a Sunday driver more than a Saturday, made the most positions up besides Verstappen.
Perez – 5
Finished 47 seconds behind his team mate which would of dented his confidence within himself. He had great pace as got through to Q3 but only went backwards on Sunday. Great potential, left with nothing.
Magnussen – 5
Out performed his team mate in a poor weekend for the Haas team. Hopefully just a blip for the Dane, has raced well at upcoming tracks but no joy in Monaco. Rather little happened to comment.
Vandoorne – 5
Another performance where very little was seen of him. Finished the race behind his starting grid position. He did have the pace it seemed in practice but it fell away on Sunday.
Grosjean – 4
Romain was already in hot water as he carried a three place grid penalty over from Barcelona. Haas where of form and couldn't get their car in the sweet spot, so much so they ran 19th and 20th for the early laps. Grosjean seems to be in a rut and this race did him no favours.
Sirotkin – 6
The result hides what a great early weekend he had. He blitzed his team mate and made Q2. He suffered from two punctures but seems to be finally getting to grips with the Williams.
Stroll – 5
Sirotkin made Stroll look silly as a whole this weekend. The Canadian qualified P18 and was nowhere to anyone in the race. Finished last of who took the chequered flag. Williams as a whole hope Canada, a more power influenced track will push them up the grid.
Leclerc – 7
His record at Monaco isn't that hot, and it continues. He failed to finish in both Formula 2 races last year. A brake failure ended his day early as he collided with Hartley. He couldn't avoid the incident so unlike Verstappen his rating wasn't hindered by it. Once more made it into Q2 and qualified strongly.
Hartley – 6
A waste of such a good weekend for Toro Rosso and on this side of the garage. Seventh fastest in practice as he failed to get out of Q3. He collided on the first lap damaging his car. Taken out by Leclerc but the pressure continues to mount.
Alonso – 6
I wonder if Fernando would of liked to be in America once again rather than Monaco. A gearbox failure on the front straight whilst battling with Gasly late on ended his race. He was deep into the points and raced well. Not a fan of Monaco this year and had a few choice words to say to the media.
We go from the heavily downforce influenced track of Monaco to the more power influenced track of Montreal in Canada in 2 weeks time. Renault and Honda are bringing substantial upgrades to their engines which should help the teams that use them. 
The main questions are if this would help Red Bull still keep the top step of the podium or will Mercedes bounce back to the top?