NASCAR Whelen Euro Series (NWES) is entering its seventh season in its current format, and a new rules package is set to bring the racing closer than ever while making the series more accessible to drivers, teams and fans alike. Announced in early January, the regulation change is promoting 'pure racing' with new tyres, suspension and aero, as well as more stringent technical inspections.
NWES has grown significantly since it first got sanctioned by NASCAR in 2012; the fan base has extended across Europe and the calibre of drivers continues to improve, making the series highly competitive.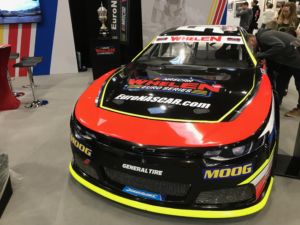 Only four drivers have been officially confirmed for 2019 so far, with all of them competing in the Elite 1 class. Francesco Sini and Alex Sedgwick are both returning to the series after making their debuts last season. They will be joined by Ellen Lohr, DTM's only female race winner, and 1997 F1 world champion Jacques Villeneuve, both of whom are returning to racing and making their debuts in NWES.
We spoke to Alex Sedgwick at Autosport International about the series and how it differs to its American counterpart.
"The main difference is that the Euro series is mainly road courses compared to ovals. In Europe, we have a lot less ovals than in America in the first place, so we go to places like Valencia, Brands Hatch, Hockenheim and Zolder. We still do one oval this year, Venray which is in Holland. That's the main difference really, and also the backgrounds of the drivers. I came from Clios and Ginettas, Villeneuve has come from F1 and we've got guys who have done Le Mans whereas in America it's sort of NASCAR, NASCAR, dirt racing, NASCAR! It's NASCAR with a European input, that's the way to look at it really."
"The NWES cars are a little lighter than the American cars with fibreglass bodies instead of steel bodies, but they're also a little less powerful. They only have about 400 horsepower, whereas in America they've got 600 to 650 horsepower. Other than that, because we mainly go to road courses, the cars aren't set up to just turn left, we've got a Watt's link in the rear rather than a track bar to help it turn both directions and make it a little bit more agile. It's not the most agile thing in the world anyway but it helps. They're the main differences really but the basics are all exactly the same – a big 5.7 litre V8, 4-speed manual, solid rear ends, no brakes, no grip and loads of drifts, so it's good fun!"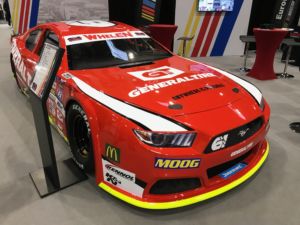 Having a name like Villeneuve in the series is significant for its popularity, but he is not the first big-name driver that the NWES has attracted.
"I started last year in the series and we had Bobby Labonte (2000 NASCAR Cup champion). My teammate's Marc Goossens (Le Mans veteran), we've also got Christophe Bouchut (1993 Le Mans winner) and now Villeneuve; it's certainly a cool time to be part of NWES. It brings more credibility and attention to the series from the European side and the fact that the names that we've had in the series so far haven't run away with it, they've struggled to get into the top five or even top ten, shows the level the championship's at – it's a hard series to do well in."
One of the main aims of the new rules package, aside from improving the on-track show, was to make the series more affordable for teams and drivers – an aim that Sedgwick believes has been achieved.
"It's well cheap! Because it's racing, it's still expensive but you're going to seven different countries across Europe, racing a proper stock car in front of an average of 40,000 spectators at each round and it's less than you'd pay to race in Ginetta Juniors in the UK. In terms of that, and for what you get out of it, it's a bargain!"
With NWES growing as a series, the opportunities it can provide for the drivers are also increasing with the series definitely a viable route for making a career in America.
"My aim is to use this as a stepping stone to hopefully go from this to something like K&N or Trucks in America and just see what happens really. With the way the series is, and the way that it works, there's a lot of opportunities to make that happen – it's not like Clios in the UK where you need a lot of money to race and at the end of the year, you're left with nothing. We've got prize money and the chance to win drives in America. In terms of making a career out of it, it's quite a good place to be."
The NWES season kicks off on the 13th April at Valencia with the rest of the calendar as follows:
April 13th/14th – Valencia, Spain
May 11th/12th – Franciacorta, Italy
June 1st/2nd – Brands Hatch, UK
June 22nd/23rd – undisclosed street circuit, France*
June 29th/30th – Most, Czech Republic
July 13th/14th – Venray, Holland
September 21st/22nd – Hockenheim, Germany
October 5th/6th – Zolder, Belgium
*non-championship
[Featured image credit: Reuben Inganni]