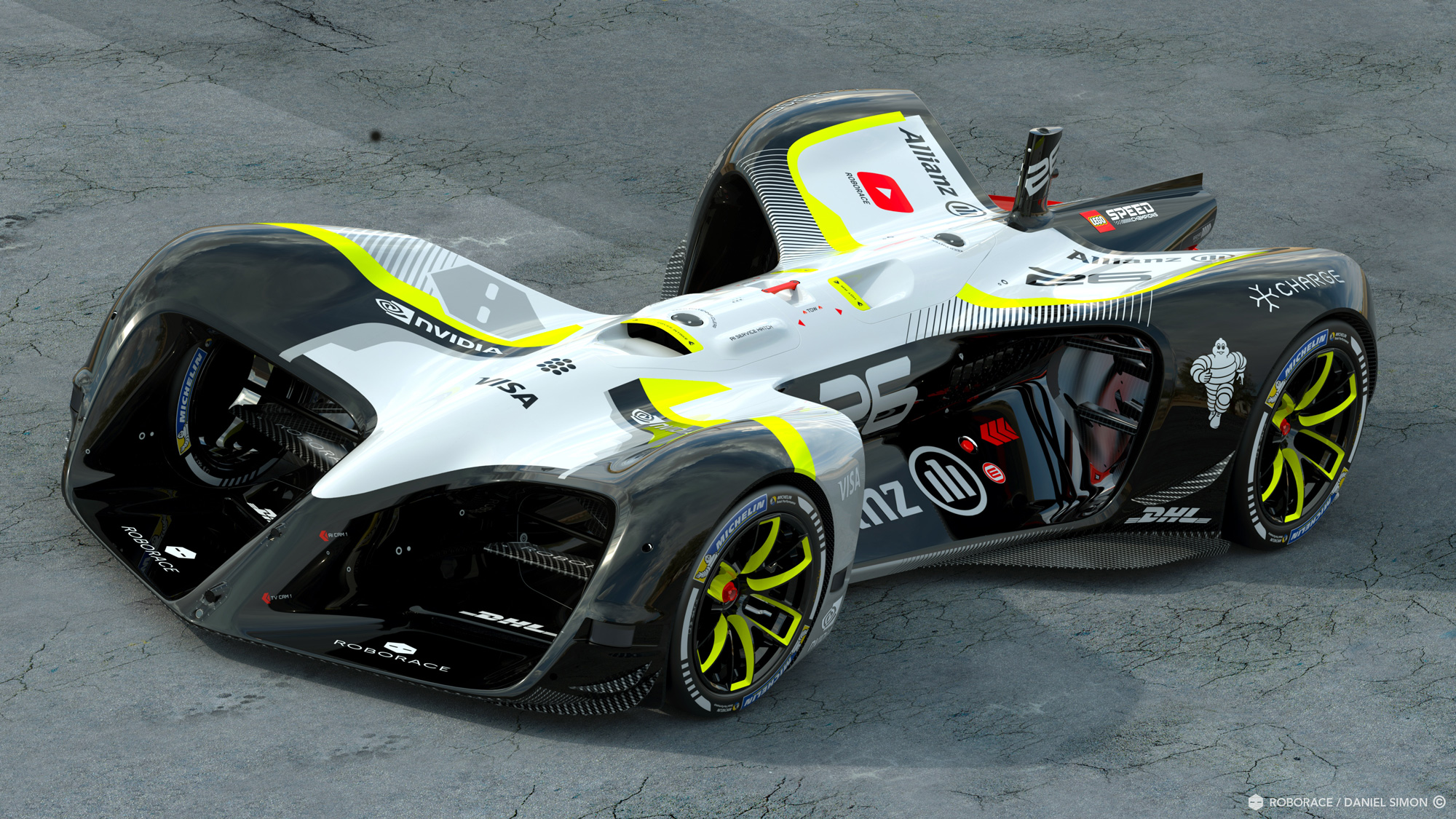 This year I had the chance to attend the Autosport show in Birmingham, I feel very lucky for that and I would like to thank the organizers for their amazing hospitality. It was a unique experience, I was able to see closely several racing cars and also, I watched a great show hosted by David Croft.
The first day that I went to the show, I was astonished from the variety of cars that were at the show. While I was passing and was taking photos of almost all the cars, I noticed something different, something unique, I saw the Robocar. It was placed on the side of the Autosport's interview stage, a strange car with no cockpit and a weird design.
Before you read Bryan's Balcombe exclusive interview, it will be useful to know some of the car's characteristics.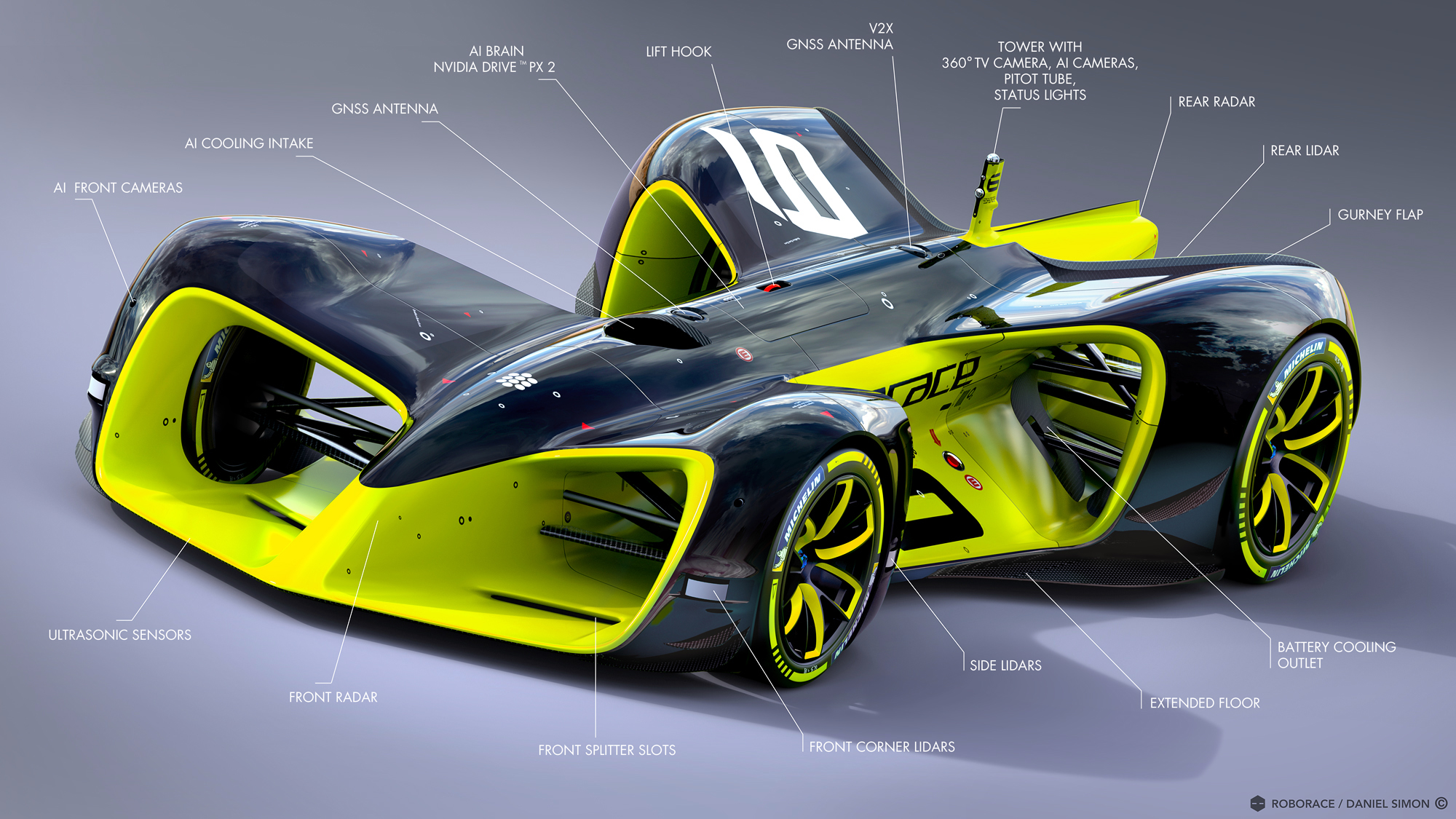 The Robocar, designed by the German Daniel Simon, who has previously created vehicles for Tron Legacy and Oblivion, is a fully electric and autonomous car, weights around 1000 kg and has four 300kW motors, one per wheel.
The top speed of the Robocar is about 320kph or 200mph and it also has a 62kWh battery with 550kW power.
Around the car, there are several types of sensors, to allow the car to move safely and fast on the tight Formula E circuits. It has 5 lidars, 18 ultrasonic sensors, 2 optical speed sensors, 6 AI cameras, two radars and GNSS positioning.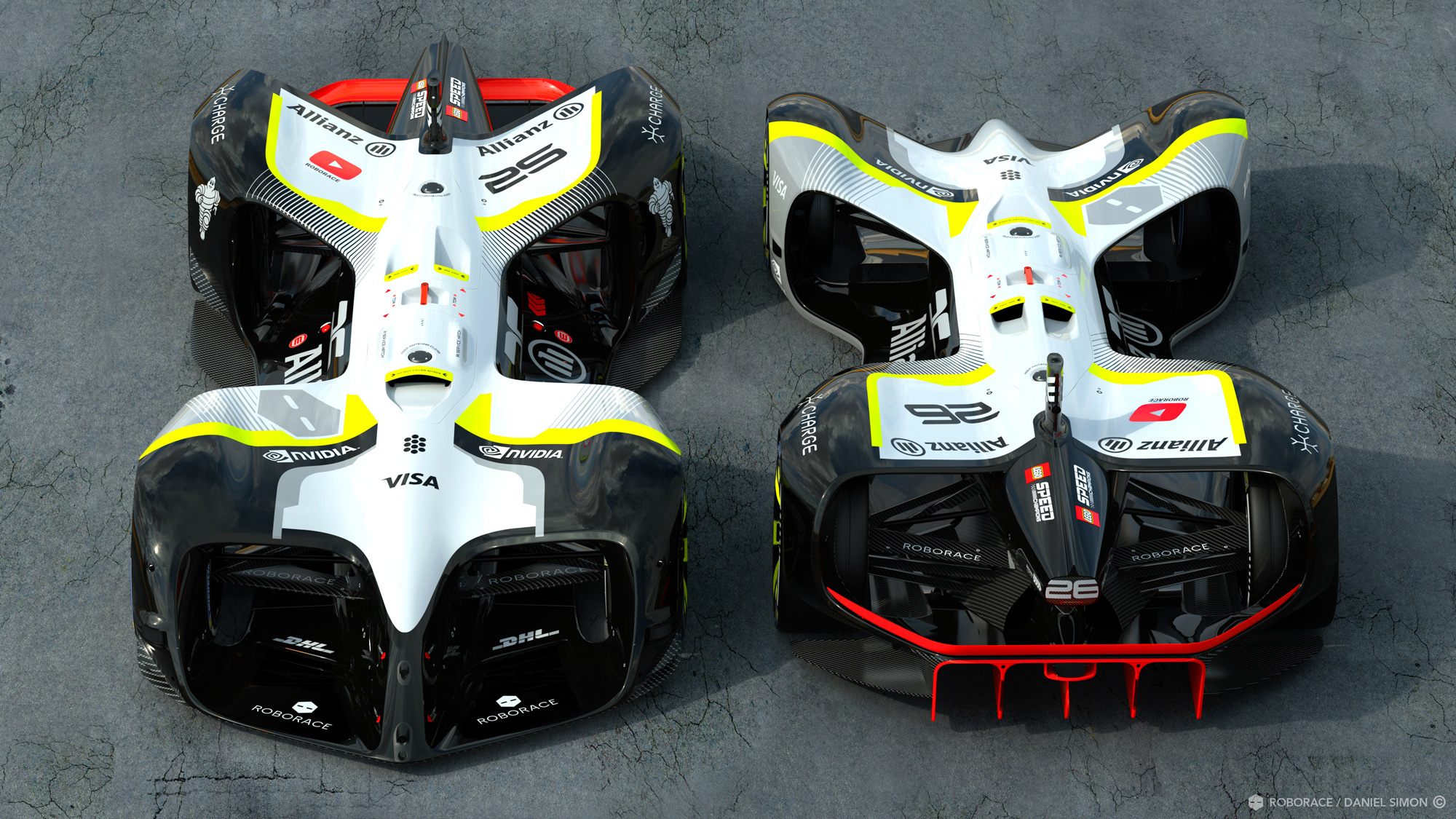 Robocar, is currently powered by NVIDIA Drie PX2 which can run up to 24 trillion A.I. operations per second, but it will be upgraded to Pegasus platform and will run 320 trillion operations per second. The current Drive PX2, is connected to Robocar's sensors and gives the opportunity for 360-degree situational awareness around the car, to give the exact position of the car on the track.
Bryn Balcombe, Roborace's Chief Strategy Officer, answered my questions regarding the Robocar and the Roborace series. Enjoy!
When and who came with the idea of a fully autonomous and electric car?
"Denis Sverdlov, Roborace's founder and Alejandro Agag, came up with the idea whilst discussing the future of the automotive industry becoming electric but also connected and autonomous on the way back from the Beijing race in Season 1 of Formula E. Motorsport has always been used to advance road relevant technology. Roborace applies this philosophy to Vehicle Intelligence Technologies, many of which are banned in traditional championships as driver aids."
What are your expectations from the Robocar, what do you want to achieve with Roborace series?
"Roborace will increase the pace of innovation and development of road relevant hardware and software for Intelligent Vehicles. Ultimately technology will save lives on the road and move society close to Vision Zero. As in all motorsport, Robocar will continue to evolve as technology improves. Within two years of development there have been three significant steps in NVIDIA compute power on the car. So the pace of innovation is much faster than traditional powertrain. We will start to see Software and Cognitive Power becoming as important to performance and safety as Mechanical and Horsepower."
How many teams will take part in the Roborace championship, how many cars will each team have?
"We are looking at completely new formats of motorsport that are much more relevant to testing driver skills in perception, reasoning and decision making. Basically the smartest driver should win which is why we refer to it as a Championship of Intelligence. This year we are opening up the hardware platform for 3rd parties to start to develop AI Driver Software. Before they can race Robocar they'll need to test their software in a simulator and in DevBot, our development vehicle. The development process and AI Driver is much the same as a human. We often refer to Max Verstappen taking 17 yrs before making it to F1 (13 of which he spent driving). The process for AI Drivers should be faster but there are similar logical steps that progress from small scale to full scale cars and from virtual to real cars. For any competition you need at least two competitors. So we'll have competition formats that include anything from 2 cars upwards."
How easy will it be presenting to the public a driverless series? Considering that all these years we are used to seeing drivers to battle wheel to wheel and fans are connected emotionally to the drivers and their achievements.
"There is always a driver. In fact, Roborace is focused on being a pure driver's competition because it intends to use standardised vehicle hardware. The only performance differentiator is the driver skill. In some formats this will be AI Driver software only. In other formats we can allow a human to collaborate with the AI Systems and take executive control over decision making. In these formats you'll see human collaboration with AI versus pure AI Drivers. We may see the same natural progression we've witnessed in chess, where Human/AI Centaurs can outperform AI only systems and AI systems can outperform humans only."
What are the biggest challenges that Roborace team is facing, and how are they planning to overcome them?
"The pace at which the industry is moving is incredible so we will have constantly evolving competition formats that ensure the AI Drivers remain constantly challenged. In Roborace all evolutions are focused on driver performance whether that's better eyes, ears, brain size or intelligence. The competition complexity will increase in line with those technical developments."
What excites you about the Robocar? Is it the future of the commercial cars?
"In the future all vehicles with become intelligent. They will all become aware of their environment. They will all become aware of the surrounding situations. However, there is a fork in the road at that point in how you chose to use that intelligence. Toyota describes the options as Chauffeur and Guardian Angel. The first is an autonomous future where humans no longer need to drive. The second is an assisted/augmented future where humans still drive but their skills and capabilities are enhanced by the AI systems within the car. We know of several high performance OEMs that are considering AI technology as a future Race Trainer. So an AI Lewis Hamilton might be able to act as your real-time driver coach when you take your Project One on a track day. He could even drive you around first as you are learning the track and to set a reference lap time for you to target."
Nicki Shields had the chance to drive the DevBot at Hong Kong ePrix, from the video it is seen that the Robocar cannot match the human's times, will it ever be able to do it? What are the difficulties that do not allow it to move faster?
"In Hong Kong we ran using our development vehicle called DevBot rather than Robocar. DevBot is a modified LMP3 race car that allows a human to drive but can also be switched into an autonomous mode. That allows us to run human versus machine competitions. The AI Driver in DevBot was around 10% slower than Nicki. We actually ran a brand new version of our internal development AI Driver which was designed to run using LiDAR sensors only. For safety we imposed VMAX limit and a minimum distance to the barriers lining the street circuit of around 1.5m. Sensor fusion of LiDAR with cameras and Radar will improve perception which ultimately improves confidence so speeds increase and safety margins can be reduced."
Consider a hypothetical scenario, during a race, two Roboracs are close to each other, how will each react? Will the leading car be able to defend its position, whilst the one from behind will be moving faster for a potential overtake?
"Wheel to wheel racing is a key target for Roborace. Nose to tail processions broken by straight line overtakes are not exciting for the public. AI Drivers will have adhere to similar sporting regulations as human drivers; such as leaving one car width of space for a competitor or staying within track limits. They will also have similar goals as human drivers and will develop similar offensive and defensive tactics to maintain an advantage."
"The interesting thing is that if there is an incident all the data and decision making processes will be available for immediate review to determine fault. No more waiting for the end of the race for stewards in interview drivers before confirming the result. Sporting penalties can be applied immediately and proportionately."
Describe Roborace series in a few words or more than a few!
"Roborace is an extreme motorsport and entertainment platform for the future of road relevant technology."
How many people are working together every day to keep improving the Robocar? Would you like to say a few words about them?
"We've built an incredible team full of international talent to bring the project to life. Building a fully autonomous car is probably the most complex interdisciplinary task you could imagine. Collaboration is key."
When will the Robarace championship be ready to launch?
"As soon as enough, drivers qualify to use Robocar. "
Facebook: Roborace
Twitter: @roborace
Find me on Twitter: @FP_Passion
Pictures courtesy of ROBORACE