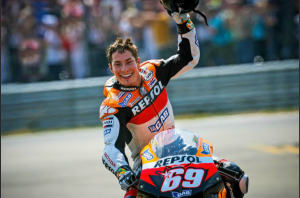 Nicky Hayden "The Kentucky Kid" was known for his natural ability to ride motorbikes, his respectful polite attitude and for his abundance of charisma.
Nicky Hayden is all smiles (Image: Circuitricardotormo.com)
Born July 30th 1981 Nicky Hayden sadly passed away May 22nd 2017, from injuries sustained from riding a bicycle in Italy, aged just 36 years old. During these years he led an incredible life and a career many would be jealous of. His brother Tommy said "He dreamed as a kid of being a pro-rider and he not only achieved that but also managed to reach the pinnacle of his chosen sport."*
So how did Nicky Hayden manage to achieve all this?
At age 3 Nicky started to ride dirt bikes with his family and by age 5 was racing them. Aged just 16 he had turned professional and followed his brother (Tommy) into AMA Superbike racing. Aged 21 he won the Daytona 200 and became the youngest AMA Superbike champion, which propelled him into his Moto GP career.
Racing with the number 69 he carried on where he left off in AMA and rode for (Repsol) Honda in 2003 and became Valentino Rossi's team-mate. An interesting choice as Hayden hadn't come through the normal rankings to participate in Moto GP. He finished a respectful 5th place in the season. The same time he won Rookie of the year. He was definitely showing that he was one to watch.
2004 saw Nicky Hayden with a new team-mate – Alex Barros (the year that Rossi left Honda to move to Yamaha). Hayden sustained injuries from a broken collarbone which hampered his championship hopes and ended the season in 8th place, alongside Carlos Checca and Loris Capirossi.
Having his best season so far in 2005, Nicky Hayden secured his first win on home soil at Laguna Seca (America), making it an ever sweeter victory as Moto GP hadn't returned here since 1994 (11 years). He also finished 3rd overall in the championship with 206 points, his best result yet. Honda also paired him up with yet another new team-mate – Max Biaggi.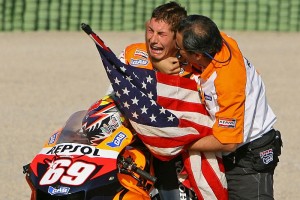 Emotional Nicky Hayden winning 2006 championship (Image: Motorsport.com)
Now with 3 year's of experience, The Kentucky Kid was definitely making a name for himself. Through constant strong performances and sheer determination Hayden became the 2006 Moto GP World Champion. He had now "managed to reach the pinnacle of his chosen sport". This season Nicky was riding the prototype Honda, that no-one else had used and was helping to develop it all the while with his eyes on the prize. Honda also decided that he would have another new team-mate to get used to, this time saw Dani Pedrosa who progressed from 250's, from this point on Pedrosa remained his team mate at Honda.
Hayden won the 2006 championship only 5 points above Rossi (252 points). Finishing 3rd in the final round at Valencia. He also finished 3rd at Istanbul Park celebrating his 50th Moto GP race and at Assen he gave Honda their 200th race win in the top-class. He also became the only other champion in the 990cc class, other than Rossi. Showing that consistency really does pay off.
The new engine format ruling brought into Moto GP for 2007, saw 990cc engines go to 800cc, this seemed a challenge for Nicky's riding style which culminated in him finishing 8th overall in the championship.
Continuing with Honda, Hayden sustained injuries again, this time to his foot which hampered his championship throughout 2008 and he finished 6th for the season.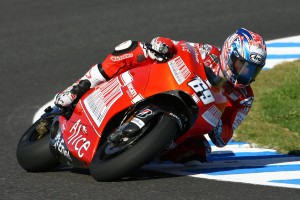 2009 was the year for a switch-up. Hayden left Honda for the first time in his professional career and teamed up with Casey Stoner at Marlboro Ducati. Adjustments were needed for the new change, Nicky tried his best but finished outside the top ten for the first time in a season, finishing 13th.
Riding for Ducati (Image: Motorcycle News)
Sticking with Ducati for 2010, he ended the year in 7th, a large improvement following on from the previous year.
Valentino then joined Ducati in 2011. Pairing up with his old team-mate and friend, Hayden and Rossi should have been the perfect team to lead Ducati to the championship. But, things were not perfect, even after all effort was made to make the bikes more competitive they just never amounted to much and Hayden finished 8th in the championship.
Nicky Hayden continued to ride for Ducati in 2012 and 2013. Finishing in 9th place, both seasons.
Hoping to find some new form and possibly another championship win, Hayden returned to Honda (2014) where he stayed for the next two years. Finishing 16th and 20th. The worst results in his career. Nicky decided enough was enough and left Moto GP for a new challenge in World Superbikes.
Before his last race at Valencia in 2015 however, the FIM recognised Nicky's achievements and named him Moto GP's 22nd Legend. He was now alongside such names as Agostini, Simoncelli, Rainey and Sheene – to name a few. Normally this status is awarded posthumously, but in his case, an exception was made.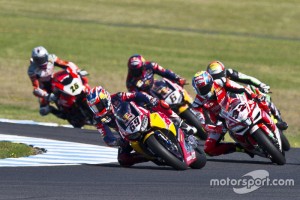 Nicky Hayden leading the pack in WSB (Image: Motorsport.com)
2016 was definitely the injection Hayden needed. New challenges, new bike (still with Honda), new team, new tracks, new experiences saw Hayden finish 5th in the championship, mirroring his first year in Moto GP and not only that but winning at Malaysia and finishing on the podium a further three times.
If his first season in WSB was anything to go by, he was on his way to becoming champion there too. Tragedy struck though in 2017 and saw a shining star taken suddenly from us all.
Ride on Kentucky Kid – always remembered.
*(https://www.bbc.co.uk/sport/motorsport/39972058)