The last weekend of the 2022 Moto GP season is finally here and the World Championship has yet to be decided. Who will be victorious?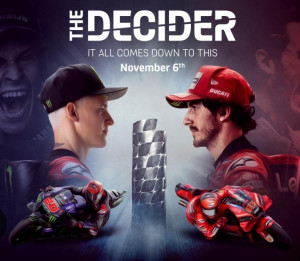 Qualifying:
The sun was shining on Saturday for the qualifying sessions. The last time this type of qualifying would be seen (next year sprint races will be taking over from what fans are used to).
Getting another pole for 2022 was Jorge Martin (Ducati), putting in a fantastic time: 1:29.265, with Marc Marquez (Honda) coming 2nd and completing the front row with Jack Miller (Ducati).
The two championship contenders ended up in 4th (Fabio Quartararo – Yamaha) and 8th (Francesco Bagnaia – Ducati).
To win the title: Fabio needs to win and Bagnaia to finish out of the points to become champion. Bagnaia needs to claim 2 points to be crowned. Both were possible:
Race:
In-front of a sold-out crowd at Valencia the decider was on. With only 27 laps to race, to end the longest ever season in Moto GP history, who would win the race and the championship?
It was a surprise start for Suzuki as Alex Rins got a great start, over-taking everyone to go into first place, leading Martin and Miller into turn one. Bagnaia also got a decent start and managed to make his way into 6th place behind Fabio in 5th.
But it was Marquez in 4th who made the first overtake in the race, passing Miller for 3rd. Fabio took the opportunity to also pass Miller, pushing him back to 5th. Miller managed to pass Quartararo back on the start-finish straight to start lap 2. Seconds later Bagnaia also passed the Frenchman, but they touched, taking one of Bagnaia's side wings off in the process. Would this hamper Pecco further into the race?
It didn't seem to matter straight away as Pecco and Fabio fought for 5th place, constantly going backwards and forwards, but it was Bagnaia who won the mini battle. While Brad Binder (KTM) watched on behind.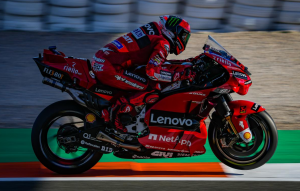 While all that action was happening behind him – Marquez took fastest lap.
Lap 4 – Quartararo re-took his position from Bagnaia, knowing he had to catch up to the leading group. If he was to have a chance at the victory/ championship he had to move forwards.
Next lap saw Pol Esparagro end his last race for Honda early on and seconds later Darryn Binder (Yamaha) also ended his last race in Moto GP.
Lap 6 Miller made a move on Marquez to take 3rd place, while Aleix Espargaro (Aprilia) retired.
Brad Binder was all over the back of Bagnaia and on turn 2, lap 9 he managed to safely pass the Ducati after 5 laps of attempting the move. The next rider in his sights was Quartararo. He knew he had the speed to pass and get to the front pack, but he was also very well aware of the two riders he was between. He was one rider eyes were watching.
Next lap on turn 8, yellow flags waved for an ill Marc Marquez, who crashed out of 4th place. The weekend went from bad to worse for the Spaniard.
Gapping started to appear between the riders. The front 3 were 1.339 seconds ahead of Quartararo, who was 1.361 seconds ahead of Bagnaia. Mir who had closed his gap between himself and Pecco suddenly made a move on the Ducati to take 6th place. While Binder put in the fastest lap.
With 14 laps to finish the season Rins continued to lead Martin and Miller.
Unfortunately for Johann Zarco (Ducati) lap 17 saw him crash out and Maverick Vinales (Aprilia) retired.
It appeared that Bagnaia was having slight issues with his Ducati following on from the winglet that came off during the battle with Quartararo earlier in the race, as yet another rider passed him to push him back to 8th. Luca Marini (Ducati) was then directly behind him. Would he also pass?
With just 10 laps to go Binder managed to get-through on Quartararo to take 4th position. Could he claim a podium finish?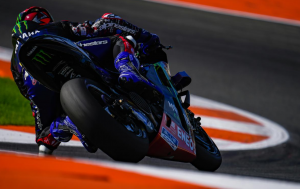 It didn't take long before Marini did indeed pass his fellow-Italian and friend to take 8th place. Bagnaia then had his new teammate behind him. Would he act as a wingman or would he be out for himself?
Having closed the gap at the front – Binder managed to pass Miller to take 3rd but seconds later Miller crashed out of the race on turn 11. While behind them Bastianini did in-fact over-take Bagnaia.
With 3 laps to go: Rins continued to lead the Valencian Grand Prix ahead of Martin, Binder and Quartararo. But Binder had pace and soon passed Martin to take 2nd. Could he fight for the win?
Last lap: There were no changes and Rins took the chequered flag to take victory for the last time for Suzuki. Creating a bitter-sweet moment for the team.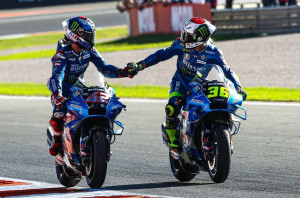 A new World Champion was also crowned as he crossed the line in 9th place – making Bagnaia the 4th different champion in 4 years. It was the biggest comeback in Moto GP history, coming back from a 91 point deficit to take the crown.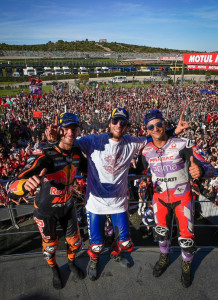 Top 10 Riders:
| | |
| --- | --- |
| 1st | A. Rins |
| 2nd | B. Binder |
| 3rd | J. Martin |
| 4th | F. Quartararo |
| 5th | M. Oliveira |
| 6th | J. Mir |
| 7th | L. Marini |
| 8th | E. Bastianini |
| 9th | F. Bagnaia |
| 10th | F. Morbidelli |
Top 4 Championship finishers:
| | | |
| --- | --- | --- |
| 1st (World Champion) | F. Bagnaia | 265 points |
| 2nd | F. Quartararo | 248 points |
| 3rd | E. Bastianini | 219 points |
| 4th | A. Espargaro | 212 points |
First to congratulate Bagnaia on his win was Fabio Quartararo, showing full respect between the two contenders. Second to congratulate Bagnaia was his future teammate Bastianini.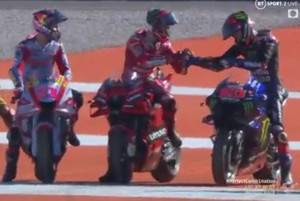 Dreams certainly can come true and this season was proof to never give up. Francesco Bagnaia has become the first Ducati champion in 15 years. The first Italian Ducati champion and the first Italian to win the championship since 2009. He is indeed 'Perfect Pecco'.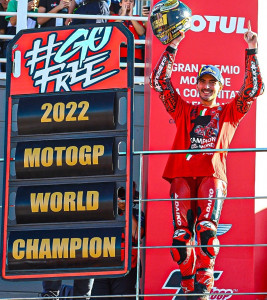 (21+42=63 for the Perfect Combination).
As the curtain falls on yet another memorable Moto GP season, everyone can now focus on what will happen next year.
Featured image: Courtesy of: Moto GP Twitter page.