Larson gave the 23 other Cup drivers in what he described as an "old-school ass whipping" by comfortably winning his third All-Star Race in Sunday night's 200-lap race around the revived North Wilkesboro Speedway, leading 145 laps, and taking home $1 million dollars.
Kyle Larson
Bubba Wallace
Rest of race recap
Coca-Cola 600
Full race results
Larson's strategy winning move came on lap 18 when crew chief Cliff Daniels had him pit for fresh tyres while the top half of the field stayed out including leaders Suarez and Hamlin, and despite receiving a speeding penalty for speeding on pit road that sent him to restart the race in the rear in 24th place, by lap 55 he was overtaking Daniel Suarez for the lead and pulled a 12-second lead by the time the 100-lap competition break came around.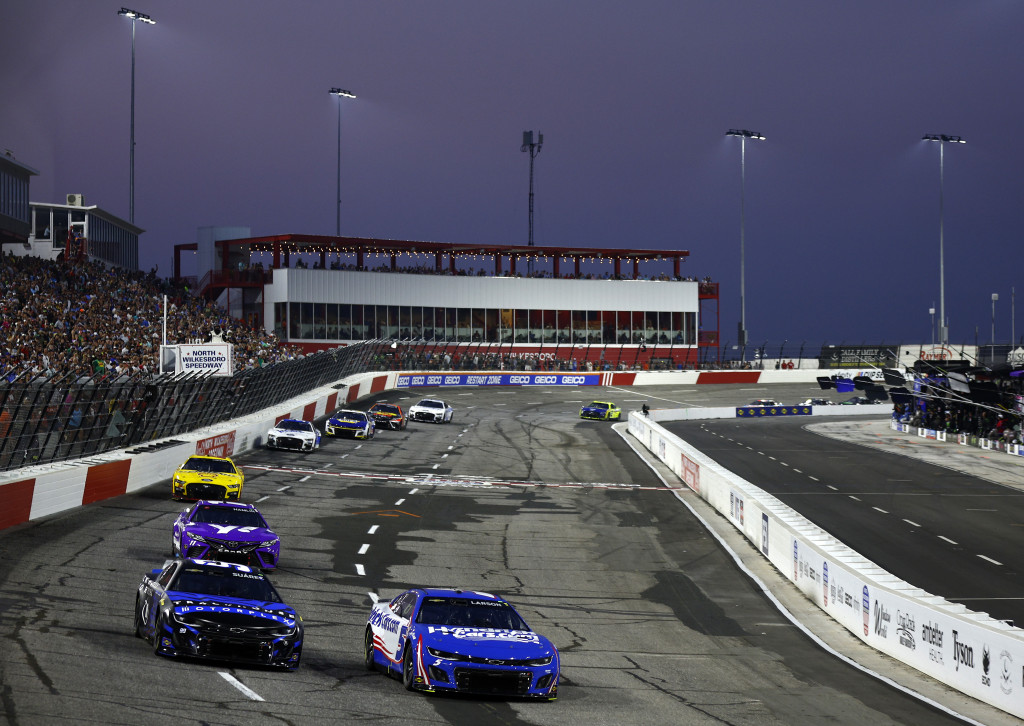 Bubba Wallace attempted to match Larson's pace in the final 100 laps but Larson maintained a four-second lead over the 23XI Racing driver to take himself with his No. 5 Hendrick Motorsports Chevrolet to a third All-Star Race win at a third different track, the first two coming at Charlotte Motor Speedway in 2019 and Texas Motor Speedway in 2021.
Larson said: "So much fun there. That was an old-school ass whipping, for sure. We had a great car on the long run there and was just thinking for sure there was going to be a caution. I got out to a big lead, and I could see everybody's cars were driving like crap in front of me, but I cannot thank this 5 team enough."
Larson was able to hook the bottom of the track including the apron in turns three and four while most of the other cars' handling difficulties meant they lacked the capability to replicate his line with Wallace coming close, running a lane higher out of turn four.
While there was a lack of traditional short-track bumper banging, it was a real drivers race, with most only using seventy percent throttle at most around the track and having to control the amount of slipping and sliding, making it a real test of car control and tyre management.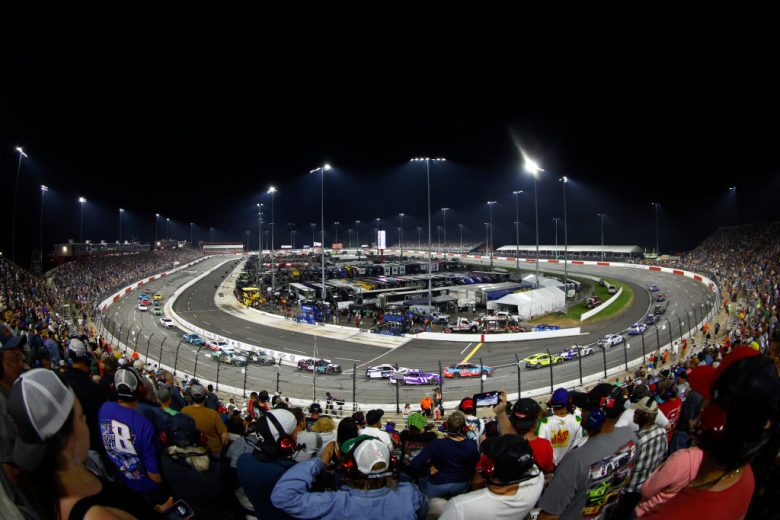 Larson swept the weekend by also winning Saturday's Truck Series 250-lap race, where he had to pass Bubba Wallace inside of 20 laps to go and hold him off in an overtime finish to take the chequered flag.
Larson equals Jeff Gordon, now Vice Chairman of Hendrick Motorsports, and Dale Earnhardt Sr. with three All-Star wins. It's Hendrick Motorsports 11th All-Star win, the most all-time.
Bubba Wallace adds to a string of recent strong performances by coming up deservingly in the runner-up spot.
Wallace was also on the same strategy as Larson, having pitted on lap 18 and found himself in eighth by lap 75 before a phenomenal charge up to second passing cars on older tyres except Larson in the closing laps before the competition break at lap 100.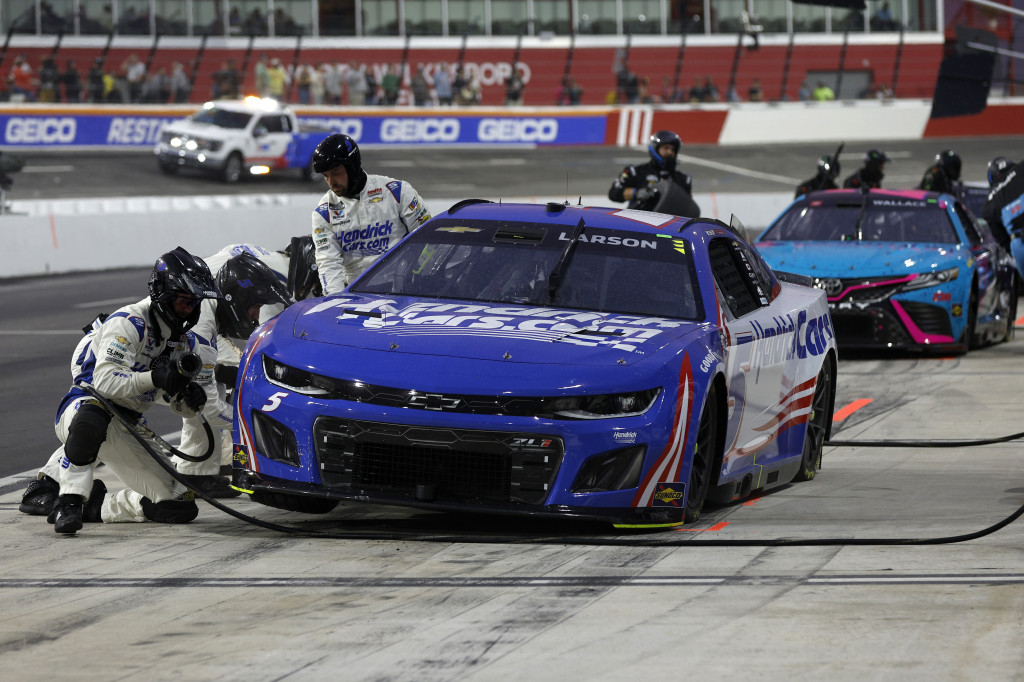 Wallace was unable to match Larson's pace in the final 100 laps but was able to keep the rest of the field at bay including his 23XI Racing teammate Tyler Reddick who finished 3rd, making it a Toyota 23XI two-three finish.
Wallace said: "If this was any other race, I'd be excited, but for a million dollars to come up short and walk home with nothing. Tail tucked between our legs, but all in all, just continuing to ride the momentum train. Just have to keep it going. Now we show back up to home turf (for next Sunday's Coca-Cola 600 at Charlotte Motor Speedway) and really got to keep the momentum going there and get ourselves deeper into the Playoffs."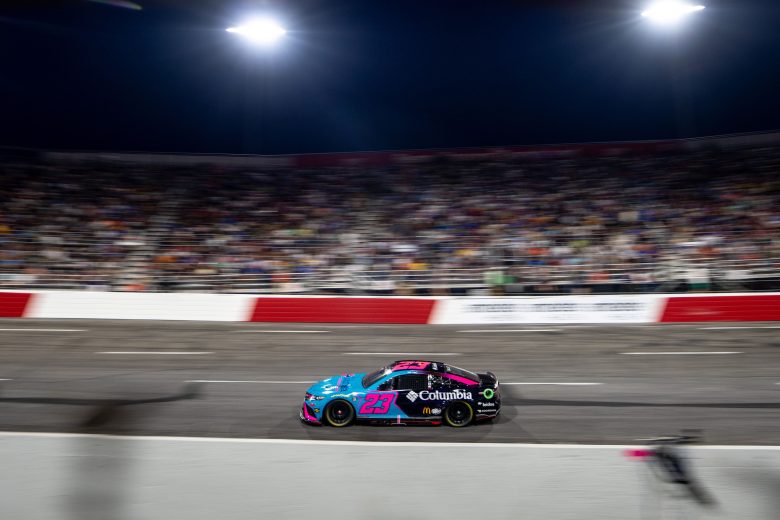 Rest of race recap
The inside groove at North Wilkesboro was king during the race. Chris Buescher who started outside pole, was unable to find a gap to fall into the inside lane of cars at the start of the race, and fell back to 11th as a result of being trapped on the outside.
A caution came out on lap 16, when Ricky Stenhouse Jr. boldly came down the race track in front of a faster Erik Jones who spun him around as a result.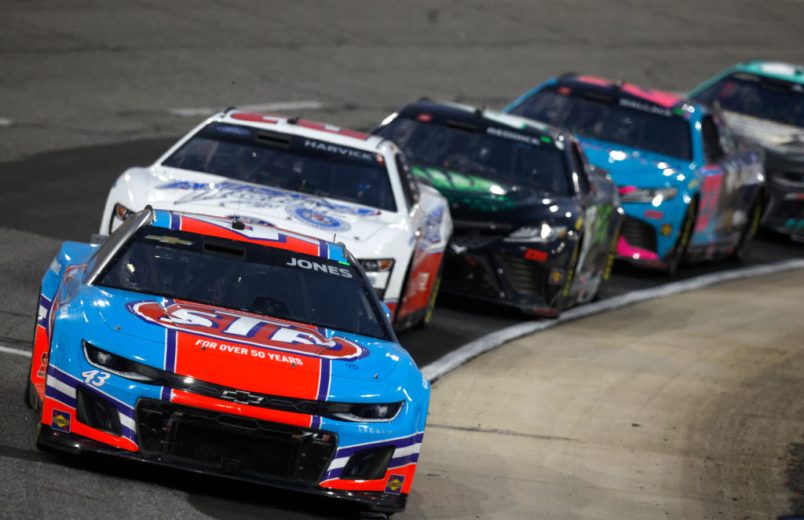 Polesitter Daniel Suarez, who won heat race one on Saturday to secure the pole for Sunday's All-Star Race, led the opening 55 laps of the race but chose not to pit on lap 18 for tyres, which saw Larson pass him easily on lap 55 on fresher tyres.
William Byron and Kyle Busch had such poor handling race cars, that both were forced to pit under green during the opening 100 laps to make adjustments, and went down a lap and two laps to the leader respectively as a result.
Despite everyone pitting for tyres and fuel during the competition break on lap 100, now that Larson had taken the lead, there was no looking back for the Californian, who led the rest of the race in dominating fashion.
Coca-Cola 600
This Sunday as part of Memorial Day Weekend in the United States, the NASCAR Cup Series will race at Charlotte Motor Speedway in one of it's crown jewel events following IndyCar's Indy 500, the Coca-Cola 600; a 400 lap (600 mile) race around the 1.5-mile Charlotte Motor Speedway.
The green flag flies at 6pm ET. Follow ThePitCrewOnline's twitter @PitCrew_Online for live updates and reporting of the Coca-Cola 600.
Featured Image: Kyle Larson, driver of the No. 5 HendrickCars.com Chevrolet, celebrates with the one million dollar check in Victory Lane after winning the NASCAR Cup Series All-Star Race at North Wilkesboro Speedway (Photo by Chris Graythen/Getty Images)
Full race results
Kyle Larson
Bubba Wallace
Tyler Reddick
Chase Briscoe
Chase Elliott
Ryan Blaney
Daniel Suarez
Erik Jones
Ty Gibbs
Joey Logano
Ross Chastain
Christopher Bell
Denny Hamlin
Martin Truex Jr.
Josh Berry
Chris Buescher
Austin Dillon
Kevin Harvick
Brad Keselowski
William Byron
Austin Cindric
Kyle Busch
Noah Gragson
Ricky Stenhouse Jr.