Qualifying:
During the qualifying Johann Zarco (Ducati) took pole breaking Fabio Quartararo's (Yamaha) row of poles. He then took a tumble on turn 4, with just over a minute of qualifying left. Moments later Takaaki Nakagami also fell – turn 1. Both incidents caused the yellow flags to be waved meaning that Zarco clinched pole from Quartararo, Jack Miller (Ducati) and Marc Marquez (Honda).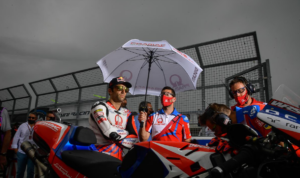 Race:
Although being hot and humid at the Sachsenring Circuit, there were clouds above which caused concerns that it might turn to rain, but the race was not declared a wet race.
The 30 lap circuit, with it's mainly left-hander corners, along with the weather conditions could potentially play into Marquez's hands – but was this too much to ask?
Aleix Espargaro (Aprilia) led from the line, getting ahead of Marquez and Zarco. Whilst Marc went forwards, the championship leader went backwards. But it was Brad Binder (KTM) who gained the most places from the grid going up 6 places by lap 2.
M. Marquez soon took the lead from A. Espargaro, but Aleix didn't want to give up the position easily and fought Marc for it. Meanwhile, Jack Miller (Ducati) and Quartararo had a tussle for 4th behind them.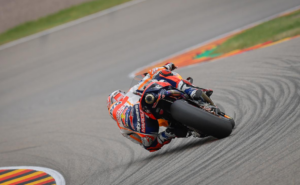 It was the reigning champion Joan Mir (Suzuki) who quickly got the fastest lap, but it was soon taken by Marquez, who was all to happy to start gaining a lead on Aleix.
It wasn't long until Miguel Oliveira (KTM) stole fastest lap, twice in a row and also passed Quartararo for 5th place. He was picking up the pace and fast. He knew he couldn't let Marc get too far ahead, whether or not Marquez was 100% fit or not.
Lap 5, turn 1, during a racing incident, both Alex Marquez (Honda) and Danilo Petrucci (Ducati) fell into the gravel.
On the next lap, it was Lorenzo Savadori's (Aprilia) turn to end his race early.
Seeing Marquez eek his lead out further Miller decided he needed to make a move on Zarco and passed him with 23 laps to go, into 3rd place.
But then, it seemed the weather had took a turn and the white flags started to be waved, which meant that riders could come into the pits to change their bikes should they wish to – in preparation for rain. However, lap 10 saw the white and red flags being waved, signifying rain. The clouds never picked up momentum though and no rider came into the pits to swap their bikes.
The number 93 knew some riders who saw drops on their visors may slow down and he saw this as his moment to really push forward. The gap between him and Miller soon became 1.417 seconds with 21 laps to the end.
All bikes had medium and hard tyre combinations except Nakagami's Honda which had a soft rear tyre. It was either going to be a masterstroke or a disaster, it was not the former.
As the rain became a little harder A. Espargaro went from 2nd to 4th and Fabio passed Johann, to take 5th place. It was now Marquez leading Miller, Oliveira and A. Espargaro, going into lap 12.
It wasn't long into the 12th lap that Oliveira secured 2nd from Miller and went straight into hunting down Marquez. The gap between the two was 1.669 seconds.
Oliveira soon managed to get away from the rest of the pack and secured another two fastest laps in a row, trying to hunt down the King of the Ring, but Marquez responded with another fastest lap and extended his lead to 1.989 seconds, half-way through the race.
Meanwhile, at the other end of group – Maverick Vinales (Yamaha) and Franko Morbidelli (Yamaha) were having an awful weekend, fighting to not be in last place.
Mini battles started to form, mainly between Binder and Zarco for 6th place and Quartararo and A. Espargaro for 4th.
The gap between Marquez and Oliveira slowly declined to 1.411 seconds, with 12 laps to go – could Miguel catch Marc?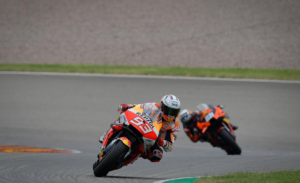 Digging deep with 11 laps to go Marquez kept his consistent lap times and still led Oliveira, but Fabio and Jack had swapped positions in 3rd and 4th behind him.
A. Espargaro couldn't hold onto his 5th place any longer from Binder, who needed to try and aim for a podium finish.
The gap dipped to just under one second between the Honda and the KTM in 1st and 2nd, with 5 laps to the chequered flag. But, Marquez responded in typical Marc-of-old style and found some energy and picked the pace up again and soon extended his lead to 1.095 seconds, which soon became 1.931 seconds with 3 laps to go.
During this time Zarco was passed by Pecco Bagnaia (Ducati), handing Fabio some more precious championship points and Binder passed Miller (whose tyres were starting to show signs of wear) for 4th place.
Last lap of the race and all Moto GP fans, regardless of who they follow or what team they support –  were behind Marc Marquez to just stay on his Repsol Honda and win. And that was just what he did! For the first time in 581 days Marc Marquez passed the finish line in first place! Keeping his winning record at the Sachsenring going, this was his 8th victory in a row in the Premier Class at the German circuit and the 11th win in a row from all classes. Marquez also took his 57th Moto GP victory.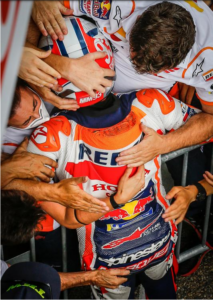 Holding himself together in the interview after the race he stated that he wanted to try and fight for a podium finish and that he wasn't sure he could go for the win, saying …"it was really hard to concentrate…".
Oliveira finished 2nd taking three podiums in a row for KTM. In his post-race interview he said …"I'll take a second anyday at Sachsenring to him…" and Fabio Quartararo took the last podium position securing important points for his championship lead.
There was nothing but respect for Marc in Parc Ferme from all the riders – they all know and understand what he has gone through and what he has had to do to get back to where he is now.
It is undeniable that Marquez is King Of The Ring!
Race results: Top Ten:
| | |
| --- | --- |
| First | M. Marquez |
| Second | M. Oliveira |
| Third | F. Quartararo |
| Fourth | B. Binder |
| Fifth | F. Bagnaia |
| Sixth | J. Miller |
| Seventh | A. Espargaro |
| Eight | J. Zarco |
| Ninth | J. Mir |
| Tenth | P. Espargaro |
Championship results: Top Four:
| | | |
| --- | --- | --- |
| First | F. Quartararo | 131 points |
| Second | J. Zarco | 109 points |
| Third | J. Miller | 100 points |
| Fourth | F. Bagnaia | 99 points |
The championship is still extremely close and hard to predict. What will happen in the next round at Assen? It is a typically good track for Yamaha, but will the race mirror this?
Featured image: Courtesy of Moto GP